What is Formatting?
Formatting is a method to delete all the data from your hard drive in one go. When you format a drive, all the data inside gets deleted, and you would now be able to use the drive to store new data. Other important benefits of formatting include:
1. Ease of changing File System
If you wish to change your drive's file system, the OS would need to format the drive first. E.g., changing the file system from NTFS to EXT 2/3/4 would first require you to format the concerned drive.
 2. Improves computer's performance
Formatting can improve the performance your computer's performance by cleaning the disk space, removing unwanted system files, deleting malware, viruses, spyware, etc. Your computer then runs faster and more space becomes available for you to use.
 3. Allows you to change OS
Formatting allows you to change the OS of your computer easily. Although there are methods that allow you to change your OS without formatting, it is much easier just to format the computer, and install a new OS.
Please note that you should create a backup of your useful files in an external hard drive or on Cloud before opting for OS change or formatting.
How to Format your hard drive?
 The shortcut to format a hard drive partition in Windows system is to right-click on the partition and click Format
 You can also use the Disk management function in Windows or Disk Utility function in Mac to format the drives or the entire PC/Mac.
The picture below depicts the format function in the Disk management window. To go there, follow the steps given below:
 1. Type Disk Management in the Search tab.
2. A window with all the drives will appear.
3. Right-click on the concerned volume and click Format.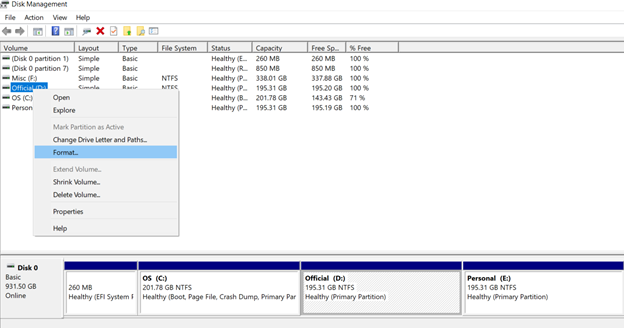 Image 1: Formatting operation in a PC
In Mac systems, the process is similar. Read this Apple support article to understand the formatting process in Mac systems.
Is Formatting effective? 
Now that we have discussed the attributes of formatting, let us find out if formatting is effective. It is hard to argue that formatting doesn't delete the files in your computer. After all, the deleted files appear to be gone, space, where they existed, becomes free.
In reality, the formatted data vanishes from immediate view. These files are still present in your computer and they can be recovered, and restored to their original state.
 The next question is, how is it possible?
 It is possible because when you format (or delete) a file, the OS of your computer removes the references of these files on existing file systems. This is different from permanent erasure, which involves overwriting these files. This is the reason, your deleted files remain intact in your computer (or any other storage media) unless new data overwrites it. A data recovery software can recover this marooned data.
File Erasure
Files cannot be recovered by a data recovery software when they are overwritten by other files or by a file erasure software. A file erasure software works on this principle and erases files on the system by overwriting them multiple times. This renders the data unreadable and beyond the scope of recovery.
File Erasure software protects your data privacy by permanently erasing the contents of your drive. E.g. it is important to wipe your computer's contents when you plan to sell/lease/rent/dump it. This way, your data remains inaccessible to anyone who gets a hold of your device. This isn't possible with formatting, as anyone can run a data recovery software and retrieve all the deleted data.
On the other hand, a file erasure software safeguards your data privacy by permanently erasing the data.
BitRaser File Erasure: Your Trusted File Erasure software
Coming to recommended products, BitRaser File Eraser is a highly specialized file erasure tool, which uses advanced overwriting techniques to securely and permanently erase files. You can use BitRaser File Eraser to erase files, folders, application traces, Internet files, Unused space, etc.
With BitRaser File Eraser, you get complete peace of mind against unauthorized use of your sensitive data.
How to use BitRaser File Eraser?
1. Install BitRaser File Eraser for Windows or Mac.
2. Install and launch the software.
3. The main software interface screen will list all your connected drives.
4. You can select the file from the required drive to erase it.
5. Then click Erase Now option in Windows (Image 5) and Erase button in Mac (Image 6) to start the erasure process.
Image 1: BitRaser File Eraser Home screen for PC, displaying the list of storage drives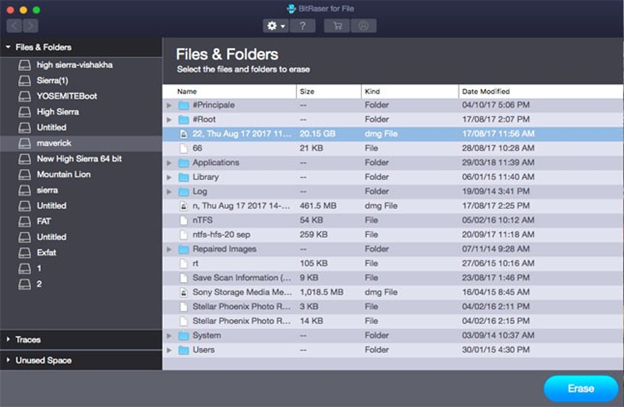 Image 3: BitRaser File Eraser for Mac displaying the list of files and folders for erasure
Conclusion
Formatting appears to erase files from your device but it just deletes them temporarily. In this article, we discussed Formatting's inefficiencies and learned about File Erasure software- the only fail-safe method to permanently erase data on your storage media. BitRaser File Eraser is a highly recommended product that permanently wipes the data from the device.