We store a lot of photos on our computers. These pictures contain invaluable memories with friends & family, photos of places, and our beloved pets. We also store random wallpapers, artworks, etc., which are seldom used.
Such random pictures tend to accumulate over time, eating a good chunk of our storage device's capacity. Alongside, if a user simply deletes the photos from a computer before selling it then there are chances of them getting recovered. This can pose a serious threat to user's privacy and data. Hence, it becomes necessary to delete useless and unnecessary pictures from the computer.
In this post, we will look at various methods to erase photos from a computer permanently.
Methods to Delete Pictures Permanently from the Computer
In this section, we will look at some techniques you can use to delete pictures from your computer permanently. Let's discuss them one by one.
Basic Methods
Method 1: Delete Files and Empty the Recycle Bin
Select the photo that you want to delete and press the Delete key on the keyboard; or simply right-click on the photo and click on DELETE in the context menu.
To delete multiple pictures, simply press CTRL + A to select them and then press Delete.
If you want to delete selected files, press & hold the CTRL key, select all the desired pictures, and then press DELETE or right-click to delete them.
You can also drag and drop your files onto the Recycle Bin icon on the desktop.
Once you have deleted your files using any the above methods, empty the Recycle Bin.
Method 2: Using File Explorer Ribbon to Delete Photos
This is another simple way to delete photos from your computer. Select the photos to be deleted and click on Home in the File Explorer ribbon > Delete > downward arrow > click on either Recycle or Permanently delete.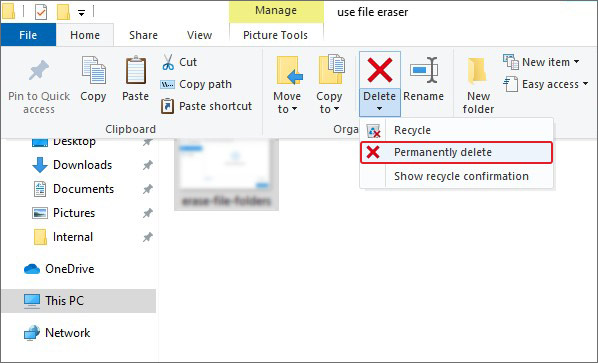 Method 3: Using SHIFT + DELETE to Permanently Delete Photos
This is a quick way to permanently delete unrequired photos from your PC. Select the files you don't want and press the SHIFT + DELETE keystroke. The photos won't go to the Recycle Bin and get deleted permanently.
Advanced Methods
Method 1: Use Cipher to Delete Photos Permanently
Cipher is a powerful built-in utility you can use to securely and permanently erase unnecessary photos from your computer or a storage drive. A user can easily use this utility via Windows PowerShell. However, to execute it, users must first delete the unnecessary photos from the location and the Recycle Bin.
Here are the steps to use the Cipher command –
Open Windows PowerShell with administrator privileges.
Type Cipher /w:C:[Path] in the PowerShell terminal window. Example. – Cipher /w:C:\Users\Admin\Downloads\docs
Press Enter.
The command will start overwriting random data on the deleted files' traces.
As this method overwrites all the file traces multiple times, file recovery becomes nearly impossible for any data recovery software.
Method 2: Using Remove-Item Command in PowerShell
Another way to permanently delete photos from your computer is by using the Remove-Item command along with the 'Recurse' parameter in Windows PowerShell. Here's how you can use this command –
Launch Windows PowerShell with administrator privileges.
Type Remove-item [Path] –recurse in the console and press Enter. Example – Remove-item Remove-item C:\Users\Admin\Downloads\mydoc.docx –recurse

Let the command delete your file/s securely.
Use a File Eraser to Delete Photos from Your Computer Securely
Using the methods as mentioned above, you can easily delete photos from your computer. However, if the storage device falls into the wrong hands, there are chances of recovery and misuse of your deleted pictures.
To eliminate any faintest possibilities of recovering deleted photos, you can use a powerful file eraser software like Stellar BitRaser File Eraser. This software allows you to permanently delete photos and other data that could be misused in any way.
A highly intuitive software, BitRaser File Eraser uses multiple algorithms to erase files and folders securely. This tool also allows users to erase any traces of deleted photos, and images stored on the computer in various forms like thumbnails, and more.
With multiple advanced data erasure algorithms at its disposal, you need not worry about any data recovery as it erases the data and overwrites it numerous times with random binary digits, rendering the original files irrecoverable.
Apart from removing user-created files, this powerful tool can also deal with other types of data like browser history, cache, cookies, app cache, temporary files, and more.
Steps to Use BitRaser File Eraser –
BitRaser File Eraser is a simple-to-use software with an intuitive UI that enables anyone to use it without any hiccups. Follow the steps to use it –
Purchase and install BitRaser File Eraser from its official website.
Launch the software.
Click on Erase Files & Folders in the left pane.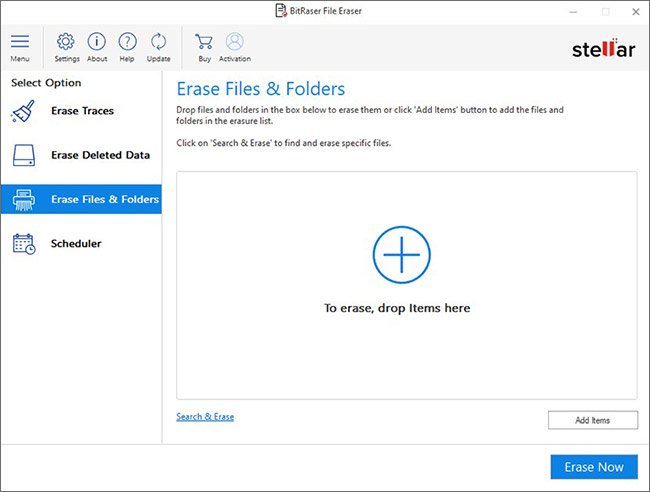 Add the photos you want to permanently delete from your computer.
Click on Erase Now.
The software will erase the added files from the device and wipe them off completely from the system.
Note – If you have deleted some files before and want to ensure that their traces are also erased, you can use this software for that as well. Simply click the Erase Traces option and completely wipe off any traces in minutes.
Conclusion
Photos are precious as they hold memories dear to us. Along with important pictures, we store random images that eat up the storage space. Simply pressing the delete key to remove them from the computer is not sufficient as deleted data can be recovered and misused by people with ill intentions. Hence, to get rid of those safely, we can use various methods discussed in the post. We can also use an advanced photo eraser for securely erasing unnecessary photos from our computers, which will make them irrecoverable.
FAQs
Q. How can I permanently delete photos from my computer?
A. While there are numerous ways to delete photos from your computer. The chances of recovering them still linger. To avoid such a circumstance, use BitRaser File Eraser to erase photos from your computer securely.
Q. Why am I not able to delete photos from my computer?
A. If you are unable to delete the photos on your computer, start your computer in Safe Mode and then try deleting the photos again.
Q. Can anyone recover my deleted photos?
A. If the deleted photos are either available in the recycle bin or their traces have not been overwritten by any data, they can be recovered by anyone.