Summary: This comprehensive guide presents up-to-date information on file recovery, covering aspects like the types of files, common reasons for file loss, and DIY methods and tools to recover the lost or deleted files. We also help you with a software-based method on how to recover the files easily. Download a free trial of the software and stay with us through this guide.


Despite the computers' apparent reliability, thousands of people lose their important files. Even the modern storage devices like HDDs or SSDs may fail unexpectedly, losing the files, folders, and other data stored on them.
Malware infection, formatting, corruption, bad sectors on the drive, BSOD errors, hard drive failure, Windows crash, etc. could also be the reason for file loss. And it may be surprising to know that accidental deletion accounts for around 32% of file loss cases globally!
The fact is that external storage drives and hard drives inside your MacBook® or Windows PC can face varied data loss situations, resulting in permanent loss of files.
Before we move on to file recovery - scenarios, reasons, solutions, etc., let's get to know some common types of files, furnishing you with the necessary background knowledge.
What are the different types of files?
There are various types of files such as JPEG, PNG, GIF, PDF, MP4, XML, SVG, etc. Let's look at them in detail.
Some Common File Types
JPEG (Joint Photographic Experts Group)
JPEG is one of the most commonly used file types. This file type keeps the information visible to the viewer. It is a lightweight format that is ideal for digital use. It loads quickly; you can also upload it to any platform irrespective of the file size. Users can view it on any device without needing any special image viewer. The only limitation is every time you save a JPEG file, the file size gets compressed, causing the image to lose its quality.
GIF (Graphics Interchange Format)
GIF file is a form of bitmap image based on Lempel-Ziv-Welch (LZW), a particular form of the lossless data compression algorithm. GIF is composed of many tiny parts, i.e., called pixels, just like the PNG and JPEG file types. It is best for storing graphics with a few colors, shapes, logos, and simple diagrams. It also supports a transparent background like a PNG file. You must consider that if you mistakenly use any corrupted file while creating a GIF, the entire GIF file will be corrupted.
MP4 (Moving Picture Experts Group)
MP4 is a digital multimedia container format used to store audio, video, and subtitles. These files can be played on all major media players and streamed over the internet without requiring any sophisticated program to view it. It compresses the file, so the final video becomes lightweight and easy-to-upload on the website or social media platforms.
PDF (Portable Document Format)
Developed by Adobe, PDF, or Portable Document Format is commonly used to present documents with images and text. These files may also contain links and buttons, form fields, audio, and videos. You may easily create long documents and share them. Nonetheless, be aware that these files can be viewed only with the help of a PDF reader. However, if you use any malicious third-party PDF reader, the PDF may get corrupt or become inaccessible.
DOC
Another one of the most commonly used file types is the DOC file. It is used to save various documents, such as articles, letters, resumes, etc. Created in Microsoft Word or other word processing programs such as OpenOffice, ApplePages, etc., these files can be easily printed or saved as another file such as PDF, DOT, etc.
Irrespective of the file type, you may lose your essential files due to corruption formatting, virus attack, deletion, or physical damage. Let's dive deep into the significant causes of file loss and the need to recover files.
When do you need to perform file recovery?
Your system may encounter a malware attack or BSOD errors. You may also mistakenly format the drive. Even the PC or the hard drive may fail or crash at times. Whatever the reason is, you may end up losing access to your essential files. It may be an official document, presentation, your favorite picture or video, or your song recording (an audio file). Losing your essential files may be worrisome. Hence, you must know how to perform file recovery. It's important that you know the cause of file loss to ascertain the best way to recover it.  
There are multiple reasons and circumstances under which you may encounter file loss. No matter how difficult the situation is, you may get your file back. The reasons for file loss can be broadly categorized into Logical and Physical failures.
1. Logical Failure:
Under logical failure, you may lose your files in this category due to virus attack, accidental formatting, deletion, lost or corrupted partition, BSOD error, encryption errors, etc. Irrespective of the cause, you may quickly recover files lost due to logical failures using DIY tools and various data recovery methods.
What are the common causes of logical file loss?
In this section, we have mentioned some of the common causes of logical file loss.
a) Accidental Deletion
One of the most common reasons for file loss is accidental deletion. While transferring the files from one device to another or getting rid of unwanted files or folders, you may accidentally delete your important files. In case you mistakenly use Shift + Del key to remove your system's files or storage drives, you end up facing permanent file loss.
b) Virus Attack
A virus enters your system or storage drive via phishing attacks, email scams, malicious app/software, or infected code downloaded from a site and makes your device malfunction or crash completely. You may also encounter data theft, resulting in misuse of your data. Hence, we recommend using a reliable antivirus program to protect your storage device from all kinds of virus attacks.
Tip: Backup your drive to avoid permanent file loss even if the files get infected by the virus/malware.
Learn the 5 best ways to secure your data when browsing the web to prevent viruses or malware attacks on your device.
c) Hard Drive Corruption
The hard drive may get corrupt at any moment due to bad sectors, malware attacks, or malicious apps stored on the system/drive. Sometimes, corruption in a single partition may also cause data loss. A corrupted drive partition may also cause Windows booting issues, hard drive errors, etc.
d) Hard Drive Formatting
Another primary reason for file loss is hard drive formatting. The situation may occur under different circumstances, such as:
While cleaning up junk files from the drive
While organizing partitions on the drive
While using DiskPart utility to assign a drive letter to the drive
While using CHKDSK to get rid of the hard drive error, leading to complete formatting and file loss
System Errors
The system may encounter several errors due to hard drive failure, file system corruption, MBR corruption, hardware failure, low system maintenance, corrupt drivers, power outages, etc. Due to these reasons, you may face different kinds of system errors, BSOD errors, etc.
Errors such as:
It is a BSOD error, which occurs due to PFN list corruption. The error may also occur because of corrupted OneDrive, faulty hard disk, incompatible device drivers, or corrupted system files.
It generally occurs due to NTFS corruption, bad sectors on the drive, corrupt system files, depletion of non-paged pool memory, or virus attack.
Error - Your PC Ran Into a Problem and Needs to Restart
While working on your PC, if you encounter this error, the reasons could be different: faulty device drivers, missing or corrupted system files, malicious third-party app/software, incorrect memory dump settings, etc.
Another blue screen error occurring due to faulty app/programs, hardware issues, or damaged boot sectors. Due to this, the system may be stuck at a booting loop, reach an unbootable condition, or crash completely.
Error - No More Disk Space! Delete Windows
While using your PC, if you encounter an error "No More Disk Space! Delete Windows?" popping up on your screen, the reasons could be a lack of space on the drive, a temporary file folder is taking up too much space, or malware attack.
2. Physical Failure:
This category pertains to physical damage to the storage drive, leading to file loss as an inevitable outcome. Physical damage to the storage device may affect the device's normal functioning. Unlike logical failure, data recovery in case of physical damage is difficult and requires a professional expertise. Hence, using DIY tools or methods will not work in this case.
What are the common causes of physical file loss?
The system or hard drive may get physically crashed or damaged due to malfunctioning head assembly of the drive, broken drive components, moisture, power outage, overheating, etc. In other words, if your hard drive is water tempered, burnt, or physically broken, it would result in file loss. In such conditions, don't use any DIY methods and tools. File recovery from physically damaged storage devices or computers is a little bit tricky and needs experts' help. Hence, it is suggested to take the help of data recovery service providers.
[Caution: Don't open the storage devices by yourself in case of a physical crash. It may cause severe damage to the device and lead to permanent file loss.]
How to perform file recovery?
The file recovery process includes retrieving files such as photos, videos, audio files, documents, emails, etc. Regardless of the causes, be it logical or physical, you may try out the following DIY methods and tools to recover data under different circumstances:
1. Recover From Recycle Bin
Mistakenly deleted files using the "Del" key or "Option + Del" keys can be recovered from the Recycle bin. You may locate the files you want to recover and click Restore. The files will reach their original location from where they got deleted.
However, if you used "Shift + Del" or "Option + Command + Del" keys to delete your files, they are permanently lost. These files cannot be found in Recycle Bin/Trash.
Similarly, the files deleted from the external storage drives, such as hard drives, USB drives, SD cards, etc., will be deleted permanently irrespective of the command used.
To get back your permanently deleted files, use a DIY file recovery tool such as Stellar Data Recovery Professional. You can download the trial version and see how the software performs file recovery.

Check out the list of best data recovery software for Windows 10 to compare and choose the best one.
2. Run ATTRIB Command
Sometimes, when you encounter a virus attack on your system or external storage drives, you may lose access to your files. But the files are not deleted; they may be hidden. You may use the ATTRIB command to regain access to those files.
Follow the given steps:
a. Open command prompt and type 'attrib -h -r -s /s /d x:*.*' and press Enter. (See Image 1)

b. Wait until the process is done. Once completed, let the Windows repair the virus-infected storage drive and wait until the process finishes.
3. Run BSOD Troubleshooter
If you encounter a BSOD error on your system, you may end up losing access to your files. You may try to get rid of the BSOD error using the Windows BSOD troubleshooter. Follow the given steps to do so:
a. Open the Settings app by pressing Windows + I.
b. Go to Update & Security > Troubleshoot > BSOD error.
c. Select Run the troubleshooter.  (See Image 2)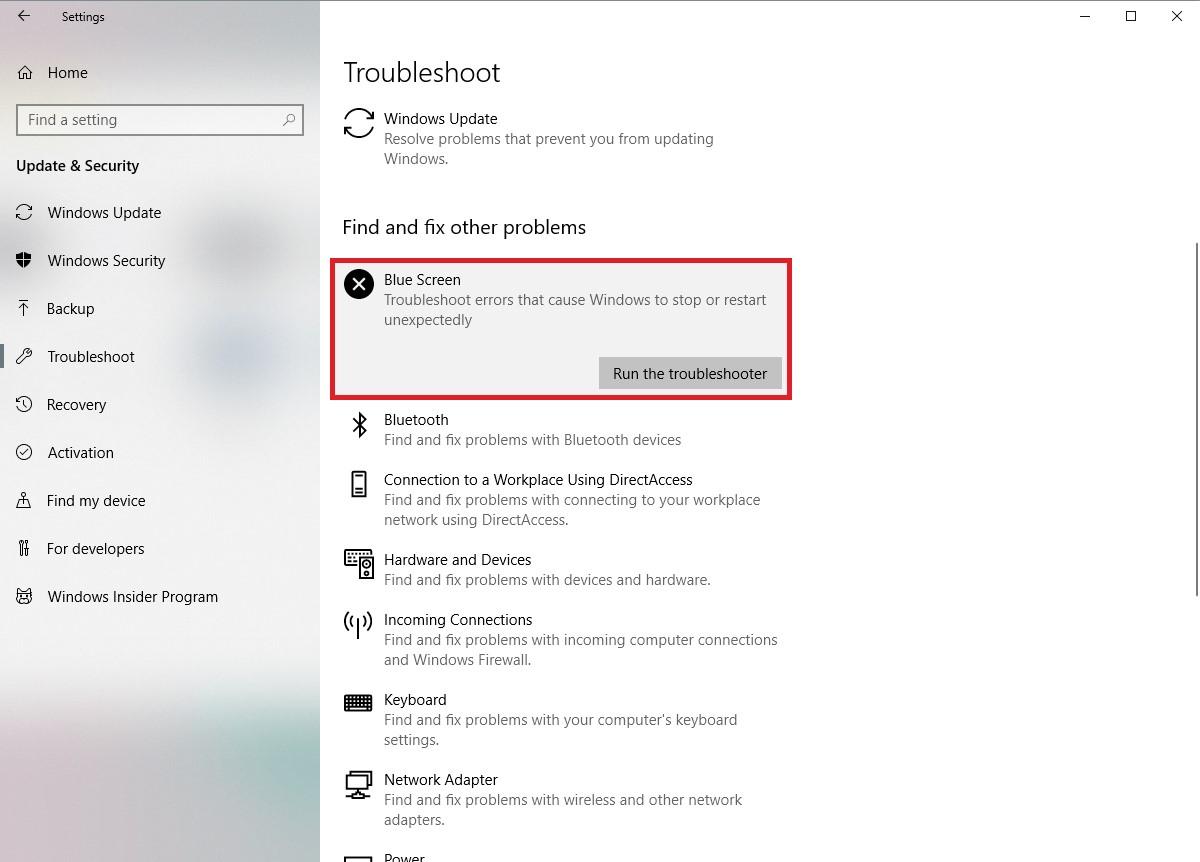 d. Follow the on-screen instructions and restart the system once done with the process.
What if the BSOD error keeps showing even after resetting the PC?   Factory resetting the PC won't help you get rid of the BSOD error. You will need to find the exact cause of the BSOD error and then fix it. You may read more on why BSODs keep coming even after factory resetting my pc.  
4. Assign a letter to the drive
If you can't see your drive in the File Explorer, but when checking in Disk Management, it shows as Unallocated or RAW, it means you have lost access to these files. You may reaccess them by assigning a drive letter to the drive.
a. Right-click on the drive and click New Simple Volume > Next > Next.
b. Select Assign the following drive letter and provide a letter to the drive from the drop-down list.
c. Finish the process and check if you can access the drive and the files stored on it.
d. If the drive is accessible, you may recover your data from the hard drive.
If the drive appears as RAW, you would need to format the drive with the NTFS file system to make it work. However, it will wipe out the data stored on the drive and lead to permanent file loss.
a. Right-click on the drive partition that appears as RAW.
b. Click Format > OK > OK to complete the process.
*Note: You may recover data from a formatted hard drive using a professional data recovery tool to restore the data. If you mistakenly delete your drive partition, you may restore it using this guide on how to recover deleted partition in Windows.
Common File Loss Scenarios Experienced by Users
Several users have reported on Google, Microsoft, Reddit, and other technology forums about losing their files due to accidental deletion or emptying trash/recycle bin. File loss can also happen when you install a Windows update, format your system, when your system crashes, or if there's corruption in the hard drive.
Users' Query on Google Support Forum

Users' Queries on Microsoft Forum

I accidentally deleted a windows file. I believe it was an XML file. I have already emptied my recycle bin, but I have another pc, the one I am on now. Can I copy windows and load it to my laptop, or is there an easier way of retrieving this file? Thank you so much for your time.

Users' Queries on Reddit Forum

File Recovery Software or File Recovery Services-Which is best for me?
Losing your files, be it a photo, video, document, email, excel, PDF, or an audio file, could be scary. No matter the reason for file loss, you may recover your lost files, folders, and other data. The first step is to check for backup whenever you lose a file. If you do have a backup of your data, you may restore it quickly.
However, if you don't have a backup, you must apply the best file recovery method without delay. As files and other data may get lost due to logical and physical damage, you must know which solution will work best depending on the situation.
If you're confused about choosing between a File Recovery Software and File Recovery Service, consider the following:
Choose a professional data recovery tool to recover files in Logical situations
If you have lost your data due to logical failure, you may use DIY methods and tools to restore it. Data loss due to logical failure include accidental deletion, drive formatting, corruption, virus attack, system errors, hard drive errors, BSOD errors, etc. A DIY tool such as Stellar Data Recovery Professional can quickly retrieve your lost files. The software may also recover data from lost or missing partitions.
If you want to recover the photos, videos, and audio files, you may also try a dedicated photo recovery tool such as Stellar Photo Recovery to retrieve them quickly.
Choose a data recovery service to recover files in case of physically failure
In case you lose access to your files due to physical damage, file recovery with DIY methods and tools will not be possible. Due to physical failure, your system may fail to boot or get stuck at a booting loop. Your external storage drive may fail to show up on your system in case of physical failure. In such conditions, contact a file recovery expert such as Stellar Data Recovery Services. The experts at Stellar open up the storage device and operate them in a class 100 cleanroom lab to prevent any further damage to the devices. These experts can retrieve your files from any physical file loss scenario.
Do's and Don'ts to increase the chances of file recovery
There are some standard DO's and Don'ts to prevent data loss and improve the chances of file recovery:
1. Back up your files
No matter how many precautions you take, you may end up losing your files due to several reasons. Nonetheless, if you have a backup of your files on another storage device or used Windows' backup utilities to create a backup of files and other data, you may use the backup to retrieve your files.
2. Don't use your storage device after a file loss incident
Stop using the device from where you lost your files immediately. The deleted data remains on the drive even after deletion. However, the previously allocated space is marked as available to store new data. If you keep adding data to the drive from where you lost your files, the chances of file recovery will be reduced. Even a professional tool won't be able to help you get back the files once overwritten.
3. Do not open the storage device yourself
If you open a storage device outside of a dedicated lab (with a controlled environment), it may drastically reduce the chances of file recovery. The dust particles in the natural air may damage the platter. Additionally, opening the device without any help of an expert or supervision may cause physical damage to the device's inner parts/components.
Choose a file recovery solution wisely!
File loss is undoubtedly inevitable. Don't worry! You may restore the files, irrespective of the reasons. You have to find out the actual cause of file loss to perform file recovery methods and use solutions accordingly to get them back on time. Consider the causes, logical or physical, while choosing the right software or service to get your data back
We hope that you will find this file recovery guide useful!
Go ahead and share this guide with your friends and help them get their files back (if lost).
Let us know about your experience. You may download it or bookmark it.
Share your queries or suggestions (if any) in the comment section below. We'd love to hear from you!
Note: This guide will be regularly updated with all the latest information about file recovery.