You love Instagram for various reasons. However, the much-loved photo and video sharing app often give jitters to its users. Several estranged users are miffed with Instagram videos not playing or loading on Android, iPhone, or laptop. Sometimes there is no sound in Instagram video; users cannot to upload video to their Instagram account; Instagram news feed video not working; Instagram Stories videos not playing, and so on.
Instagram videos playback problems can occur on PC, Mac, Android, iPhone, iPad, or tablet. Nevertheless, you can resolve Instagram issues that don't let you view or share videos in the app.
First, let's know what could be the possible reasons for videos not playing on Instagram.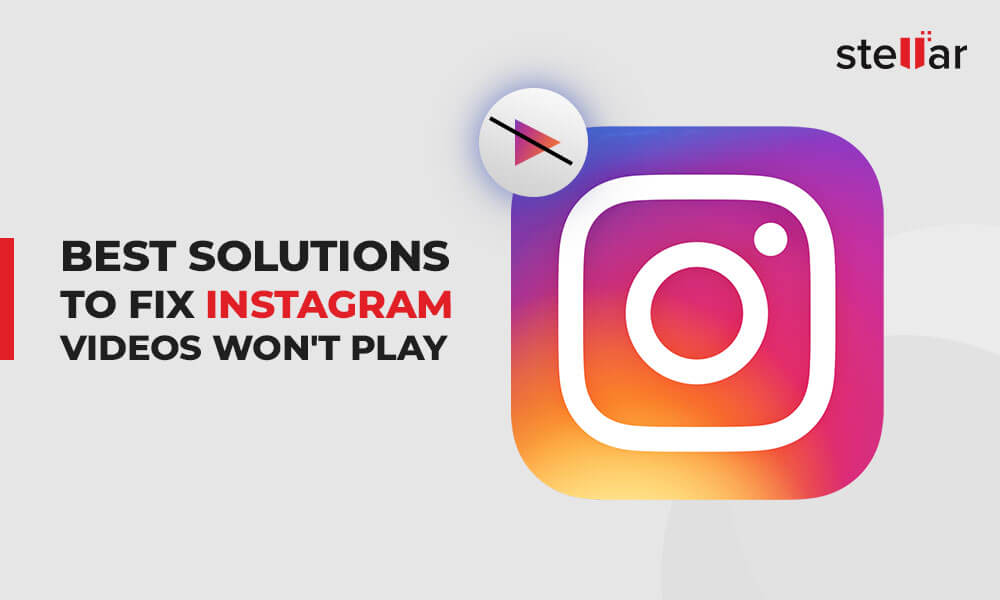 Why Instagram videos won't play – Possible reasons
There can be many reasons for Instagram not loading videos or working on your laptop or mobile device. Some common causes are:
Slow or interrupted Internet connection.
Instagram server is down due to huge outage.
Your Instagram app is not updated.
Bug in the app.
Instagram cache files occupying ample space on your device.
Instagram app data files have been corrupted due to some reason.
Your smartphone is set to Power Saving Mode.
Instagram does not support your video file's format, size, or length.
Video file is corrupted.
How do you fix Instagram videos not playing?
Below are the 12 ways you can try to fix 'Instagram videos won't play' or 'unable to upload Instagram video' on Android, iPhone, PC, or Mac.
We recommend beginning troubleshooting from simpler solutions, in the order given here.
1. Restart Instagram
If videos are not playing in Instagram, first try to troubleshoot the problem by restarting the app on your smartphone or computer.
2. Restart your device
If restarting Instagram doesn't help and it continues to crash, restart your device, be it Android, iPhone, computer, laptop, or tablet.
3. Update Instagram
When Instagram videos won't play on iPhone, Android, or computer, update the app. Android users can update from Google Playstore while for iOS device you can visit Apple store.  In the digital store, search for Instagram app and click on the 'Update' button, if available. Once the app is updated it should open without any error.
4. Check your Internet connection
Check your Internet speed, modem, or router. Make sure your Internet is continuous and high speed. For instance, Instagram live videos at 720p resolution (30 fps) require at least the speed of 4Mbps.
Switch off your router and turn it on after a few minutes. If Instagram videos don't load, try switching to mobile data instead of Wi-Fi.
5. Close all other applications
Instagram may not load videos or show error when too many applications are opened in the background. Running multiple apps can slow your mobile device as this consumes more memory. So try to play Instagram videos after closing other applications on your Android, iPhone, or computer.
6. Clear cache files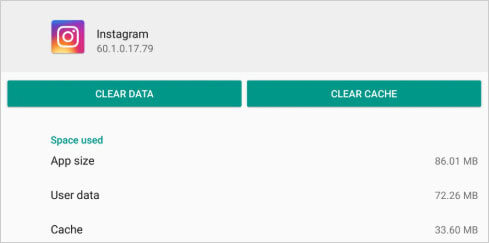 Cache and temp files accumulate and affect the performance of Instagram app. So try to fix the problem by clearing cache files.
If Instagram videos are not playing in Chrome or other browser on PC or Mac, then clear  your browser's cache files from its settings.
To fix Instagram video not playing on Android, go to Settings > Apps > Instagram. Select Storage > Clear Cache and then restart your phone.
If Instagram videos won't play on iPhone, first uninstall and then reinstall the app. This will remove the cache files and fix the video problem.
7. Turn off power saving mode on your mobile device
Power saving mode on Android or iPhone won't let Instagram to function properly. To fix iPhone or Android Instagram videos not playing, make sure the power saving mode on your mobile device is turned off. You can do so from the 'Battery' option in the Settings of your phone.
8. Reinstall Instagram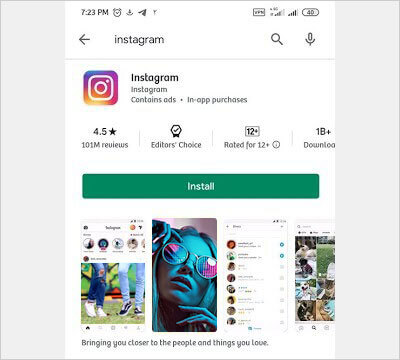 Reinstalling Instagram can fix video playback issue in the app.
First, uninstall or delete the app. Then visit Google Play Store to reinstall the application. iPhone, iPad, and Mac users can reinstall from Apple store.
9. Upload Instagram supported video format
Are you not able to upload video on Instagram? If the video is playing perfectly fine in media player, but you cannot upload it on Instagram, make sure Instagram supports your video file type.
You can post H.264 MP4 and MOV videos on your Instagram stories, reels, feed, and IGTV. Instagram cannot play H.265 videos.
Ensure your video meets the below specifications before posting on Instagram to avoid video payback issue:
Video file format – MP4 and MOV format with H.264 codec
Video Length – 3 seconds - 60 seconds.
Frame rate – Up to 30fps
Audio codecs – AAC and Vorbis
Video Resolution – Square: 1080×1080p, Landscape: 1920 x 1080p
10. Fix corrupt videos using a video repair tool
If you cannot upload video in your Instagram account, the video throws error, or fails to load, the file may have turned corrupt.
In this case, first confirm if the file is corrupt or not. Try to play this video on any media player on your phone or computer. If it doesn't open or play abruptly, the file is probably corrupt.  Use a professional video repair software — Stellar Repair for Video.
Download and launch the software on your PC or Mac. Add the corrupt file and click 'Repair' button. The repair algorithms of the tool automatically repair corrupt video file header, data, frame movement, or sound sections.
You can take the free trial to evaluate if the software can successfully repair the corrupt file or not.
11. Reset your Android or iPhone to fix Instagram video issue
You can reset your mobile device to fix Instagram video errors on Android or iPhone. Although this will put your device to factory settings, which deletes the existing data, but phone reset usually resolves issues related to mobile apps.
Note: Don't forget to take backup of your Android or iPhone before resetting it.
12. Contact Instagram
If Instagram doesn't responds to the above troubleshooting, you can also report the problem to the developer. Follow the below steps to report your Instagram video loading problem:
Click on the profile photo to open your profile.
Click on Settings > Help> Report a problem.
Next, follow the on-screen instructions to report your Instagram issue.
Conclusion
Instagram is a great platform to share videos and connect with people. However, occasional video issues in the app can be frustrating. But its easy to fix Instagram videos not playing on Android, iPhone or computer. Try the given solutions and enjoy Instagram without any video issue again.