Developed by Mozilla Corporation, Thunderbird is one of the most trusted email clients available in the market right now. This desktop-based application gives you complete ownership over your email messages and even manages your chats, news feeds, and newsgroups at a single place. 
The best part is that it is free as it is an open-source project. You can also install several add-ons that allow you to enhance your emailing experience. You can use Thunderbird with any platform, such as Windows, Mac, Linux, etc. 
However, Mozilla Thunderbird is not free from issues and errors. Here are some common issues that Thunderbird users have reported:
Mozilla Thunderbird won't open in Windows.
Thunderbird doesn't respond or Thunderbird becomes unresponsive.
Thunderbird doesn't start/profile missing in Safe Mode.
Can't launch Thunderbird.
Thunderbird won't start after a crash.
Thunderbird won't start already running.
Methods to Resolve the Thunderbird won't open in Windows Issue
Below, we'll be sharing some simple yet effective methods to resolve the Mozilla Thunderbird won't open issue.
1. Restart/Reset your Modem 
Several users have reported fixing the Thunderbird won't open issue by simply restarting their modem. To restart the modem, just press the Power button on your modem, wait for a couple of seconds, and then turn it back on again. Check if it resolves the issue. If not, follow the next methods.
2. Delete the parent.lock File
Thunderbird creates parent.lock file every time it starts and automatically deletes the file when it closes. If the file is not deleted automatically, it may cause issues such as Thunderbird won't open. However, you can delete the parent.lock file manually. Here are the steps: 
Step 1: Close Mozilla Thunderbird. 
Step 2: Right-click on the Taskbar and click on Task Setting.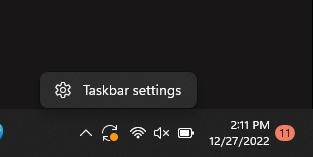 Step 3: Under the Processes tab, find and kill all Thunderbird-related processes. 
Step 4: Now, press Windows key + R to open the Run utility. 
Step 5: Type %appdata% and press Enter.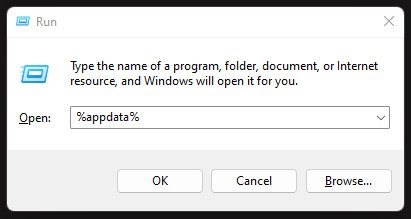 Step 6: Open the Thunderbird profile folder. 
Step 7: Search and delete the parent.lock file.
Note: You need administrative access to delete the file. 
Step 8: Restart Thunderbird and see if the issue is resolved.
3. Start Windows in Safe Mode
You can start Windows in Safe Mode to try to resolve the issue. Follow these steps: 
Step 1: Press Windows key + I to open Settings. 
Step 2: Go to the Windows Update section. 

Step 3: In the left panel, select the Recovery option. In the right panel, select the Restart now option under the Advanced startup section. 

Step 4: Now go to Troubleshoot > Advanced options > Startup Settings > Restart. 
Step 5: Once your system restarts, you'll see a list of options. Press F5 or 5 to select the Safe Mode with Networking option. 
Now, try to open the Thunderbird application. 
4. Start Thunderbird in Safe Mode
Though Thunderbird supports many add-ons to enhance functionality, some specific add-ons should be avoided as they may interfere with your system and prevent you from accessing Thunderbird. You can start Thunderbird in Safe Mode to check if any add-ons are causing the issue. Follow these steps: 
Step 1: Press Windows + R keys to open the Run app. 
Step 2: Type thunderbird -safe-mode and click the OK button.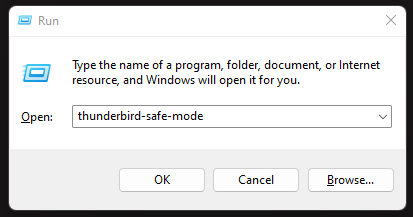 Step 3: A window will appear. Select the Continue in Safe Mode option to start the application. If Thunderbird opens, it means that some add-ons or toolbars are causing the issue. 
Step 4: To permanently fix the problem, repeat the entire process and select Disable all add-ons → Reset toolbars and controls. Then, click the Make Changes and Restart button.
5. Reinstall Thunderbird
At times, Thunderbird won't open if there are some issues with the application files. In such a case, you can reinstall the Thunderbird application. Here are the steps to do so:
Step 1: Open Control Panel on your system.
Step 2: In the Programs section, select the Uninstall a program option.
Step 3: Choose Mozilla Thunderbird and click Uninstall.
Step 4: Click Yes to confirm and then follow the instructions to complete the uninstallation of Thunderbird.
Step 5: Now, go to the Mozilla Thunderbird website and download the installer of Thunderbird.
Step 6: Double-click the installer and click Run to start installing the application.
Step 7: Follow the instructions to install the application. 
6. Run the Portable Thunderbird Version 
If Thunderbird isn't working on your PC, it might be due to an installation issue. To solve it, you can download and run the portable version of Thunderbird. This version of Thunderbird doesn't require installation. It means it won't add any information to the registry and won't be affected in any way by the previous Thunderbird installation. Once you download the portable version, run it and check if you still face the same issue.
Conclusion 
If the above solutions didn't fix the Thunderbird issue, you might opt for a different email client. You can go for Outlook, as it is among the leading and trusted email clients today. However, you'll have to transfer your Thunderbird data to your new email client. To do that, you'll need a converter software that will convert your Thunderbird data into a PST format that is readable by Outlook. One such software is Stellar Converter for MBOX. 
This software can help you convert your Thunderbird MBOX files into PST format while preserving the data integrity. This software also supports the conversion of MBOX files of multiple email clients, like Apple Mail, SeaMonkey, Entourage, Eudora, Mozilla Mail, and many others.