We delete all files and folders and format the storage drives before selling our old computers or handing them over to siblings or friends. We think performing a simple deletion or format can permanently delete our files and make them inaccessible.
However, as a wise man once said –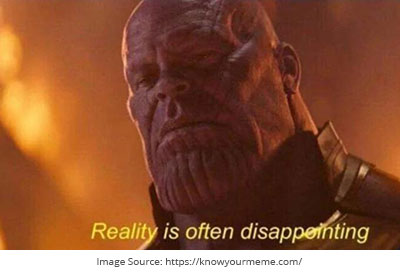 Source - https://knowyourmeme.com/photos/1477329-avengers-infinity-war
We all know that when a file is deleted, only the header is removed and its allocated space becomes ready to be overwritten by new data. While the allocated space seems empty, the deleted file is still present, which anyone can recover using data recovery software easily available online.
If data stored on your computer falls into the wrong hands, you could easily become a victim of identity theft. This could further jeopardize your privacy and lead anyone to misuse your confidential information. To safeguard yourself from such a situation, you can learn some secure methods to permanently delete files from your computer and always stay one step ahead of data thieves.
What are the Dangers of Unsecure File Deletion?
The files we delete using either SHIFT + DELETE keys or emptying the Recycle Bin only remove them from the storage device. However, as stated earlier, only their headers and pointers are removed, and the allocated space is cleared for overwriting.
If this data is not overwritten, anyone can easily recover it with the help of an advanced file recovery software. This data can be misused to harm you in numerous ways –
Leakage or misuse of confidential data
Identity theft
Exposed financial information
Loss of reputation due to data breach
Why you should Perform Secure Data Deletion?
Now that we know how not deleting files permanently can harm us, it is all the more important to practice secure data deletion methods. Here are some reasons why you should permanently delete your files in a secure manner –
Prevents data leakage
Prevents data/identity theft
Prevents misuse of personal/enterprise data by hostile people with ill-intentions
The above-mentioned points are some benefits of secure file deletion. Using a File Eraser for this purpose helps us remove traces of files and deleted data permanently beyond the scope of recovery.
Methods to Permanently Delete Files from Your Computer
It is important to be aware of secure file erasure as it can save us from situations that could harm our privacy. And it's equally important to know ways to permanently erase files from your PC, in a secure way. Let's look at the methods one by one.
Method 1: Empty the Recycle Bin
Emptying the Recycle bin will ensure that you or no one can casually go and restore a deleted file after it has served its purpose. Following are different ways to empty a Recycle Bin.
Right-click on the Recycle Bin and click on Empty Recycle Bin
Open Recycle Bin, right-click anywhere to bring a pop-up menu and then click on Empty Recycle Bin.
Empty the Recycle Bin by clicking on Recycle Bin Tools on the menu bar and clicking on Empty Recycle Bin.
Note:However, permanently deleted files from the Recycle Bin can be recovered using a powerful file recovery tool. Hence, use this method only if you plan to reuse the storage device yourself.
Method 2: Permanently delete files using File Explorer Ribbon
Another quick and easy way to permanently delete files from your computer is using the File Explorer ribbon. The steps are quite simple to follow –
Open File Explorer by pressing WINDOWS + E.
Locate the file/s you want to delete and select them.
Click on Home in the File Explorer ribbon.
Locate the Delete icon and click on the down arrow under it.
Click on Permanently Delete.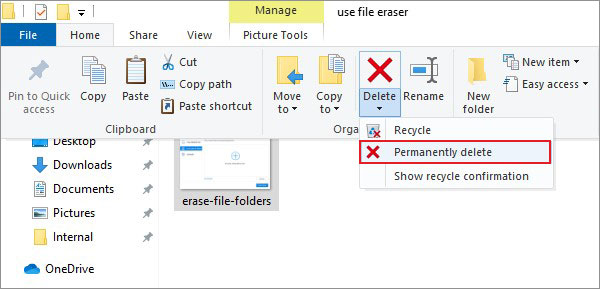 Method 3: Use SHIFT + DELETE
If you don't want to use the File Explorer ribbon or empty the recycle bin every time after deleting files, you can use this direct keyboard method. It is a simple method where you have to select the files and press a key combination to delete them. Here are the steps to use this method –
Locate and select the files you wish to permanently delete.
Press SHIFT + DELETE.
This action will permanently delete the selected file/s from your PC. Hence, be careful while using this method and ensure you don't accidentally delete an important file.
Note: The above three methods will delete files permanently from your system, but recovering them is still possible with the help of specialized data recovery software, provided there was no overwriting of files.
The next three methods will discuss secure and permanent deletion of files, which even a file recovery software won't recover. Let's dive in.
Method 4: Use Cipher to Permanently and Securely Erase Files
Cipher is a powerful built-in utility designed by Microsoft for securely erasing files on a computer or storage drive.
It is a simple utility that executes a command in the Windows PowerShell. However, it can only be used after deleting the unnecessary files from the location and the Recycle Bin. Once this command is executed, it repeatedly overwrites the deleted files' data with random data to make it irrecoverable. Here are the steps to use the Cipher command –
Open Windows PowerShell with administrator privileges.
Type Cipher /w:C:[Path] in the PowerShell terminal window. Example. – Cipher /w:C:\Users\Admin\Downloads\docs
Press Enter.
The command will start overwriting random data on the deleted files' traces.
As this method overwrites all the file traces, file recovery becomes nearly impossible for any data recovery software.
Method 5: Use the Remove-Item Command with the Recurse Parameter in PowerShell
Another way of permanently erasing files from the computer is using Windows PowerShell. Use the Remove-Item command along with the 'Recurse' parameter to permanently delete files from your computer. To do this –
Launch Windows PowerShell with administrator privileges.
Type Remove-item [Path] –recurse in the console and press Enter. Example – Remove-item Remove-item C:\Users\Admin\Downloads\mydoc.docx –recurse

Let the command delete your file/s securely.
Method 6: Use BitRaser File Eraser
The above-mentioned methods will surely erase your files permanently. But there are chances that their traces could be found and recovered.
To eliminate any possibility of recovering deleted data, you must use Stellar's BitRaser File Eraser. It is a powerful software that permanently wipes off data from your computer. It also wipes traces of deleted files from any storage device in just a few clicks.
This tool uses multiple advanced data erasure algorithms to permanently erase files and data present on the storage drive. It also erases any traces of deleted data and renders them irrecoverable. Apart from removing user-created files, this powerful tool can also erase browser history, cache, cookies, temporary files, etc.
Steps to Use BitRaser File Eraser–
BitRaser File Eraser is a simple-to-use software with a clean UI, which makes it a perfect data erasure tool for anyone. Here are the steps to use it –
Buy and install BitRaser File Eraser from its official website.
Launch the software.
Click on Erase Files & Folders in the left pane.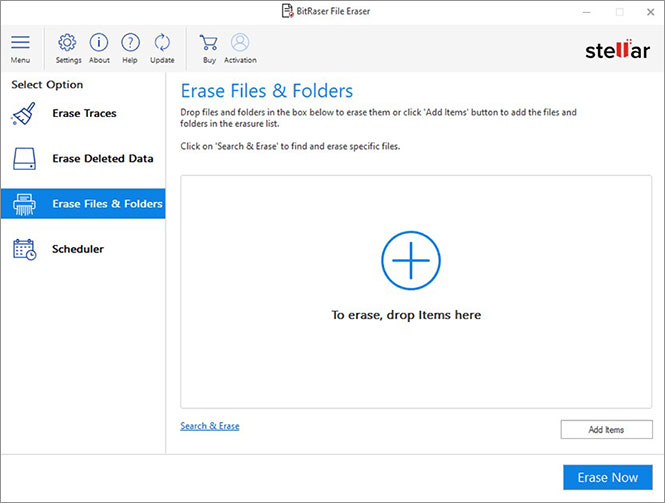 Add files and folders you wish to permanently delete and click on Erase Now.
The software will erase the selected files permanently and make them irrecoverable beyond any scope of recovery.
Note – If you have deleted some files before and want to erase their traces, simply scan your system with BitRaser File Eraser for any remaining traces of deleted data and wipe them off completely.
Permanently Deleted Files, Gone Forever
Every day, we delete many unnecessary files from our computers to declutter them. While permanently deleting files ensures they are not accessible on the system, they can easily be recovered and misused by anyone. Hence, secure data deletion is necessary to prevent unauthorized access to your confidential data.
We hope the methods mentioned in this post helped you permanently and securely delete your data.