Cached Exchange Mode was introduced with the release of Outlook 2007. However, it was only after Outlook 2013 that Sync Slider was introduced for Cached Exchange Mode. Sync Slider allows users to change or adjust how much data to download from the mailbox server and store in the local offline cache (OST). It is also sometimes referred to as Cache Exchange Mode Slider.
What is Sync Slider in Outlook?
Sync Slider or Cached Exchange Mode Slider is an additional setting provided by Microsoft Outlook for Exchange, Office 365, Microsoft 365 Outlook, Outlook.com, or IMAP-based email accounts. The option is present under More Settings of your email account.
You can slide it forward or backward to change or adjust the sync time in days, months, or years. You can move it to adjust how much online mailbox data to download or synchronize and store in the Outlook OST data file. Thus, if your mailbox data is in several GBs, you can choose to only keep the latest mail items in the offline mailbox and keep the OST file size under recommended limits.
By using the Sync Slider setting, users can keep their offline cache (OST) small and avoid inconsistencies, corruption, or Outlook performance issues often caused by large or oversized OST file.
An oversized or large OST file is prone to corruption and may lead to data loss or synchronization errors, preventing users from sending or receiving emails or moving emails between folders.
Read more, How to manage the oversized or large OST file?
How to Use Sync Slider in Outlook?
You can find the Sync Slider setting in Outlook 2013 and later versions by following these steps:
Open Outlook and go to File > Info > Account Settings > Account Settings.
Select your email account or profile under the Email tab and click Change.
In the Change Account window, you can see the Mail to keep offline slider (Sync Slider).
Note: The Sync Slider can only be adjusted when Use Cached Exchange Mode is enabled. If you are using the Online Mode for accessing your email, the Mail to keep offline or Sync Slider setting will be greyed out.
Once you have found the Sync Slider, you can move forward or backward to adjust the synchronization timer and choose how much data you want to synchronize. You can choose from minimum 3 days to maximum 5 years. You may also choose to keep 'All' mail items in the offline OST file. However, this isn't recommended as Outlook will download all mail items from the mailbox server that may increase and exceed the OST file size, leading to corruption and other issues.
You can refer to the following table to learn more about Sync Slider and how much data you can keep offline in Exchange, Office 365, and IMAP email accounts.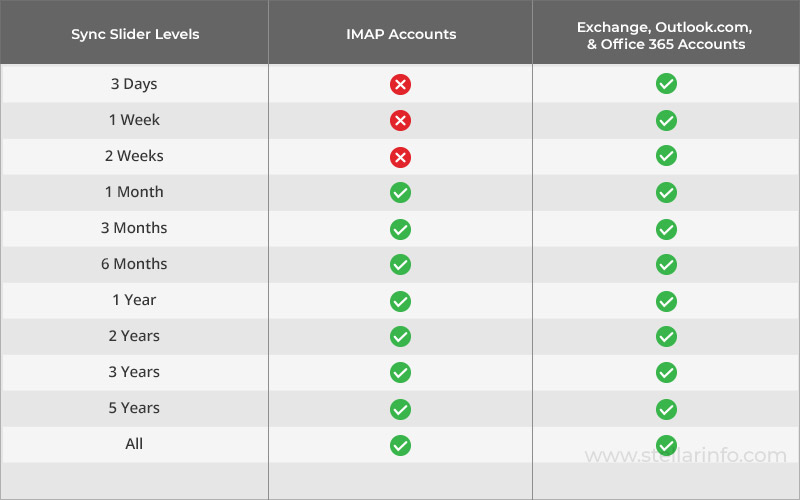 You can adjust the Sync Slider any time or as per your needs. However, if you want to view messages not synchronized in Offline Storage Table (OST) file, you can use the View on Server option.
Changing Sync Slider Time using Registry Keys
You may also use Registry Editor to add or change the specific key values to modify the sync time. The steps are as follows:
Press Windows + R, type regedit, and press the Enter key
Then navigate to HKEY_CURRENT_USER\Software\Policies\Microsoft\Office\Vxx\Outlook\Cached Mode.
If the Cached Mode key is not available, you can right-click on the Outlook key and choose New > Key to create it.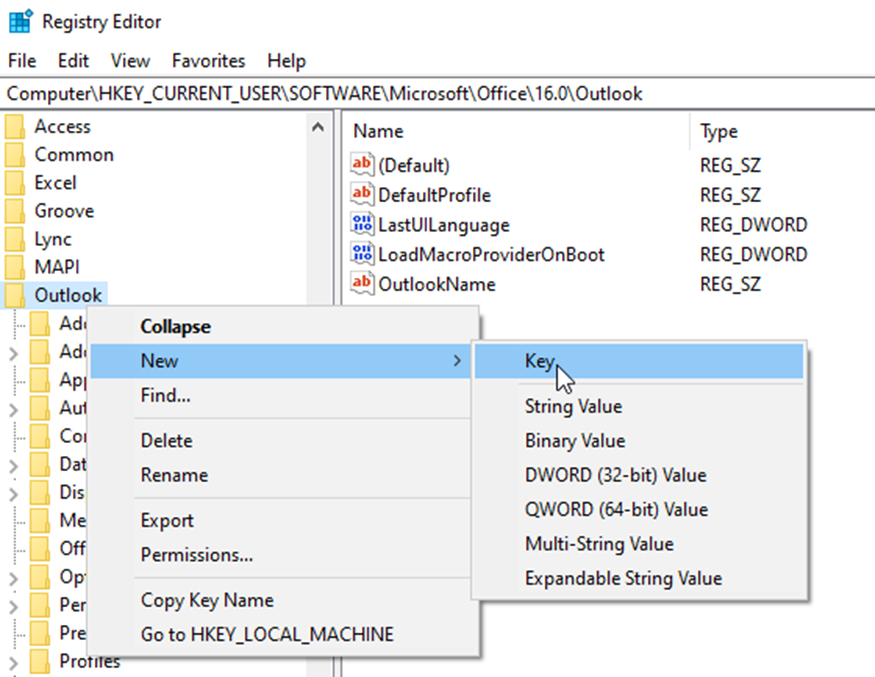 Create a syncwindowsetting Dword value and enter 1, 3, 6, 12, or 24 (as months) in Outlook 2013 or enter 0 to sync all emails. In Outlook 2016, you can also enter 36 and 60 value (months).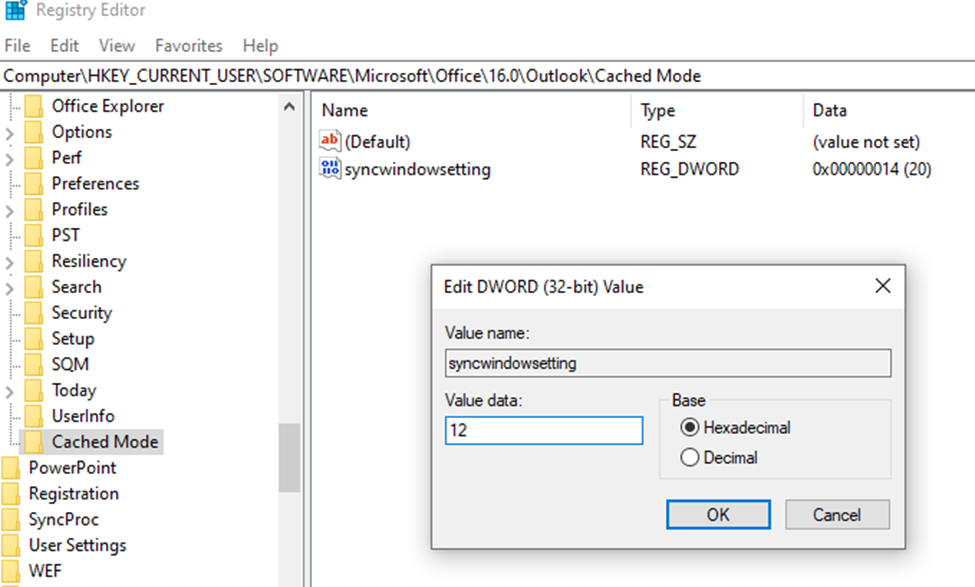 In Outlook 2016, you also need to create a syncwindowsettingdays key and enter 3, 7, or 14 (as days) or 0 to sync all emails. However, you need to use both keys in Outlook 2016 in combination. For instance,
If you want to keep 3 days, enter 0 in syncwindowsetting and 3 in syncwindowsettingdays. Similarly, to set 6 months duration for sync, enter 6 in syncwindowsetting and 0 in syncwindowsettingdays.  
Which Mail Items or Mailboxes are affected by the Sync Slider?
When you use the Sync Slider to choose how much mailboxes data to synchronize from the server, it does not affect the following mail items:
Contacts
Calendar
Journal
Notes
Tasks
Outbox
Also, contents of Shared or Public Folders, Delegate Folder, or Shared Mailboxes are not impacted by the change in the Sync Slider setting.
Only emails and attachments in the user mailboxes are affected by the change in the Sync Slider setting.
How to Further Limit Mailbox Synchronization?
Further, you may also apply filters to limit the amount of data synchronized in a particular mail folder. You can find this setting in the properties of the mail folder.
Similarly, you can also disable Shared Folder download or Public Folder synchronization.
Go to File > Info > Account Settings > Account Settings and click Data Files.
Select your OST file, click Settings, and go to the Advanced tab.
Uncheck the Download shared folders and Download Public Folder Favorites
Filtering and disabling Shared or Public Folder synchronization can help you further reduce or keep the OST file size smaller or under recommended limits.
Adjusting Outlook Exchange Mode Sync Slider via Group Policies
As an administrator, you can download and make use of the Group Policy administrative template to configure the Cached Exchange Mode Sync Slider or Mailbox to keep the offline setting. To define or change the group policy for Sync Slider, download Group Policy template for Outlook or Office.
Conclusion
In this article, we discussed the Sync Slider, also known as the Cached Exchange Mode Slider. The slider is used to adjust the sync time and prevent Outlook from downloading all or excessive mail items in the local offline cache (OST). By using the Sync Slider, you can keep the OST file size smaller or under recommended size limits, thereby preventing any Outlook performance issues, synchronization errors, delay in sending or receiving emails or OST file damage due to oversizing or large-size. However, if your OST file becomes inaccessible due to oversizing, you can use an OST to PST converter tool, such as Stellar Converter for OST, to convert the OST into Outlook importable PST format. You may also directly export mail items from inaccessible or orphaned OST files to Microsoft 365, live Exchange Server mailbox or existing Outlook profile and restore email items in a few clicks.