Stellar Phoenix Mailbox Exchange Recovery
Step 1: Interactive GUI provides support to click one of the available options:
Open EDB: When location of corrupt EDB file is known
Find EDB: When location of corrupt EDB file is not known
Step 2: When you click on Find EDB button, a popup appears to promote search for desired EDB. Select the right drive from the drop-down menu and the file type and Click on Start button.
Remember to Check box for Find in Subfolders
Step 3: Select Scan Mode screen appears.
Select Quick Scan to scan through the file. the default scan option repairs most of the corrupt objects in EDB file
Select Extensive Scan if EDB file is severely corrupt. Extensive scan is time taking process and yields better results
Step 4: Scanning progress is depited through the Progress bar. Size of EDB decides upon the time of scanning
Step 5: A pop-up appears to select more EDBs. This unique option lets you select multiple EDBs. Scan and repair these EDBs with ease.
Step 6: The scanned and repaired EDB file is previewed by the Tree-format as available on the screen. Select a particular file/folder or select the complete file, as per requirement
Step 7: A pop-up appears to select the file format for saving the repaired file:
Click on Save button. Checkbox for PST. Alternately checkbox for other format if file is saved in different format. Browse to select the location to save file
Step 8: Export recovered mailboxes directly to Office 365. Checkbox for Office 365 from the given options
Step 9: Enter Office 365 Login Credentials and click on Ok button.
Step 10: Select Mailbox folder from left pane -> Right click on the folder -> Select "Export to Exchange Mailbox"
Step 11: Checkbox for "Connect to All Mailboxes of server" -> Enter Admin-Login Credentials of Live Exchange server to export mailboxes' content directly to Connected Exchange server mailboxes
Step 12: In Export to Mailbox pop-up, double click and select the mailbox to import recovered emails
Step 13: Search for any specific email, based upon search criteria. Feed in the details for one or more criteria from the offline EDB file.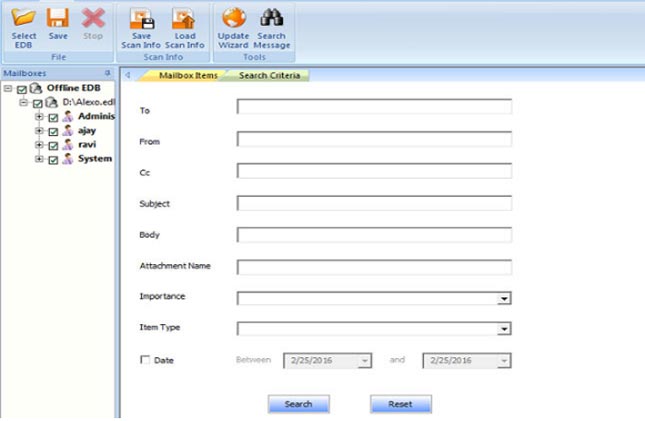 Step 14: Click on Save button and checkbox for PST to save the file in PST format. Select the destination path and PST file is saved at preferred location. Alternately checkbox for MSG, EML or other file format to save recovered EDB in that format.
Step 15: Recovered file or data is saved at preferred location as shown in the following screen.