Stellar Audio Video Converter
Smart and Quick Audio Video Converter supporting various files types
Professional Audio Video conversion tool that converts your media files into the desired formats in order for making them compatible with specific programs (such as Windows Media Player) and devices (such as iPods).
Converts media file to a supported file type
Performs audio to audio, video to video, video to MP3 conversion
Performs digital audio extraction from an audio CD
Supports batch conversion to convert multiple media files concurrently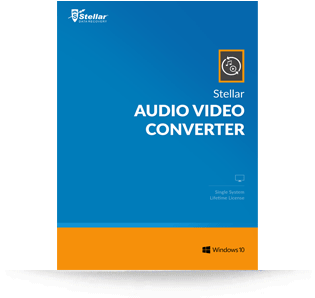 The software allows users to carry out quick and effortless conversion of their valuable audio/video files without losing the original digital media quality. Listed below are some of the salient features of this robust audio converter tool:
Audio to Audio Conversion
The audio converter facilitates conversion of audio files into specific audio file formats so that they can be readily played on a range of audio players and portable devices like mobile phones, iPods, etc. The software supports all popular media file formats, such as MP3, WAV, WMA, FLAC, OGG, AAC, and MP4.

Video to Video Conversion
The video converter software allows converting a video file from one format to another format supported by almost all media players and devices. The software supports all common video file formats, such as MPG, MP4, MKV, FLV, AVI, 3GP, and WMV.

Video to MP3 Conversion
Using this advanced video to audio converter, you can safely extract MP3 audio from your video files. This option is best suited for situations that require you to run a video file in a media player that supports only audio files. The software converts MP4 to MP3, MPG to MP3, FLV to MP3, FLV to MP3, and the like.
Rip Audio Tracks from Digital Audio CDs
This MP3 converter makes it possible to easily rip selected audio tracks from a copy-protected digital audio CD. This gives you the benefit to copy and paste these files as required to another storage device. During this process, the software ensures that the original quality of your audio remains intact.

Support for Batch Conversion
The software facilitates batch conversion by allowing you to choose multiple audio or video files for conversion at the same time. This eliminates the need to run the software several times for converting more than one media file.

User-friendly and Customizable Software
The video to audio converter tool allows fine-tuning the basic settings, like bit rate, aspect ratio, channel, and video size. You can set specific attributes for your converted audio/video file as per your requirements.
* Free Download shows all the constituent modules and offers free evaluation of the software. To enjoy full features, you need to download the full version of the product.
FAQ's
Previous
Next
How to set the same frame size for the output video as that of my input video?

Answer:

When you select a file for conversion in the main interface and click 'Convert', the Output Folder dialog box is displayed. After specifying the output folder and format in this dialog, click the 'Advanced Settings' button. You will see the Advanced Settings dialog box. In this dialog box, you can specify the desired frame change rate by selecting a value from the 'Fps' drop-down menu.

How can I improve the quality of output video file?

Answer:

In order to improve the quality of your output video, you need to change the frame size and bit rate settings for the video file. To do so, follow these steps:

In the Output Settings dialog box, click 'Advanced Settings' button. The Advanced Settings dialog box will appear.

In this dialog, choose a frame size for the output video file in the 'Video Size' drop-down menu.

Further, select the desired bit rate for the video file from the 'Bit Rate' drop-down menu.

Can I use this video converter tool on a Windows 8 based computer?

Answer:

Yes, the software is compatible with Windows 8.

What is meant by ripping?

Answer:

Ripping is usually done to extract audio tracks from a copy-protected optical disc. Generally, audio CDs with copy control technology cannot be used for copying files to other portable devices. This can be easily accomplished by ripping the CD.
You May Be Interested in These Items