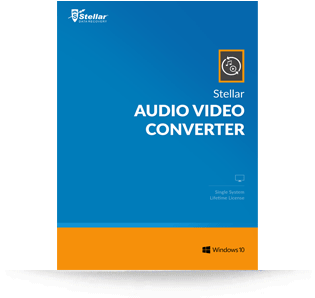 Stellar Audio Video Converter
One-steps conversion of Audio/Video files in various formats
Stellar Audio Video Converter is an optimized and competent media file migrator, combined with a group of significant features to complete the final conversion in a flawless yet easy way.
Convert video files to Video, HD Videos, Devices and Audio format in minutes
Converts various Audio formats to MP3, WAV, AIFF, MP2, M4A etc.
Option to crop, rotate, trim and flip video files
Transform videos with effects like Brightness, Contrast, Saturation, Watermark
Save the converted media as MP4, MPEG, MOV, MKV, M4V, AVI, 3GP, 3G2 etc.
Converted media files are compatible with Apple, Samsung, Sony, Moto
This enhanced software enables you to convert video-to-video, audio-to-audio and video-to-audio files to make the file compatible with the range of portable devices like SmartPhones, PC, Mac and T.Vs.

Audio to Audio Conversion
This audio file converter facilitates conversion of audio files into specific audio file formats so that they can be readily played on a range of audio players and portable devices like smartphones, iPods and iPads etc. The software supports all popular media file formats, such as MP3, WAV, WMA, FLAC, OGG, AAC, and MP4.

Video to Video Conversion
The video converter software allows converting a video file from one format to another format supported by almost all media players and devices. The software supports all common video file formats, such as MPG, MP4, MKV, FLV, AVI, 3GP, and WMV. This tools supports HD video files conversion.

Video to MP3 Conversion
Using this advanced video to audio converter software, you can safely and quickly extract MP3 audio from your selected video files. This helpful option is best suited for situations that require you to play video files in a media player that supports only audio/MP3 file formats. The software converts MP4 to MP3, MPG to MP3, FLV to MP3, FLV to MP3 and the like and plays them on range of audio players without any problem.

Trim non-required video segments
This video file converter software enables to clip the source video by removing unwanted portions from it. You can trim video file from the starting or ending point and keep only the required section. Choose Start point from where you want the video to be started and the End point where the clip will be stopped. Instead of removing the selected video section, the software hides it from playing.

Marvelous Color Effect on Videos
This option of the software gives you the opportunity to customize, enhance and transform your videos by modifying the brightness, contrast and saturation of the output files as per your choice. You just need to select the effect you want to apply and preview the result. Additionally, you can combine multiple effects on your video to make it more attractive and sharp as you want.

Filter Effect on Videos
You can filter the effects to manipulate your video in various ways. These types of filter effects will be applied to the entire video clip. This tool is capable of modifying the complete appearance of the source element by applying special effects to create unique transformations on your source file using distortions and lighting effects.

Add Watermark on Videos
If you want to add watermark on videos for authenticity then this tool gives you the best option to do it. You can personalize the video by embedding desired text on it. Just select text watermark accordingly and the software will help you easily finish the job.

Adjust the Videos accordingly
The Adjust module avail multiple options to customize video settings. You can crop, rotate and flip the video files. You can adjust the rotation of your videos in clockwise or counter-clockwise direction and also flip the video in horizontal and vertical directions.

Previews and Convert Files
Stellar Audio Video Converter is capable of converting video files to Video, HD Video and Audio format using drag and drop option. You need to choose a desired format to initiate media conversion. The software previews added file before conversion process and save the file after successful conversion to a desired location.

Batch Conversion Available
The software performs conversion of multiple audio / video files simultaneously. You just need to drag and drop the files directly to add single or multiple files in one go. Once you have added all the desired files successfully, you can preview and convert them to desired file format.
* Free Download shows all the constituent modules and offers free evaluation of the software.
FAQ's
Previous
Next
How to set the same frame size for the output video as that of my input video?

Answer:

When you select a file for conversion in the main interface and click 'Convert', the Output Folder dialog box is displayed. After specifying the output folder and format in this dialog, click the 'Advanced Settings' button. You will see the Advanced Settings dialog box. In this dialog box, you can specify the desired frame change rate by selecting a value from the 'Fps' drop-down menu.

How can I improve the quality of output video file?

Answer:

In order to improve the quality of your output video, you need to change the frame size and bit rate settings for the video file. To do so, follow these steps:

In the Output Settings dialog box, click 'Advanced Settings' button. The Advanced Settings dialog box will appear.

In this dialog, choose a frame size for the output video file in the 'Video Size' drop-down menu.

Further, select the desired bit rate for the video file from the 'Bit Rate' drop-down menu.

Can I use this video converter software on Windows and Mac computer?

Answer:

Yes, Stellar Audio Video Converter is compatible both Windows OS and Mac OS X. You need to download the EXE file for PC and DMG for Mac in order to install the software.

What is meant by ripping?

Answer:

Ripping is usually done to extract audio tracks from a copy-protected optical disc. Generally, audio CDs with copy control technology cannot be used for copying files to other portable devices. This can be easily accomplished by ripping the CD.
You May Be Interested in These Items