Most users are aware that simply deleting files, folders, and other data from the PC or any other storage device doesn't remove it permanently. Such data, until overwritten, can be easily recovered using a professional data recovery software. So, it is important to permanently delete the sensitive and confidential files, folders, and other data to safeguard it against theft and breach. To achieve this objective, there are several file eraser tools available in the market that delete files and other data from the storage devices, beyond the scope of recovery. In this article, we'll be mentioning 10 best file eraser software that are user-friendly and securely remove the data from system and other storage devices.
10 Best File Eraser Software
Caution: While using the file erasing software, you must tread with utmost care. If any important data gets erased mistakenly, it would be impossible to recover it.
1. BitRaser File Eraser
BitRaser File Eraser is one of the best file eraser software that permanently wipes the sensitive data from your laptop, PC and other storage devices. Equipped with world's most sophisticated erasure algorithms, it ensures that the data is erased swiftly and beyond the scope of recovery. You can perform the following functions on it:
Erase Traces – It wipes the traces generated by daily internet activities, like cookies, temp files, autofill information etc. and traces from application usages, like activity log, preferences etc.
Erase Deleted Data – Permanently wipes the files you delete by emptying recycle bin or using Shift + Delete keys.
Erase Files and Folders – It gives you an option to create, edit, remove, or save a list of items that you need to wipe permanently.
Scheduler – It allows you to schedule the erasure tasks at defined frequencies - once, daily, weekly and monthly.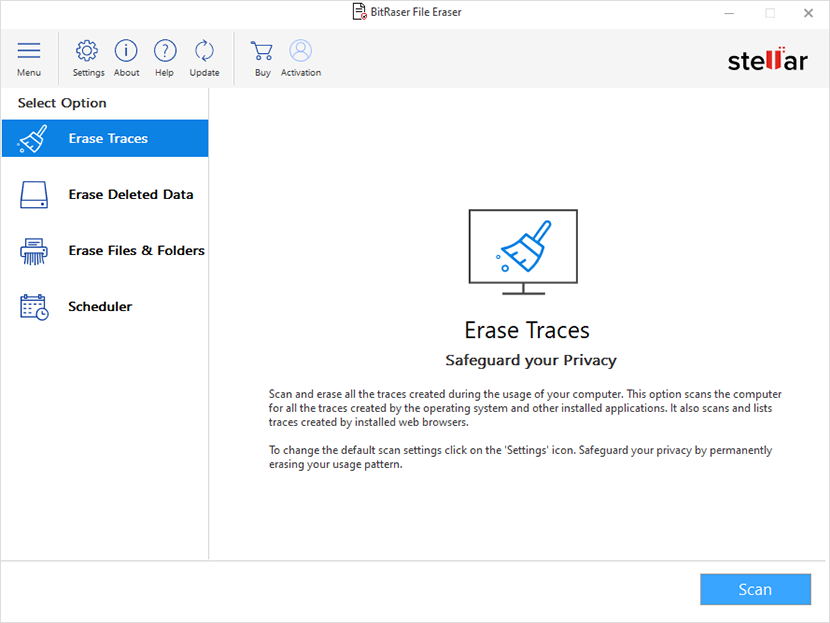 Image Courtesy: [stellarinfo(.)com]
Pros
It is equipped with 3 international data erasure algorithms for Windows and 17 erasure algorithms for Mac including DoD 5220.22 M (3 passes), GOST-R, HMG IS5, Gutmann etc.
It is equipped with erasure verification to ensure secure data erasure beyond the scope of recovery.
Erasure of system activity traces to warrant the privacy and better system speed.
Provides the option to find the specific file and file type using name or extension.
DIY software with easy-to-use interface.
Available for
Windows OS 10, 8.1, 8, 7, and Windows Server 2019, 2016, 2012, 2008, and 2003.
Mac OS X 10.9 and all later versions.
2. Eraser
It is one of the advanced data eraser software that allows you to erase sensitive data from your hard drive. It erases data by overwriting the hard drive multiple times with carefully selected patterns. It is an open-source software with its source code released under GPU General Public License.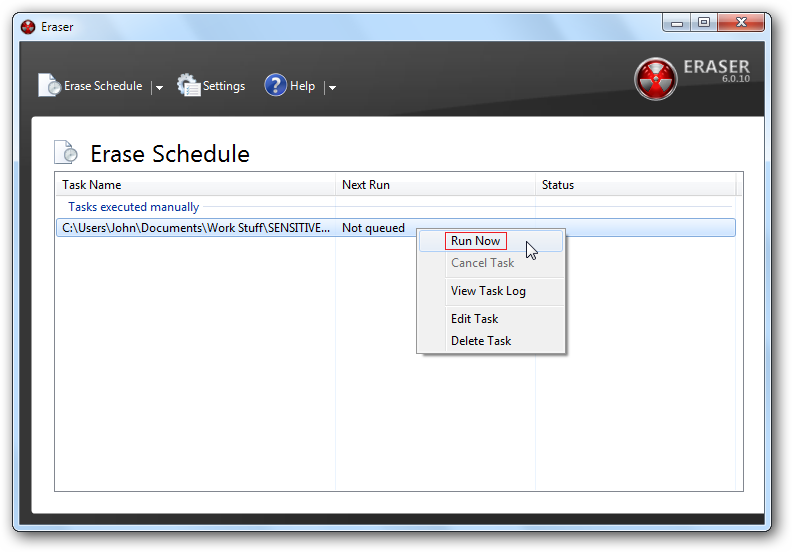 Image Courtesy: [eraser.heidi(.)ie]
Pros
It uses three data erasure algorithms, including the US DoD 5220.22-M.
Capable of erasing residues left of deleted files.
Equipped with a scheduler option.
Suitable for any drive that works with Windows.
Available for
Windows XP (with Service Pack 3), Windows Server 2003 (with Service Pack 2), Windows Vista, Windows Server 2008, Windows 7, 8, 10 and Windows Server 2012, 2016.
Not available for Mac.
3. File Shredder
File Shredder is an effective file shredding application that deletes files from computer beyond the scope of recovery. It is a fast, trustworthy, and safe software. It was released under the GNU license, making it available free of cost for all users.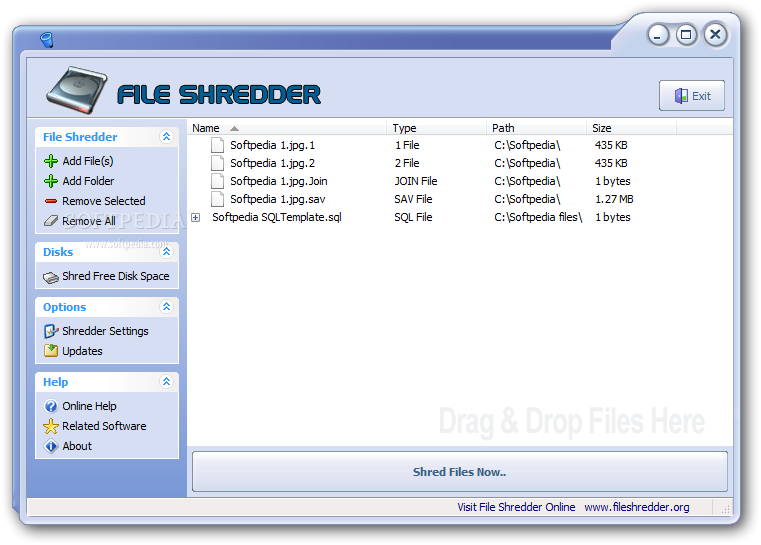 Image courtesy: [fileshredder(.)org]
Pros
Option to choose from 5 different erasure algorithms.
Equipped with an integrated Disk Wiper that cleans up the unused disk space.
No minimum hardware requirement. However, on faster systems, it works in a better way.
Available for individual and commercial use.
Available for
Supports Windows OS 10, 8, 7, Vista, XP, 2000, and Windows Server 2008.
Not available for Mac.
4. Hardwipe
Hardwipe is a secure data eraser software available free of cost for non-commercial use. It supports several data sanitization methods. It closes automatically once its process is complete.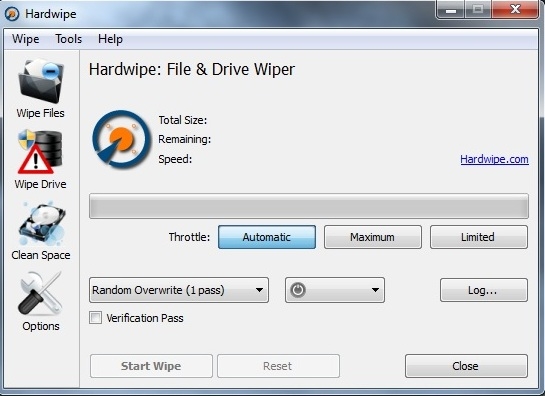 Image Courtesy: [hardwipe(.)com]
Pros
Integrates with the file explorer with a configurable 'right-click' menu.
Wipes internal drives and portable media.
Equipped with GOST R 50739-95, DOD 5220.22-M, Schneier and Gutmann sanitization methods.
Available for
Works with all the versions of Windows OS from Windows XP to 10.
No availability for Mac systems.
5. Blancco File Eraser
Blancco File Eraser guarantees permanent erasure of sensitive data. It provides a certified and 100% tamper-proof report to fulfil the compliance requirement. It is a freemium software that easily integrates with the existing IT framework of the system. Thus, it reduces system downtime during file erasers.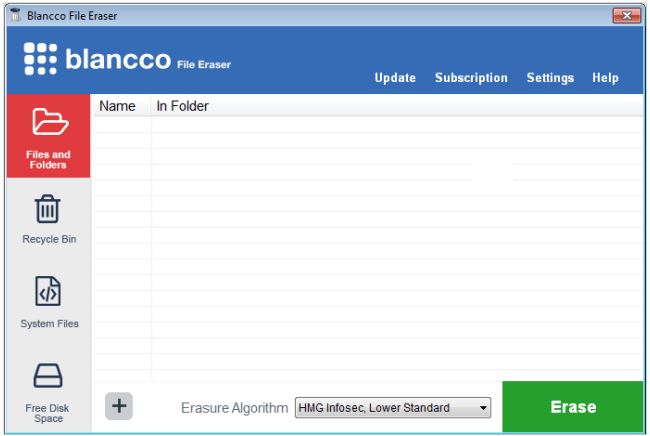 Image courtesy: [blancco(.)com]
Pros
Supports over 25 erasure standards established worldwide.
Installs easily within the enterprise IT framework without altering the existing data retention policy of the organization.
Erases files and folders both manually and automatically as per the user preferences.
Minimizes system downtime while performing file erasure.
Available for
Windows OS 10, 8, 7, Vista, and XP.
Macs based on x86 architecture.
6. Disk Wipe
Disk Wipe is a portable file eraser software available for free under EULA license for personal and commercial use. Disk Wipe efficiently and securely erases the data beyond the scope of recovery.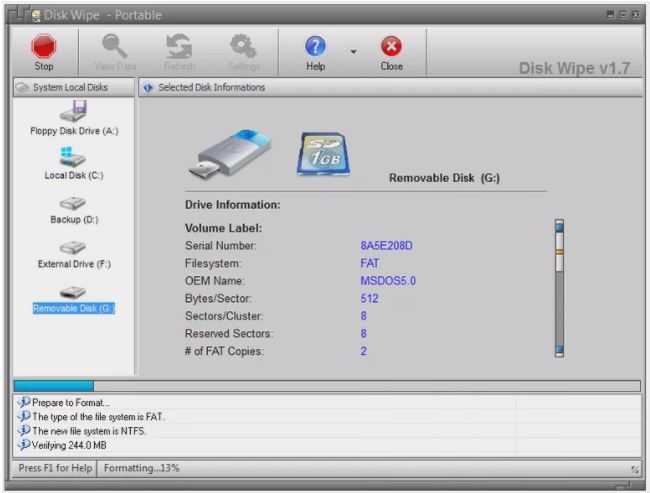 Image courtesy: [diskwipe(.)org]
Pros
It uses powerful algorithms to fill the spaces marked for overwriting on hard drive with useless binary data, thereby eliminating the possibility of recovery.
Uses quick format before disk wiping for faster performance.
Doesn't require installation for use.
Available for
Windows OS 10, 8.1, 8, 7, XP, Vista, and server editions with NTFS and FAT file systems.
Not available for Mac.
7. HDShredder 6
HDShredder 6 is the latest version of HDShredder. It has a free edition without any liability to buy. It is meant for temporary and private use. The free edition comes only with the option of 'Entire Drive Deletion' with Level 1 security.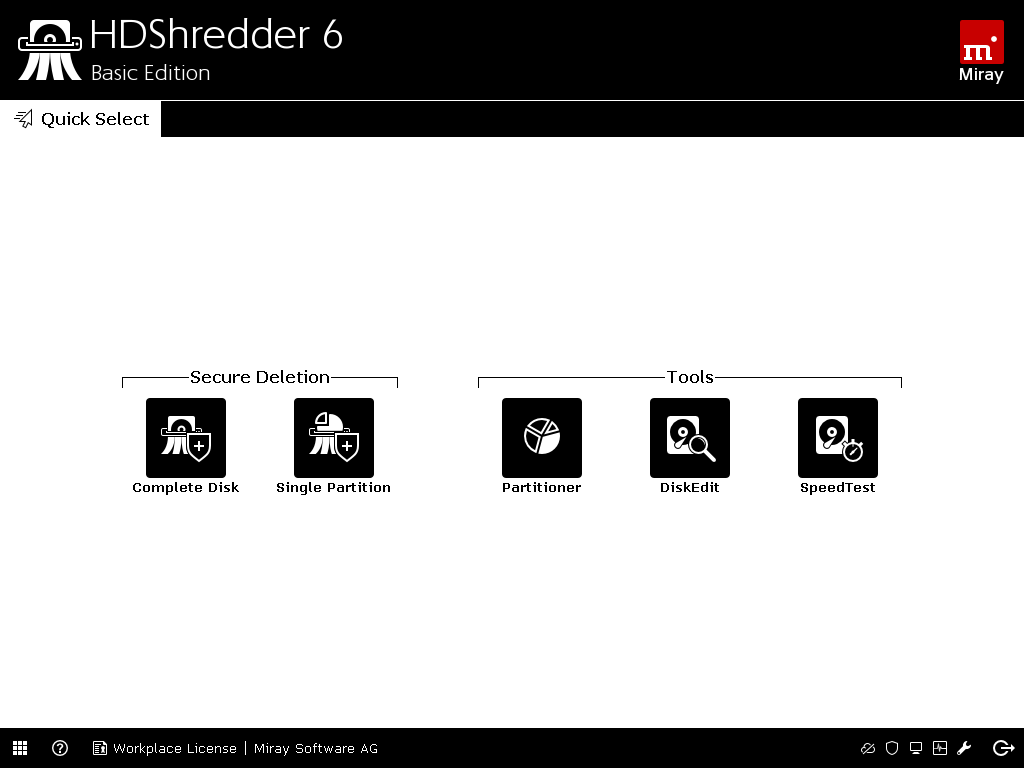 Image courtesy: [miray-software(.)com]
Pros
The free version only has iterative deletion patterns but other methods, like Random deletion pattern, SmartDefectSkip, etc., are available in higher editions.
Performs secure high-speed erasure in compliance with international erasure standards.
User-defined erasure methods.
Comes with manual and automatic shredding options.
Available for
Windows XP and higher editions.
Universal Download for other OS.
Not available for Mac.
8. Moo0 File Shredder
Moo0 File Shredder helps you erase files permanently with ease. To delete files, you need to drag and drop them in the Moo0 main interface window. The software supports four levels of erasing methods for file erasing.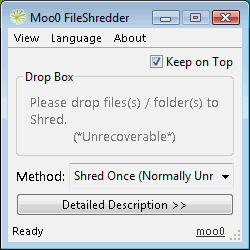 Image courtesy: [moo0(.)com]
Pros
Equipped with three different erasure algorithms, i.e., DoD 5220.22-M, Random Data Overwriting, and Gutmann's Algorithm.
Easy-to-use as you need to drag and drop your files/folders into the software window.
Option to configure it with every tab/window of your system for instant access.
Available for
Windows 10, 8, 7, Vista, XP, and Windows Server 2003.
Not available for Mac.
9. PrivaZer
PrivaZer is another free file eraser software that conducts irreversible erasers using overwriting techniques. Apart from file erasing, it has more than ten other major functionalities, such as Clean & Protect, Find & Display, Smart Cleanup of Free Space, etc.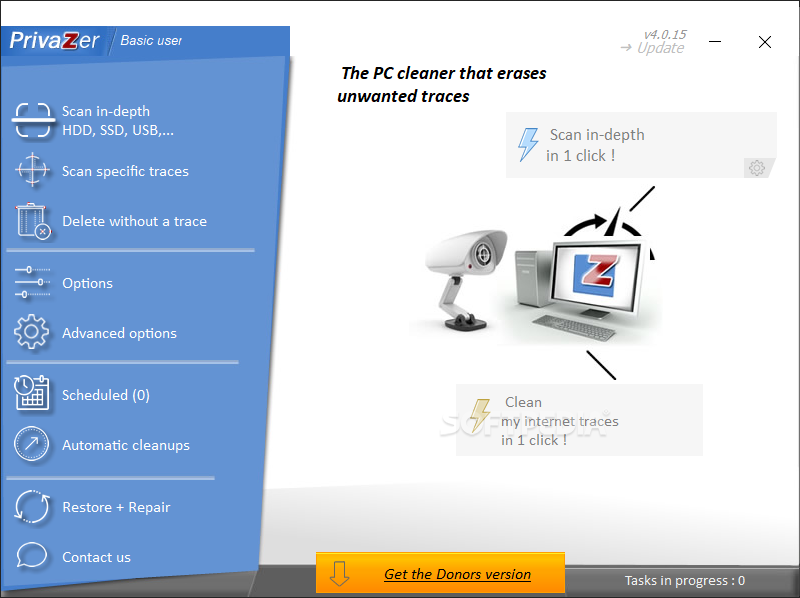 Image courtesy: [privazer(.)com]
Pros
Uses more than 5 erasure standards that include AFSSI-5020, AR 380-19, and DoD 5220.22-M.
Irreversible erasing with overwriting techniques.
Automatically recognizes the type of storage device and adapts to it.
Available for
Windows 10, 8, 7, Vista, and XP.
Not available for Mac systems.
10. PC Shredder
It allows you to wipe the free space created by previously deleted files. Thus, PC Shredder not only increases the free hard disk space but also improves the performance of your PC. It permanently removes the files of your choice, thus rendering them unrecoverable by any professional software. It is free for both personal and professional use.
Image courtesy: [pcshredder(.)com]
Pros
Designed with 5 built-in file erasure algorithms for overwriting the file space on hard drive.
No minimum system requirements but performs better on high speed systems.
Maximizes hard disk space and improves the computer's performance.
Available for
Windows 10, 8, 7, Vista, and XP.
Not available for Mac.
Conclusion
In this age of voluminous data transactions, you must take all the precautions needed to safeguard your sensitive data. Each of the above software has been chosen with utmost care to fulfill your data erasing needs. You can compare the software based on their features and choose the one that suits your specific requirements.
FAQs
1. How do I permanently delete a file?
To permanently delete a file, you will need a professional data eraser software that can overwrite the data. Always opt for a file eraser software that also removes the traces of installed apps and browsing data.
2. Is it safe to use file eraser software?
Certified data eraser software are safe to use. However, it is better to avoid freeware as they might be using weak file eraser algorithms. You can opt for BitRaser File Eraser or similar technologically advanced and certified file eraser software that uses international algorithms with more than one level of secure overwriting techniques.
3. Does eraser software really work?
Yes, file eraser software are very effective in deleting data from your system beyond the scope of recovery. They employ erasure algorithms to overwrite the sensitive data with random data multiple times, which makes it impossible to recover the original data by any data recovery software. Although, the effectiveness varies as per the algorithms used by a file eraser software.
4. Does Windows 10 have a file shredder?
Very few users know this, but Windows has its own built-in file shredder called Cipher. It is present on all Windows versions - from Windows XP till Windows 10. However, Cipher's design is not very user friendly and that is the reason why most users prefer a third party data eraser software.
5. Does emptying Recycle Bin permanently delete the files?
No, emptying the Recycle Bin merely categorizes the files as 'Unallocated', thus making the space occupied by those files available to be overwritten. You cannot be sure against data theft by emptying the Recycle Bin, as those files can still be recovered by using a data recovery tool.