Hard Drive is one of the most crucial components of your PC as it stores all the data produced, shared, and saved on your system. Without Hard Drive storage, most of your PC's functionalities become temporary as you can't save the outcome of any task.
It is also one of the busiest devices on your computer. Due to such rigorous usage, it needs to be regularly checked and maintained to prevent any mishap.
Overburdened with regular tasks, you don't always have enough time to frequently check your hard drive's health. In fact, most of us don't know how to check hard drive health regularly. To address the difficulty, many Hard Drive Health Check software are available online for you to leverage.
But which one to choose? Don't worry. We have curated a comprehensive list of the 10 best Hard Disk Health Check software for Windows in 2022. You can check out the features of each and easily decide the best one for your computer.
Best Windows Hard Drive Health Check software
Various hard drive health check tools claim to be the best of all available in the market. However, only a handful are dedicated to monitor the health of a hard drive on a Windows PC. So we've shortlisted the best software based on their features to help you make an informed decision.
1. Stellar Drive Monitor
Stellar Drive Monitor is a one-of-a-kind tool for checking a hard drive's health. You can use this software to check the health of an HDD/SSD/USB drive on Windows 11 and previous versions. The software is 100% secure and easy to use with a clean UI. Here are some of the distinctive features of Stellar Drive Monitor for Windows.
Simple Disk Status module to monitor the hard drive's temperature, health, and performance.
SMART status feature for a detailed report on the critical attributes of a drive, with an option to save reports for reference.
Dedicated Disk partition module to check specific partitions of the drive.
Scan disk option to identify bad sectors on your storage device.
Works effectively on internal and external PATA/SATA HDDs, SSDs, and USB hard drives.
Allows you to clone a drive. This feature is particularly helpful to protect your valuable data in dire situations like a drive failure.
If the software notices any anomaly on the drive, it generates prompt warnings to alert the user on a real-time basis.
It provides easy-to-understand detailed reports to the users.
Stellar Drive Monitor runs in the background without affecting the system's performance to monitor the hard drive's health.
Cons:
It doesn't support USB flash drive monitoring, but the scan and clone feature work on USB flash drives, SD cards, etc.
The free version doesn't allow cloning of the drive.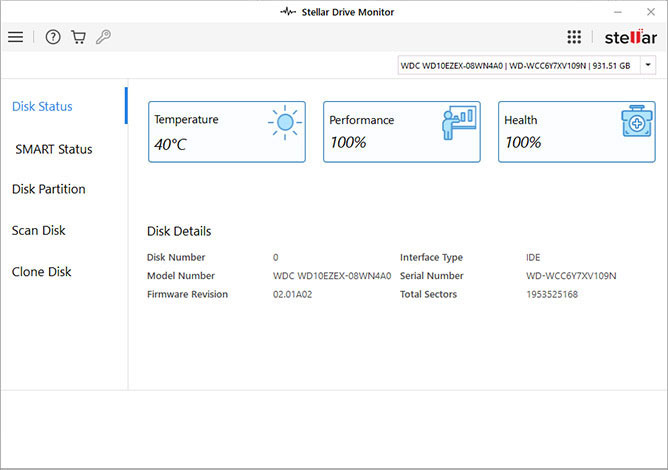 2. Hard Disk Sentinel
Hard Disk Sentinel is an HDD and SSD monitoring tool compatible with Windows 11 and previous versions. It is an effective tool to diagnose your hard disk problems and monitor the internal and external drives. Here are some important features of this tool.
Diagnoses and displays HDD and SSD health and performance.
Gives a textual description of hard drive issues and quick tips to rectify simple errors.
Uses disk transfer speed to analyze the hard disk performance and working status.
Equipped with multiple alerts and report options.
Uses disk health rating system to provide comprehensive reports on drive health.
Assesses SMART attributes of the drive to alert the user in case of drive failure.
Cons:
Very expensive for a Drive Monitoring tool.
Advanced features are available only in the Pro version.
No bad sector scan feature is available.
Doesn't allow cloning of disk in case of drive failure.
Complex UI needs the expertise to use the software.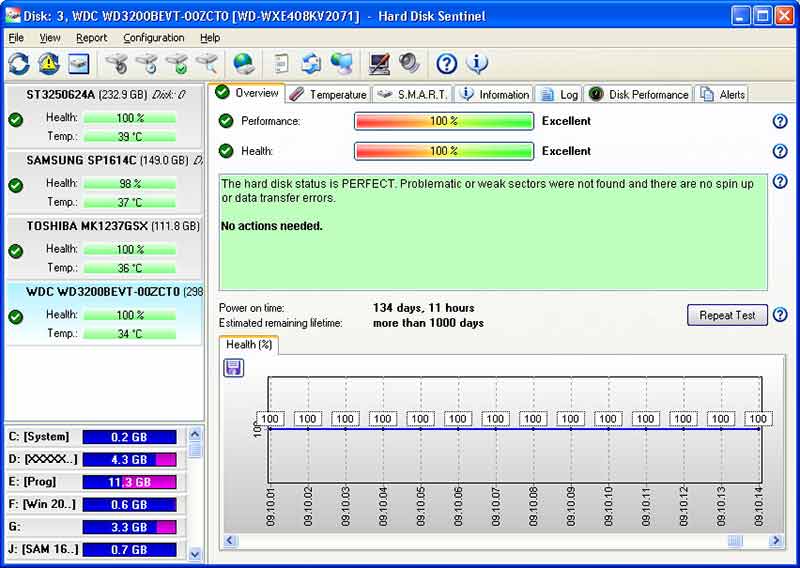 3. HDDScan
HDDScan is a hard drive diagnostic tool with an option to change some HDD parameters like AAM, APM, etc. It is useful for conducting regular health tests on your hard drive. Some other features of the software are discussed below.
Checks drive temperature and performance
Option to conduct read/write tests on the drive
Supports SATA/ATA HDDs, SSDs, and USB drives
Reads and analyzes SMART parameters on ATA/SATA/USB/FireWire HDD
Reports error information for SCSI HDD
Available as freeware with the option to print the generated reports
Cons:
No built-in feature to rescue a failing drive
No automatic alerts or warnings for errors
The error reports can be saved in MHT format only
Not compatible with Windows 11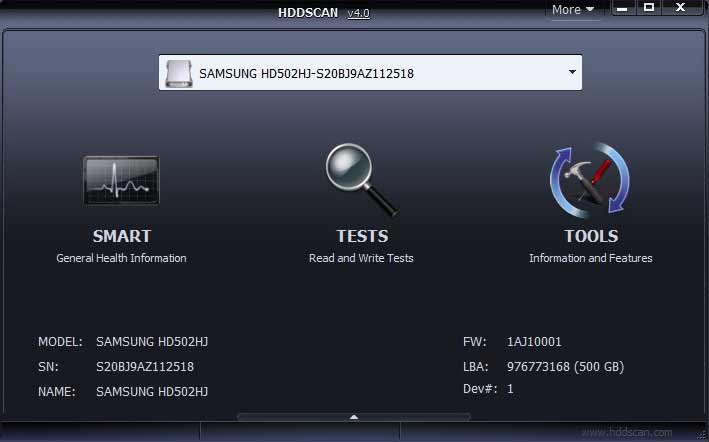 4. Seagate SeaTools for Windows
The SeaTools 5 for Windows is a comprehensive HDD/SSD health check software with multiple testing options like Short Drive Self Test, Drive Information, etc. The software comes from one of the leading hard drive-manufacturing names Seagate. Let us know some more features of this software.
It comes with five testing options to diagnose your hard drive thoroughly.
Works effectively on internal and external hard drives on Windows 11 and previous OS versions.
The software supports SATA, PATA, USB, 1394, eSATA, SAS, and SCSI hard disk drives.
Easily tests hard drives no matter the manufacturer.
Provides information on multiple drive attributes like serial number, capacity, firmware revision, etc.
Simple functions and compatibility with almost any hard drive make it suitable for rookies.
Cons:
You need to get SeaTools DOS for advanced features.
No option to scan the drive for errors like bad sectors, corruption, etc.
It is only a testing software with no option to safeguard data.
Doesn't run in the background. You need to close all the functions to run this tool.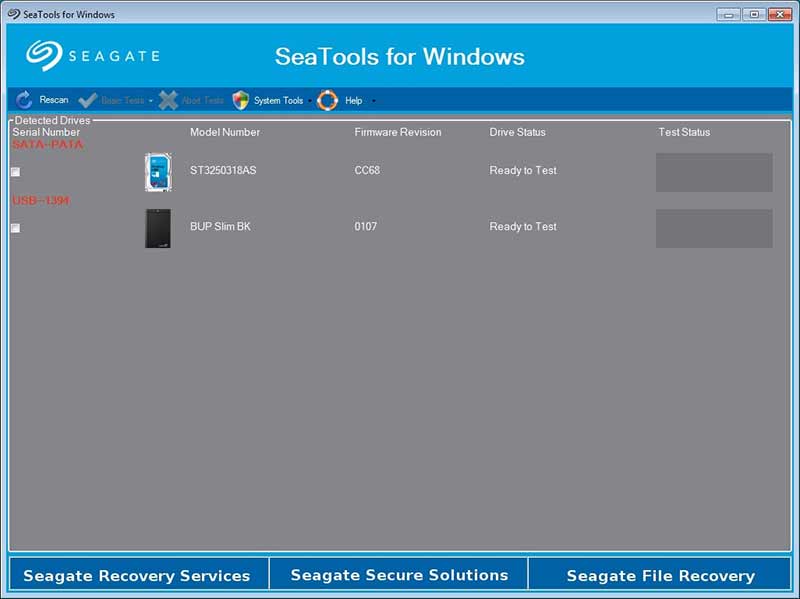 5. PassMark DiskCheckup
DiskCheckup allows the users to monitor the SMART attributes of their hard drives by displaying current and threshold values for each attribute. It is a dedicated hard drive health check software for Windows 11 and previous versions. Some other characteristics of this software are:
Monitors the changes in SMART attributes and predicts the tentative possibility of error and failure.
DiskCheckup can detect and define the size of hidden hard disk areas like Host Protected Area (HPA) and Device Configuration Overlay (DCO).
Displays the device information, such as serial number, model number, media rotation rate, etc.
Option to configure notification via email when any hard drive attribute value crosses the threshold limit.
Generates a predicted date of drive failure using statistical data from the drive performance.
Cons:
Lack of compatibility with some older hard drives
Users have reported bug issues in the software
No voice support
Complex UI is not suitable for newbies
Comparatively expensive license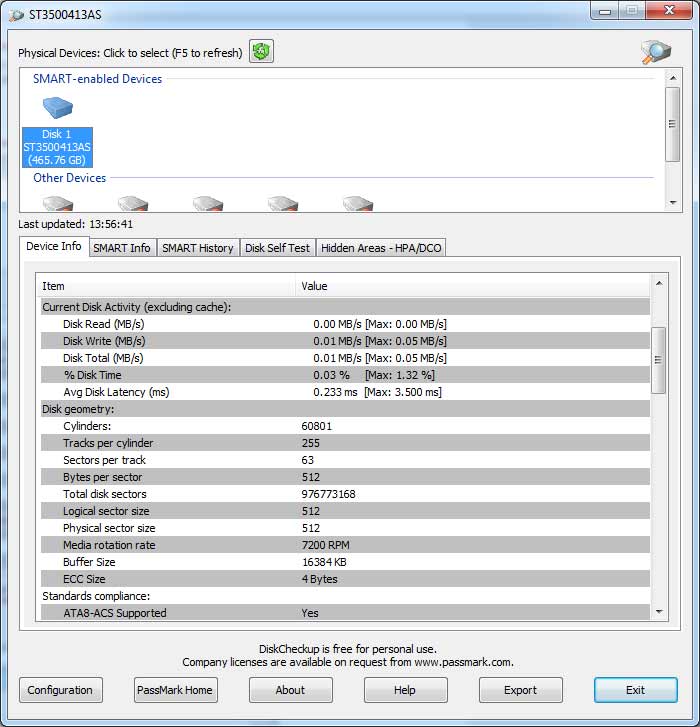 6. GSmartControl
GSmartControl is a software to analyze and control SMART data on the latest HDDs and SSDs. It not only allows you to monitor SMART data but also helps run specific tests to conduct a hard disk health check. Let's check out some more features of this hard drive health monitoring tool.
Automatically detects and reports any issues on the hard drive.
The SMART feature can be enabled/disabled.
Built-in function to perform SMART self-tests.
Displays hard drive information such as capacity, serial number, etc.
Available as freeware under GNU General Public License.
Supports all major OSs, including Windows, Linux, macOS, etc.
Cons:
The test results are too exhaustive for a new user.
Users have posted reliability issues on some operating systems.
No remedial feature is available in case of drive failure.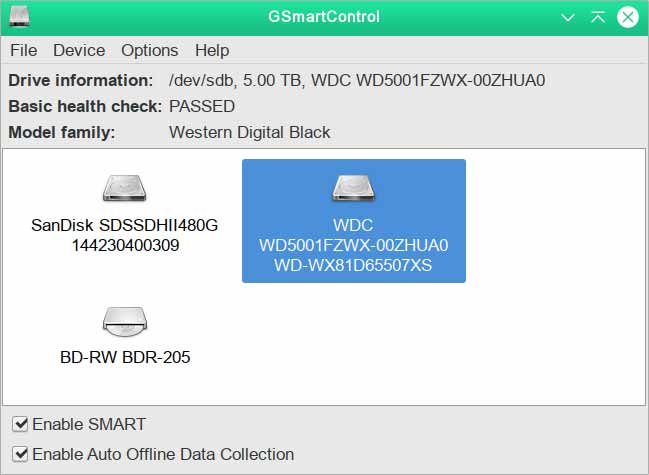 7. Western Digital DashBoard
Western Digital (WD) Dashboard is an analysis and monitoring tool to help you maintain the peak performance of WD drives on Windows. The software also has a built-in erasure option. Some of the other features of this hard drive health check tool are:
It allows you to keep a constant update of your hard drive's performance and health.
The software provides detailed information on the hard drive, including serial number, model number, and capacity.
The software has Quick Test and Extended Test options to perform an on-demand inspection of the drive.
If you want to erase the data on your drive, WD DashBoard allows you to overwrite the existing data and erase it using the Write Zeros option.
There is a dedicated section to view the test results.
Cons:
The software works only for Western Digital devices.
No option to remedy issues found on the hard drive.
Displays inaccurate SMART data on multiple testing.
No automatic monitoring. You need to run tests to get complete diagnostic results.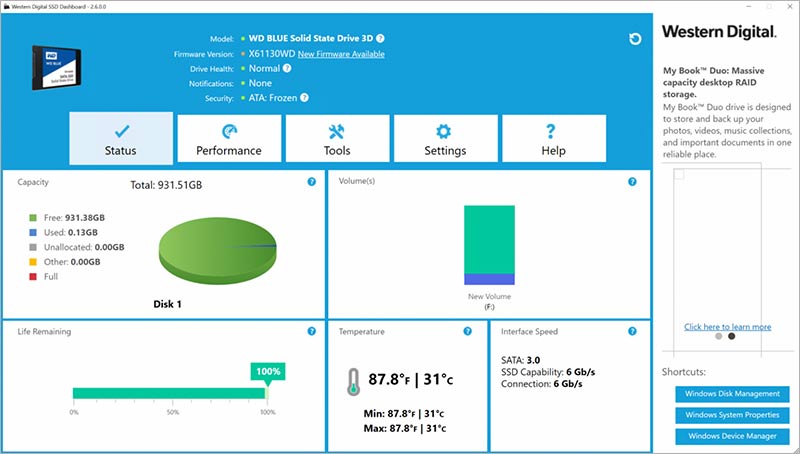 8. Acronis Drive Monitor
Acronis Drive Monitor is a basic hard drive monitor. However, what sets it apart is the extremely simple UI. Therefore, the software is perfect for first-time users and those looking for a tool with basic monitoring functionalities. Here are some other features of this tool.
It shows discs with their health status, temperature, and running time on its main screen.
The software has a SMART tab to show the attributes of your drives.
The event tab displays any error that may exist on your hard drive.
It easily integrates with the Acronis Home and Business products.
The tool has a built-in backup option accessed from the left pane.
It keeps a record of critical events and errors on the system and hard drive.
Cons:
Too simple with only basic functions, not suitable for a comprehensive hard drive health check.
It gives only the information of errors on the drive but doesn't generate detailed reports.
Although there is a backup option, it is not very effective to counter the errors on the hard drive.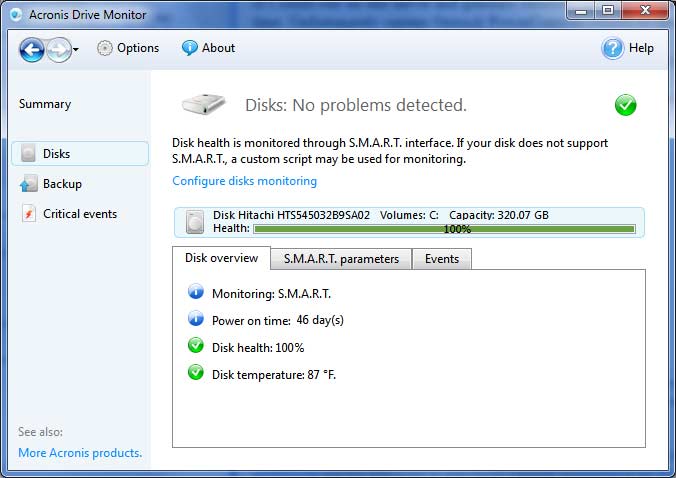 9. HD Tune
HD Tune is another efficient hard disk health check software on the list. It generates a graphical view of internal and external information on a hard drive. The software is only available in the Pro version as the free version has been discontinued. Check out HD Tune's features to understand this tool's working.
It puts an icon on your toolbar to display the temperature of your hard drive.
Allows access to SMART attributes data on a real-time basis.
You can check the health and performance of all the connected drives in a go.
Generates warning with the threat level to help you analyze the seriousness of the issue.
Displays detailed performance of different block sizes.
Cons:
High cost for Pro version as the free version is no more available.
Only detects and warns about the issues without any option to remedy them.
Available only for Windows 7 or previous versions as no updates since 2008.
Can't get reports as a text file to save them for future reference.
Only available for home/personal use.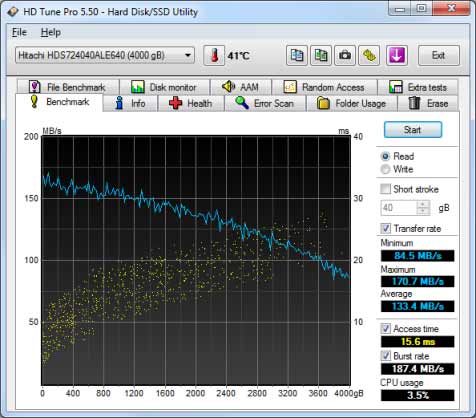 10. CrystalDiskInfo
CrystalDiskInfo is an open-source hard drive health check software with multiple functionalities. It provides almost all the data related to your hard drive and can be used as a foolproof drive-monitoring tool. Let us see some more features of this drive-checking tool.
The software's main window shows general information about the disk like health status, temperature, etc.
The SMART status feature gives more in-depth data related to your drive.
It includes the Automatic Acoustic Management (AAM) and Advanced Power Management feature to manage the drive's performance depending on the load.
A graphical representation of the SMART data can be obtained using this tool.
There is an option to receive an alert in your mail.
Cons:
No option to rescue the data in case of drive failure.
Users have reported reliability issues as the software is an open-source tool.
The main screen is too crowded due to different sets of data shown on a single screen.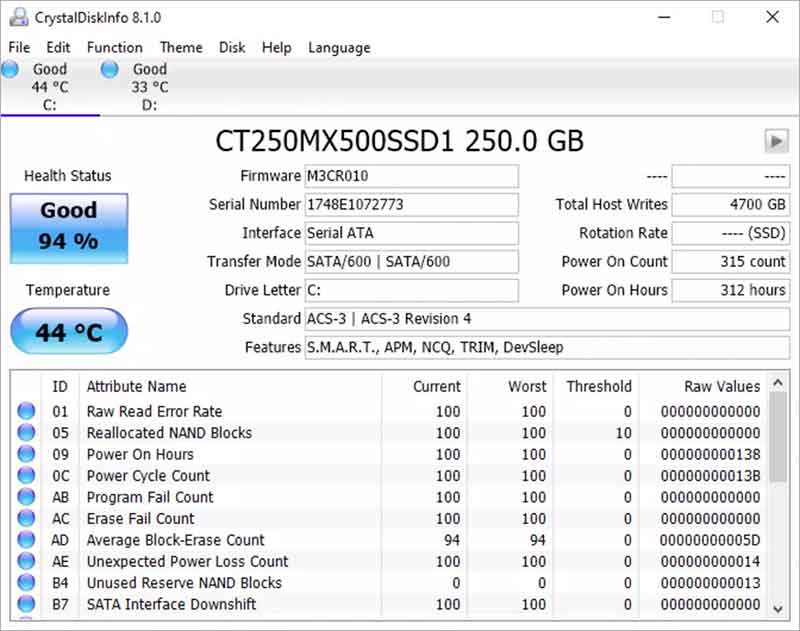 Conclusion
With the above-given detailed list of hard drive health check tools, you now are in a position to choose the best one as per your need. Once you've got the drive monitoring software, you need not worry about checking the hard drive health of your computer. Some of the software mentioned above automatically run in the background to keep a tab of your system's performance, temperature, health, and other attributes. However, do share which software you have decided to use in the comments below.