Extensible Storage Engine Database (EDB) file is created by the MS Exchange, which stores the mailboxes and public folders in an organization. The EDB file stores all mailbox items such as emails, attachments, contacts, calendar items, notes, etc. It also stores deleted mailbox items, which can be restored if a user deletes them accidentally.
You can open the EDB file in MS Exchange by mounting it. However, if the database is offline, you cannot open or access the mailboxes. In such cases, you can either mount the database to the Exchange server or use a free EDB viewer to open and view the mailboxes and mail items stored in the EDB file.  
A free EDB viewer such as Stellar Converter for EDB comes handy when the Exchange server is down or unavailable. It saves the user from rebuilding and investing time and effort in setting up an Exchange server just to view the EDB files.
In this guide, we have discussed the steps to open and view EDB file with free EDB viewer tool that does not require Exchange setup or any permissions. The tool can help you view both, hosted and offline EDB files.
Further, this tool lets you convert the EDB file to Outlook importable PST format for quick and easy migration of mailboxes from one Exchange server to another or one Outlook account to another.
Steps to Open/View EDB File with Free EDB Viewer Tool
To open and view EDB files, you need to download the free EDB viewer tool, i.e., Stellar Converter for EDB. You can install it on Windows 10, 8.1, 8, & 7, or Windows Server 2016, 2012, & 2008. Then follow these steps to open and view EDB file without Exchange,
Launch Stellar Converter for EDB on the server or PC and select the Hosted Exchange for online (mounted EDB) or Offline EDB option to view dismounted EDB file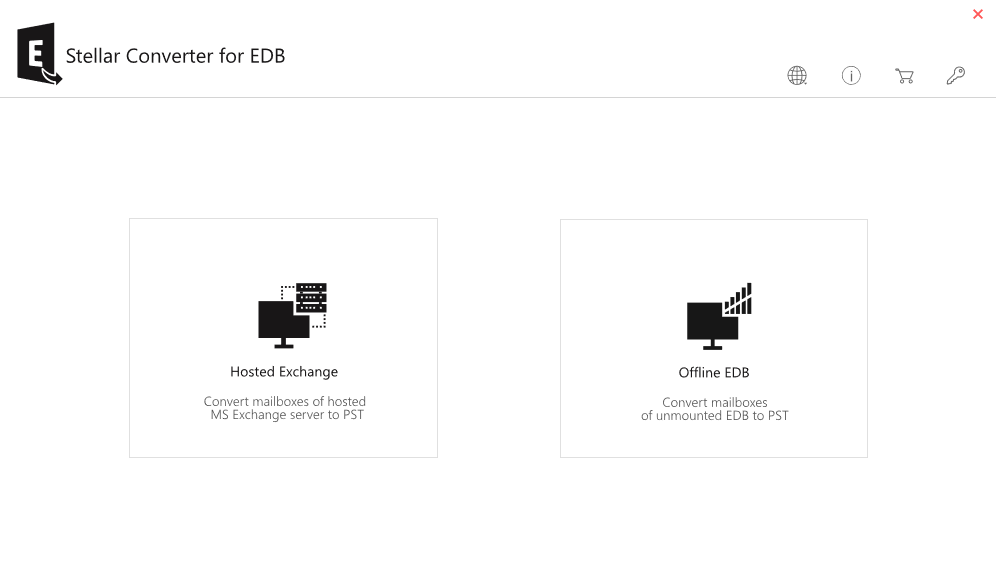 Click 'Browse' to select the dismounted (currently offline) EDB file that you want to view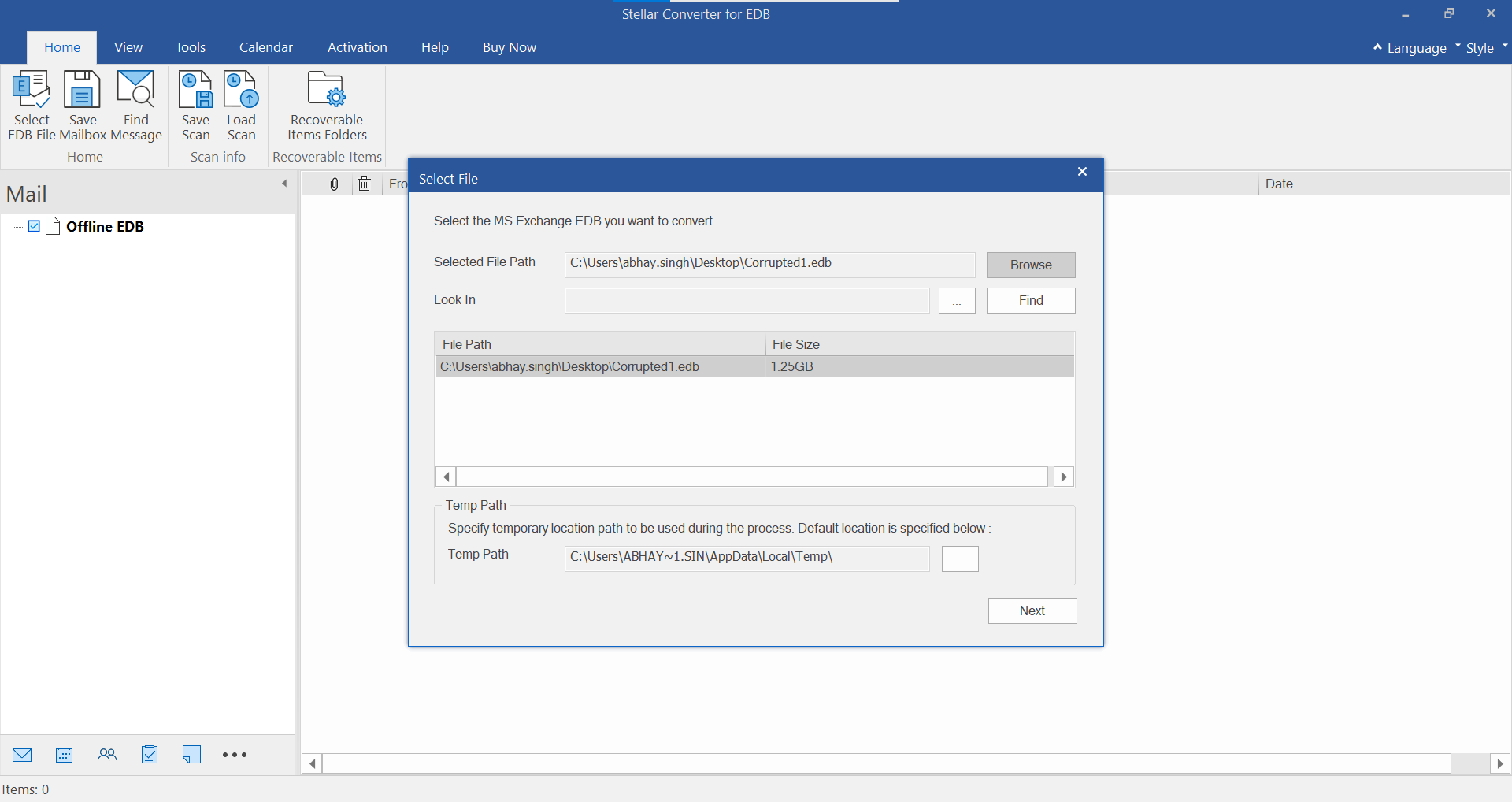 Click 'Next' to scan the EDB file. It will list all the mailboxes and mail items that you can preview, including deleted mailboxes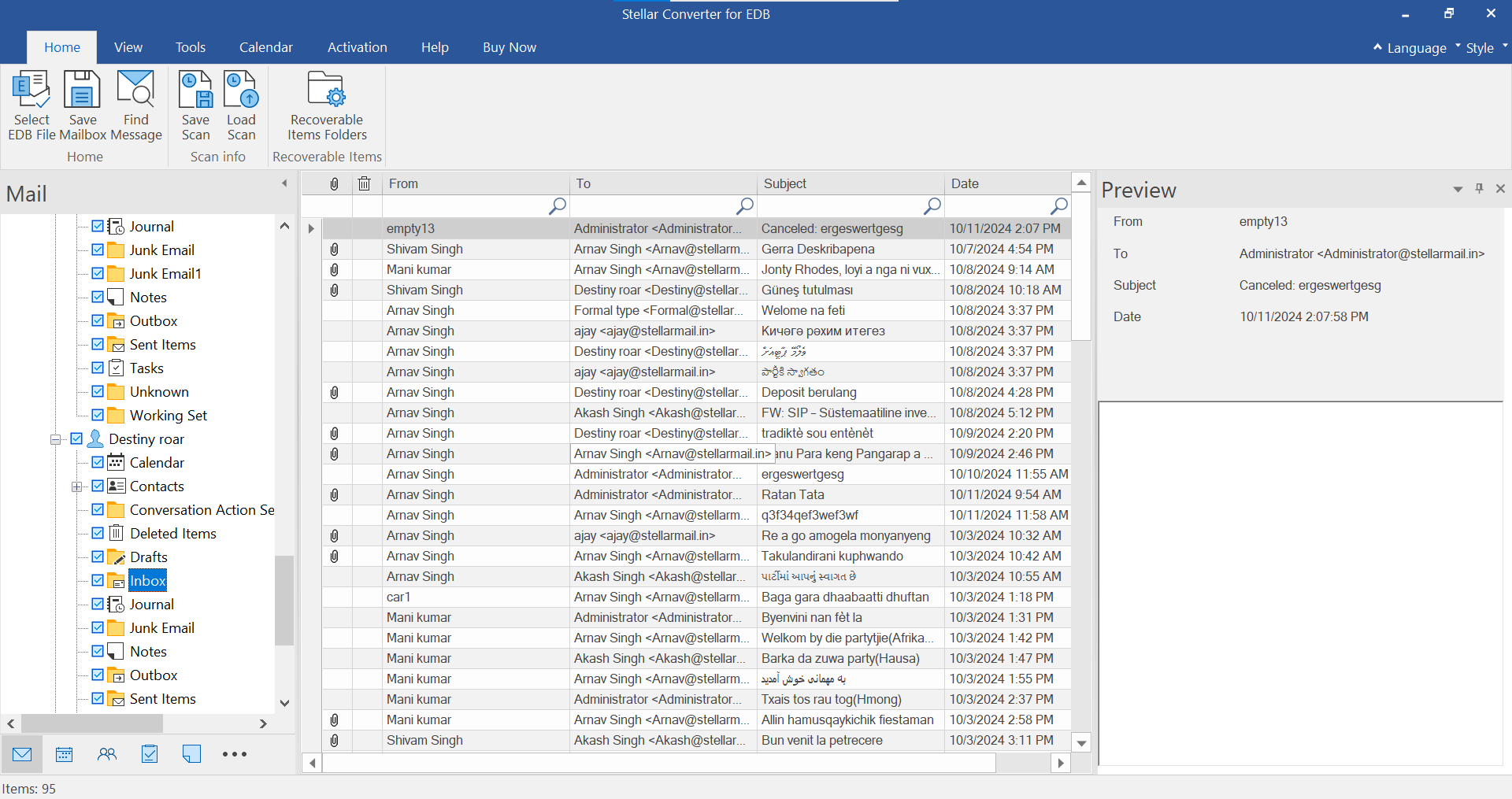 Save EDB Mailboxes to PST
After the preview, you can save the EDB data to PST format and then view the mailbox items anytime by importing it into MS Outlook. You can also import the PST to a different Exchange server or Office 365 after activating the software.
The steps to save EDB mailboxes to PST are as follows,
After scan and preview, select the mailboxes that you want to save as PST and click on 'Save'
From the save options, choose Export to PST and click 'Next'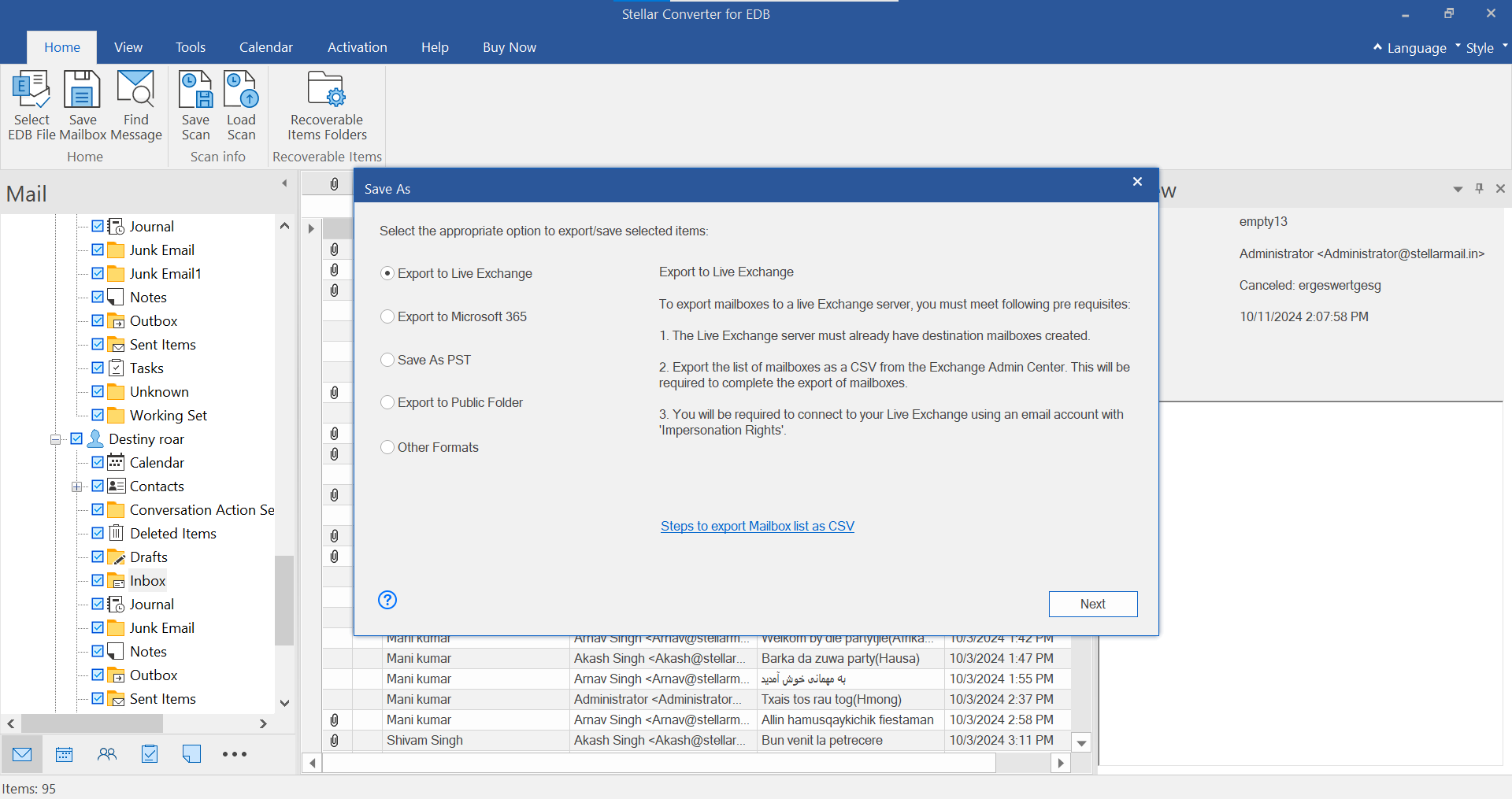 Click 'Browse' to choose a save location and then click 'OK'
Export Offline EDB to Live Exchange Server
Enter the Exchange 2019 admin credentials,
Select the Exchange version from the drop-down menu
Enter Server Name, Admin Mailbox, & Password
Click the checkbox for AutoMap. The AutoMap function auto-connects the users with their specified mailboxes on Live Exchange server
Click 'OK'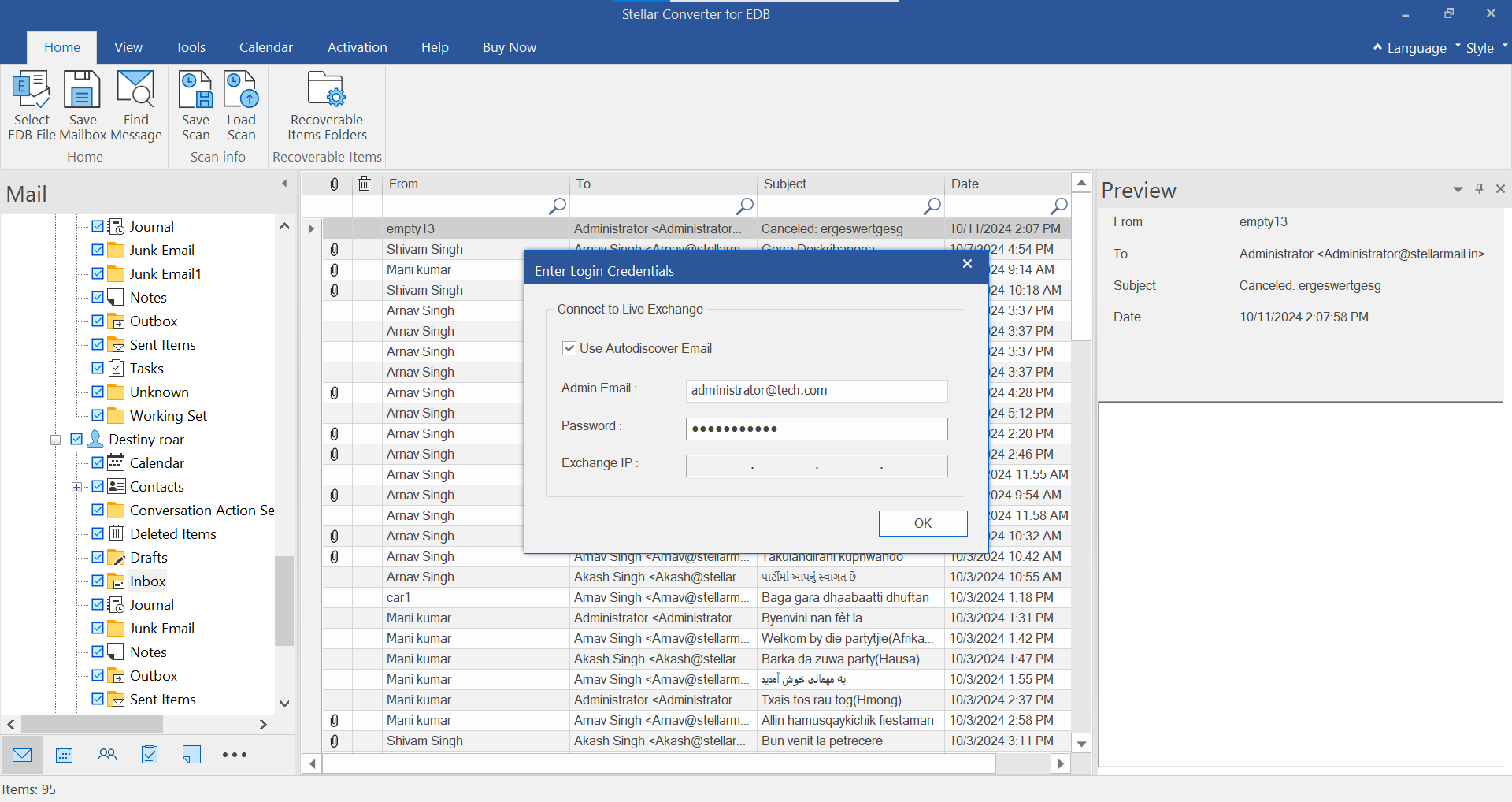 This opens a new window where you can manually map the Source Mailbox with Destination Mailbox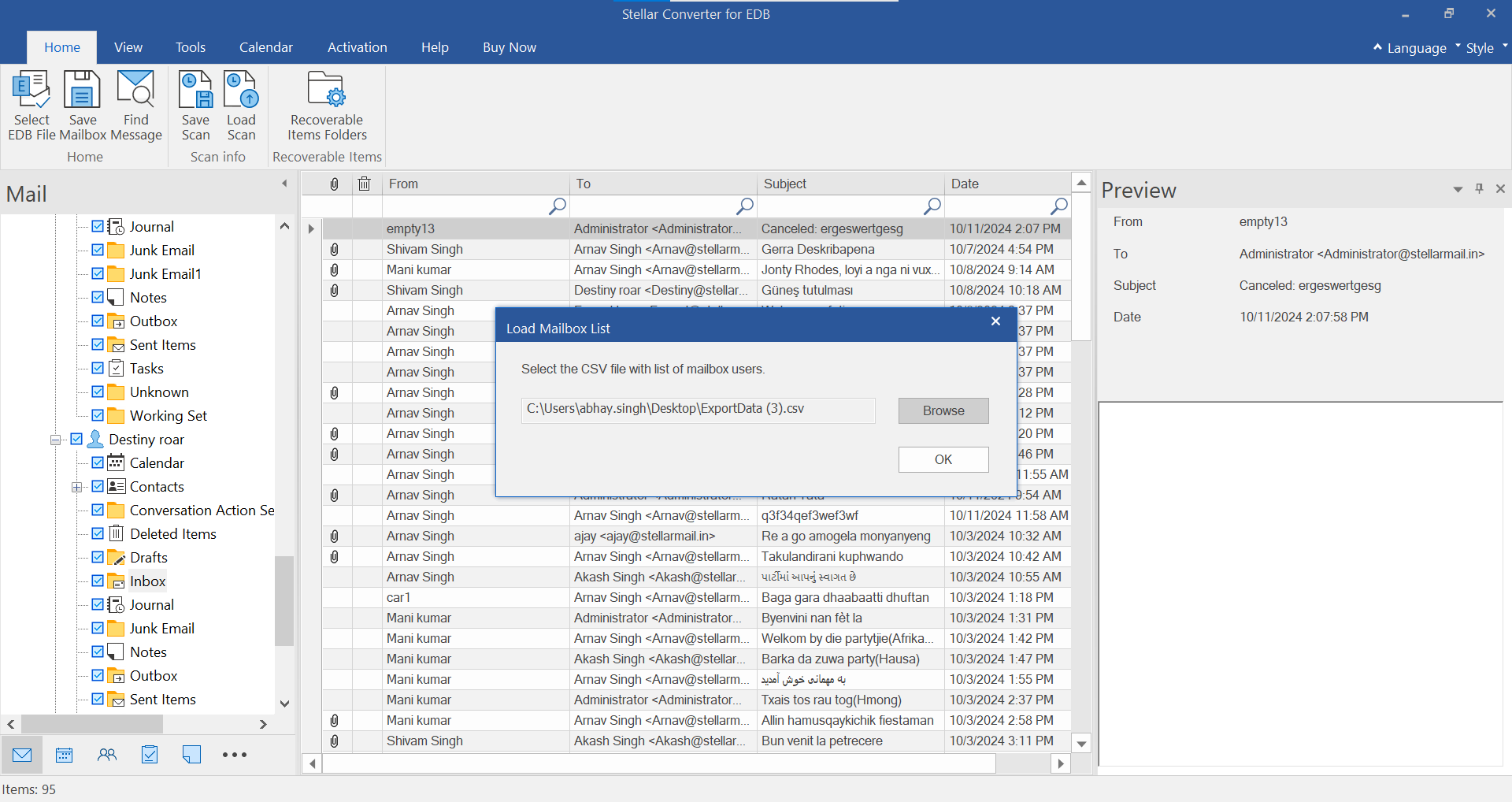 Post mapping, click on '' This starts exporting the mailboxes from the EDB file to Exchange server
After the export completes, the software displays a message 'Export process completed successfully'
Similarly, you may also export the EDB to Office 365 account or save the EDB data in other formats, such as EML, MSG, RTF, PDF, & HTML.
Why Use Free EDB Viewer Tool to Open/View EDB Files?
A free EDB viewer tool, such as Stellar Converter for EDB, helps you open and view all kinds of EDB files, whether created by Exchange 2019, 2016, 2013, 2010, 2007, 2003, 2000, or 5.5 version. Also, it has the following features:
Opens and previews the mailboxes and mail items from EDB files
Displays and recovers the deleted mailboxes and mail items
Allows you to view hosted (online) and offline EDB file, without dismounting or mounting the Exchange database files
Opens and views EDB file of any size - No file size limit
Reads the EDB file and displays its contents in a tree-structure, which makes it easy to navigate through several mailboxes and mail items
Advanced filters to filter mails based on date, source, destination, etc.
Options to navigate between Mails, Calendar, Contacts, Tasks, Notes, Search, and Journal views at the bottom of the left pane with a mouse click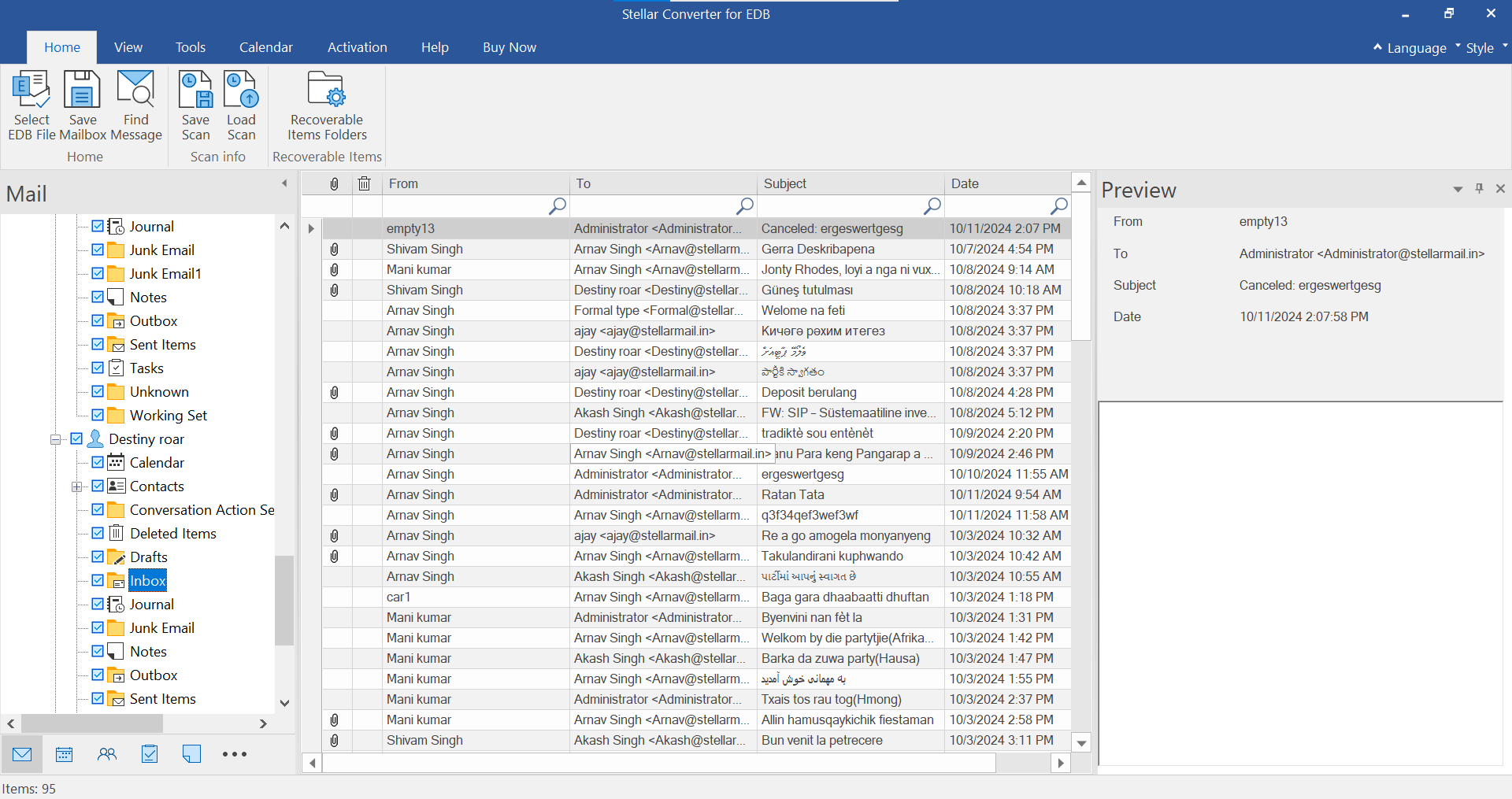 Further, Stellar Converter for EDB is recommended by several MVPs and IT administrators. It helps Exchange admins to efficiently migrate the mailboxes from one Exchange server to another in a few clicks, archive EDB data and supports all Exchange versions.

Conclusion
When Exchange is not available, and you want to open and view offline EDB files, a free EDB viewer tool such as Stellar Converter for EDB can be extremely useful. It lets you open EDB file and view mailboxes without setting up an Exchange server or mounting the database file.
By using this free EDB viewer tool, you can also view and recover accidentally deleted mailboxes and mailbox items, such as emails, attachments, contacts, calendar, notes, tasks, etc. Further, you can save the EDB mailboxes to PST and other formats, such as MSG, EML, RTF, HTML, and PDF, or export the mailbox items to Live Exchange or Office 365 accounts directly.
By converting the EDB file to other formats, you can open and view the EDB data via email client apps such as Outlook, MS Office, or even a web browser.