Updated on September 12, 2019
If you see the error 'You need to format the disk in drive X: before you can use it' while accessing a drive volume in Windows, it indicates file system error and drives corruption. The error is more common with external drives, as they are frequently used with different systems and may get malware or virus-infected and corrupt due to improper use.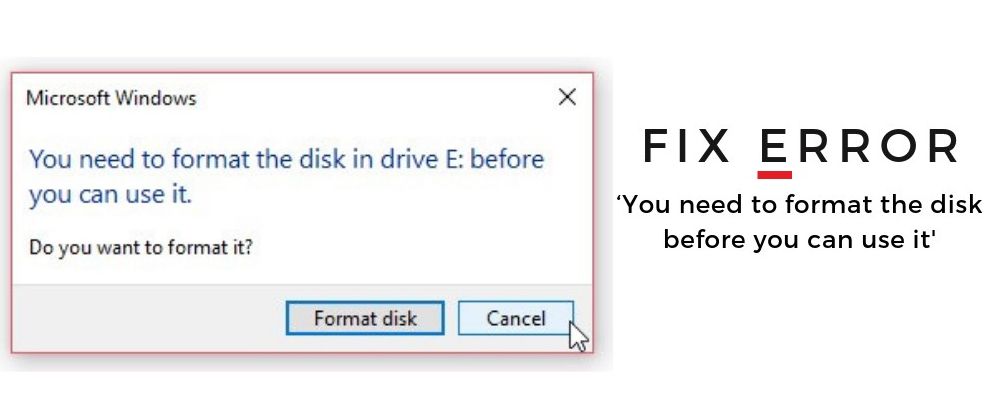 Further, an internal or external drive volume may also get corrupt due to following reasons, which lead to this error—
System crash
Abrupt/force system shutdown
Unplugging storage media without ejecting or while the drive is in use
Bad sectors
Excessive disk fragmentation
If it is an NTFS drive, you can try a CHKDSK scan to repair the disk. However, if that doesn't work or in case the drive is FAT32/exFAT formatted, use Stellar Data Recovery Standard software to get back files from the drive and then format it to repair and use it. This is the ideal solution to go with. However, the post shares all possible DIY solutions to fix the error safely—without any further consequences such as data loss.
NOTE: The error may also appear if you connect a drive formatted with Mac (HFS, HFS+, APFS), Linux (EXT3/ETX4), or any other unsupported file system to Windows PC. If so, use the OS that supports the particular file system to access the data.
Solutions to Fix 'You need to format the disk in drive X: before you can use it' Error
Solution 1: Try Different USB Port
Connect your drive to a different USB port of your PC. Then open File Explorer and check if you can access the drive. If it's an external hard drive, try to connect the drive directly via SATA connector.
Solution 2: Try Different PC
If connecting to different USB port doesn't help, try connecting the drive to another Windows PC. See if you can access the drive. In case the same error appears on the system, head to the next advanced solutions.
Solution 3: Update/Reinstall Device Driver
Press Windows+X and choose 'Device Manager.'
Expand 'Disk drives' and right-click on your affected disk
Choose 'Uninstall Device' and then restart the system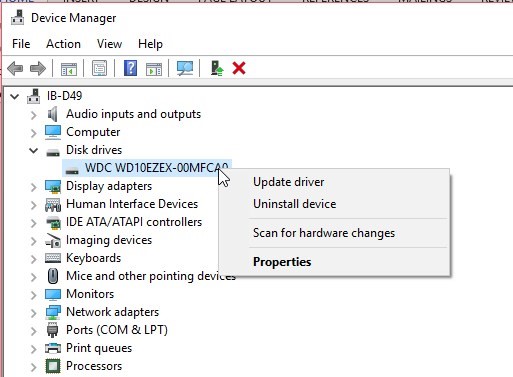 Alternatively, you can choose 'Update Driver' and follow the wizard to check and install the driver update. You may also download updated disk driver from your drive manufacturer's support site and install it manually.
Solution 4: Scan the Drive with Antivirus Tool
Use Windows Defender or third-party reliable anti-virus/malware software to scan your affected drive volume. If the tool fails to scan, head to next solution. Otherwise, try to access the drive after the scan and backup your files.
Solution 5: Run CHKDSK Scan
As mentioned earlier, CHKDSK scan can resolve file system error and drive corruption in case of NTFS formatted drive volumes. It works for both internal and external drives.
Follow these steps to run a CHKDSK scan on your NTFS drive and fix the error to access the drive,
Open Command Prompt with admin rights
Then type following command and Press 'Enter.'chkdsk X: /r /f

Replace the letter X with your affected drive volume letter
If you see an error or the drive remains inaccessible after the scan, follow the next solution to use the chkdsk alternative tool to fix the error.
Solution 6: Use Error Checking Tool
Open File Explorer and then right-click on your affected drive volume
Choose Properties and go to the 'Tools' tab

Click the 'Check' button and then click 'Scan drive.'
Caution: In case you see an error or a prompt to format the disk, click 'Cancel.' DO NOT FORMAT the disk.
Solution 7: Recover Data and Format Disk
If nothing helps fix the error—'You need to format the disk in drive X: before you can use it,' immediately leverage a powerful data recovery software such as Stellar Data Recovery Standard to get back your inaccessible data from such corrupt drive volume.
The software uses file-signature based scan mode to locate your important files on a RAW/corrupt drive volume. You can then save the files found in the scan at your desired location.
Follow the steps in the video to get back your files using Stellar Data Recovery software,
ADD VIDEO GUIDE
Now that you have access to your data, you may go ahead and format the disk to fix it. Then transfer your recovered files back to the drive and use it normally.
And to prevent such critical data loss situations, backup regularly—on cloud or external storage media.
Conclusion
The error 'You need to format the disk in drive X: before you can use it' is preventable and in some cases, can be fixed with the help of basic troubleshooting steps and Windows proprietary tools such as CHKDSK and Error Checking tool. However, in case of severe drive corruption and disk errors, the tool may fail to fix the error.
At such stage, you must leverage a data recovery software such as Stellar Data Recovery Standard to get back data from such corrupt drive volumes. This powerful DIY software works with all Windows-based internal or external storage media and can get back lost files from formatted severely corrupt (RAW) and missing drive partitions.