In Exchange Server, it is important to take databases backup. This helps in restoring data in case of server failure or any other issue. However, it is not a feasible option to take full backup every day as it will take a lot of time and also require a lot of storage to keep all the copies. So, one of the options is to take incremental backup. Like the differential backups, incremental backups first take a full backup of the server and then only save the changes that are done between the last backup and the time it was executed. Incremental backups are faster and less stressful on the server as only the changes from the last backup are saved.
In a way, it takes a full backup on day 1 and then saves the changes. On the next day, it will take a backup of what changed from the last backup till the time of execution and so on (see the below diagram).
Say, for example, if the server fails on Thursday, you will need the Monday's backup (which is the full backup), along with all the incremental backups. So, you need to restore the backups of Monday, Tuesday, and Wednesday. If any of the previous backups is not accessible, then you will not be able to restore till that day.

If all the incremental backups are not available, you will need to restore the full backup (Monday's backup). But this would result in data loss.
Things to Consider when using Incremental Backups
There are some points you need to keep in mind when using incremental backups or any other backups.
Test the backups on a weekly basis to ensure that they're in a working condition and can be restored in case of any issue. As mentioned above, if one of the incremental backups fails, all the backups will fail.
Transaction logs are merged and purged after a successful backup of a database. Taking the backups and the restoration process are dependent on the transaction logs. If the Circular Logging option is enabled in Exchange Server, even if the backup is successful, restoring it will not be possible as you may face a situation where the transaction logs do not exist anymore, which are needed to restore the data. So, it's important not to have Circular Logging enabled.
It is also important to take note of the backup software and its compatibility with your Exchange Server version. Also, ensure that it is application-aware. This will ensure integrity of the backup and restorability of the data. It's recommended to get confirmation and assurance from your backup software vendor or specialist.
How to Perform Incremental Backup?
There are different backup applications, like Symantec, HP and Veritas, to perform Exchange database backups. Every application follows different process to perform incremental backup. Here, we will be going through the process of performing the incremental backup using the native tool - Windows Server Backup.
Open Windows Server Backup.
Click on Backup Schedule.
Click on Full Server and click Next.

Select the schedule you wish to have and click Next.
Choose the backup destination and click Next.
Confirm that the Advanced Option is set as VSS Copy Backup.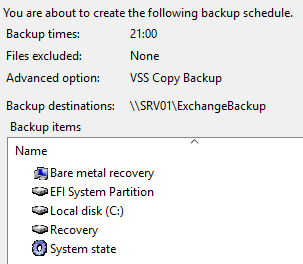 What if the Server and Backup Fail?
In case the server fails, you would have two choices. First, you can restore the server as it was on the last backup. This means that any changes from when the backup was taken till the time of failure will be overwritten and lost. Second, you can try to rebuild the server and recover the data from the server. What to do if the backup is also corrupted?



This is where applications, like Stellar Toolkit for Exchange can come in handy. It comes with a bundle of tools that can help you recover data with no hassle and with much less resources, ensuring that no data is lost. With this tool, you can extract data from Exchange database backup (.bkf) files. If you have a BKF file or a VHD/VHDX file, the application can extract data from such files and process them accordingly.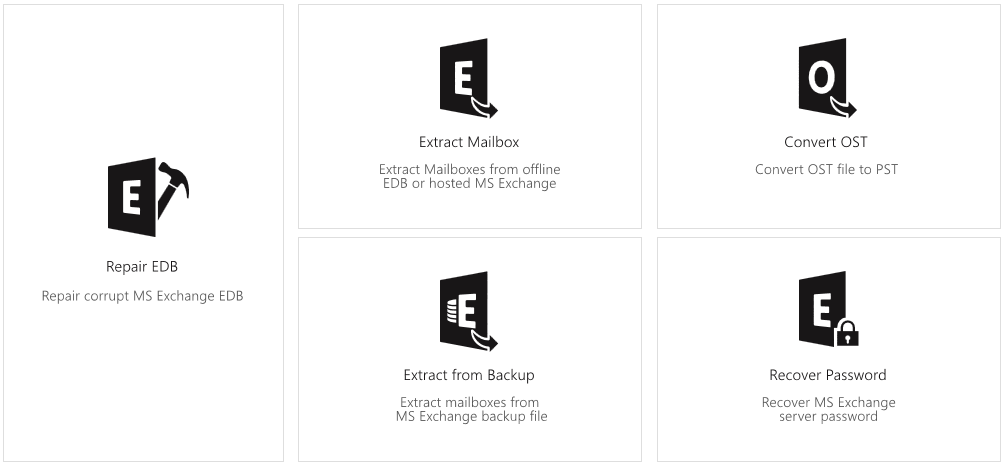 This toolkit contains various tools to extract data from Offline and Online database, convert OST to PST, for password recovery, and recovery of data from any version of Exchange Server. All these tools can help recover from any sticky situation you may face with your Exchange Server.