When MS Outlook is configured with an Exchange or IMAP-based email account, an Offline Storage File (OST) is created on the local system. Similarly, when you add a POP account to Outlook, a Personal Storage Table (PST) file is created. These Outlook data files (OST and PST) contains a synchronized copy of all mailbox data that is stored on the email server. In a nutshell, an OST or PST file is a replica of the user's mailbox as it stores all mailbox items, such as emails, attachments, contacts, notes, calendar items, etc. locally.
OST enables users to access their Outlook even if the system is offline or the Exchange server experiences downtime due to technical issues or maintenance. In such cases, the users can continue to work on Outlook without interruptions. Also, any changes they make to the account or send an email message from Outlook are stored locally in the OST file and synced with the mailbox on the server once the system connects to the Exchange server or the server comes online.
However, there could be instances where users face errors while trying to access their mailbox data through the Outlook data file. Such errors might be caused due to faulty synchronization between Outlook and email server or due to problems with the OST or PST file. More often than not, problems within the OST or PST file trigger mailbox access and send/receive errors.
Sending reported error (0x8004010F) : 'Outlook data file cannot be accessed.'
Receiving reported error (0x8004010F) : 'Outlook data file cannot be accessed.'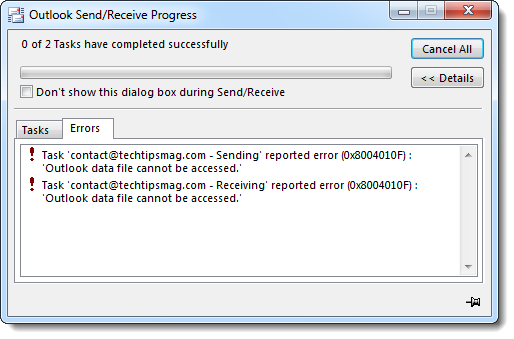 This error prevents you from sending or receiving emails. Thus, resolving it at the earliest should be your priority. So, this article sheds light on this Outlook data file error 0x8004010F: Outlook data file cannot be accessed and shares methods to fix it.
Reasons for Outlook 0x8004010F Error
OST or PST file is prone to damage due to various factors. These include corruption due to oversize, virus attack, damage due to accidental or force shutdown, etc. While these are the common causes behind OST and PST file corruption, it may also spring up due to human errors.
More often than not, this is a MAPI error that occurs at the time of synchronizing an offline address book (OAB), during email send/receive operation, or while downloading the OAB files. Following are the primary reasons behind Outlook error 0x8004010F:
OST file is corrupt
Incorrect configuration or corrupt Outlook profile
No internet or unreliable network connection
Sending/receiving emails via Shared Mailbox
Change in the location of OST file on the machine
Copying of old OST file used by previous Outlook version after upgrading
Damaged Outlook program files
Insufficient read/write permissions
The primary account is not set with the primary account OST file
Firewall settings
Methods to Fix the Error 0x8004010F: Outlook Data File Cannot Be Accessed
Depending upon the real cause behind the error, you could opt for different ways to fix the Outlook error. The fixes explained below apply to Outlook 2010 and Outlook 2013.
NOTE: Backup the Outlook data file before proceeding. If something goes wrong or the error is not fixed, you can use OST to PST Converter software or a PST Repair tool to extract mailbox items from the OST or PST file and save them in a new Outlook PST file.

Method 1: Restart Outlook and Check Internet Connection
Sometimes, a simple restart may resolve issues with programs and system. Thus, if you are experiencing the Outlook error 0x8004010F, restart Outlook or system and then check back again. Also, check the internet connection. If this doesn't fix the error 0x8004010F, proceed to the next method.
Method 2: Check Account Settings
Make sure your account settings are correct and the Exchange server is also online. To check this, you may use Outlook Web App (OWA). Try to login via OWA. This will help you ensure if there's some temporary connection issue. Also, check with the administrator if they've changed any server settings that you may need to change in your Outlook account.
But if you login successfully on OWA, it may be some other issue. Follow the next methods to resolve the Outlook 0x8004010F error.
Method 3: Create a New Outlook Profile and Setup Email via Auto Account
A corrupt Outlook profile could also be a reason behind the 0x8004010F error. However, this can be easily resolved by creating a new Outlook profile. For this, find the current location of your default Outlook data file (in this case, OST file), and then create a new Outlook profile. The steps are as follows:
Open Control Panel and click on Mail (32-bit).
This opens the Mail Setup. Click Show Profiles.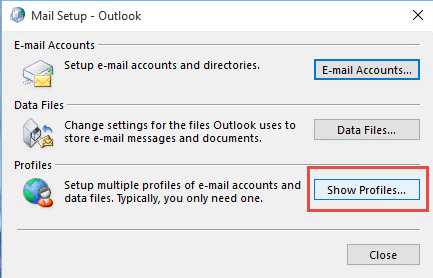 Next, click Add to create a new Outlook profile.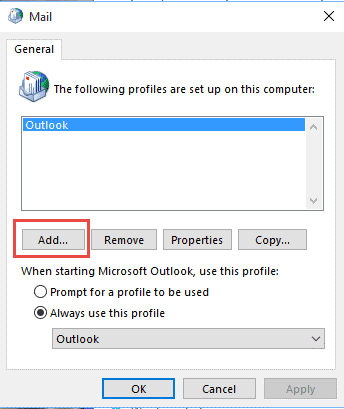 Enter a name in the 'Profile Name:' field and click 'OK'.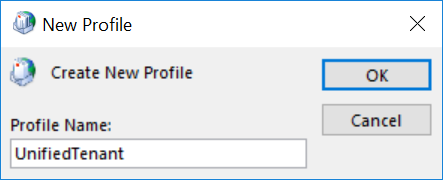 In the 'Add Account' window, enter the required details, such as name, email, and password. Then click 'Next'.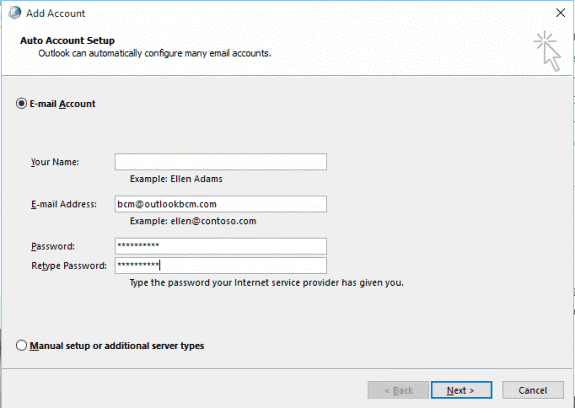 Check the 'Change account settings' checkbox and then click 'Next'.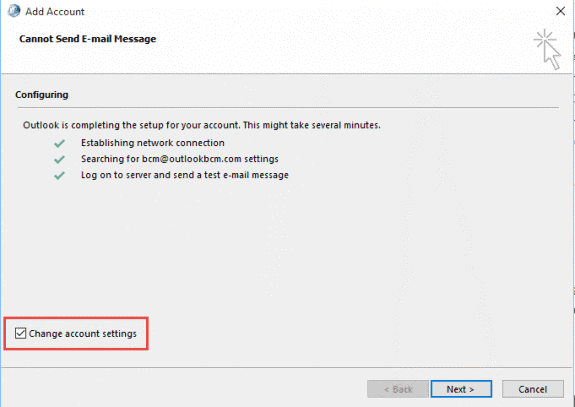 Now select the old profile and click 'Remove'.
Then click 'Always use this profile' radio button and select the new profile name from the dropdown.
Click 'OK'.
This will create a new profile. Restart Outlook for changes to take effect.
Method 4: Manually Setup Email Account
Outlook auto account setup creates an IMAP account if your email server supports both IMAP and POP3. You need to follow manual steps to setup and create a POP3 account in Outlook and then connect the existing Outlook data file to this account. The steps are as follows:
Open Control Panel, search Mail, and then click on the 'Mail' option.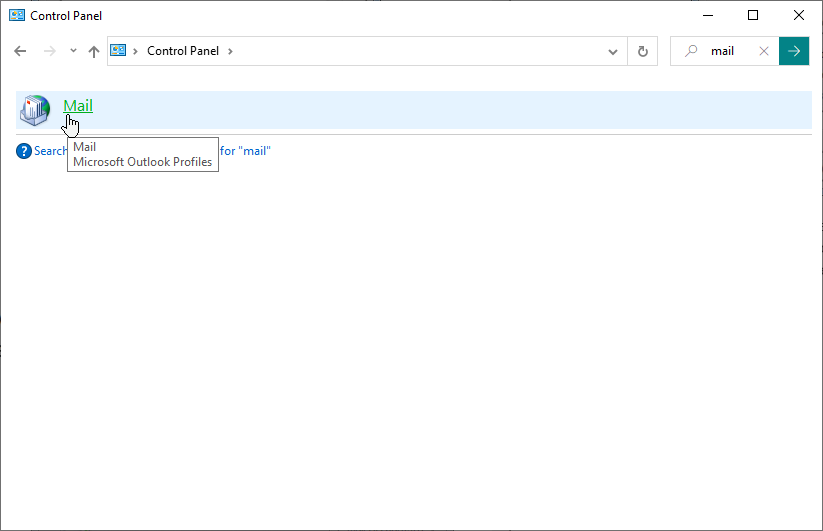 Click Show Profiles and then click the 'Add…' button.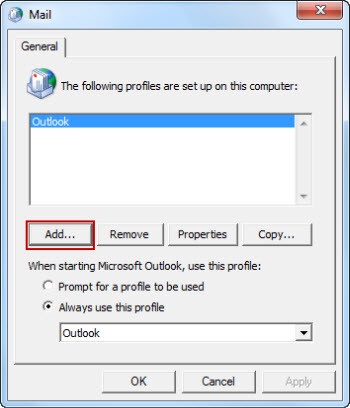 Type the profile name and click OK.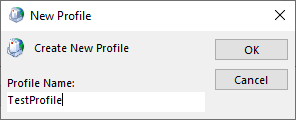 Then click the Manually configure server settings or additional server types option and click Next.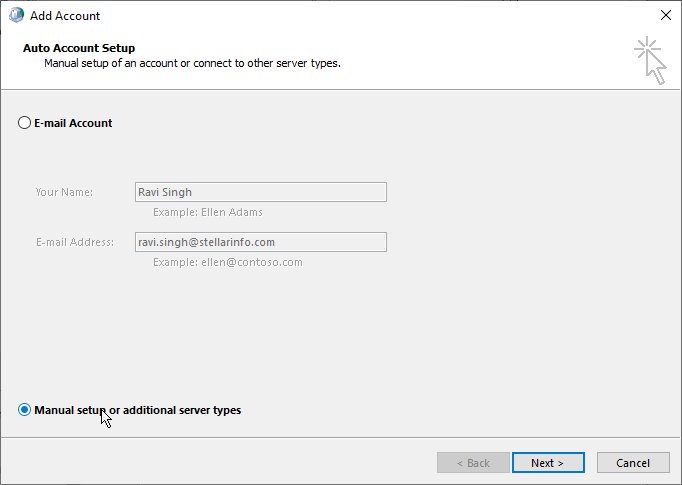 Select POP, IMAP, or Internet E-mail (whichever is available) and then click Next.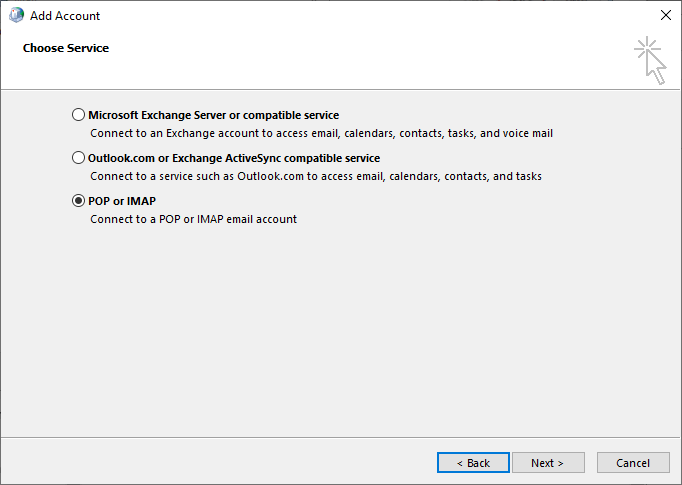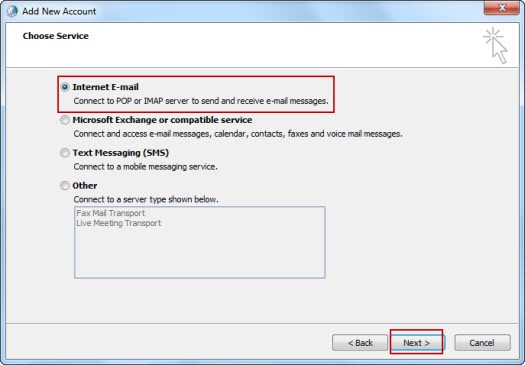 Enter your account details and click Test Account Settings to check your account.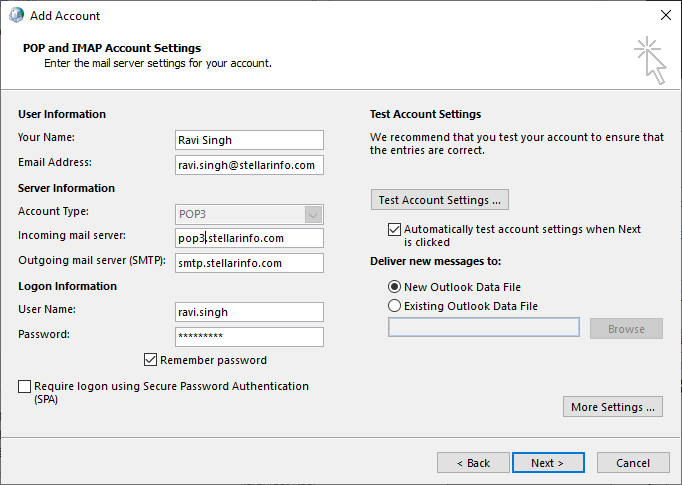 Select Existing Outlook Data File option and click Browse to select existing PST file.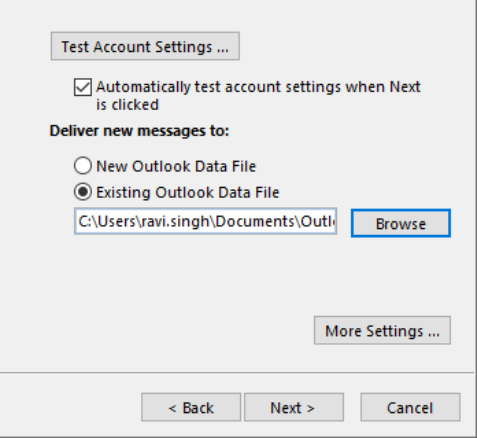 Click Next and then click Close > Finish.
Method 5: Fix Old Outlook Profile
Sometimes, changing the message delivery location to a temporary folder and then changing it back refreshes Outlook settings. This may fix the error. So, if you don't want to create a new Outlook profile for fixing Outlook error 0x8004010F, you can follow the below-mentioned procedure to fix the OST file error.
Go to File > Account Settings > Account Settings and then click Change Folder.
Click New Outlook Data File to create a temporary data file.
Enter a name for this new Outlook data file and then click OK.
Now expand the subfolders and select Inbox folder.
Next, click OK to close the dialog box.
Again, click on the Change Folder button.
Now select your Original Inbox folder data file by expanding the subfolder. Then click OK.
Now click on the Data Files tab and remove the temporary OST file that you created earlier.
Close the Account Settings dialog box and then click 'Send/Receive' to check if the error 0x8004010F is resolved.
You may also attempt to repair the OST file by using the Inbox Repair tool, i.e. SCANPST.EXE. The tool is located in the installation directory of Outlook. To repair the OST file by using SCANPST.EXE, follow these steps:
Navigate to the following location to find and launch SCANPST.EXE:
C:\Program Files\Microsoft Office\root\OfficeXX\
Now click 'Browse' and select the OST file. The default OST file location is: C:\Users\user\AppData\Local\Microsoft\Outlook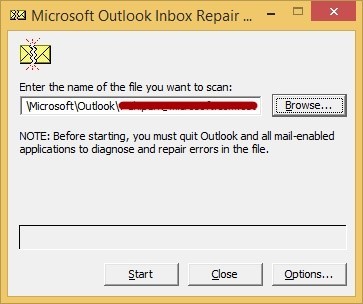 Click 'Start'. If the tool finds errors, click the 'Repair' button to fix the problem with the OST file.
Once repaired, restart Outlook and click on Send/Receive to check if Outlook is working and error is resolved.
NOTE: If the tool gets stuck during the repair process, wait for a while. It may display 'Not Responding'. Do not close. But if it stays stuck and does not repair the OST, use Stellar Converter for OST to extract the data and save it in PST, export to an existing Outlook profile, or live Exchange server.
Method 7: Repair Outlook
As a final solution, you may attempt to repair the Outlook installation files. You may also try to reinstall Outlook if the repair does not work. The steps to repair Outlook are as follows:
Open Control Panel and click on Programs > Programs and Features.
Find and click on Microsoft Office.
Click Change.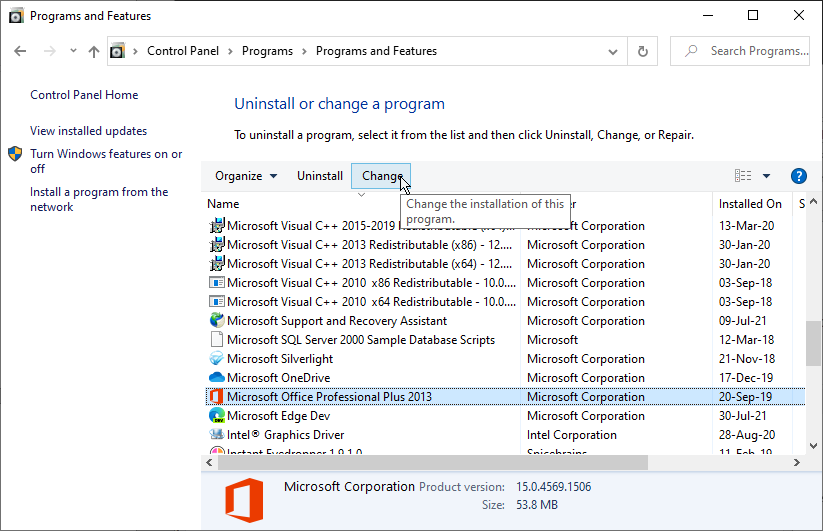 Then select Repair and Continue and follow the repair wizard.
After the repair, open Outlook and check if the error is resolved.

Final Words
Mostly, creating a new profile may fix the Outlook data file cannot be accessed error. However, if the error is not fixed, there could be a problem with the Outlook data file (OST or PST) that you may attempt to fix by using the SCANPST.EXE tool. But if none of the methods works, you can repair the PST file by using Stellar Repair for Outlook or use an OST to PST converter software, such as Stellar Converter for OST, to convert inaccessible OST file to PST format. These professional software are backed by powerful algorithms to accurately repair PST file and convert OST file into PST format. The repaired or converted PST file can then be imported into Outlook to access data. Plus, you may also directly export the data to an existing Outlook profile, live Exchange, or Office 365 account.