Apple Mail or Microsoft Outlook - which one is better? Apple users often face this dilemma when it comes to choosing the best email client that fits their needs.
Apple Mail and Outlook are two popular email clients widely used by both individuals and businesses across the globe. Apple Mail is a free email client that comes installed with the macOS, while Outlook is a part of MS Office.
Both Apple Mail and Outlook support POP, IMAP (Exchange, Outlook.com, Office 365, and more), and SMTP email servers. However, Outlook is mainly used for Exchange server and Office 365.
This article compares Apple Mail with Microsoft Outlook based on various elements and features that will help you select the right email client that suits most of your needs.
Microsoft Outlook
Microsoft Outlook is an information manager application and a default email client for most businesses and organizations. It's a desktop-based application that allows Exchange server users to set up their profile in Cached Exchange Mode. This allows users to access their emails even when the system is offline. It provides features, such as calendar, notes, journals, task management, etc. The calendar feature is inbuilt and is displayed in the column layout view. This allows users to share their calendars and send or receive meeting invitations with other Outlook users.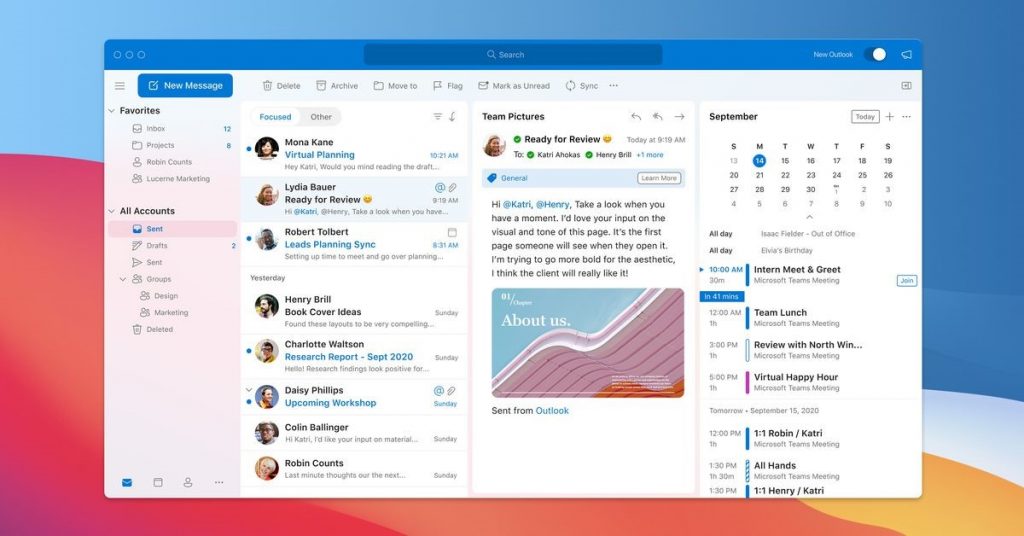 Outlook is highly integrated with Microsoft apps and services, such as MS Word, PowerPoint, Excel, etc. It also provides options to install third-party add-ins to extend Outlook functionalities and add more features.
Although Microsoft Outlook comes as a part of the Microsoft Office suite, it can be installed as a separate application. Users can further customize the look and feel of Outlook by applying themes.
The user interface of Outlook is intuitive and does not require any technical expertise. Anyone with limited technical knowledge can easily use Outlook and explore its features.
Migration and backup are also easier with Outlook. Users can export emails from Outlook to PST format via the Import Export wizard. Outlook also allows users to save the emails in portable formats, such as TXT, MSG, HTML, etc.
Pros
Highly secure email client with powerful spam filtering
Built-in protection against phishing attacks
Supports IMAP, POP3, SMTP, Exchange, Office 365, and Outlook.com  
Creates OST or PST file (based on email type) to store mail items on a local machine
Supports third-party add-ins
Integration with Microsoft apps and services
Options to add complex rules to manage messages and automate tasks
Features Offline Mode (Cached Exchange Mode)
Available for Windows, macOS, Android, and iOS devices
Options to customize the look and feel of Outlook by applying themes
Quickly exports mail items to PST for backup and migration
Built-in calendar
Cons
Requires you to purchase a license or Office 365 subscription to use Outlook
Resource intensive application
Apple Mail
Apple Mail is the standard and default email client application for macOS since OS X 10.0. It's a free and versatile email client app that offers several features and options to help you stay organized and spend less time finding your emails. You can also customize Apple Mail by changing fonts, color, and appearance.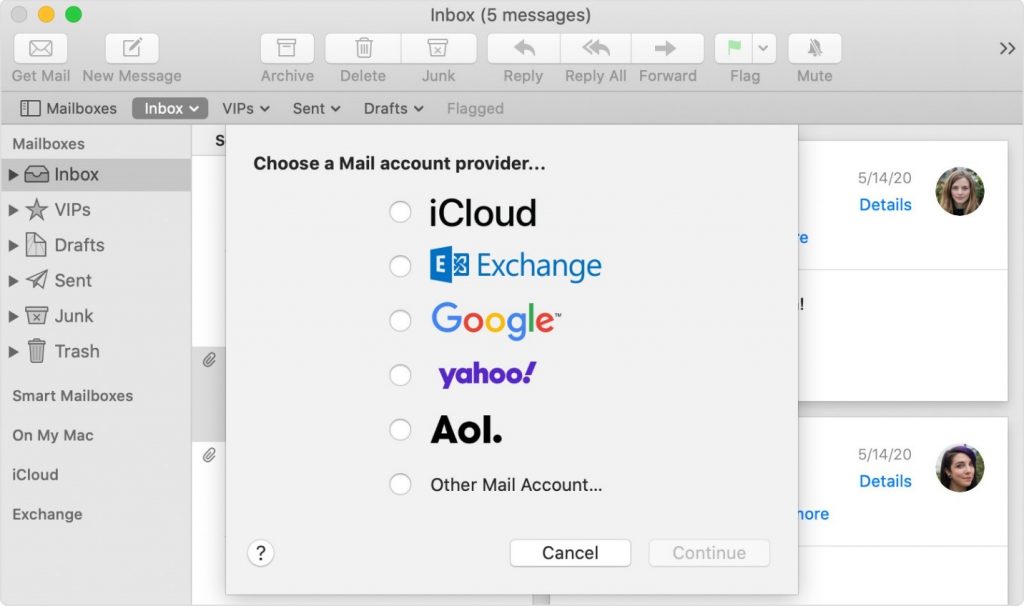 Like Outlook, Apple Mail also features an option to flag emails. You can also change the flag color to mark and organize emails.
Apple Mail also has a VIP option where you can make anyone VIP. This helps you track the emails of persons who are important to you. Apple Mail notifies you when any message is received from the VIP sender on priority. You can setup up to 100 VIPs (smart mailbox). Further, it provides quick search options and spam filters to help you find emails and keep your mailbox clean.
Apple Mail stands out due to its simple and easy-to-use user interface, iOS integration, and customization options.
Pros
Free email client for macOS and iOS devices
Simple and easy-to-use interface
Supports IMAP, POP3, and SMTP email protocols
Add flags and change flag color to organize emails
Basic customization options to change fonts, color, etc.
Option to add/create VIP senders (a type of Smart Mailbox)
Quickly imports mailbox data from Apple Mail MBOX file format
Cons
If you want to use Apple Mail, you need a macOS or iOS device
Calendar, Reminder, and Notes are not integrated
No support for add-ins or third-party integration
Which One Should You Choose?
Apple Mail is free but requires an Apple® system powered by macOS or iOS. On the other hand, Outlook is available for multiple platforms, including Windows, iOS, macOS, and Android. Outlook is free on iOS and Android app stores but requires a license to install and use on a PC or Mac system.
If you want a secure email client, powerful spam filtering, and use Exchange or other Microsoft Office products, Apple Mail isn't for you. However, if you are looking for a free and easy-to-use email client, Outlook is not for you.

Wrapping Up
The core difference between Outlook and Apple Mail is that the former is a consumer product while the latter is designed for consumers and businesses. Outlook is more organized, secure, and stable, whereas Apple mail is simple and much easier to use. Overall, both have their merits and demerits based on which you can choose the one that fits your needs. We have discussed the major pros and cons of both email clients in this article.
However, if you decide to change your email client from Apple Mail to Outlook, you need an Apple mail to Outlook migration tool, such as Stellar Converter for MBOX. The software can help you convert your Apple Mail mailbox to Outlook importable PST format with complete integrity. After conversion, you can set up your email account in Outlook and then import the converted PST file into your Outlook profile to restore your mailbox.