"I was drawing on MS Paint, but the laptop shut down unexpectedly. When I restarted the system, some of the image files were missing, including the last drawing I was working on. How can I recover deleted MS Paint files? Can I restore the unsaved progress of my drawing in Paint?"
Microsoft Paint is a much-loved legacy application for image editing on Windows. However, like in any other image editor, you are bound to lose files in MS Paint due to sudden system shutdown, application crash, accidental deletion, etc.
The loss is frustrating as all your effort and time in drawing or editing an image in Paint goes in vain. Moreover, MS paint doesn't have the auto save feature like other popular editing tools.
But no worries. You can still take some concrete steps to recover MS Paint lost files.
How to recover MS Paint project files
A sure shot solution is to try a photo recovery software that supports recovery of Paint file formats like JPEG, GIF, PNG, BMP, TIFF, etc. Besides, there's no harm in checking your Recycle Bin. You can also restore deleted MS Paint file from backup.
Let's explore different ways to recover deleted MS Paint files on Windows in detail.
Restore deleted MS Paint files from Recycle Bin
If you have deleted the Paint files, recover them from Recycle Bin. Open Recycle Bin. Locate the MS Paint files and right-click on it. Select 'Restore' to save them back to the original location.
Use a MS Paint files recovery software
Trust a reliable photo recovery software to restore MS Paint files. Advanced tools like Stellar Photo Recovery retrieve the deleted or lost MS Paint files of any format. The software can bring back your Paint projects in JPEG, PNG, GIF, BMP, HEIC, or other formats in their original state.
A Photo Recovery software is designed not only to recover accidentally deleted images, but is also effective in case of data loss due to sudden system shutdown, virus attack, formatting, and more.
Here, it is important to note that a photo recovery software cannot recover unsaved Paint files. It can only restore images that were at least once saved on your drive but deleted due to some reason.
We highly recommend you take the free trial. It would show the preview of the recoverable Paint files.

In Steps: How to recover deleted or missing MS Paint files:
Step 1: Download and launch Stellar Photo Recovery software on PC.
Step 2: Select the drive from which the MS Paint files are deleted. Toggle on 'Deep Scan' button at the bottom.
Step 3: (Optional) To recover only MS Paint file types and bypass other unnecessary data, you can click on the Settings icon on top and select the required image formats. The software will scan and recover only the Paint image files.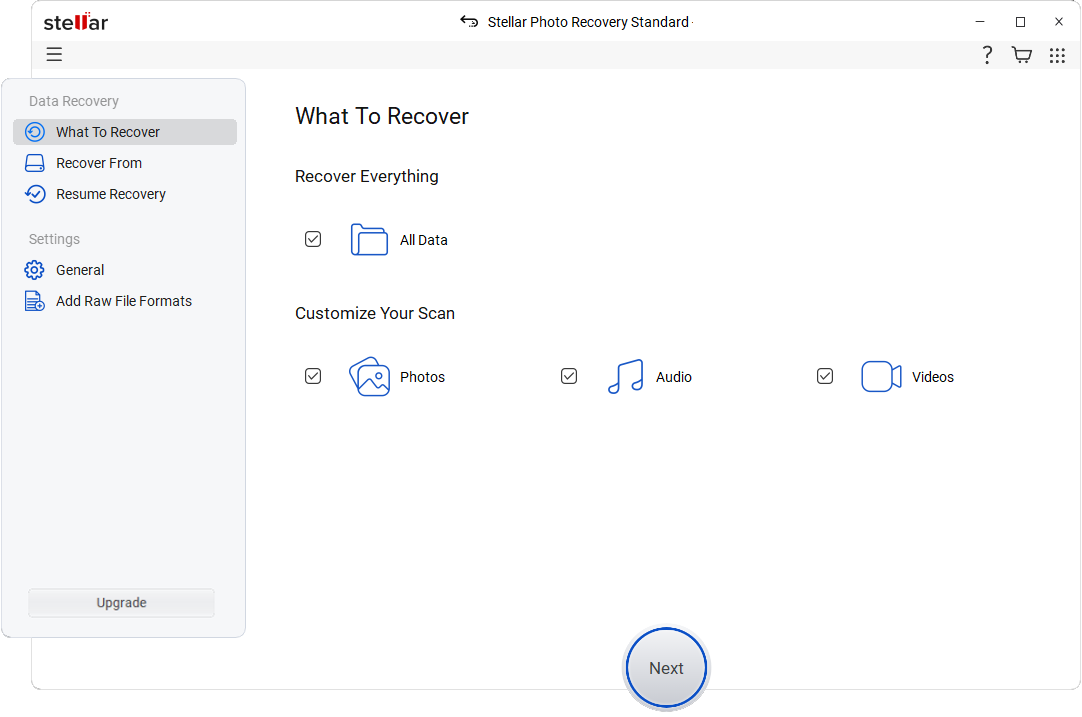 Step 4: Click Scan.
Step 5: Preview the files from the scan results. Select the desired MS Paint files and click Recover.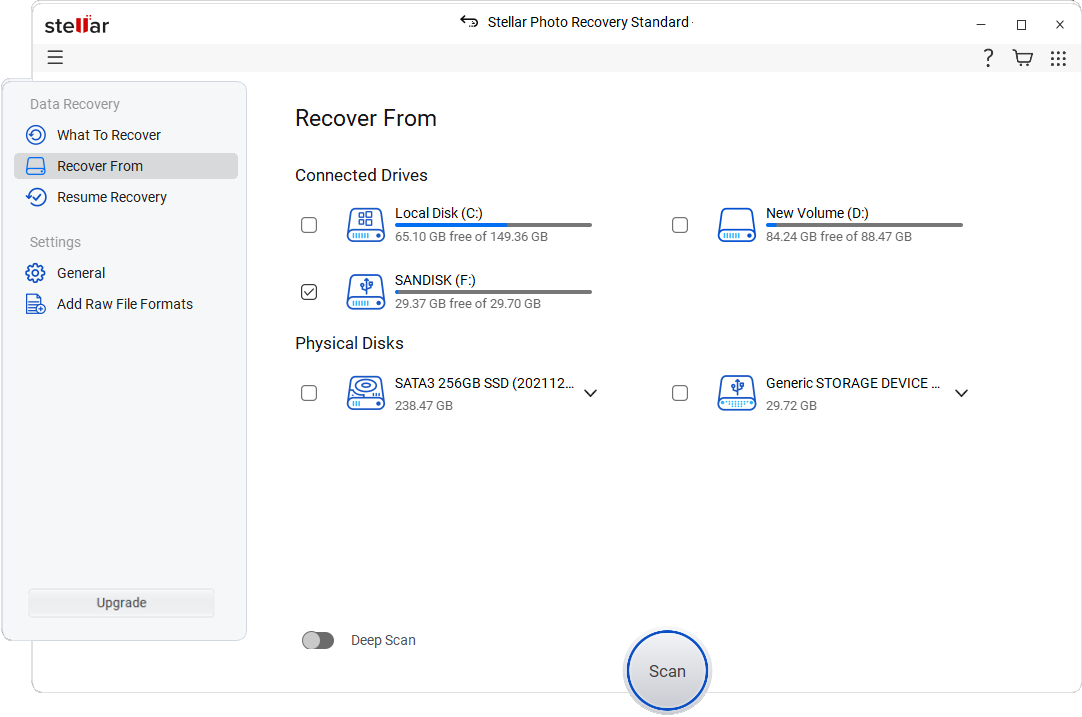 Step 6: Save the MS Paint photos and drawings at your chosen location on computer.
Recover Paint files from File History backup
Backup is a lifeline when data loss occurs. If you maintain regular backup using File History of Windows, restore lost or deleted MS Paint projects from there.
Steps to recover deleted photos using File History in Windows:
Connect the backup drive to PC.
Type Control Panel in the Windows Search box and hit Enter. Click on the Control Panel option.
Navigate to System and Security > File History.
Click on Restore personal files on the left pane.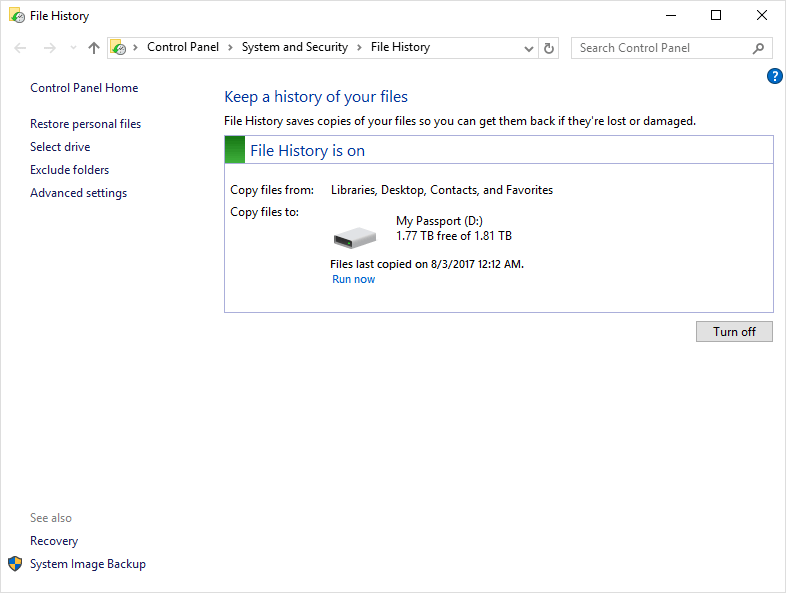 You will see the backup folders list along with dates. Select the required file or folder and click on the green button to restore the files to their original location.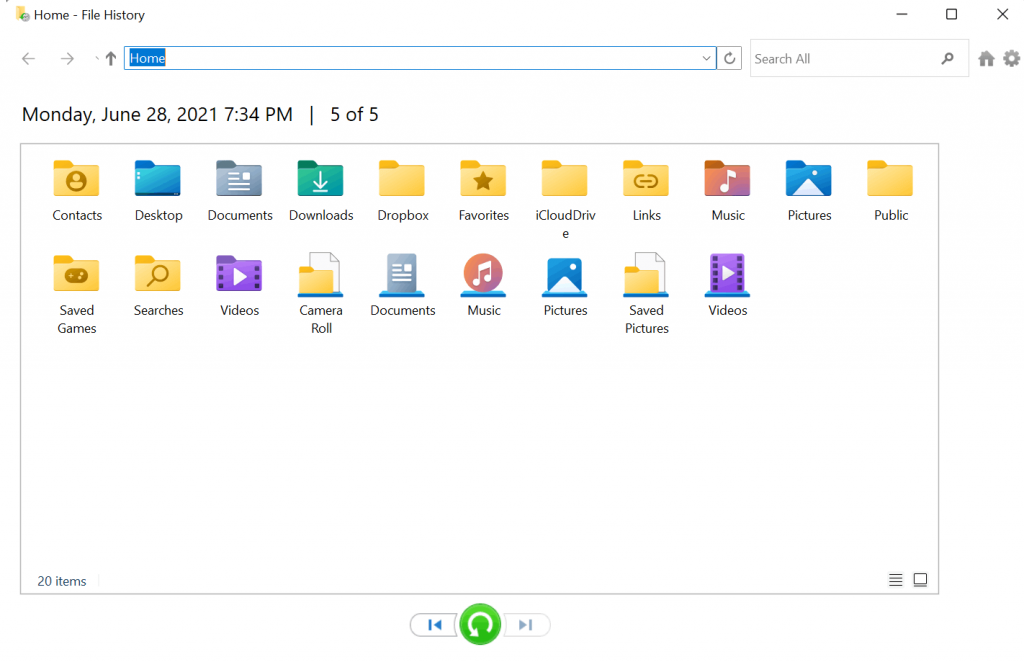 Recover MS Paint files using Restore Point on Windows
If you have created a Restore Point before deleting the MS Paint files, use it to recover the lost images.
In steps: How to recover missing MS Paint drawings and photos using System Restore:
Open Control Panel on your PC.
Navigate to Recovery > Open System Restore.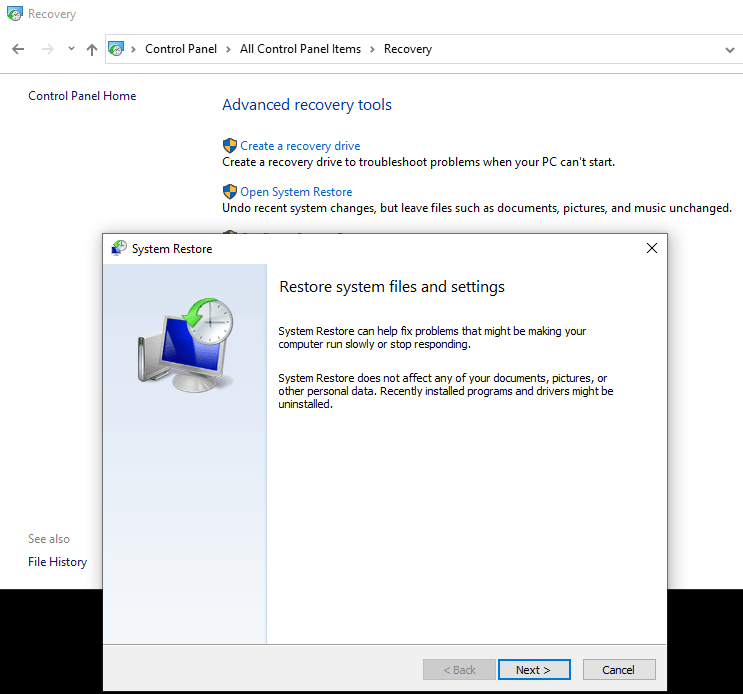 In the System Restore window, click Next.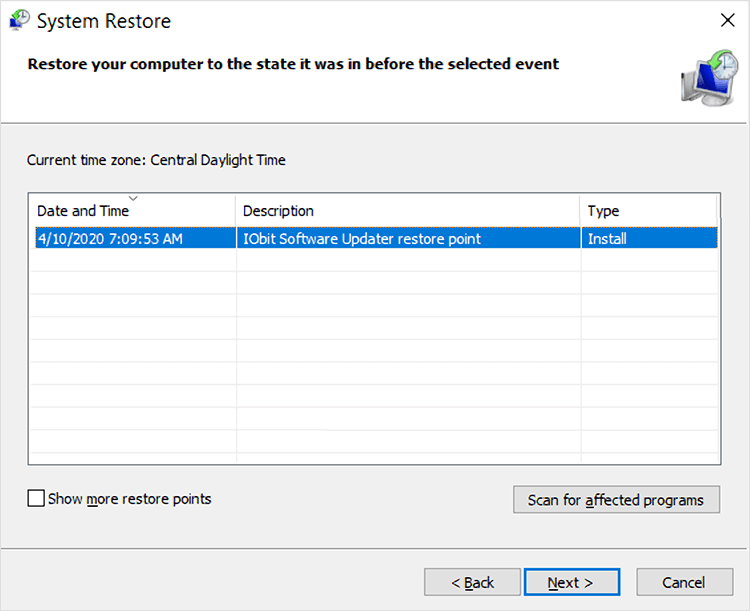 Select the System Restore Point to the date when the MS Paint files are available. Click Finish. Note: When you restore your system from Restore Point, some files will be deleted. You can choose Scan for affected programs to see the list of files that will be deleted. If you are fine with the deletion, then only install this restore point.
FAQ
1. Can I recover an unsaved Paint files?
No, you cannot recover unsaved Paint files. The recovery methods work only if you have once saved the files in MS Paint.
2. Where are my MS Paint files saved?
MS Paint saves the photos on your computer at your specified location. However, if you don't remember the saved location of your recent Paint project, open Paint. Click on Files.On the right side, you will see the 'Recent pictures' list. Click on the required file to open it.
3. Does Windows 11 have MS Paint?
Yes, the latest Windows 11 version offers a revamped MS Paint app with new design features. 
4. How do I recover a project in Paint 3D?
Use System Restore to recover a project file in Paint 3D. If this doesn't work, try a Stellar Photo Recovery software to recover Paint 3D project files.