Table of Contents
The methods we'll cover are as follows:
You may get startled when files present on your Desktop, Download folder, Macintosh HD, or Trash suddenly start disappearing. If you're facing the issue of files not showing up on Mac SSD, hard drive, or external storage device, then don't panic. The files are not lost forever. You can either make some changes to your Mac settings, use Time Machine, or leverage a file recovery software to recover your lost files on macOS. But before that, let's know why files disappear from Mac.
Common Reasons for Files Disappearing From Mac
Incorrect sync setting on iCloud Drive: While setting up your iCloud Drive, you may have selected the option of keeping Desktop and Document files on the iCloud Drive. So, the Desktop and Document files get synced to the iCloud Drive and are removed from your Mac.
Hidden files on Macintosh HD: Sometimes, incorrect settings can cause your crucial files to appear hidden. In such cases, you might not be able to view your files, but they are still present on your Mac.
Out of View files on Desktop: The recent macOS version has the Stack feature that groups files together on Desktop. This feature may make your files out of sight but they are still present on your Desktop.
Accidental Deletion of files: The biggest reason behind sudden disappearance of your Mac files is accidental deletion. Accidental deletion can happen when you select a number of unnecessary files for deletion but inadvertently delete a crucial file with them using Option + Command + Delete key combination; when you empty Trash without checking its stored content; or when your unsaved files are lost due to sudden power outage.
Read More: Resurrect Data from Empty Trash on macOS
Once you're aware of the reasons for the disappearance of Mac files, you can try the following solutions to make your files visible again.
1. Restore Files through iCloud
macOS allows you to save files and folders in iCloud Drive. If you're using iCloud, the documents saved in it can be accessed through all your Apple devices and on iCloud.com. If your desktop files have disappeared from Mac and you have saved those files & folders on iCloud Drive, they will be moved to the iCloud section of your Finder Sidebar.
To rectify incorrect iCloud settings, follow these simple steps:
Go to

Apple

menu >

System Preferences > iCloud

. Click

Options

.
Uncheck

Desktop & Documents

folders. Click

Done

.
2. Unhide Files through Finder
Finder in macOS helps you to organize your files. But if you can't find your required file, folder, or document, then you can always use the Command + Shift + Dot keys to unhide any hidden files. Also, you must check Finder Preferences for any incorrect settings. Steps are as follows:
Open the

Finder

in macOS.
Click

Preferences

.
Choose the

Sidebar

tab and tick

Documents

.
3. Unhide Files through Terminal
You can use the Terminal app to unhide any hidden files on Mac. Steps are as follows:
From Finder > Applications > Utilities, open Terminal.
In Terminal, type defaults write com.apple.finder AppleShowAllFiles YES, then hit Return.
Press the Option key and then secondary-click the Finder icon in Dock. Select Relaunch.
4. Access Files through Stack
Stack feature in macOS automatically organizes your files on the Desktop so that it is free of clutter. If you're using that feature, your files may appear lost, but in reality, they're just grouped by macOS. You can go and find the folder in which your files have been grouped inside and recover them as follows:
Select View on the top of your Desktop and check Use Stacks.
Click Group Stacks By and see in what way your files were grouped.
Find your lost or missing files and move them to the place you want.

5. Restore Files through Time Machine
If you've set up Time Machine backup drive to take incremental backup and the latest backup of your Macintosh HD is available, you can use the backup and restoration app to restore your disappeared files from the backup drive. Steps are as follows:
Ensure your Time Machine backup drive is connected to your Mac.
From the top

Menu bar

, click

Time Machine

, then

Enter Time Machine

.
Find the disappeared Mac files by using up/down arrows or Timeline.
Select the files and click

Restore

. The files will be restored to their original location.
6. Recover Files through Mac Data Recovery Software
If you're unable to recover your disappeared files on Mac by using any of the above methods, the last option is to use a specialized data recovery software for Mac. You may try the free demo of Stellar Data Recovery Professional for Mac, a specialized DIY software for recovering deleted files, lost/deleted Mac volumes, and disappeared data from other logical data loss situations. Steps are as follows.
Select: Launch the software and from the 'Select What To Recover' screen, select the type of files that got disappeared. Click Next. From the 'Recover From' screen, select the storage drive location.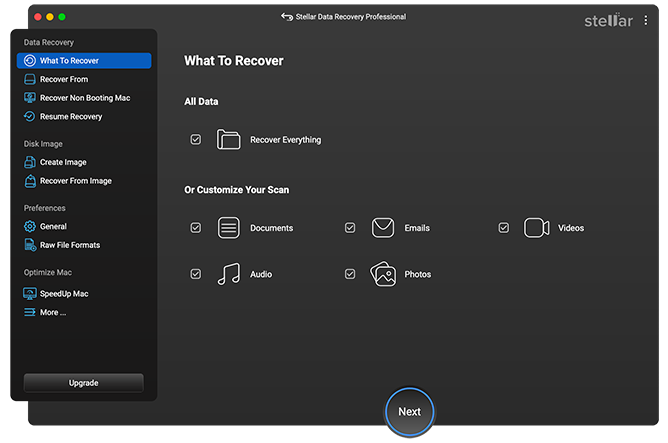 2. Scan: Toggle on 'Deep Scan' for scanning the drive based on file signatures. Click Scan to initiate the scanning process. Once the scan is over, preview the scanned files for accuracy.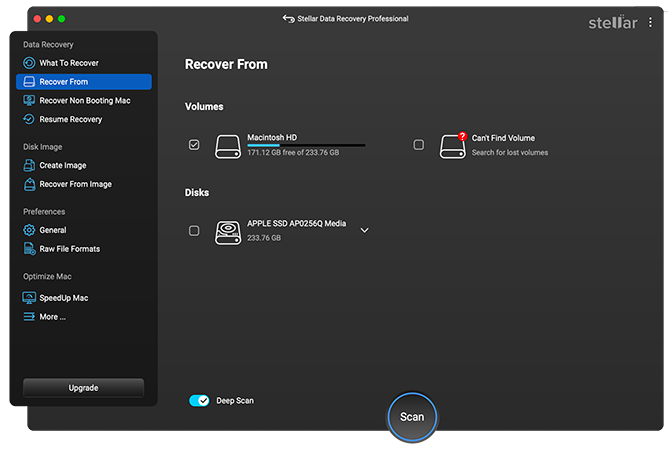 3. Recover: Select all the disappeared files, then click Recover. Provide a distinct save destination, then click Save. Once the recovery is over, navigate to the save location and view the recovered files.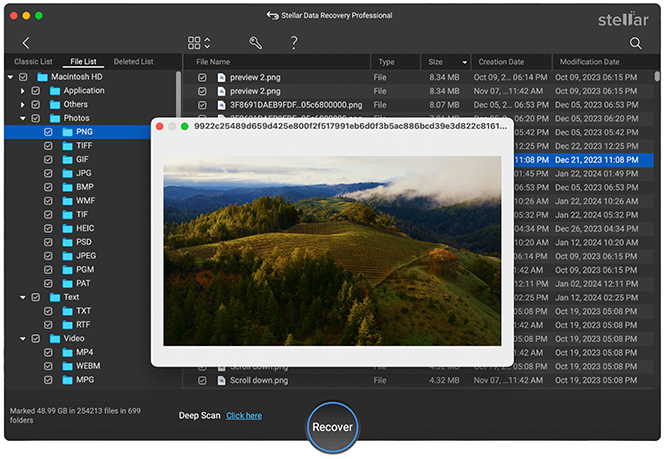 Stellar Data Recovery Professional for Mac is 100% safe, so you can download and try it free, without any hesitation or worry. With a 30-day money-back guarantee on licensed version along with 24x5 free technical support, it's a great tool to recover your disappeared files on Mac. So don't wait. Free download the software and give it a try today!