Have you lost your encrypted photos from SD card, hard drive, SSD, pen drive, flash drive, Android or iPhone, etc.? You may have deleted them, forgotten the password, or a ransomware encrypted the image files making them inaccessible. The situation is frustrating and complex as you have lost personal and confidential photos that were protected using an encryption tool.
So the question arises can you recover encrypted photos in such tough data loss situation? The answer is 'yes'.
This post will share how to retrieve encrypted photos from various storage devices in various loss situations. But first, let's identify the causes of loss of encrypted photos.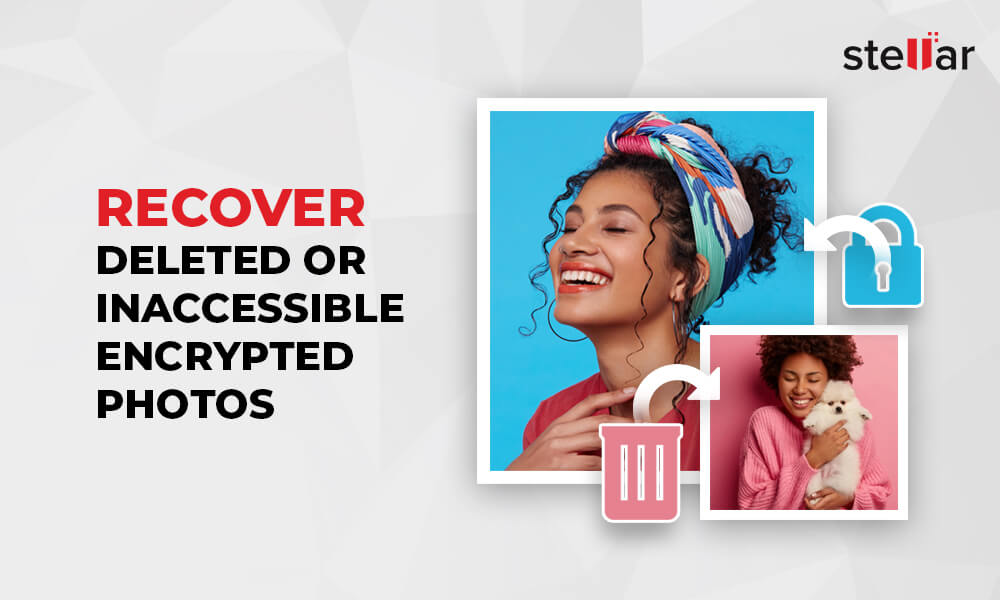 Common causes of encrypted photos loss
File encryption is the best way to protect sensitive photos from prying eyes using a photo encryption tool. However, like any other data, encrypted files can also get lost, deleted, or become unreadable.
Accidental deletion, drive failure, formatting of the encrypted SD card/ drive, improper encrypted files transfer, or corruption in the system can lead to loss of encrypted image files. Besides, if you forget the password lock or a ransomware attack encrypts the image file, then too, you won't be able to access your photos.
How to recover encrypted photos
Try the encryption recovery tools, backup, and Windows Restore feature to get back the deleted encrypted images on a storage device. But if you have forgotten the password of an image file or a virus attack has encrypted the files on the computer, try to recover using an image decryption tool.
Below are the methods to recover locked photos in different loss scenarios.
Method 1: Recover encrypted photos from backup
Recover the lost or deleted encrypted photos from backup folder. Backups created in cloud or external drive are big saviors from encrypted data loss situations.
You can recover photos on PC from Windows File History backup or other backup folder you had created. To recover encrypted photos on Android, look for the missing photos in Google Photos, Google Drive, or File Manager, while iPhone users can retrieve encrypted pictures from iCloud or iTunes backup.
Method 2: Decrypt and recover encrypted photos online
I used an image file locking app to encrypt my photos a few months back. But now I have forgotten the password. I just want to recover my precious photos, which are now locked and inaccessible. How can I recover encrypted pictures?'
Try online photo decryption tools. Google search would display several online decryption tools that you can use to view the encrypted photos. They are usually free to use. You just need to open the program in your browser, upload the encrypted image file, and select the 'decrypt' option in the program.
However, online image decryption tools are usually not considered safe, especially when you want to securely recover the password-locked sensitive photos. Thus, carefully choose the online decryption program that is 100% secure.
Method 3: Use Ransomware decryption tool
Ransomware poses a serious threat to the files and folders on your computer. It encrypts the files and let you access them only in exchange of a hefty payment. Recently, Ufwj ransomware created havoc by locking all the files on computer without being noticed by the user.
So how to decrypt files encrypted by ransomware?
If your photos are encrypted due to a ransomware attack, try decrypting the locked image files with the best ransomware decryption tool. Software like Quick Heal Free Ransomware Decryption, Avast Decryption tool, Gibon Ransomware Decryptor, and others can decrypt multiple kinds of malicious codes on your system.
Download the decryption tool and follow the on-screen instructions to decrypt the ransomware infected files and folders. Once the files are decrypted, you can access the locked photos on your system.
Method 4: Retrieve encrypted photos using Windows System Restore
Windows 'System Restore' feature can help to get back encrypted photos lost or deleted after ransomware attack, system update, inappropriate installation of device driver/app, etc.
You can bring back your PC to an earlier point that contained the missing photos using any of the available Windows restore points. However, by default System Restore is disabled in Windows 10. If you had turned on this feature, try to recover lost encrypted photos by following the below steps:
Open Control Panel on your Windows 10 PC and type recovery in the search box.

Click on Recovery > Open System Restore.
In the Restore system files and setting window, click Next.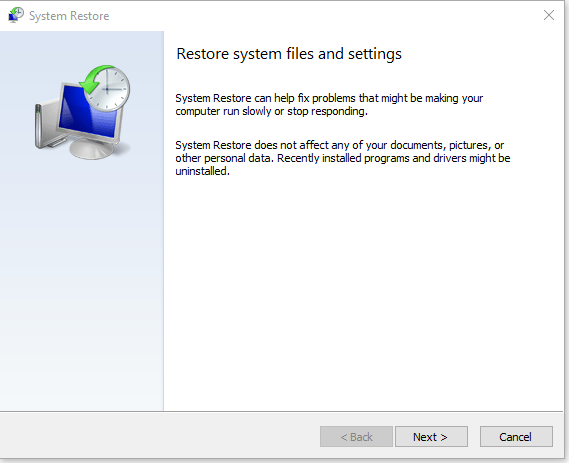 Choose from the available list of restore points and select Scan for affected programs. This will delete the recently installed programs and drivers.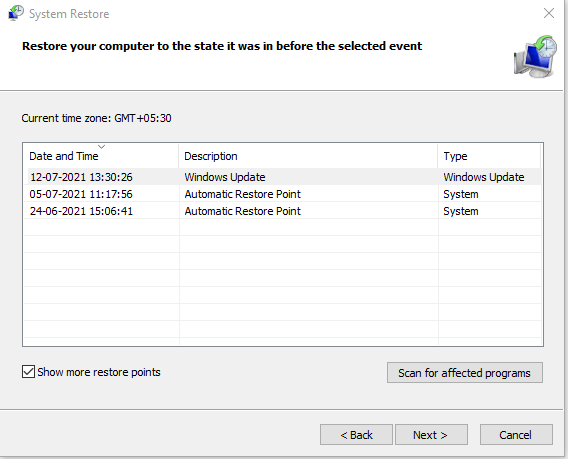 Now check if your photos are restored and you can access them.
Method 5: Use encrypted file recovery software
I used an image file locking app to encrypt my photos a few months back. But now I have forgotten the password. I just want to recover my precious photos, which are now locked and inaccessible. How can I recover encrypted pictures?'
If none of the above methods work, use an encrypted files recovery software such as Stellar Photo Recovery. Whether you had password-locked your photos using cryptoForge, NordLocker, AxCrypt Premium, or any other encryption tool, the software works with all.
It can scan hard drives, SSDs, and removable media to recover deleted encrypted image files and folders on Mac and Windows systems. Regardless of the reason behind the photo loss, its advanced algorithms ensure you get back the encrypted pictures in their original form.
You can recover encrypted photos in situations of accidental deletion, formatting, storage drive corruption, etc. You can easily restore encrypted JPEG, PNG, RAW or other image file types.
Stellar Photo Recovery can work on BitLocker-encrypted storage drives, volumes, partitions, SD cards, and USB drives.
We recommend taking the free trial that previews the recoverable photos.
How to recover encrypted photos - Step-by-step process:
Step 1: Download and run Stellar Photo Recovery on your computer.
Step 2: On software home screen, select the drive from which you want to recover the encrypted files, and click Scan.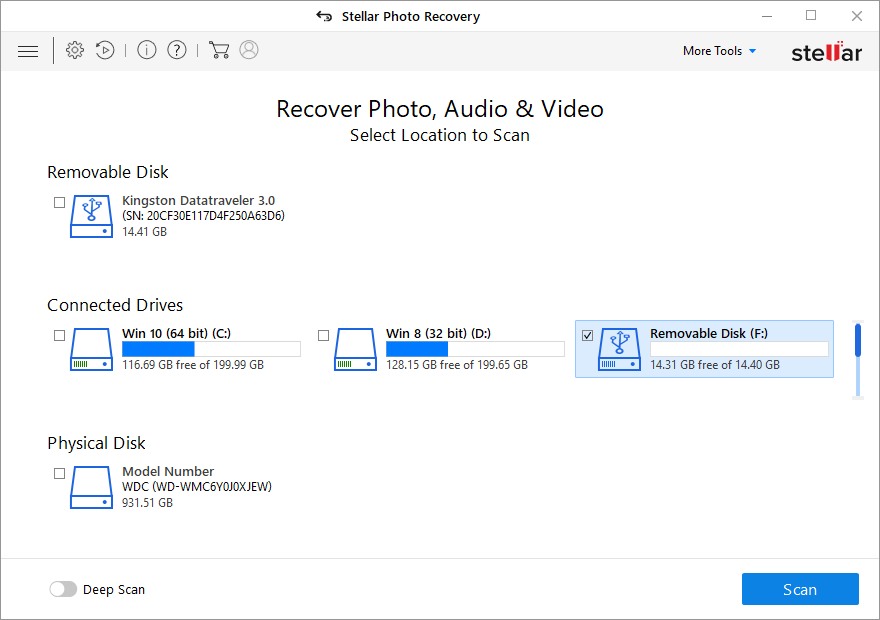 Step 3: (Optional but recommended) You can also click on the advanced settings icon on top. Choose the encrypted photos format that you want to retrieve. This will speed up the recovery process and help you restore only the desired image files while bypassing other unnecessary media files.
Step 4: If the drive is encrypted, it will ask for the password. Enter your drive's password to begin the scanning process.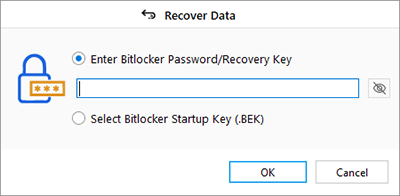 TIP: Forgot your BitLocker encryption password?

You can decrypt the encrypted SD card that has photos with BitLocker Recovery Key, which is auto created at the time of activating BitLocker encryption. It is a 48-digit password that can be used if you forget the BitLocker password. Depending upon the option you chose, BitLocker Recovery Key would be stored either in your Microsoft account, in print on paper, or in a file.
Step 5: After the scanning process ends, the lost image files and folders get displayed in three views – 'File Type', 'Tree View' and Deleted List'. You can preview the found photos before saving them on your system. Select the photos that you want to save and click Recover.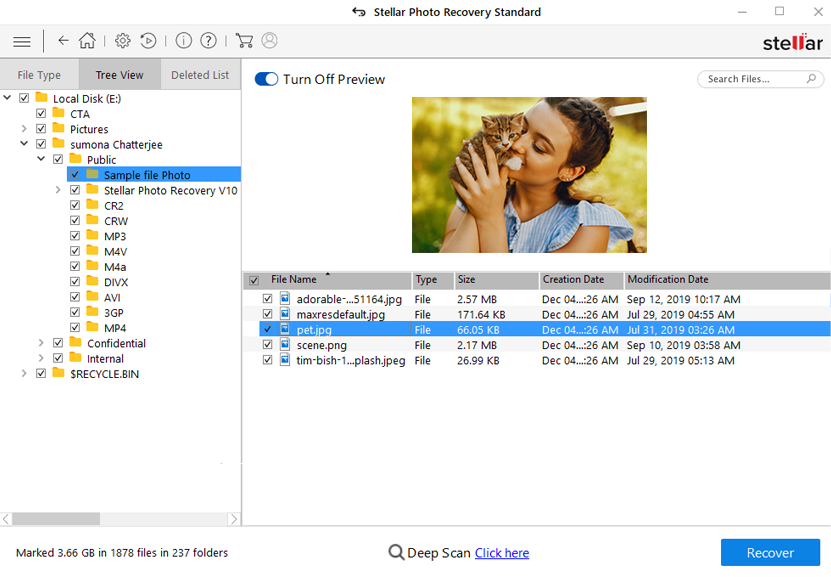 Step 6: Click Browse to select a desired location to save the recovered encrypted photos.
Conclusion
Begin by checking the backup folders for the lost encrypted photos. Try the secure image decryption software if you have forgotten the password or a ransomware has locked your photos. There are various online and downloadable file decryption tools available for the purpose. Windows Restore Point method is helpful when the photos are missing after any kind of change in Windows settings or ransomware attack. 
However, in case of deletion, formatting or drive failure, etc., use the efficient Stellar Photo Recovery. This encrypted photo recovery software can restore password-protected image files from SD cards, HDD, SSDs, and other media. You can use the recovery software, irrespective of the encryption tool you had used to lock the pictures.