Summary: This article introduces a do-it-yourself and secure software that repairs Corrupt ARW file format of all Sony camera models.
ARW is a RAW file format of Sony cameras. Repair of corrupt ARW image files captured by Sony DSLR, camcorder, or digicam is a challenging task. Rarely any software is available that can efficiently fix corrupt ARW files. However, the new Stellar Repair for Photo is an advanced tool that brings with it support for RAW file formats of cameras of all popular brands. The software can repair or fix corrupt images in ARW format shot with any Sony device such as Cybershot, Alpha, or FDR series etc.
Common reasons of corruption in ARW image files
Saved ARW images when camera storage is full or low
Shot photos in low camera battery
Virus infection in storage media
Corruption in the storage drive or memory stick
Improper handling of camera SD card
System crash or power cut during transfer or download
How to repair corrupt ARW files using Stellar Repair for Photo
Connect the drive or memory stick containing ARW images of your camera with the computer. Download and run Stellar Repair for Photo on your PC or Mac system and follow the easy on-screen instructions.
Steps to repair ARW files using Stellar Repair for Photo
Step 1: Run Stellar Repair for Photo software on your computer
Step 2: Click Add File. In the dialog box browse to add corrupt ARW image files. Selected photos list is displayed.
Step 3:Check in the desired files to repair or select all ARW files. Click Repair to start the process.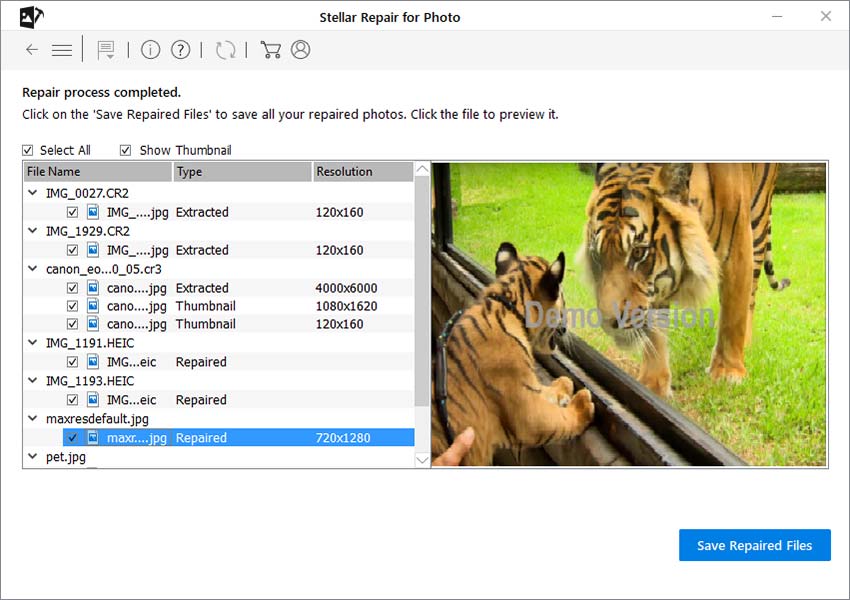 Step 4: Once the repairing process is complete, you can preview the files before saving. Next, click Save Repaired Files and save them at a desired location.
Key features of Stellar Repair for Photo
Extremely easy to use
Supports file formats of all Sony cameras
Repairs unlimited ARW files simultaneously
Extracts thumbnails from severely corrupt ARW images
100% secure to download
Supports photos stored in memory sticks, SD card, SDXC, SDHC, USB flash drive, hard drive etc.
Compatible with both Windows and Mac systems
Hacks to try to fix corrupt ARW images
Use Sony's Imaging Edge: Sony's Imaging Edge is a suite of software that features 'Viewer' and 'Edit' options. You can use the two options to edit, improve, and convert Sony camera ARW images on your computer.
Repair in Image Editors: Image Editors like Lightroom, Photoshop, Gimp, and Fireworks can fix corruptions like grains, blurriness or loss of color etc., in ARW files. This method requires you to be proficient in editing with these Image Editors.
View ARW files in different program: Try opening ARW files in another software. If you are using File Viewer Plus, try Adobe Photoshop and vice versa.
Convert ARW to another file format: Try converting ARW images to another format like DNG or JPEG. You can use any free online RAW file converter tool for the purpose.
Conclusion:
Stellar Repair for Photo is a boon for corrupt RAW camera format files of Sony DSLRs, mirrorless cameras, point-and-shoot, and camcorders. You can now easily repair your corrupt or damaged ARW files captured with any model of Sony camera and save yourself from complete photo loss situation due to files corruption.
Download the free trial here, and see the repaired version of your corrupt ARW files.