Updated on January 28, 2020
Summary: If your AVI videos have become corrupt, this article guides you through a reliable and safe way to repair the .avi extension videos from any storage media.
The Audio Video Interleave or .avi file is a popular format among Internet users to share videos. It is the preferred format for sharing short videos and movies as it uses less compression compared to other formats. In addition, it can easily run on Windows, Macintosh, and Linux platforms.
However, AVI files can get corrupt irrespective of where they are stored— hard drive, SD card, memory card or USB flash drive. Virus intrusion in the storage media and abrupt computer shutdown during download or transfer etc. often lead to corruption of AVI videos.
Regardless of the various reasons of corruption, here is a software that can repair such corrupt or damaged AVI files stored in any media.
Use Stellar Repair for Video to repair corrupt AVI files
Stellar Repair for Video is an easy-to-use software that repairs corrupt or damaged AVI videos shot from DSLR, digicam, drone, and mobile phone etc. It fixes out-of-sync, truncated, flickering, or grainy AVI videos stored in SD card, memory card, flash drive, HDD, and other media.
Some of key features:
Simple and easy user interface
Repairs unlimited number of AVI videos in one go
Provides a Preview of repaired AVI videos
Fixes severely corrupt videos
Repairs AVI files recovered from corrupt storage media
Steps to repair AVI files
Step 1: On home page of the software click Add File.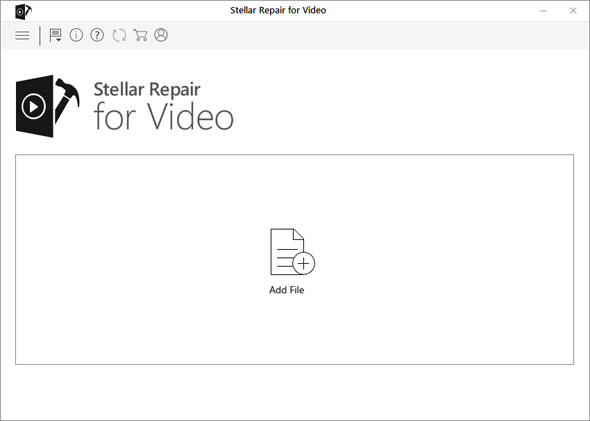 Step 2: Click Repair to fix the added corrupt videos.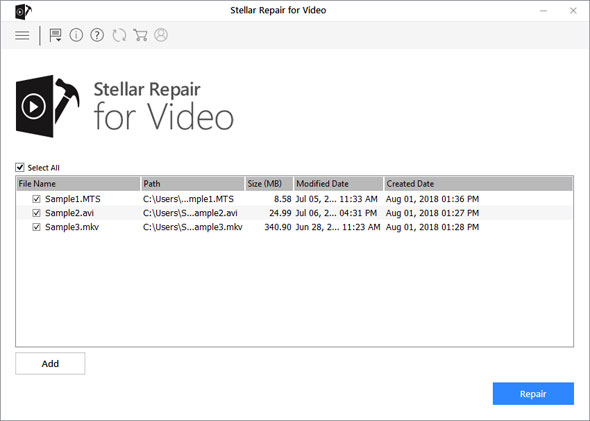 Step 3: The repairing process begins. You can view the progress bar. A Stop option is there to stop the repair process anytime.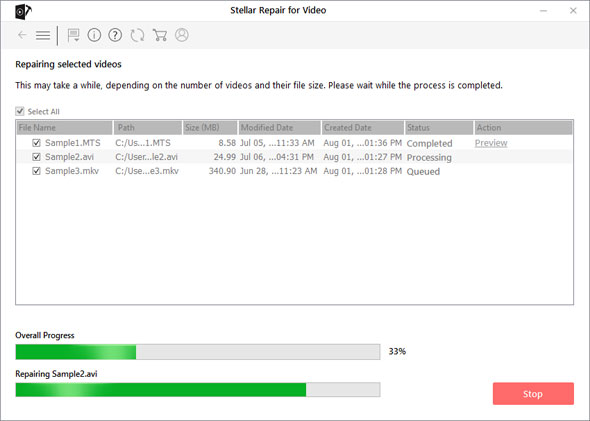 Step 4: A 'Repair process completed' message appears after the successful repair of the selected files. You can preview the repaired videos by clicking on Preview option. Click Save Repaired File to save the repaired AVI videos.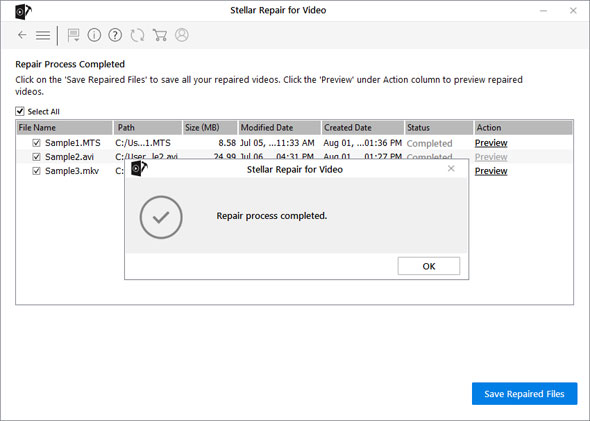 Workarounds to fix corrupt AVI videos
Download AVI files again: Incomplete download or some interruption during transfer can lead to corruption in the videos. Download or transfer the AVI videos again from the source.
Repair with VLC Media Player: Use VLC in-built video repair feature to fix corruptions or distortions in AVI videos.
Play on another media player: Try a different media player, other than those you are using, to play AVI videos. Some AVI supporting media players are VLC Player, Windows Media Player, Apple Quicktime, and Winamp
Convert to another format: Use a secure online converter tool to convert AVI file format to MPEG, MP4, or WMV etc.
Conclusion
Stellar Video for Repair is an advanced DIY software to fix corrupt or non-playable AVI videos. High success rate, fast repair, and prompt customer support make Stellar Repair for Video a preferred video repair software for millions of users.
The free demo version of the AVI video repair tool is good enough for evaluating whether a video corruption issue can be resolved.