When you are running low on disk space on your system, you usually go to the Disk Management utility to figure out what's consuming all the space and how much space is left. There, you might come across a drive partition that's consuming some space and is not in use. This partition is called System Reserved partition, placed just before the C: drive partition. It contains no drive letter, no file system, no data, nothing, but it sure consumes 100/350/500 MB of space on your disk storage.
You would simply want to delete this partition to free up that extra space. But, wait! Don't you want to find out why this partition is there and if it's important for the system? In this article, we will answer some of the common queries that we've received from multiple users. It contains all the basics about System Reserved Partition and other details.
What is System Reserved Partition?
Whenever you install Windows first time on a system or perform a clean installation, a small partition of hard disk is created, called System Reserved Partition. This remains hidden (reserved), with no drive letter, and doesn't show in File Explorer. It only shows up in Disk Management.
The Windows System Reserved Partition was first introduced with Windows version 7. It consumes a different amount of space as per Windows versions. On Windows 7, it consumes 100MB of storage, on Windows 8, it consumes 350 and on Windows 10, 500 MB is consumed.
The System Reserved Partition is important especially if you wish to use the BitLocker drive encryption utility. Without it, the BitLocker utility won't work since startup files used for BitLocker are stored in this partition.
In Disk Management, the partition will appear just before the C: drive. It mainly consists of two important things, including:
Boot Configuration Data
Boot Configuration Data or BCD is a file that contains its own set of WIndows boot options and offers a firmware-independent boot option interface. It is available during all phases of system setup and at run time. It offers a store that describes the boot applications and their settings. When a BCD file gets corrupted, you can manage or repair it using the BCDEdit command-line tool. You can also BCDEdit it to create new stores, modify the existing ones and add boot menu options, etc.
Boot Manager
Boot Manager, also called boot loader, is responsible for loading the system and interacting with users. This UEFI application sets up the boot environment and performs multiple functions, including displaying the boot menu, loading selected system-specific boot loader, etc.  After the launch, Boot Manager reads the boot configuration database and initializes boot libraries to determine which boot app should run and in which order.
Should you Delete System Reserved Partition?
Well, No you shouldn't delete or edit the System Reserved partition. Windows hides this partition on File Explorer by default. No drive letter is assigned to it. Since it contains a boot manager and BCD, and other necessary system files, deleting this partition Windows system reserved partition would wreck your system. Deleting this partition also means messing up the Registry, the process of updating the BCD store, and copying file. es between drives, and making the main partition the active partition. Removing it would put your device and its data at stake. Even data recovery could get affected due to the deletion of this volume.
Can you Delete Microsoft Reserved Partition?
The previous section explained whether you 'Should' delete the System Reserved Partition. Here, we'll discuss if you "Can" delete it on your own?
Since Windows keep the reserved partition hidden unlike other drive partitions, you won't be able to access it from File Explorer. In addition, even if you see the Microsoft Reserved partition in the disk management utility, you won't be able to delete it as all the options remain greyed out. Therefore, if you still attempt to delete it, a third-party tool will be required. However, it's not recommended at all because doing so may put your system at great risk.
Better to Prevent System Reserved Partition from Creation
If you don't want this partition, or for whatever reason, you want to remove it, deleting is not the way to go. The easiest and the best way to just simply prevent it from being created in the beginning. You can follow the below steps:
While installing Windows on your system, press Shift + F10 to open a command prompt.
In the open command prompt window, type diskpart and hit Enter.
Next, type select disk 0, and then type create primary partition and hit Enter after typing each command.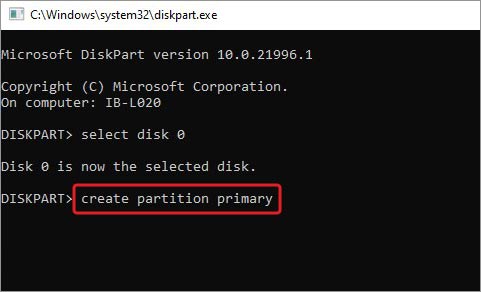 Continue following the instructions (if any) to complete the setup process. Choose the partition you selected earlier while creating the partition.
Although it may seem like this system volume is cluttering your drive storage, it is essential indeed to perform many actions. In addition, deleting it won't save you much space. Overall, don't just think about deleting it. It won't do any good for you. Moreover, if you don't want it to be in the place, prevent it from being created during Windows installation.
FAQ
1. When Windows System Reserved Partition is Created?
The Microsoft Reserved partition is part of your disk storage. It is usually created during the Windows OS installation process just before the space allocation for the main partition.
2. What happens if we delete the System Reserved partition?
Since System Reserved Partition consists of the Boot Configuration Data and Boot Manager, deleting it may throw 'System won't boot' or other boot-related issues.
3. Does System Reserved Partition contain boot files?
Yes, the System Reserved partition contains the boot files, along with recovery files and files associated with the BitLocker encryption system. However, you can also store them on other system partitions.
4. How do I fix the "We couldn't update system reserved partition" error installing Windows 10?
Whenever you update or upgrade Windows 10, you might face the error stating – 'We couldn't update system reserved partition' error. It occurs due to a lack of space on System Reserved Partition. Apart from boot information for Windows, this volume can also contain some third-party anti-virus and security apps write. However, you can refer Microsoft page to fix this error.
5. Does deleting a partition remove all data?
If you remove any drive partition of a hard drive, it will erase any data stored on it. Hence, it's necessary to delete the partition, don't do it. And, always take backup of your data stored.
6. Can I recover data from a formatted drive partition?
You can use dedicated data recovery software, such as Stellar Data Recovery Free edition to recover data from formatted or corrupted hard drives. It can restore all file types and formats in a few simple steps. Further, it can recover up to 1 GB of data.