Summary: In this post, we share the methods to recover Outlook Rules, when Outlook Rules are not working and Alerts from a corrupt PST file. You will learn about Microsoft's built-in repair utility to fix the problem. You will also learn about the factors that can lead to a corrupt PST File.
MS Outlook isn't simply an email client but also a personal information manager. It can save notes, RSS feeds, important contacts, appointments, calendar events, and much more. Since all this data can grow huge, the software offers some features to organize this data. One of these features is Outlook Rules and Alerts. With this feature, you can create your own rules for handling certain emails and get alerted when certain actions are performed on your mailbox. For instance, you can create a rule to move emails that contain certain keywords or are sent by a particular email address to a specific folder.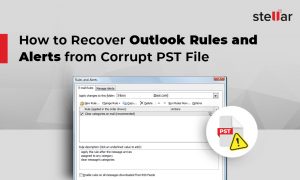 Although Outlook is a robust and reliable email client, it's not impervious to data corruption. So, if the Outlook PST file gets corrupted, you may lose access to the emails and other mailbox data, along with the associated rules and alerts. In such a case, you need to repair the PST file to access the mailbox data and recover Outlook rules and alerts.
Factors that Lead to Outlook Rules not working?
Since Outlook email rules are stored in PST files, if the PST file is corrupted or deleted, then you may lose the email rules as well. The following are some factors that lead to PST file corruption:
 1. Improper Outlook Upgradation
When Outlook users who are inexperienced try to upgrade Outlook, they may make a mistake and damage the PST file. If a user encounters errors during the upgrade, then mishandling these errors can also lead to Outlook rules not working.
2. Errors Following from PST Compression
Outlook users compress the PST file to reduce its size. However, if some unpredicted error occurs during the process, the PST file may get corrupted which can make the email rules inaccessible.
3. Oversized PST File
If the size of a PST file exceeds the recommended limit, a Large PST file can result in the loss of Outlook items including the rules.
4. Malware Infection
Computer viruses, trojans, etc. can corrupt your system data including Outlook PST file.
5. Failing Hard Drive  
Bad sectors on your hard drive can also corrupt the PST file and result in data loss.
The question now arises is how to get back the rules. Positively, you can get the rules back, however, before we look into it, let's know the factors that cause rules deletion from MS Outlook.
How to Recover Outlook Rules and Alerts from Corrupt PST?
Outlook used to store email rules in Rules Wizard Rules (RWZ) files. But since Outlook 2003, the application started storing the rules in PST files. That said, you can still export the rules in RWS format in newer Outlook versions by accessing Rules and Alerts section in Outlook. If you already have the backup RWS file, you can import it directly into Outlook to recover the rules and alerts. If you don't have this file but there is a backup PST file, you can import the file to recover missing Outlook rules and alerts. If this PST file is corrupted, try the following method:
Want to recover emails, attachments, calendars, and other items from a corrupt PST file in a hassle-free and fast manner? Check out Stellar Repair for Outlook. It can repair severely corrupted PST files of Outlook 2019, 2016, 2013 & earlier versions. This user-friendly software allows you to save the PST data into a new PST or other formats such as HTML, PDF, etc., and maintains data integrity.
Scanpst.exe or Inbox Repair tool is Outlook's built-in utility that can be used to repair PST files efficiently. By repairing the PST file, you can recover all the data. You can also recover Outlook rules and alerts.
To use Scanpst, you simply have to locate the utility on your system and launch it. Then follow the given steps:
Exit Outlook
Double-click Scanpst.exe
Browse the PST file you need to repair
Note: In case you don't know the location of the PST file, launch Outlook and go to File > Info > Account Settings > Account Settings > Data Files. You will find the file and its path here.
Click Start to perform the repair on the PST file
On successful completion, launch Outlook
Create a New PST file
Drag the recovered items from Lost and Found folder to the new PST
ScanPST is effective in fixing minor corruptions in PST file. However, major issues such as Corrupt Header Error, Run Time Error, permanently deleted emails, etc. are beyond the scope of this utility. For resolving these complications, you need an advanced PST repair software such as Stellar Repair for Outlook. It is a user-friendly and effective PST file repair software that you can use to repair your PST file easily.
Conclusion
Outlook rules and alerts are useful in managing large mailboxes. Users can create detailed and complex rules to make mailbox management easy. However, if these rules are accidentally deleted & lead to Outlook Rules not working, then recreating them can become a challenge. Fortunately, if you have a backup RWS file or a PST file, you can recover the missing Outlook rules easily. If recovery isn't possible, then recreating the rules is the only option.
Also Read:
How to deal with a Large PST file?