Troubleshooting Steps to Fix "Outlook 2013 Stuck At Loading Profile" Screen
Imagine a scenario where all of sudden, without any error or message notification, Outlook 2013 gets stuck at Start and keeps moving into Loops of Loading profile. You waited for a few minutes, a few hours & more, and finally almost half of the day, but is unable to proceed.  At that moment, you thought that your PST is either gone bad or become corrupt. So, you tried to move or rename it. Unfortunately, Outlook does not allow to accomplish the request.
Outlook Stuck on Loading Profile Error Brief Outline
Indeed, developed by Microsoft, Outlook is one of the most popular Email client application that is widely used by Home as well as Professional Users. Thanks to its pioneering features, ease, an advanced set of options, intuitive interface, and user-friendly functionality.
Despite being spontaneous, it sometimes hangs or freezes. The reason being, its Data Files are accessed by other applications, and for smooth and seamless functionality, it needs to access as well as lock its data Files.  In short, if Outlook fails to read and write to Data Files, it hangs on to the Loading Profile.
Possible Reason for Outlook Stuck on Loading Profile Error —
Data Files Corruption
Outlook Files Damage
Outlook Settings Damage
Third-party Program Conflict
When previous Outlook session still proceeds in the background
Reading / Indexing of Data Files by Windows search engine
Simple D-I-Y Hacks to Outlook Stuck on Loading Profile
Check the Applications that are demanding synchronization and abort the process
Disable Anti-virus to resolve the concern
Inhibits Indexing Service
Under Windows Task Manager Kill the running Outlook.exe process
Troubleshooting Steps to Fix "Outlook 2013 Stuck at Loading Profile" Screen
Action 1: chkdsk c: /f Command
A simple method to open Outlook 2013 without any issue.
Steps are as follows:
Altogether Hold Windows Key + X
From the Menu, choose Command Prompt (Admin)
Type chkdsk c: /f
Press Enter
Next, Restart the system
Action 2: Disable or Uninstall VPN Software
Another reason for hang or stuck can be installed VPN Software. Identify it and either remove or disable them.
Steps are as follows:
Go to Windows Startup
Identify the installed VPN software
Next, Disable or Remove them
Now, Restart the computer and access to open the Outlook 2013
Action 3: Try to Rename the PST File
If you are unable to rename your Outlook File that just means it is still in access or is indexed by an indexing application. Therefore, you have to abort the Indexing software. Once you are done with it, rename the PST File and attempt to open Outlook again. If it begins, it means your Outlook Data file is corrupt, and you need to repair corrupt PST file.
Steps to Repair Corrupt PST File
Close Outlook
Browse either to Program Files (x86) folder or <drive>:\Program Files —
Under search box, type exe
Double-click on it to Open.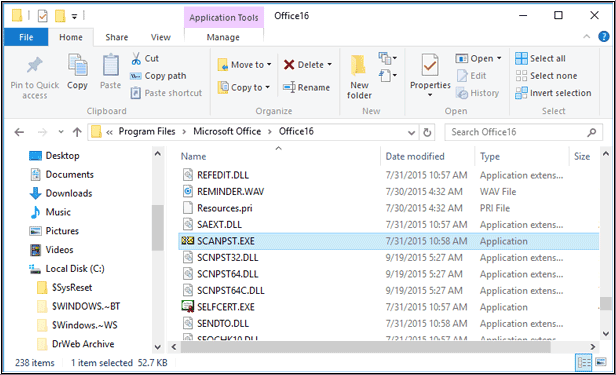 Next, under Enter the name of the file option, specify PST File Name or you can use Browse option to select the file.
Go to Option and disable Log Creation or Append Result to an existing log file
Click Start. If error encounters, process further with Repair process
Next, Click on Repair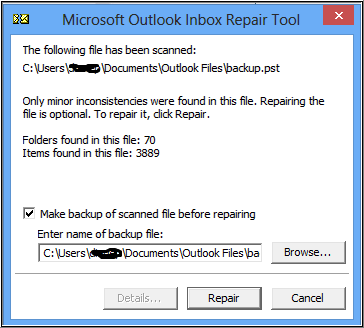 Now, Restart Outlook with Profile including repaired Outlook Data File
Here, under Folder pane, press Ctrl+6 to switch to Folder List View
Go to Recovered Personal Folders -> Lost and Found folder
Create a new Outlook Data File and drag items to it.
Lastly, after migration, remove the Recovered Personal Folders
Note: Scan auto-creates a Backup during the repair process. To alter its name as well as location, go to Enter Name of Backup File box and perform the operation for selected file.
Action 4: Attempt to Open Outlook in Safe Mode
Several times the issue is due to the presence of Add-Ons or Profile Corruption.  Under such scenario, you need to fix the issue by opening it in the Safe Mode.
Steps are as follows:
Open Run command Box using Windows key + R
Type Outlook /safe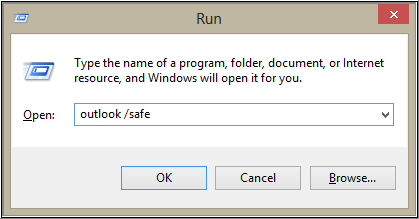 Hit Enter
Next, if Outlook opens up, disable all faulty add-ons
Click Outlook 2013
Choose File -> Options -> Add-Ons
Under Manage, click on COM Add-ins
Click on Go
Disable the Add-Ons -> Ok
Exit Outlook and Open it again.
Action 5: Close Lync
Another simple trick to solve the issue is to close the Lync
Steps are as follows:
Go to Task Manager
Under Processes tab, search Lync application
Right-click to open its Menu list
From Menu, choose the End Task option
Next, Restart Outlook
Action 6: Remove Outlook Profiles from Registry
If the hang or stuck error surfaces while setting up an email account, then the possible reason could be File corruption.  To resolve it, you need to eliminate Outlook Profile from Registry.
Steps are as follows:
Go to Run command box
Type regedit
Open Registry Editor
Press Enter
Under Registry Editor, navigate to path:
HKEY_CURRENT_USER\Software\Microsoft\Office\15.0\Outlook\Profiles\<Your Profile>
Next, delete all those Profiles for Which Outlook is generating issue
Also, eliminate them from C:\Users\<Your User>\AppData\Local\Microsoft\Outlook  
Lastly, attempt to open Outlook
Reconfigure the Email accounts
Action 7: Disable Hardware Graphics Acceleration
Sometimes, the cause of the error can be Hardware Acceleration. Under such a scenario, open Outlook in the Safe Mode as stated above and do the following:
Go to File
Select Options
Click on Advanced
Go to Display option
Checkmark Disable Hardware Graphics Acceleration option
Close Outlook
Restart the system and open Outlook
Action 8: Run Commands outlook.exe /resetnavpane or outlook.exe /resetfolders
Some corporate sectors do not allow you to uninstall a VPN service.   In such a condition, check whether you can Open Outlook in Safe Mode or not. If yes, then inevitably, VPN software Add-Ins are the cause of failure.  Under such condition, run either of the two stated commands.
Steps are as follows:
Go to Run Command Box
Type exe /resetnavpane or  outlook.exe /resetfolders
All these solutions work quite impressively up to a certain extent. Moreover, being manual-driven, they involve risk of data loss or compromise and demand at least some amount of technical know-how. Last but not the least, these freeware approaches do not work in complete harmony with every request.
Then, what's Next?
Step Forward Solution: Third-Party Repair Tool
Third-party tools are the software-oriented solution. They are completely free from manual intervention, data loss, does not demand technical expertise, time-saving and considerably more powerful. Further, they ensure almost 100% precision.
Professional Recommendation
Well, there are tens of thousands of software utilities to fulfil the requirement yet you cannot trust any at random as a random selection can result in further aggravation. Thereby, based on the analysis of experienced and knowledgeable professionals, here is an expert recommendation—Stellar Repair for Outlook. This do-it-yourself software lets you repair damaged as well as corrupt PST File with a great ease via a few clicks.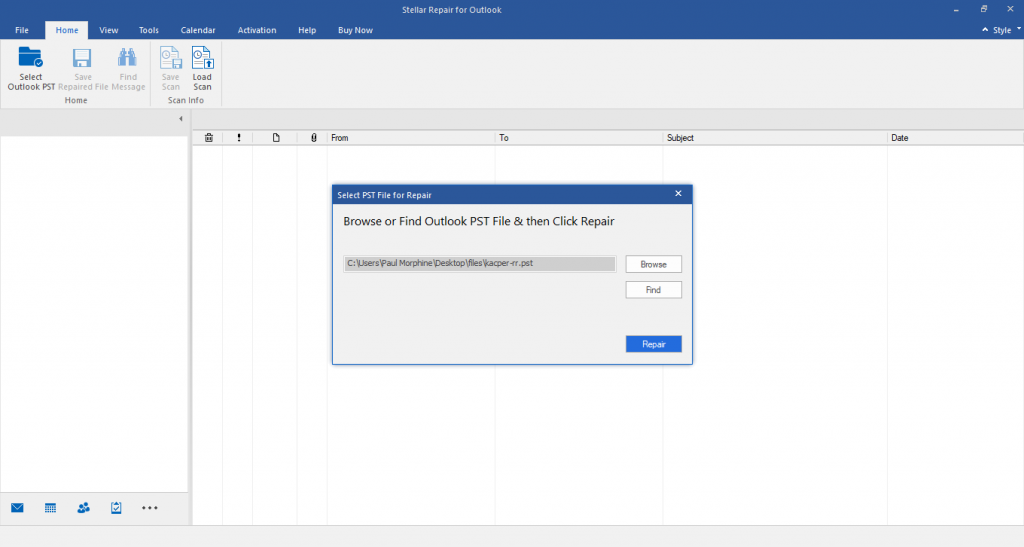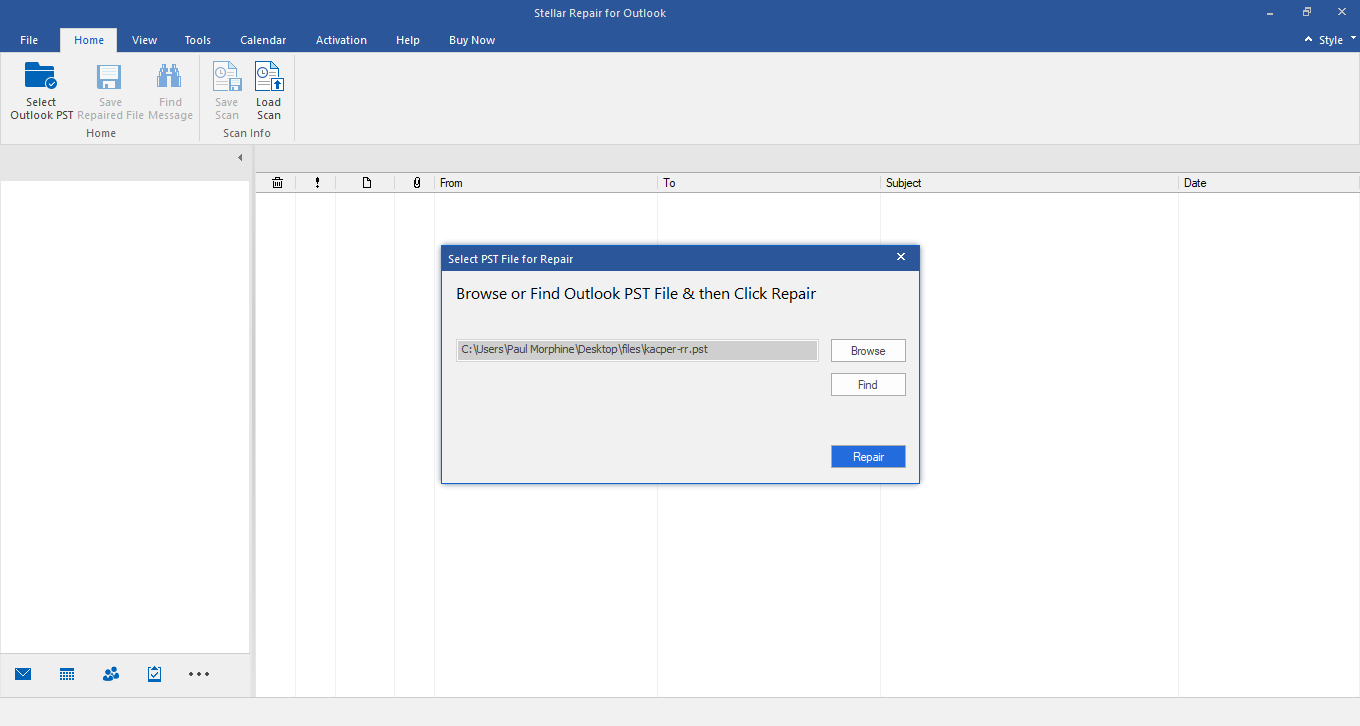 Owing to its powerful embedded algorithm, you can quickly repair Encrypted or password-protected files as well as accidentally deleted emails. It offers support for the latest Outlook version and major Operating Systems. It also comes with the pre-preview facility for analysis.  This professional utility is very intuitive in nature, thanks to its simplified GUI with detailed instructions.

Conclusion
The occurrence of Error is very common in Outlook like any other application. The only solution to combat any error like Outlook Stuck at Loading Profile screen is to identify the cause and use the right approach.  Most of the time, the error is easy to resolve and can be handled using the right approach. While there are manual methods yet they are considerably tedious and also demand technical expertise. Here, a Software Approach would serve the purpose and Stellar Repair for Outlook is the best bet given its noteworthy features!