You get a basic set of applications with your Mac. But for better performance and to enhance productivity, you may need some third-party applications. There are various reliable apps available that you can use to uplift your productivity and personalize your Mac experience.
In this article, we'll be mentioning some applications that you can use on your Mac for better productivity and user experience.
Must have Big Sur Apps in 2022
The list contains a range of apps, from simple utility apps to performance enhancer apps.
1. Evernote
It is beyond any debate that Evernote evolved as an extremely useful app in its category due to constant improvements and catering to the needs of every user. Some of the features that make it a must-have app for Mac users are:
Option to organize notes using folders and tags.
Embed Google drive documents and access them with a single click.
Set reminders.
Share notes with friends.
Improved note editor with personalized headings and fonts.
Dark Mode to make reading and writing easier for your vision.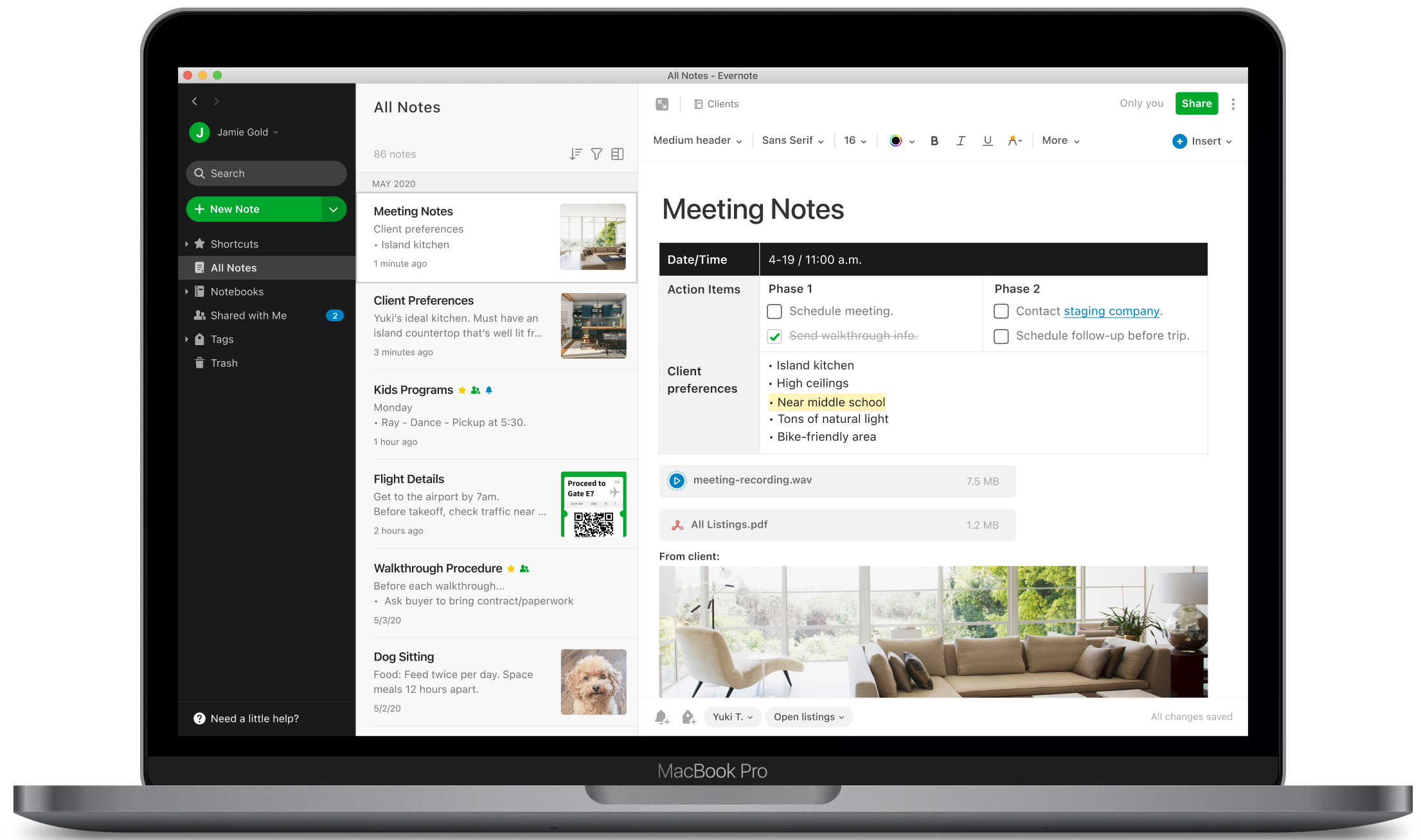 Image Courtesy: Apple
Where to get it: App Store
Cost: Free App (Premium also available - $7.99 per month)
2. Microsoft To-Do
If you like to keep your tasks organized, Microsoft To-Do is the app you must have on your Mac. Microsoft To-Do is the best task manager app in its category and is best suited for managing personal projects by a single user. Some of the striking features of this app are:
Allows to create any number of list.
Designate a color to a list for easy recognition.
Availability of lists on every device you are signing in to.
You can fragment tasks into manageable steps.
Support for files and notes.
'Suggested Tasks' feature to remind you of pending tasks.
Syncs with Outlook to allow sharing of lists.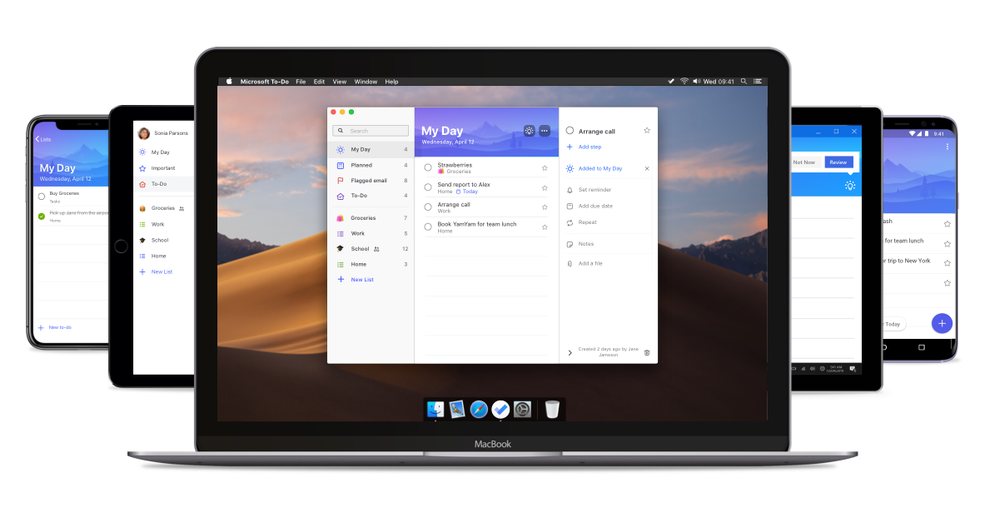 Image Courtesy: Apple
Where to get it: App Store
Cost: Free App
3. Amphetamine
This amazing app allows you to use your MacBook even when the lid is closed (don't confuse it with power off Mac). The UI features of this app are quite amazing. It fits easily with the other Menu Bar items. Here are the features that will help you know Amphetamine better:
It keeps your Mac awake for a specific period/specified time/indefinitely, during file downloads, or while an app is running.
Option to define and create a trigger to keep the Mac awake when an external display or USB is connected to the Mac system.
Equipped with Apple Script Support.
Hot Key support to start and end sessions.
Auto-ends session in case of low Mac battery.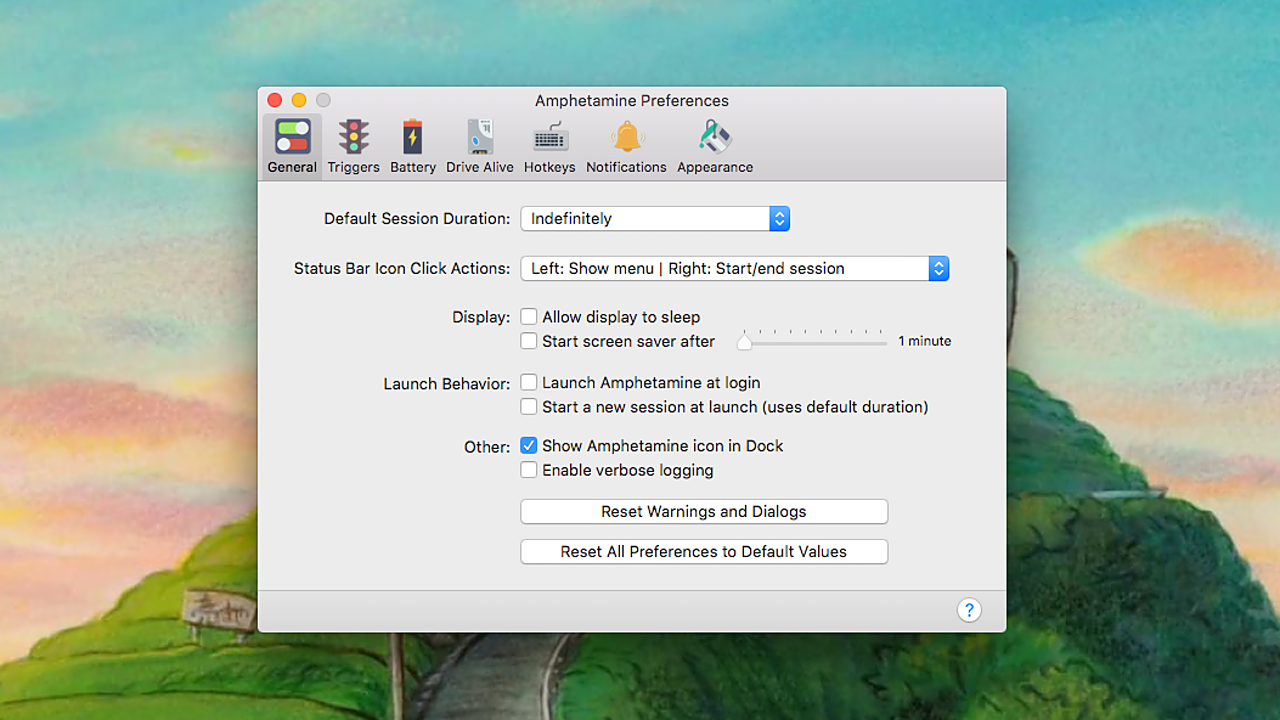 Image Courtesy: Amphetamine
Where to get it: App Store
Cost: Free App
4. Duet
If you work on elaborate projects or are into coding, programming, or gaming, you may need two monitors. However, there are constraints like the hefty price of monitors, space requirements, etc., that might restrain your desire to have an extra monitor. Luckily, there is a simple solution to this. You can get the Duet app that helps tether your iPad to your Mac and turns it into an external monitor. The features include:
Delivers a retina display with 60 frames per second without any lagging.
Does not require any dongles or converters.
Uses minimum battery and CPU.
It uses 256-bit encryption.
24 X 7 tech support with quick response.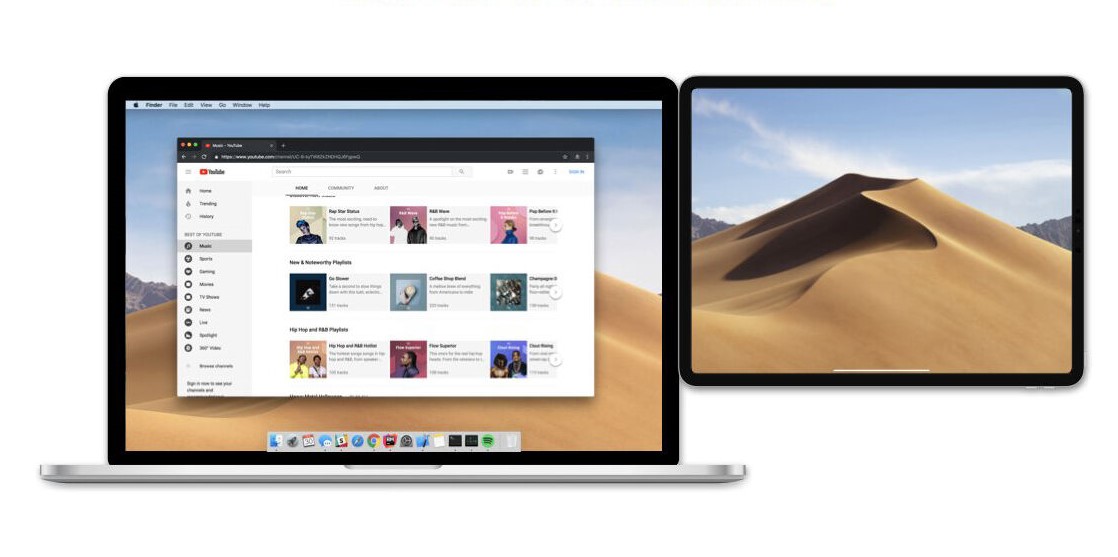 Image Courtesy: Duet
Where to get it: App Store
Cost: $12.39 approx.
5. Atom
If you are a developer or coder and looking for a next-gen text editor, then your search ends at the Atom app. The Teletype feature of Atom allows you to collaborate on codes right from the comfort of your editor. You can share your workspace and edit codes together, thereby reducing time and effort. Some other features of this amazing app are:
Allows Syntax highlighting.
Equipped with language auto-detection.
It has a context autocomplete system.
Option of using multiple panels and organizing the projects into folders.
Snippets Support.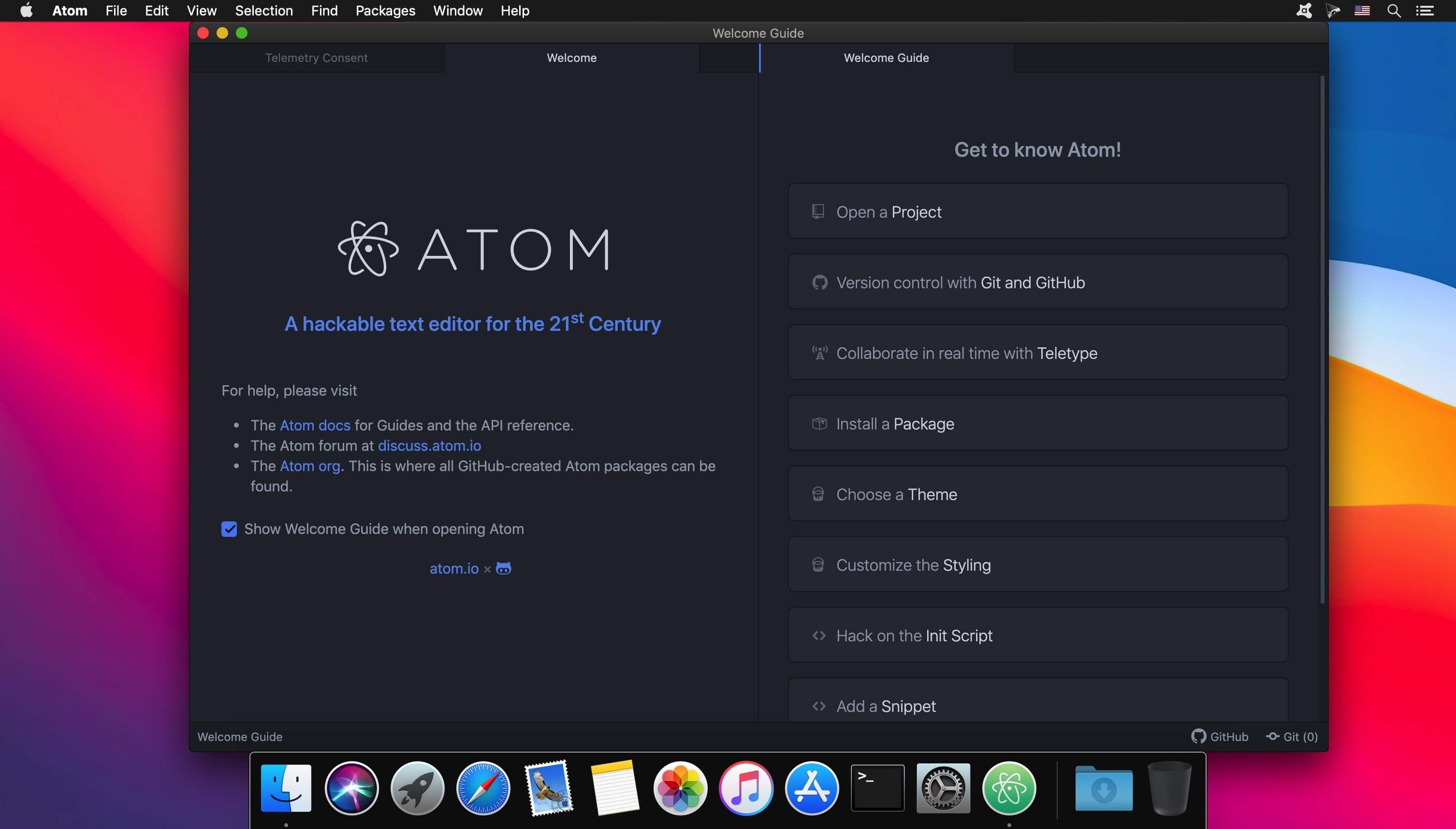 Image Courtesy: Atom
Where to get it: Atom
Cost: Free App
6. GIMP
GIMP is one of the best free Big Sur image editor apps. It is a well-suited alternative to Photoshop and has a wide range of pro-level functions that help you edit existing image or create a new one. It allows you to perform tasks, like photo retouching, image authoring, image composition, etc. Other features include:
Allows you to customize the view and behavior of the user interface.
Features a Fullscreen mode.
Embedded with photo enhancement features.
Supports a wide range of file formats, like JPEG (JFIF), GIF, PNG, TIFF, etc.
Supports multiple input devices, like USB, MIDI controllers, etc.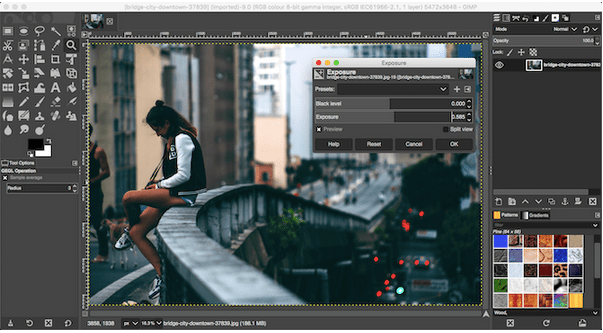 Image Courtesy: GIMP
Where to get it: GIMP
Cost: Free App
7. MS Office 365
We all know that MS Office has been available for Mac for many years now but you need to go through different channels to download it. The good news is that Office 365 is officially available on the Apple App Store now. It is a must-have for every professional, and its availability on the App store frees you from the worry of keeping it updated. We don't need to explain the details of MS Office. It is a suite of Office apps by Microsoft, but still, let us have a quick look at some important features:
Built-in research tools for enhanced productivity.
Option to work offline or collaborate with others online.
Provides 1 TB of OneDrive cloud storage.
All the programs like Outlook, Word, Excel, etc. are optimized to run on M1 Macs and macOS Big Sur, apart from the previous versions.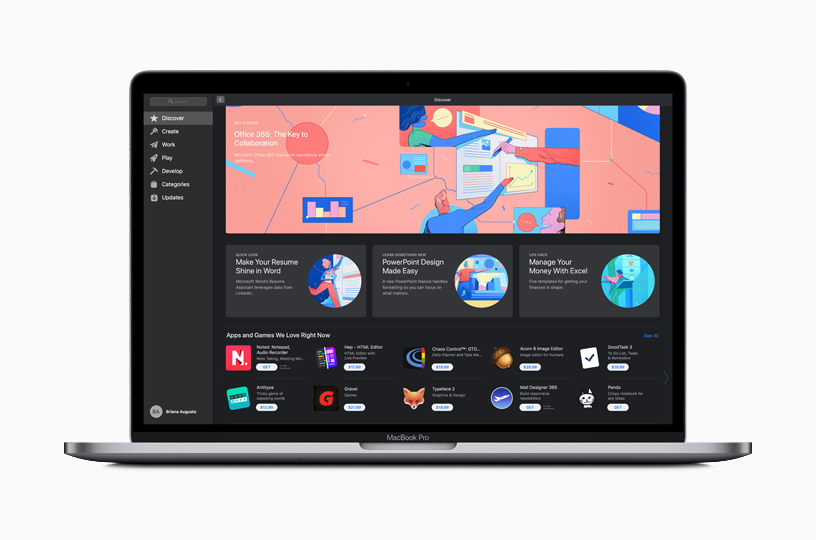 Image Courtesy: Microsoft
Where to get it: App Store
Cost: Free App
8. Unclutter
Although Apple added Stacks to the Mac to help you keep things less chaotic, the Unclutter app goes a step further. Unclutter assists you in keeping things in one place instead of scattered in multiple locations. It is configured for use with gesture control to make things easier. Swipe down with two fingers on your Mac screen using the trackpad and you can see the windows that are hidden and re-collect them as per your need. Some other interesting features of Unclutter are:
Track your copy and paste actions by browsing the clipboard history.
Use the drop zone to store and access the files.
Take quick notes using the notes feature.
Enable up to 50 clips in the clipboard history.
Option to restrict the app from copying sensitive data from apps.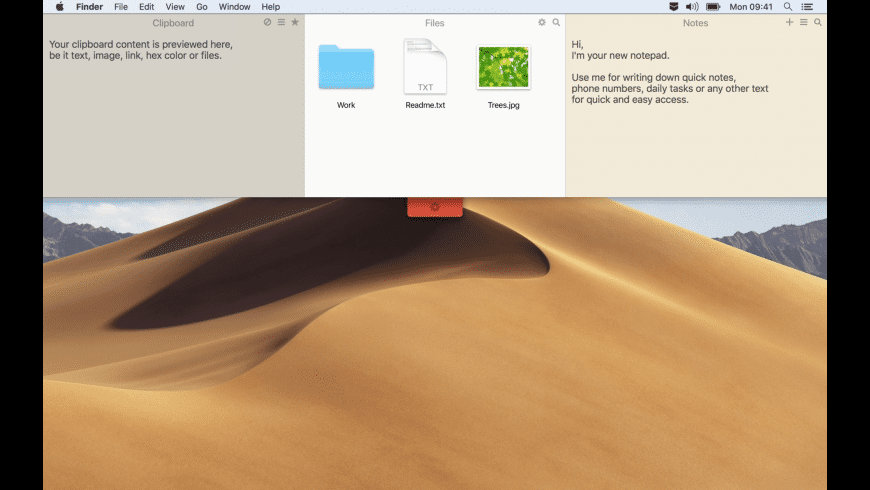 Image Courtesy: Unclutter
Where to get it: App Store
Cost: $19.99
9. Meeter
Meeter is a meeting management app that analyzes your calendar for future meetings and provides easy access to them. It has a minimalistic user interface. The app allows you to use pre-defined meeting automation or you can define your own customized automation. Let's look at some other features of the app:
It organizes all your calls on a single platform. This helps save efforts in accessing multiple paid and free Big Sur apps for different engagements.
Call your FaceTime contacts and phone contacts from the menu bar directly.
Option to choose to open a link in a browser or any existing app.
Keep an eye on your upcoming meeting in the menu bar.
Support for Apple Silicon, Dark Mode, and Safari.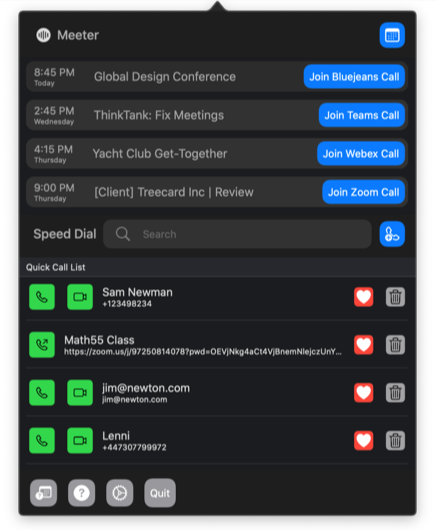 Image Courtesy: Meeter
Where to get it: App Store
Cost: Free App
10. Stellar Data Recovery
Every data you save on your Mac has its importance and you are bound to feel frustrated if any important data is lost for any reason. To address this unwanted situation, a data recovery application is a must to have on your Mac. Stellar Data Recovery Free Edition for Mac is a brilliant data recovery software that helps you cope with any data loss situation. Data loss generally occurs due to accidental deletion or formatting, corruption, bad sectors, etc. Stellar Data Recovery software is fully capable to recover the data lost due to any such situation. Some other features are:
Recovers data lost due to emptied Trash.
Recovers data from Mac USB drive.
Recovers data from formatted partitions on your Mac.
Restores Photos, iMovie, Word files, PPTs, etc.
Supports recovery of almost all file formats on Mac.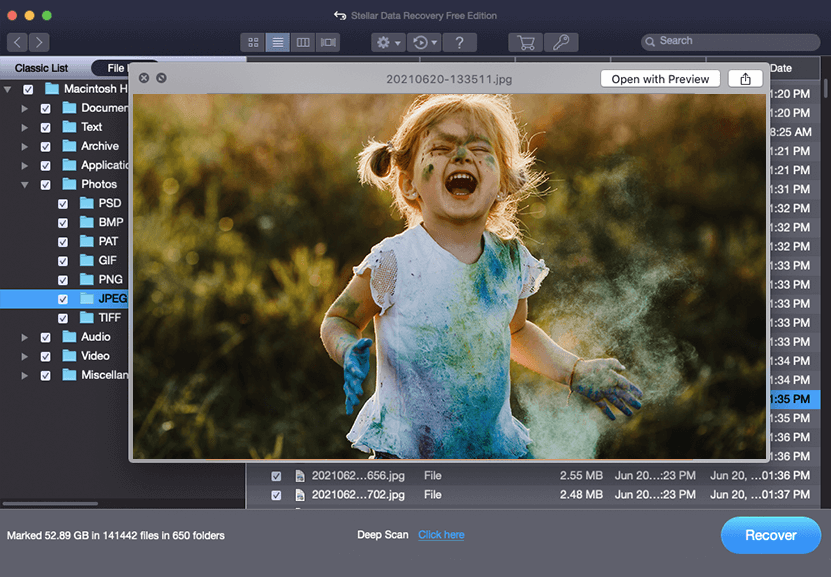 Image Courtesy: Stellar Data Recovery
Where to get it: Stellar Data Recovery Free Edition for Mac
Cost: Free (Standard, Professional, Premium, and Technician available as paid versions)
Conclusion
The list presented above is not an exhaustive one, but we can assure you that each of the Mac apps mentioned above will enhance your productivity. Each app is well tested and trustworthy for its functionality. Most of these apps are compatible with a range of versions of macOS, but some apps are specifically suited for the Big Sur only.