Restoring corrupt, failed or dismounted Exchange database is a painstaking task for Exchange administrators as it leads to Exchange Server downtimes, resulting in business discontinuity for an organization. Dial Tone Recovery helps avoid such downtimes by providing access to a temporary mailbox to send/receive mails for Exchange users in an organization.
Usually, the Dial Tone Recovery process involves several steps and use of the command line interface. This article helps simplify the process of Dial Tone Recovery in just two steps.
What is Dial Tone Recovery?
Dial Tone Recovery is a process of using the Dial Tone Portability feature available in Microsoft Exchange Server. The feature provides limited continuity and creates an empty Exchange database (with the same database schema version) that allows users to send and receive new emails while the failed and dismounted database is recovered.
Benefits:
1. Even if the Administrator account is corrupt, you can send or receive emails without downtime
2. Continue to send or receive emails, while your original database is being recovered by Stellar Repair for Exchange
3. Bring Database back online without impacting business operations
Steps to Perform Dial Tone Recovery on a Single Server
In the following screenshot, TestEdbToPst is in dismounted state.
Figure 1: Database Dismounted
Pre-requisite to Perform Dial Tone Recovery
Before you begin Dial Tone Recovery, ensure the following:
• A user account with Schema Admin Level permissions on mailboxes
Replace the failed database by a Dial Tone Database (empty database)
1. Login to Exchange Server with Administrator (Schema admin rights) Level profile
2. Press Win+R, type Services.msc and press 'Enter' or click 'OK'
Figure 2: Run Services.msc
3. Stop Microsoft Exchange Search Service
4. Stop Microsoft Exchange Search Host Controller Service
5. Stop Microsoft Exchange Information Store Service
Figure 3: Stop Microsoft Exchange Services
6. Go to the corrupt EDB folder location:
a. Rename the EDB folder name to NAME_old
b. Rename log folder name to NAME_Logs_old
For instance, if your EDB folder name is TestEdbToPst, rename it to TestEdbToPst_old.
Refer screenshot
Figure 4: Rename the Database Folder Name
7. Now start all the 3 stopped services—
a. Microsoft Exchange Information Store Service
b. Microsoft Exchange Search Host Controller Service
c. Microsoft Exchange Search Service
8. Open Exchange admin center & mount the database. It will prompt a warning message, click 'OK' to create an Empty Database
Figure 5: Click 'OK' to create a Dial Tone Database
9. This process will force create a new Dial Tone Database with the same name. (Refer screenshot)
Figure 6: Dial Tone Database created with the same name
The empty database will be mounted with all the mailboxes that were there in corrupt EDB file.
Figure 7: Dial Tone Database is Mounted
Outlook users will see a prompt to restart the Outlook application on their PC. Users also get an option to use a temporary mailbox for sending and receiving emails when the Outlook restarts.
Figure 8: Outlook users can use the Temporary Mailbox
The temporary mailbox helps maintain business continuity while you restore the database.
You can also use PowerShell Commands to perform a dial tone recovery on a single server. For more information, please check this link:
Export Mailboxes from Corrupt or Dismounted Database to Dial Tone Database
To export mailboxes from a corrupt or dismounted database to an empty database, you need an EDB repair software such as Stellar Repair for Exchange.
The software scans the corrupt Exchange Database (EDB) file and exports all mailbox items including emails, contacts, attachments, calendars, tasks, notes, journals, and other folders to the Dial Tone Database on the Live Exchange server. It automatically maps the users and exports data to respective users' mailboxes.
Prerequisite for exporting the data from "Stellar Repair for Exchange" to Live Exchange
• Admin or User account must have "Full Mailbox Rights" on the concerned mailbox.
Follow these steps to export mailboxes:
• Launch Stellar Repair for Exchange software

• Click Browse to select the corrupt or dismounted Exchange Database (EDB) file
Figure 9: Select the Corrupt or Failed EDB
• Click 'Next'
• In 'Select Scan Mode', click Quick Scan and then click 'OK'. You may choose 'Extensive Scan' to perform a deep scan on severely corrupt database files
Figure 10: Run a Quick or Extensive scan
• After the scan, the software displays a preview of all the recovered mailboxes from the corrupt EDB
Figure 11: Preview Mailboxes and Emails
• Under the 'Home' tab, click 'Save'. A pop-up appears with an option to save or export Exchange database
• Select the Live Exchange icon. A pop-up to Enter Login Credentials appears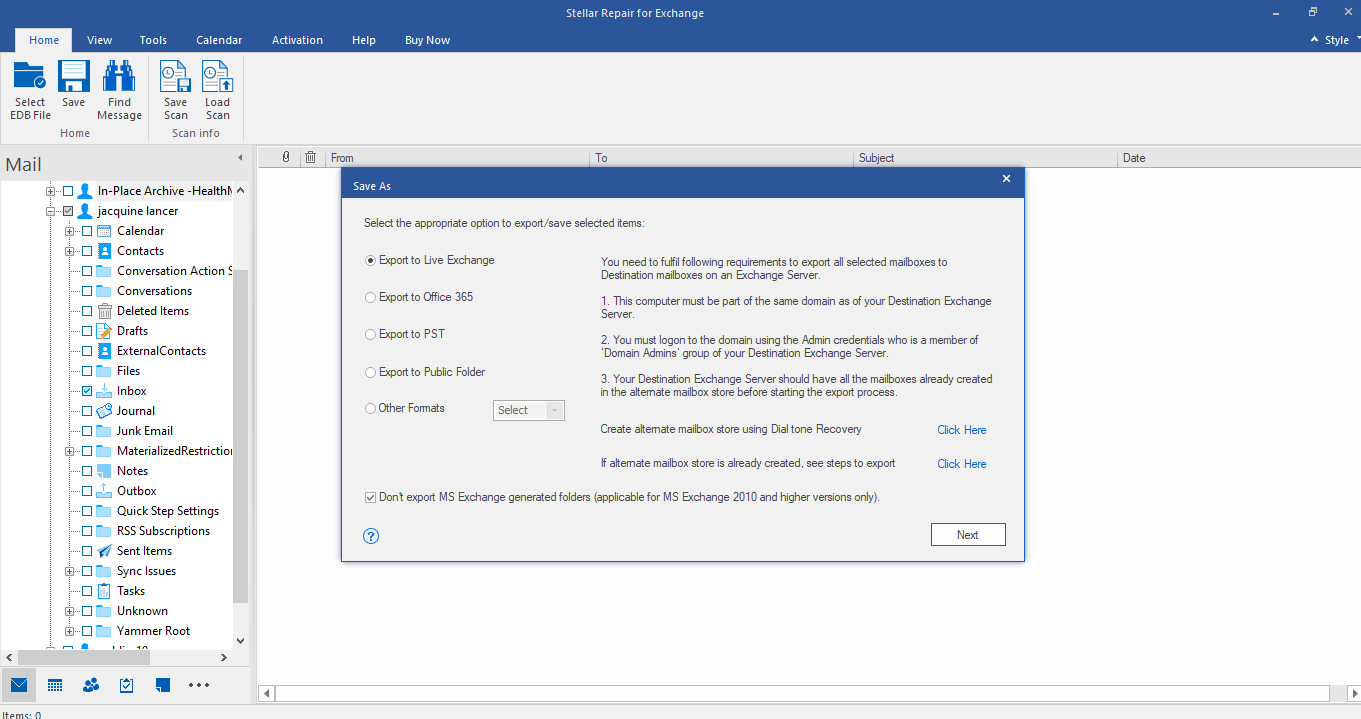 Figure 12: Export to Live Exchange Server
• In the pop-up window, perform the following steps:
o Select the Exchange version from the drop-down menu
o Enter Server Name, Admin Mailbox, & Password
o Click the checkbox for Auto Map. The Auto Map function auto-connects the specified mailboxes of Live Exchange server
o Click OK to begin the export process to Live Exchange server
Figure 13: Enter Live Exchange Admin credentials
• A Map Mailboxes screen will appear with information on the following:
o Source Mailbox: Mailbox available on repaired EDB file
o Destination Mailbox: Mailboxes available on connected Exchange database
o Map Mailboxes: Process of linking Source mailboxes to Destination mailboxes
Figure 14: Software Auto Maps and exports the mail data to respective users' mailboxes
• Check the linking between all Source and Destination mailboxes. You may click 'Map Mailbox' to manually map the correct source and destination mailboxes
• Click Export to begin exporting the recovered EDB mailboxes to Exchange server
• Once migration process of multiple mailboxes is complete, the software displays a message 'Export process completed successfully'
• You can verify the exported mailbox data on the destination server
After the database is restored, users can restart their Outlook and continue to send/receive emails and access all the data from restored database. At this point, create a backup copy of your restored database. Also, you may delete the corrupt EDB from the server.
Conclusion
When the Exchange crashes, it could take several hours to bring it back online. Downtimes caused by such an incident can have a severe impact on your business operations.
To avoid downtime, you can use a disaster recovery technique called Dial Tone Recovery to restore a failed database without affecting the flow of emails and productivity in your organization.
The recovery technique helps avoid downtimes by providing a temporary mailbox for Outlook users to send and receive emails until the original (failed) database is recovered. This article helps you understand Dial Tone Recovery, how it works, and further simplifies the process of restoring the failed database.
The entire process of dial tone recovery involves two steps:
• Create an empty database, known as the Dial Tone Database, on the mailbox server to replace the failed database.
• Export all the mailboxes from the corrupt or dismounted database to Dial Tone Database by using an EDB repair software such as Stellar Repair for Exchange.
For more help, leave your comments or you can always reach us via Self Help and Support section.