Updated on August 1, 2019
This article provides the answer on how to access Excel file data when MS Excel cannot open read-only documents. Learn the cause of 'Excel cannot access the file'error and possible manual as well as software solutions for efficient recovery of your data in Excel 2016, Excel 2013 and Excel 2010 and lower versions
Receiving the error 'Excel cannot open read-only documents' message when one tries to open Excel (XLS or XLSX) files, is unwanted. In most cases, the message may appear in Excel 2016, Excel 2013, and Excel 2010 when opening Excel files downloaded from the Internet, emails, or the network server. In other cases, the reason may be a 'settings' in Excel application itself, which gets changed.
Know the circumstances when a file opens read-only and the ways in which one can change those, or prevent Excel from coming up with the 'Excel cannot access the file' message in the next section.
Causes of 'Excel cannot open read-only documents' message
A few of several reasons for the occurrence of 'Excel cannot open read-only documents' are as follows:
Excel file property set to Read-only

Excel file property set to read-only is a typical reason for 'Excel cannot open read-only documents' message to appear while opening an Excel file.

In this case, one can uncheck the Excel file 'Read-only' property and verify if the message appears or not. To uncheck the 'Read-only' attribute, execute the following steps:
Right-click on the particular Excel file
Select 'Properties' tab from the available options
Uncheck the 'Read-only' attribute & click the 'OK' button
Verify if the problem of 'Excel cannot open read-only documents' gets resolved or not.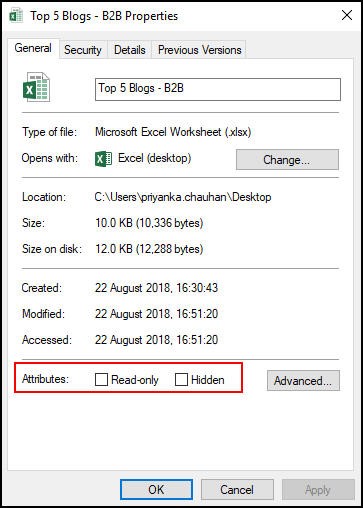 Figure 1: Illustrates the 'Read-only' attribute in Excel XLSX document
Antivirus adjusted with a Setting

A few antivirus programs block Excel files and other Office documents by opening those in 'read-only' mode.

In such cases, try to get rid of the message by adjusting the antivirus settings to allow Excel files open in normal mode so that these can be edited, modified, and saved.

Further, check if Excel can open read-only documents or not.
Excel in Protected-View

Excel files from potentially unsafe locations such as the Internet usually contain viruses, worms, or other types of malware, thereby damaging one's system. This is also a common scenario with Excel files that are received as email attachments or downloaded from other sources.

To safeguard one's system, Excel files from such insecure locations are opened in Protected View. This allows reading of Excel files and accessing stored data while reducing the risks to the computer system or PC.
Microsoft Office deactivated

If MS Office is in a deactivated state, or if its subscription has expired, the Office documents including Excel application could be in 'read-only Reduced Functionality Mode.'

In such a scenario, activate Microsoft Office or renew the Office subscription. Then check, if the problem of 'Excel cannot open read-only documents' gets resolved or not.
OneDrive Storage Full

If Excel files are saved on OneDrive the storage space of which has become full, it is not possible to save the Excel file until one is within the allocated space.

One can know the amount of free space on OneDrive by executing the following steps:
Click on the OneDrive icon in the notification center and select 'Manage storage.'
Visit http://onedrive.live.com, sign in to the account, and look in the bottom-left of the screen.
In such a scenario, empty the storage space and see if the problem gets resolved.
Random ways to remove 'Excel Cannot Open Read-Only Documents' message
Try a few random ways to stop 'Excel Cannot Open Read-Only Documents' from appearing. These are as follows:
Restart the computer system

Install Microsoft Office updates to install updates in Excel

Repair Microsoft Office provided the issue is with all applications in Office including Excel

Repair Microsoft Excel files if these are corrupt

To repair damaged Excel workbook or spreadsheet, one can use the inbuilt 'Open and Repair…' the process-steps of which you can get from here.

You can repair corrupt Excel file by using Excel repair software when Open and Repair utility fails.
Conclusion
As explained above in the article, try to deal with 'Excel cannot open read-only documents' issue in the following ways: restart the system, install Microsoft updates, remove the Excel Read-only attribute from 'read-only' marked Excel files, adjust the antivirus not to block secure Excel files, activate Microsoft Office that would also activate Excel or empty storage space on OneDrive.
However, if the issue is corruption in Excel, you can first try fixing the damaged Excel files using the Excel's inbuilt repair utility, Open, and Repair.
Undoubtedly, the reliable solution to repair corrupt Excel files is Stellar Repair for Excel. MVPs and industry-experts call it a user-friendly repair software for Excel. The software is also known for guaranteed and better results in comparison to other similar software.