Table of Contents

Outlook uses data files (.ost and .pst) to store mailbox information on your computer. The data files help provide access to your synchronized or downloaded email messages, calendar entries, contacts, and other mail items without an internet connection. However, there are situations when you may face errors and problems with the Outlook data file while accessing your account. So, let's discuss in detail the Outlook OST file, its problems, and solutions thereof.
Outlook Data File (.ost) – Overview
Exchange, IMAP, Office 365, and Outlook.com accounts use offline Outlook data file (.ost) to store a synchronized copy of mailbox data on your local drive. The offline data file provides access to (previously synchronized and downloaded) emails, calendar information, contacts, and other data, when the system is offline or connection to the mail server is unreliable or interrupted.
Essentially, the OST file allows working offline, meaning you can do everything with the mailbox folders in Outlook without network or server connectivity. You can read and compose emails, create appointments, and add contacts. But, you cannot send or receive new messages until the connection to the server is restored. Once the connection is established, changes made to the .ost file are automatically synchronized with the mail server.
Things You Need to Know when Using an OST File
If your Outlook is using OST file to store mailbox items, keep these points into consideration:
You can back up offline folders (.ost) file by exporting it to PST file format.
OST files cannot be transferred between systems.
OST folders are automatically synchronized with the mail server. However, you may need to synchronize replicas of public folder and folders created by Outlook users.
OST vs PST
For better understanding of Outlook Offline Data File (.ost), it is imperative to know the differences between OST and PST file.
OST file stands for Offline Storage Table (.ost) file, while PST file stands for Personal Storage Table (.pst) file.
In Outlook 2016 and higher versions, OST file is used by several accounts (IMAP, Exchange, Office 365 and Outlook.com) for storing mailbox information. But, PST is used by a POP3 account only.
Unlike OST file, PST file is portable and can be copied from one system to the other.
Since.ost file is a cached copy of mailbox folders saved on the server, it isn't used as a backup file. This is because a fresh copy of the file can be downloaded from the server. However, a PST file can be used to backup or export mail items from any email account.
 OST files are meant for offline use and can be used by domains with limited network connectivity. But that is not the case with PST.
OST File Location
The OST file is usually located at any of the following default locations, based on Outlook and Windows version.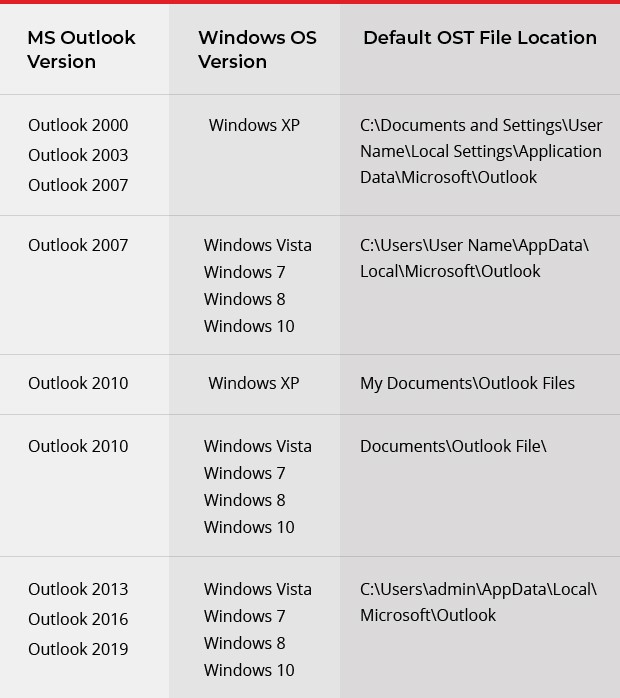 If you cannot find the .ost file, follow these steps to find the file:
Step 1:In Outlook, select File.
                                                                      Figure 1: Select File tab
Step 2: In the window that appears, choose Account Settings, and then click Account Settings.
                                                                      Figure 2: Outlook Account Settings
Step 3: In Account Settings window, click the Data Files tab and select an .ost file, and then click Open Folder Location.
                                                                           Figure 3: Open OST File Location
A dialog box displaying the default location of OST file will open.
You may also like to read: How to Change the Location of Outlook OST file?
Common Outlook OST File Problems and Errors
When using an OST file for Outlook, you may encounter any of the following issues:
Orphaned .ost File

When Exchange mailbox connectivity breaks with Outlook for a long time, or you've deleted an old Exchange server without properly backing up the OST file, the file may become orphaned.

An orphaned offline folder (.ost) file means that it has become separate from an Outlook profile or an email account – that was used to create the file.

Corrupt OST file
An OST file can become corrupt due to the following reasons:
Network connection failure or power failure during synchronization with Exchange server
Abnormal termination of Outlook
Bad sectors on hard drive on which OST file is stored
Large file size
Virus infection
Program or software conflicts
You may receive any of these errors when your .ost file turns corrupt:
Errors have been detected in the file xxx.ost.
Sending / Receiving reported error (0x800CCC0F): The connection to the server was interrupted.
Cannot start Microsoft Outlook.
The Offline Folder (.ost) File becomes inaccessible when it gets orphaned or corrupt.
Solutions to Fix Outlook OST File Problems and Errors
Here are some troubleshooting steps that can help you resolve OST file problems:
Step 1: Delete OST File and Re-create it
If an OST file in Outlook has turned corrupt or is inaccessible, try deleting the OST file and get a fresh copy by downloading it from the mail server. Once you know the location of Offline Folder (.ost) file, you can easily delete it. To delete the file, browse the location where it is stored. Find and select the .ost file with errors, and delete it. 
Once the deletion process is complete, open Outlook and it will automatically create a new .ost file. But, if it doesn't re-create the OST file, here's how you can do it:
Open Outlook, and select File>Info>Account Settings.
From

Account Settings

window, click the

E-mail

tab and double-click

Microsoft Exchange

. 

                                                           Figure 4: Account Settings Window

The Change Account window is displayed. Click

More Settings

                                                             Figure 5: Change Account Window

 In

Microsoft Exchange

window

,

click

Advanced>Outlook Data File Settings

.

                                                          Figure 6: Microsoft Exchange Advanced Settings

In Outlook Data File Settings, type the path of the OST file, and click OK.

                                                                 Figure 7: Outlook Data File Settings

Click Finish.

Step 2: Create a New Outlook Profile

Sometimes, creating a new Outlook profile can help you resolve the OST file related issues.

Steps to create a new profile are as follows:

NOTE: If you want to use an existing .ost file, make sure to copy the existing file to a new location.
Open

Control Panel

, and search for the

Mail

option.

                                                              Figure 8: Control Panel Items

In

Mail Setup

window, choose

Show Profiles

.

                                                                Figure 9: Mail Setup Window

 In

Mail

window, click

Add

(as shown in the screenshot below).
                                                    Figure 10: Use profile 
In

New Profile

window, type the name for your new email profile, and then hit

OK

.

                                                               Figure 11: New Profile Window

The Add Account window is displayed. Click Next.

                                                                  Figure 12: Add Account Window

Once the account setup process is complete, choose

Change account settings

option, and then click

Next

.

                                                                Figure 13: Change Account Settings

In the

Server Settings

box, choose

More Settings

.

                                                              Figure 14: Server Settings Window

In the dialog box that appears, click the

Advanced

tab, and select

Outlook Data File Settings

.

                                                             Figure 15: Outlook Data File Settings

 In

Outlook Data File Settings

window, browse to the location where you wish to save the newly created .ost file, and click

OK

.


                                                             Figure 16: Browse OST File

If you're are using an existing .ost file, click Browse to select the copied .ost file, and then click Open.

                                                              Figure 17: New Outlook Data File Window

Select

Finish

to complete the setup for your email account.
Now again open

Control Panel

, and then open

Mail

.
12.Choose

Always use this profile

option, select the new profile you've created, and then click

OK

.

                                                              Figure 18: New Profile Added

After successfully executing the steps, open Outlook again to recreate the .ost file for the account you want to repair.

Step 3: Use Stellar Converter for OST Software

Stellar Converter for OST software can help you extract data from an orphaned, inaccessible .ost file, by converting the file to .pst file format. OST to PST Converter can convert multiple OST files to PST format in a single process. 

Why You Should Use Stellar Converter for OST?
Converts OST file to PST file format in three simple steps

: 'Select', 'Convert' and 'Preview & Save'.
Converts mail items, while maintaining data integrity.
The Technician variant of the software allows to

export OST file data directly to Office 365 & Live Exchange

.
The Technician variant allows

splitting and compacting resultant PST file

.
Read this: How to Convert OST to PST using Stellar Converter for OST software?
Frequently Asked Questions
Question. Can I open OST file without an Exchange account?
Answer. Yes, you can open an OST file without an Exchange account by using Stellar Converter for OST.
Question. When trying to open an .ost file, am getting this error "The file.ost cannot be accessed because it has been configured for use with a different mailbox"? How can I fix this error?
Answer. You may encounter this error if you are trying to open the OST file on a different machine. But, if you are attempting to open an old OST file on the same machine used for creating that file, try these tips to fix the error:
Login into your machine by using the old username, used at the time of OST file creation(should be a cached login). Next,open Outlook and export the OST file to PST format.
Seek help from your Exchange Administrator. Ask the admin to export information from your "Old" Exchange mailbox.
Use a converter tool to convert OST file to PST file format.
Question. Can I manually convert my OST files to PST files?
Answer. Yes.You can use the Outlook built 'Import/Export' wizard to manually convert OST files to PSTs. But for manual conversion, you must be connected to Exchange server and have Outlook installed on your computer.