RAID is popular for offering great performance and fault tolerance, or both. This advanced virtual data storage technology contains multiple drives in one or more logical units. Following three main different data storage mechanisms – Striping, Mirroring, and Parity, there are multiple RAID levels available. However, when it comes to using RAID for servers, the most popular ones are RAID 0, 1, 5, 6, and 10. They all offer a different set of benefits.
Benefits of Using RAID for Server
Usually, the purpose of implementing RAID for servers is to leverage benefits, such as data redundancy that enables fault tolerance, improved performance, and reliability. Additionally, it is quite cost-effective and easy to maintain as compared to cloud servers. Installing RAID in the server helps maintain the server uptime and online availability to keep the operations running. Additionally, with fault tolerance, the RAID server offers high data security. Without RAID, you may experience frequent and longer server downtime and great data loss.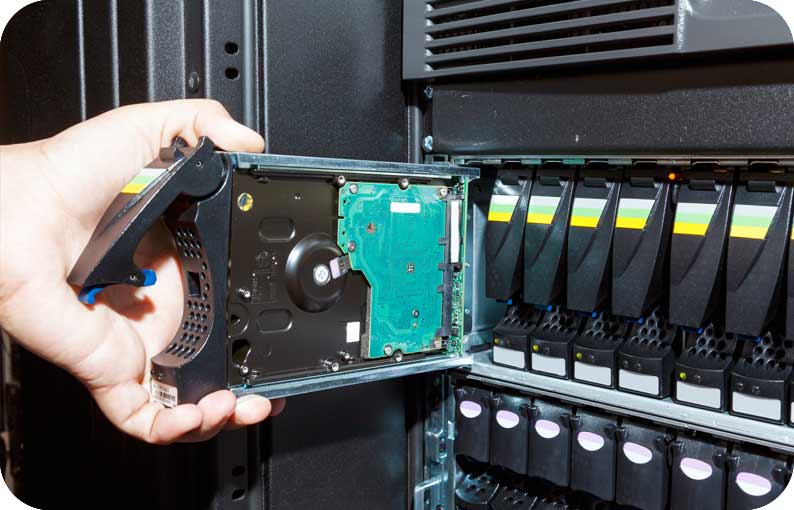 RAID Server Failure & Data Loss
Even though RAID offers fault tolerance. However, not with every RAID level. For example, RAID 0 definitely offers higher performance, but if one drive fails in this array, the whole array will fail. Similarly, each RAID level can withstand a different level of drive failure. Where RAID 1, 5, and RAID 10 can withstand up to one drive failure, RAID 6 can withstand up to two drives failure. Moreover, there could be different reasons behind the RAID failure and data loss, such as the following:
Controller Malfunctioning and Controller Failure
Single or Multiple Drive Failure
Severe Data or Drive Corruption
Power surges
Incorrect RAID configuration
Server Crash
Wrong Drive Replaced in the Array
Frequent Read/ Write Errors
Is RAID Server Recovery Possible?
Recovering data from the RAID server is possible. However, that depends on RAID levels' fault tolerance capacity and the failed drive's condition. For example, if one drive fails in RAID 5 server, the RAID automatically rebuilds using the hot spare as a replacement for the failed hard drive without restarting the unit. Additionally, a dedicated RAID data recovery software can easily rebuild the failed RAID for successful recovery. However, if more than one drive fails, the whole array will fail and data recovery will not be possible even with recovery software.
How to recover data from RAID Server?
If you've lost data from a RAID server due to a server crash, controller failure, multiple drive damage, incorrect RAID array setup, or other reasons stated above, don't lose hope just yet. There are ways to retrieve data from failed RAID array server. Follow the shared methods to see which one works in your favor.
Method 1 - Hot-Swap the Faulty Drive
This is quite a popular way to recover data from a RAID server. If a disk fails in the RAID array, you can hot-swap the faulty or damaged drive and replace it with a new drive without turning off the entire setup. Hot swapping prevents the entire RAID server from falling and keeps all the operations running. The RAID 1, 5, 6, and 10 levels are hot-swappable and allow data recovery. You can use backup or RAID recovery software. However, RAID 0 is also hot-swappable but since there is no fault tolerance, the new drive in the array will not automatically rebuild and all the data will be lost permanently.
Method 2 - Restore Server Backup
Backing up your data is always the most recommended practice that everybody should follow. It can prove to be your panacea when you face data loss from a RAID server. If you have taken a RAID server backup using the tape-backup system, disk-to-disk backup system, or cloud backup services, you can easily access those backups on your system and restore data.
Method 3 - Use RAID Data Recovery Software
Another way of performing RAID server recovery is using a dedicated RAID data recovery software, such as Stellar Data Recovery Technician. The software supports RAID manufacturers, including Buffalo, Seagate, Western Digital, DLink, or Iomega. All types of data, including files, folders, documents, photos, emails and more can be recovered from standard, nested, and hybrid RAID arrays.
The software is powerful enough to recover data even from logically damaged like formatted or corrupted RAID arrays and RAID-configured NAS servers. The software virtually rebuilds the RAID and allows secure recovery. To recover data from the RAID server, you can follow the given steps: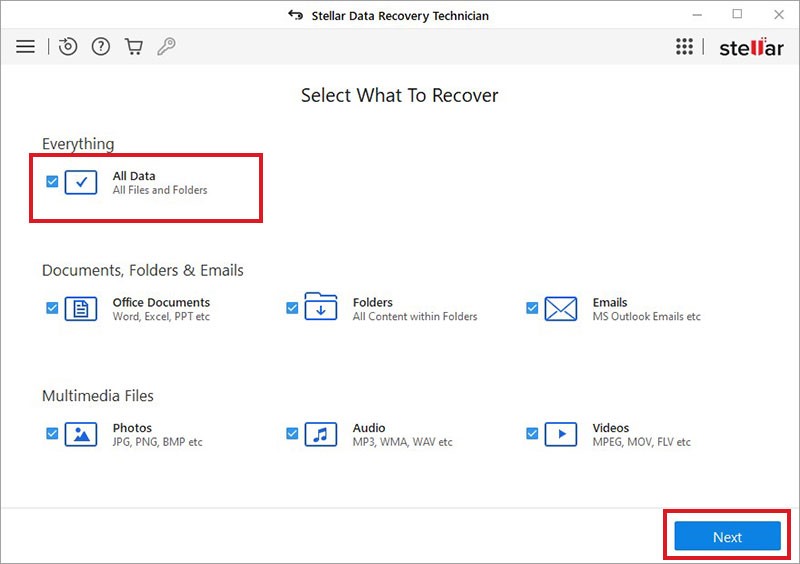 On the 'Recover from' screen, click RAID Recovery > Scan.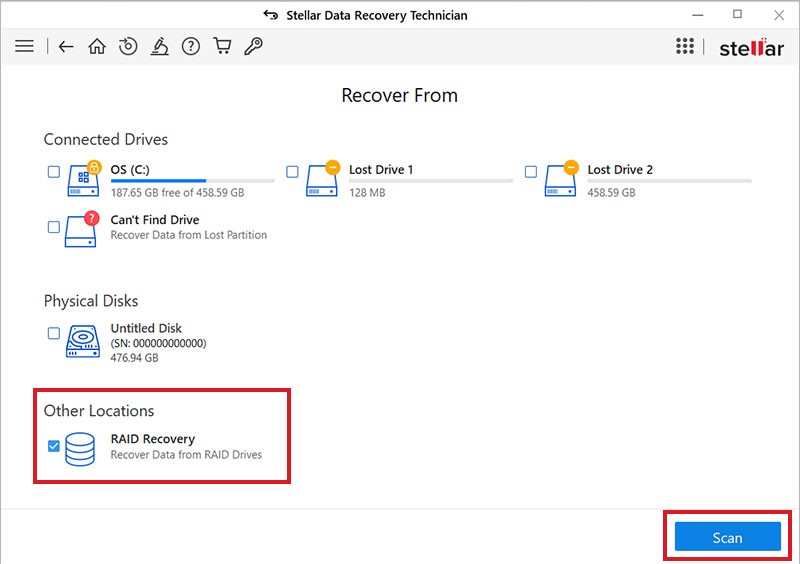 Select the RAID level from the given options on the top-left corner of the window. Click the '>' icon to move the disks of the array in the 'Move hard drives up/down for disk order' section.

Next, move the disks up/down and place the disk in order. Thereafter, choose the RAID parameters if you know them. Otherwise, click the 'Don't know start sector of the drives. Show list of portable start sectors.'
From the available list, select one or more portable start sectors.
Then, Select Parity Order/Rotation and Select Stripe/Block Size.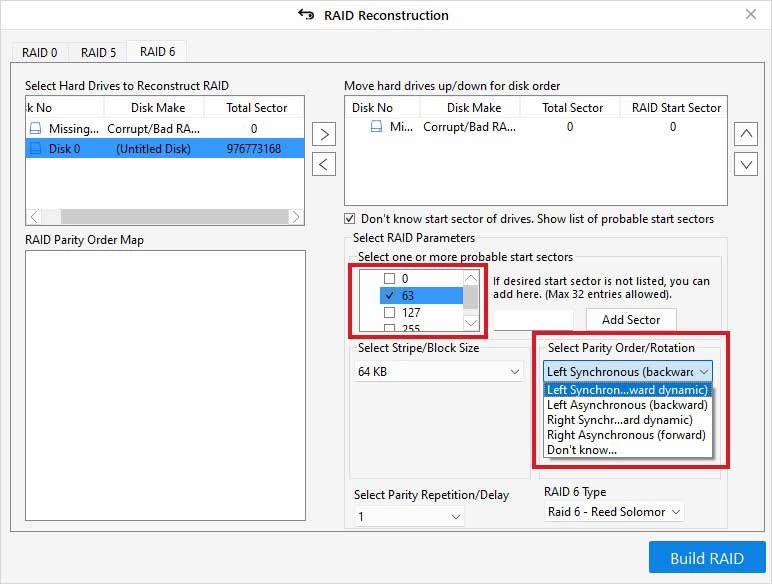 Next, click Select Parity Repetition/Delay from the drop-down list and finally click Build RAID.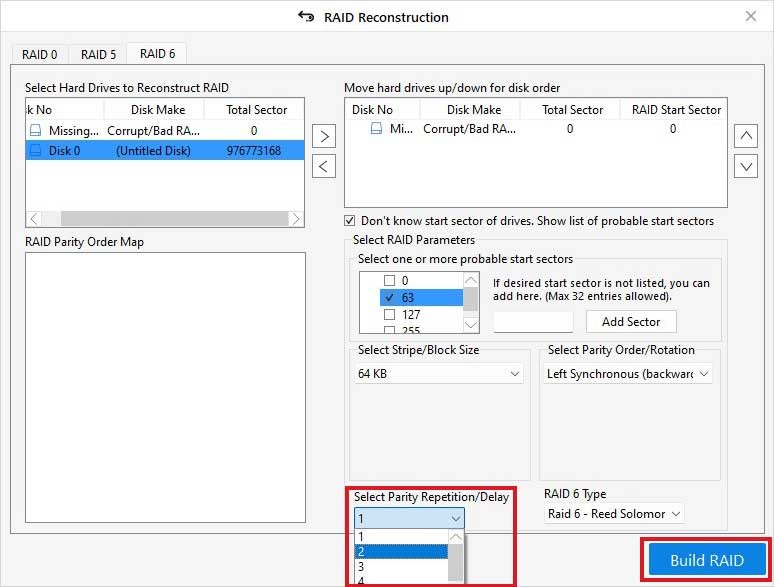 Now, on the 'Select Constructed RAID' window, a virtually built RAID array will appear. Further, click Show Volume List.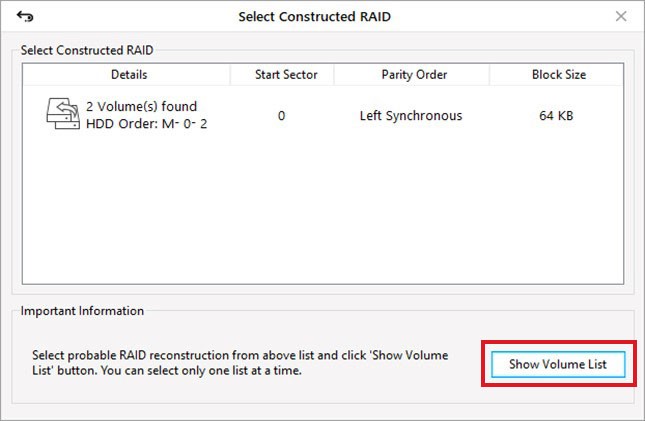 The list of RAID partitions/volumes will show on the screen. Select the volume from which you want to restore data and click Scan.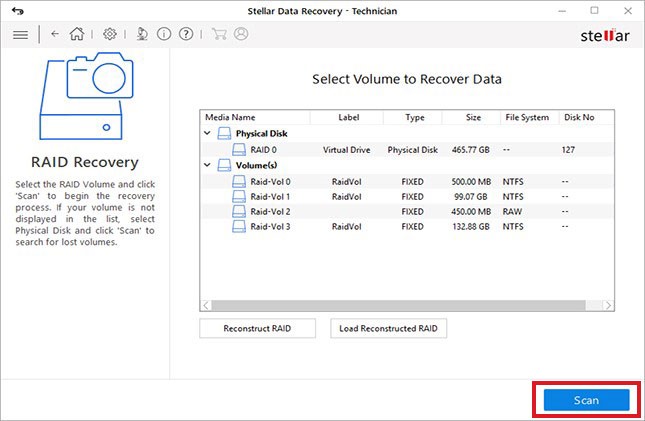 Once the scanning is done, all the files and other data will be listed. Select the ones you wish to retrieve and click Recover.

Finally, select Browse to choose the destination. (Always choose a different external drive) and click Start-Saving to save the restored data.
All your lost/deleted RAID server data will be recovered.
RAID server data recovery sounds complicated and tedious, but it can be done easily with the right approach taken timely. You can try hot-swapping the faulty drive in the RAID array, restore data using server backup or proceed with dedicated RAID recovery software. Hot swapping requires technical expertise, else one wrong attempt and the whole RAID will go down and cost you important data. On the other hand, with the right recovery tool, you can restore data easily.
FAQ
1. What is RAID recovery?
RAID recovery is the process of restoring data from the drive in the event of data deletion or drive failure. It can be performed manually and automated way. However, manual RAID recovery is time-consuming and error-prone. Hence, choosing an automated way – using a dedicated recovery tool is recommended.
2. What is the difference between RAID and Backup?
Many people misunderstand RAID with the Backup concept, but RAID is not a substitute for Backup. Although it offers data redundancy, high performance, and reliability, even though it is a storage device that should be backed up like other drives. Creating RAID backup is as necessary as backing up your system data to prevent unwanted data loss. Additionally, always follow the three-generation backup policy- referring to creating three copies of data backup.
3. What are RAID 10 rules?
RAID 10 is the combination of RAID 1 and RAID 0 levels, hence, it can also be called RAID 1+0. It consists of both mirroring and striping mechanisms of data storage to offer fault tolerance. A minimum of four drives are required to build a RAID 10 configuration. It can survive up to one disk failure in each mirrored pair.
4. Which RAID is faster- RAID 5 or 6?
RAID 5 and RAID 6 both offer parity. Where RAID 5 offers distributed (Single) parity, RAID 6 offers dual parity. With the overhead of parity information calculation, RAID 6 becomes slower than RAID 5.