In this article, we will take you through a DIY systematic RAID recovery approach that you can apply to safely rebuild and recover data from a broken RAID 0, RAID 5, or RAID 6 set.
A damaged or broken RAID can be a result of human errors, hardware or software failure, malware infection, mechanical errors, power outage, failing drive, bad sectors, or abrupt system shutdown, etc.
When a Redundant Array of Independent Disks (RAID) array breaks or corrupts, the RAID volume becomes inaccessible, and the data is lost. But unlike normal drive, you can't access or recover data from RAID hard drives independently. You need to reconstruct or rebuild the RAID configuration to get back lost data.
However, that's easier said than done!
RAID is a complex data storage technology that uses multiple disks to create one logical volume. While building RAID, several parameters such as a number of disks, parity, block size, block order, disk offset, file system, etc. are defined. A user must document these RAID parameters while RAID array construction as they come handy when you need to rebuild and recover data from a broken RAID.
But today we have access to some of the most powerful RAID recovery tools such as Stellar Data Recovery Technician. The tool makes RAID 0, RAID 5, and RAID 6 recovery simple and easy—even if you don't know or remember the RAID parameters.
Steps to Broken RAID Recovery
Mentioned below are the steps that can help you recover your inaccessible and lost files by rebuilding a broken RAID 0, RAID 5, and RAID 6 set. Following are some instances where the steps will help you restore your critical files from a broken RAID:
A logically failed, corrupt, inaccessible, and formatted RAID
Broken RAID array as a result of malware or virus infection
Deleted or missing RAID volumes or partitions
Step 1: Stop Using the RAID Array
After RAID is broken, failed, or turned inaccessible, do not perform any hit & trial method, especially if the data is critical. The longer you use a broken RAID, the harder (and sometimes impossible) it becomes to get back data.
At least keep the usage to a minimum.
Step 2: Disconnect Hard Drives from the RAID Rack
Turn off or unplug the broken RAID set and carefully disconnect each hard drive from the RAID array. Place the drives somewhere safely.
Step 3: Use SATA/IDE Connectors to Connect Drives
After disconnecting drives from RAID 0, RAID 5, or RAID 6 array, connect each drive to a Windows PC. You can use SATA/IDE connectors or a SATA/IDE to USB 3.0 converter cable or enclosure—especially if you own a laptop or PC motherboard does not have enough SATA/IDE ports available.
Step 4: Check Disk SMART Status & Clone Failing Drive
Use a RAID recovery software such as Stellar Data Recovery Technician, which comes with a SMART disk monitoring utility. This utility helps you check the SMART disk status before recovery.
The step is most important, as you never know when a drive may fail due to some underlying problem, which might also be a reason for your broken RAID. Checking SMART status gives you a better and deeper insight about the drive. Also, if the drive is suitable for or can survive data recovery scan.
So begin by downloading, installing, and launching Stellar Data recovery Technician software. Then follow the instructions given below:
Click 'Monitor Drive'. Check the drive health indicators such as health, performance, and temperature.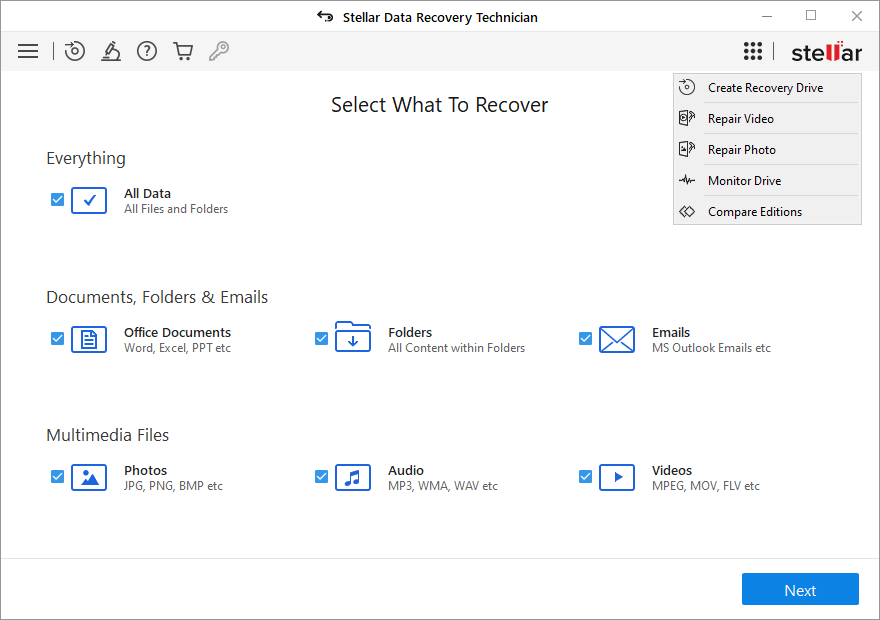 Everything should be green colored. If any of this is yellow or red, you need to clone the drive immediately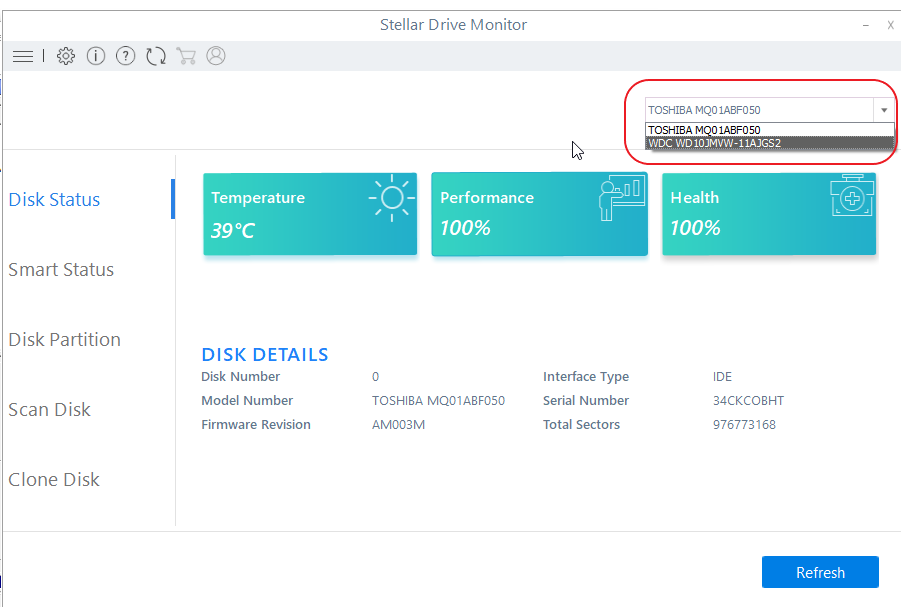 Steps to Clone Drive for Safe Data Recovery from a Failing RAID Drives
To clone the impending drive, you need a new or healthy hard drive of either the same or larger volume. For instance, if the failing hard drive size is 500GB, you need a drive with either 500 GB or more capacity.
Connect the new hard drive to the system
Then click 'Clone Disk' in the left pane and connect a brand new hard disk to the system
Select the 'Source Disk' —the one that is failing, showing Red or Yellow warning signs in SMART status.
Then select the 'Target Disk' —the new drive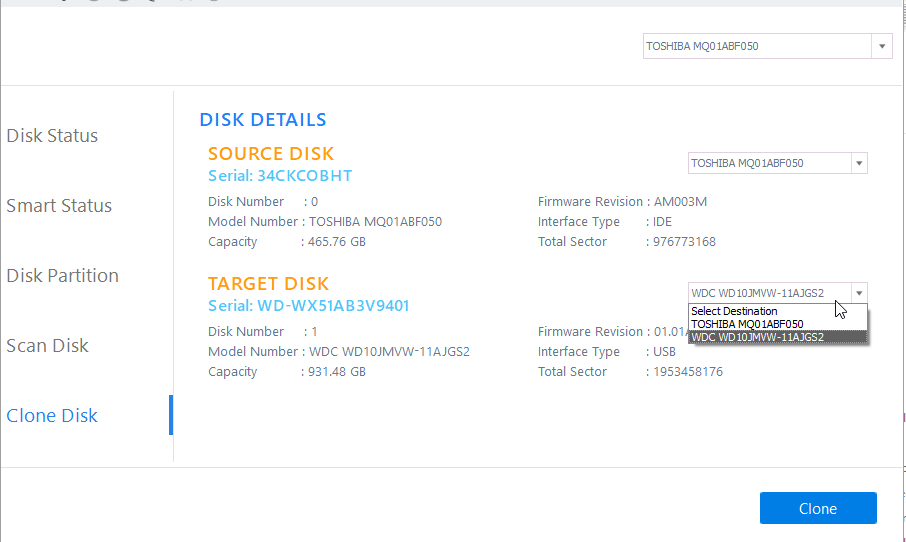 Click 'Clone Disk' and Click 'Start' when the following warning appears to begin the cloning process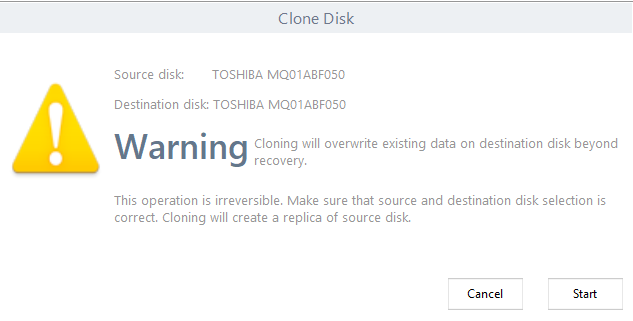 After cloning is done, check other drives and if you see similar SMART error warnings, repeat the disk cloning steps for all other failing drives.
Finally, connect the healthy drives to the system and disconnect the cloned impending drives
Steps to Recover Data from Broken RAID
Close Drive Monitor. You will see the following screen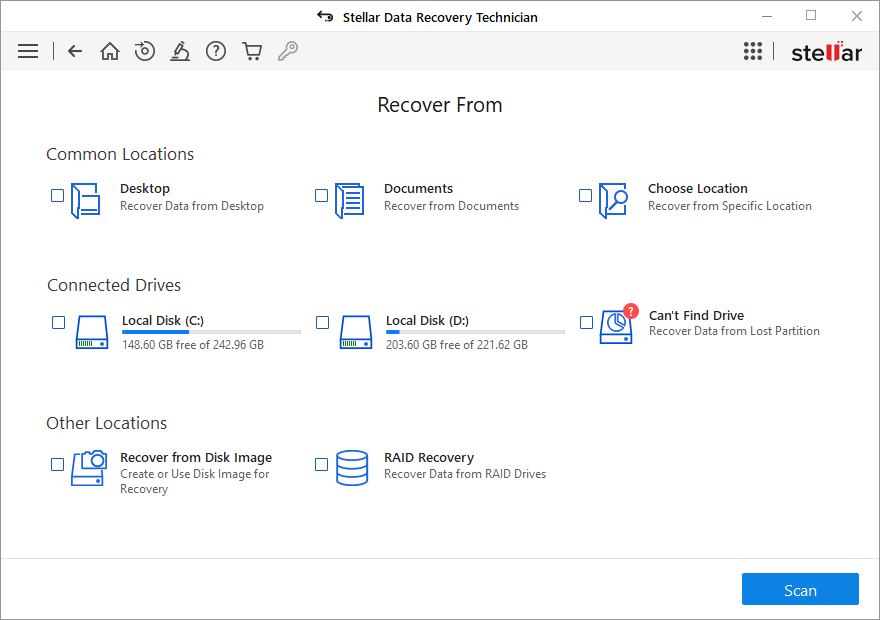 Click 'Recover Data'
Click 'All Data' and then click 'Next.'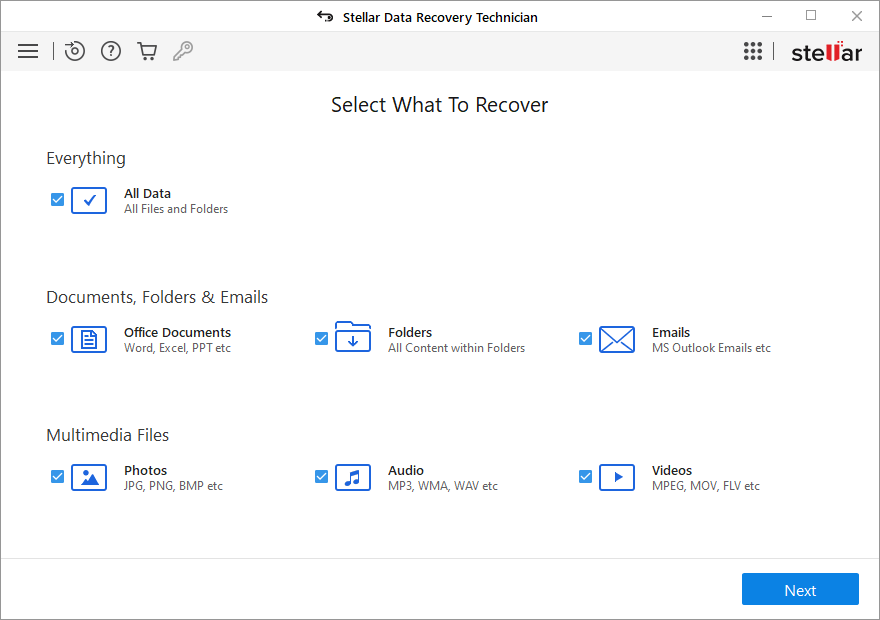 Select 'RAID Recovery' and click 'Scan'. A new 'RAID Construction' Window appears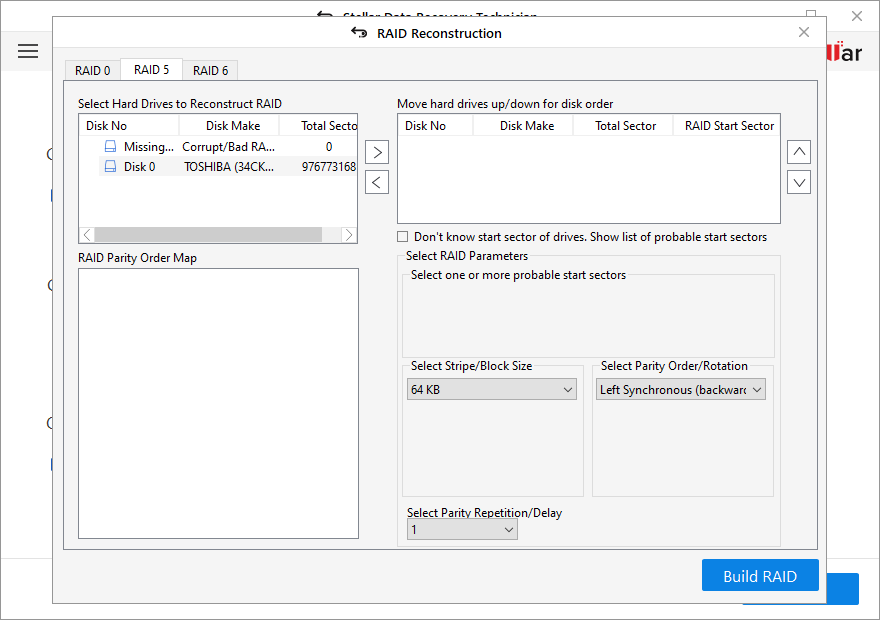 Click on the respective RAID tab, i.e. RAID 0, RAID 5, or RAID 6. You will see connected RAID hard disks under 'Select Hard drives to reconstruct RAID' list box
Click on RAID hard disks (one at a time) and use the arrow button to add or remove RAID drives from the 'Select Hard drives to Reconstruct RAID' list box to 'Move hard drives up/down for disk order' list box
Arrange hard disks in sequence (sequence starts from Disk 0) by using the up or down arrow buttons located beside the list view box. Arrange them in the same order as they were in the RAID stack
Check the 'Don't know start sector of drives. Show a list of probable start sectors' checkbox: only if you don't know the start sector of the drive. A new checklist box appears in the 'Select RAID Parameter' section
Choose one or more probable start sectors or add desired start sector in the text box & click the 'Add Sector' button if it's not listed in the checklist box
Choose stripe or block size from the 'Select Stripe/Block Size'; Select parity order or rotation from the 'Select Parity Order/Rotation' dropdown; and then select the parity repetition or delay from the 'Select Parity Repetition/Delay' dropdown. The RAID admin or user who built it knows these values
After adding and selecting the RAID parameters in the software, click the 'Build RAID' button
PLEASE NOTE: In case you don't know or remember the RAID parameters, select Don't Know from the required parameter drop-downs and click 'Build Raid'. The software intelligently rebuilds a few probable RAID constructions which you can choose to run a scan and get back lost data
Wait until the software reconstructs your RAID volume. After construction is finished, constructed RAID volume (or volumes) is displayed in the 'Select Constructed RAID' window. Click on 'Show Volume List' button
In 'Select Volume to Recover Data', choose the volume from the listed RAID volume – from where data is to be recovered
TIP: In case the desired RAID volume is not listed, select 'Physical Disk' and click 'Scan' to locate the missing RAID volume and recover data (see screenshot below)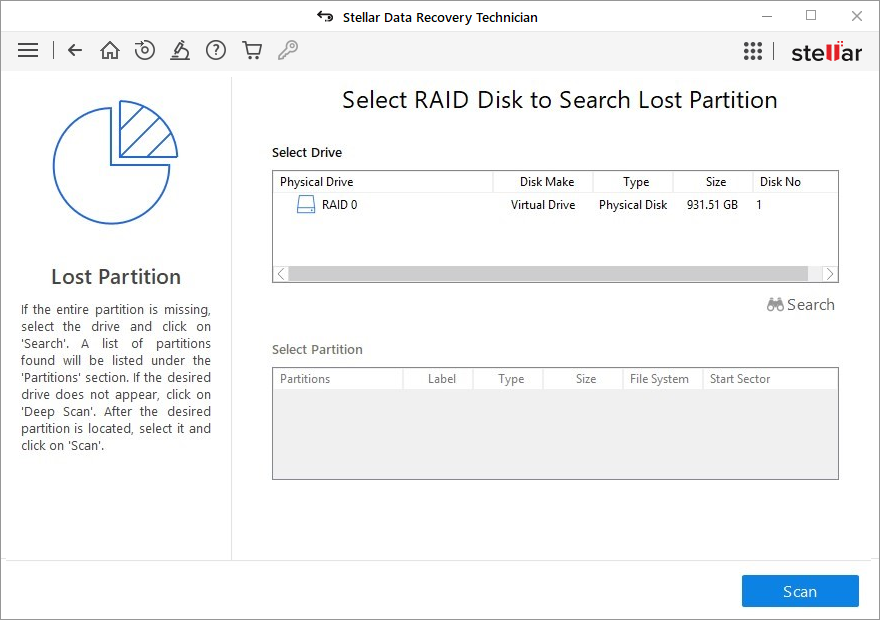 After selecting the RAID volume, click the 'Scan' button. Wait until scan finishes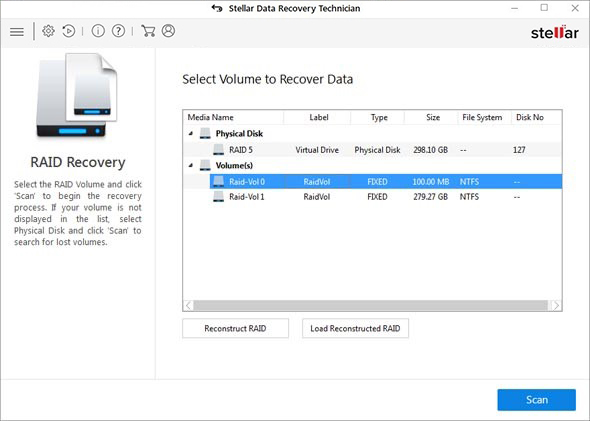 If the desired files are not found in the scan results, click on blue colored 'Click Here' link beside Deep Scan text at the bottom of the software window to start the 'Deep Scan' process
Deep Scan thoroughly searches for lost files based on file-signatures and facilitates RAW data recovery by digging deep into the RAID drives. Therefore, it takes much more time than the 'Quick Scan' but gets back maximum recoverable data from the reconstructed RAID volume.
In the left 'Tree View' pane, you can see all recovered folders and files. Use the search box on the top-right corner to search, preview, and recover specific files and folders. Alternatively, you can click on the 'File Type' tab to sort the recovered data
TIP: Save the scan information in your PC—weighs a few KBs. The scan information can be loaded later anytime to resume the recovery process. This saves you from scanning the RAID again. Just click on 'Resume Recovery' icon at the top and save the scan info at your desired location
Click on a file to see its preview before recovery or select the check boxes of the files and folders that you want to recover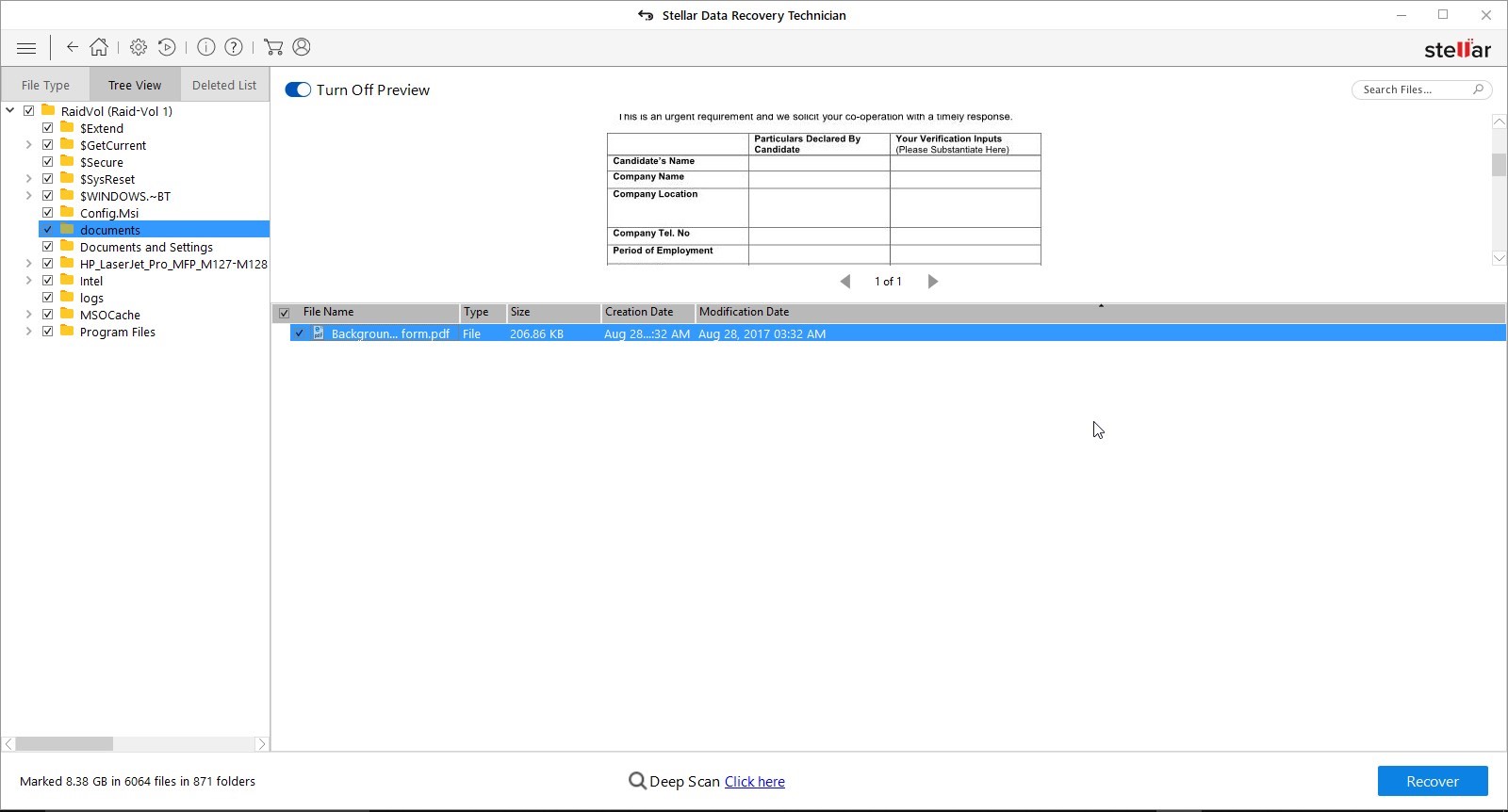 Then click the 'Recover' button. A pop up appears
NOTE: If the software is not activated, it will open a web page from where you can get the activation key. Once you get the activation key delivered on your register email, enter it and proceed with further steps.
Click the 'Browse' button to select the location where you want to save the recovered data. Again, make sure not to select the drive, which was in the RAID set and now connected to your PC
Use a different external disk or internal disk with enough space to save recovered data. Alternatively, you can also save the scan information and recover data in stages—as per availability of time and storage space
Finally, click the 'Start Saving' button. The selected recovered files and folders will be saved at the desired location
So that's how you rebuild a broken RAID set for data recovery and retrieve the lost data. For more info and help on RAID recovery, comment down below or get in touch with our data recovery experts.
Conclusion
RAID is a logical arrangement of multiple disks, thus, is prone to corruption, and may break due to various factors such as power failure, abrupt system shutdown, hardware failure, or human errors, etc.
At last, it all comes to data. After all, RAID is built to store and access data without worrying about data loss due to disk failure. Also, people often consider RAID as a backup. However, RAID can never be backups as they are equally prone to corruption while being used regularly.
Thus, it's important to have a regular copy of data, which is stored on RAID so that files can be restored without affecting the workflow and business continuity. Nevertheless, a RAID recovery software such as the Stellar Data Recovery Technician makes getting back lost files from a broken, damaged, or corrupt RAID array easier and convenient.
The software is equipped with all essentials required for safer data recovery from a broken, corrupt, or formatted RAID 0, RAID 5, and RAID 6 arrays in Windows.