Netflix is the leading entertainment source that offers endless movies, TV shows, and much more. You must create a Netflix account and pay the required subscription fee to view or download unlimited TV shows and movies. You can create up to five profiles on Netflix using a single account.
A Netflix profile allows you to have a personalized Netflix experience that includes your favorite TV shows, movie suggestions, lists, ratings, playback settings, language preferences, email, and recently watched list or watch history.
Now think of a situation where your Netflix profile and history disappear unexpectedly. Well, in that case, don't panic! We have gathered some workarounds to help you recover your deleted Netflix profile and history.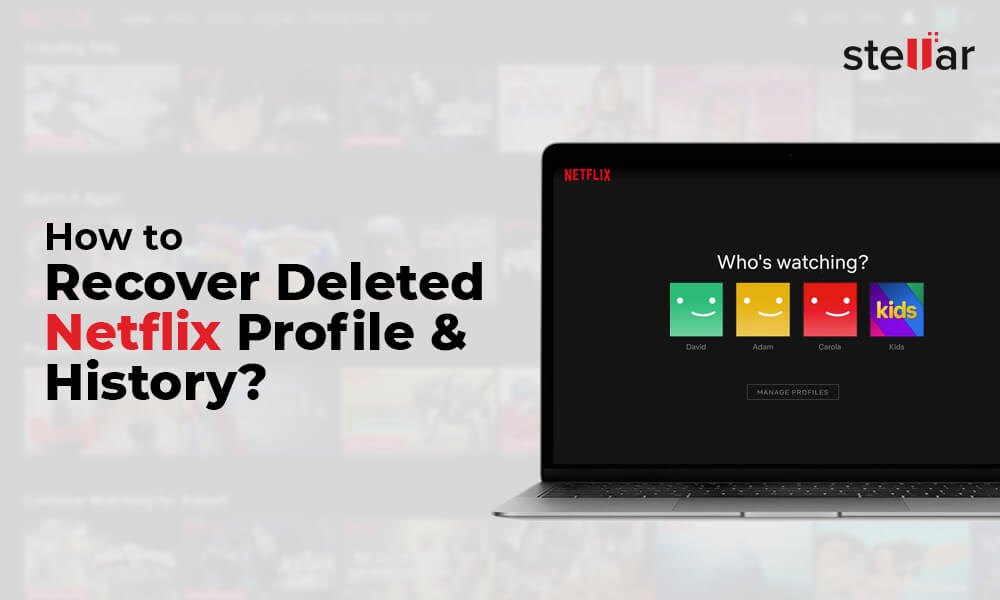 How to Recover Deleted Netflix Profile and History?
No Netflix recovery software is currently available, so we know how annoying it can be to lose a Netflix account and its history. This error mostly occurs because of Netflix remote server problems or timeout the login session. It can even arise when your Netflix account has not been used for a long time. Follow the below methods to recover Netflix account and its viewing history:
Method 1: Check the Internet Connection
A poor internet connection can lead to many problems, including error showing Netflix profile and history. To recover the Netflix account, close your application and check your internet connection. After that, disconnect your device and connect it to an active internet connection.
If your internet connection seems active, move to the second method to recover deleted Netflix profile.
Method 2: Try logging out and re-login
Sometimes, due to a poor connection between the Netflix application and its respective server, your account data, including your Netflix profile and history, disappear. To solve this issue, try establishing the connection by logging out and logging in to the account again. To recover your Netflix account by logging in and out of the profile, follow the given steps:
First, Sign out from your Netflix account.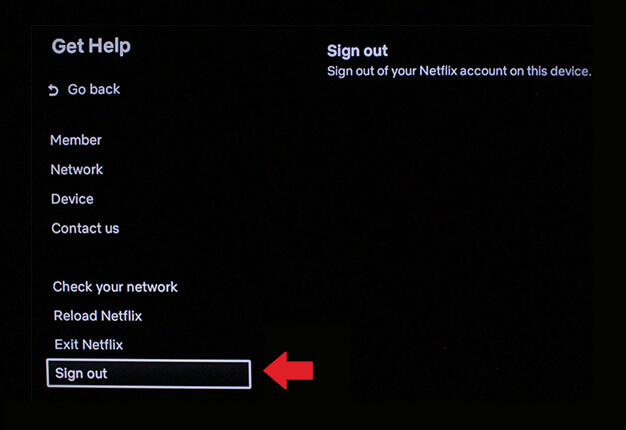 After that, enter your account credentials again and try to Sign in.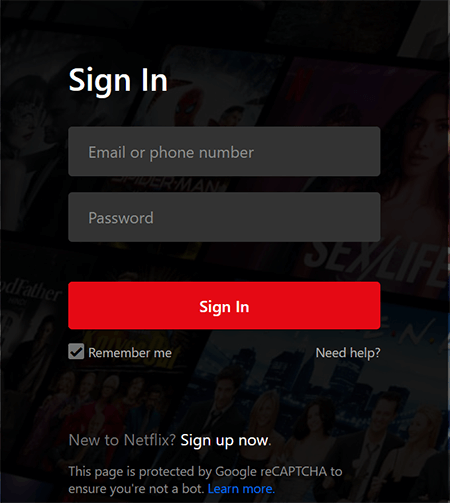 If the issue reappears, click on Reload Netflix.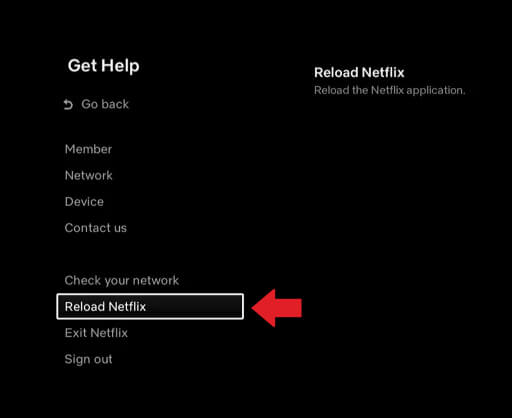 If nothing works, uninstall the app, install it again, and log in to your account.
Method 3: Contact Help Center to Recover your Netflix Account
This method is helpful if you can access your Netflix account, but the history is unavailable. In this case, you can take help from Netflix online, as its customer support is always available. Here's how to connect with them through Live Chat:
Open the Netflix application and log in to your account.
Go to My Account and click Help center.
Scroll down the Help Center page and select the support option via live chat.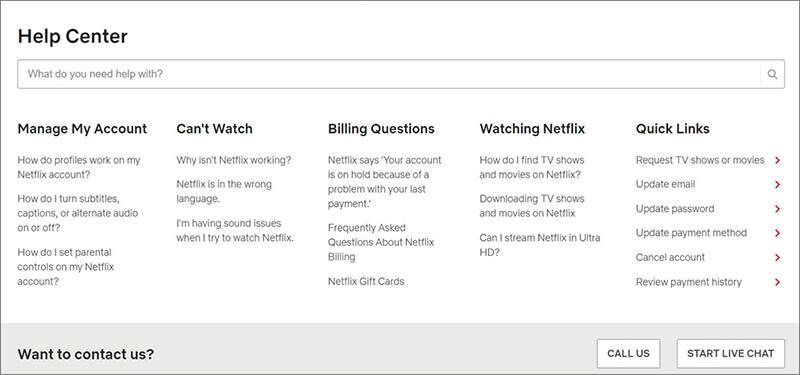 In most cases, the live chat feature instantly helps users recover deleted Netflix history. If this method also fails, move to the next one.
You can also reach out to the Netflix Help Center by calling their toll-free number. Here's how to do it:
Open Netflix and log in to your account.
Click Help Center, scroll down the page, and then the Call us
The representative on the other end will hear your issue and explain how to recover deleted Netflix history and account.
How to Recover Local Saved Videos via Stellar Photo Recovery?
Most people like to save videos downloaded from the internet or transferred from mobile devices on their system to watch them later. However, these saved videos can get lost for certain reasons, like formatting or accidental deletion. To recover videos lost due to accidental deletion, formatting, or other reasons, use an efficient video recovery software like Stellar Photo Recovery.
This robust video recovery software will scan and extract the deleted video files of any format, such as MOV, MP4, 3GP, WMV, WMP, AVI, etc., from your PC or laptop. It can even recover videos shot from a digital camera, a doorbell camera, a drone, a dash cam, CCTV, etc.
It is a to-do-it-yourself software that can recover lost videos and photos in three simple steps- Select, Scan, and Recover. The software is available for both Windows and Mac systems.
Want to evaluate the software before buying? Download the demo version here.
To repair corrupted videos because of changes in file format, header corruption, or virus attack, use the Stellar Repair for Video tool.
Conclusion

It can be frustrating when you plan on watching the latest TV series/ movies on Netflix and find that your profile is missing. When the Netflix profile is missing, it will even impact your watch history. This issue can occur when your Netflix account has not been used for a long time or the application has timed out the login session.
This article explains several ways to recover deleted Netflix profiles and their history. For example, you can try logging out and logging in again, check the internet connection or contact the Netflix help center to recover your Netflix account. The article also explains how to recover locally saved videos using Stellar Photo Recovery software.
FAQ
1. How to view the watch history of an inactive Netflix account?
You have to submit a request to Netflix to see the watch history of an inactive Netflix account. Here's how to do it:
Go to GetmyInfo and log in to your inactive Netflix account.
Click on the Submit Request option.
Netflix can take up to 30 days to approve the request and send the list of most watched shows/movies in Netflix history to your registered email.
2. What happens when you delete Netflix history?
Once you delete your Netflix history, it will remove your watch or view history from your account, including personalized recommendations.
3. How to delete shows/series from your Netflix history?
To delete shows from your Netflix history, follow these steps:
Log in to your Netflix Account, then go to Account.
Click Viewing Activity and search for the show/series you want to delete.
Hit the Delete You will be asked if you wish to delete the entire show or an individual episode.
4. Can I delete all viewing activity at one time on Netflix?
Yes, you can delete all your viewing activities on Netflix. Click the Hide All My Viewing Activity option at the bottom of the page to delete all viewing activities.
5. If I delete my Netflix Account, will my watch history be deleted?
Yes. When you delete the Netflix account, all your watch history and personalized recommendations will be deleted.
6. Can you clear the Netflix search history?
Yes. You can clear the Netflix search history by going to Viewing Activity under Profile & Parental Controls.
7. How to fix the Netflix streaming problem?
Netflix streaming issues may occur because of internet or server issues. To fix this issue, connect to another internet source, re-login to your account, or run the built-in troubleshooter on Netflix.