Virtual Machines (VM) are run and managed through virtualization software like Hyper-V, Microsoft, VMware, etc. They don't rely on a system's hardware to run and deploy programs or applications and store data. However, the Virtual Machine (VM) files, such as VMX, VMDK, VMDX, etc., are still stored on the system's hard disk.
VMDK is one of the most popular VM file formats because of features such as live migration snapshot-based backups and high-performance SAN block storage. Despite all the advantages, it still can run into errors and get corrupt or damaged.  
Learn ways to recover corrupted VMDK files following the methods discussed here. However, identifying the common causes of VMDK file corruption will help you promptly take action.
What Causes VMDK File Corruption?
There could be multiple reasons behind VMDK File Corruption, including:
Hardware errors: Since VMDK files are stored on a hard disk, they can get corrupted or damaged due to hardware issues like bad sectors on the drive, power failure, disk failure, etc.
Software issues: Virtual Machines are managed through virtualization software. If there's any bug or glitch in the virtualization software, it can directly cause corruption in the VMDK file.
Improper system shutdown: Forced or improper system shutdown or virtualization software crashing unexpectedly can cause VMDK file corruption. Sudden power outages can also cause file corruption.
Virus Attack: If the virtual machine is infected with malware, it can contribute to VMDK file corruption.
Other Causes for VMDK File Corruption
Insufficient disk space
Network interruptions or connectivity errors
File system errors
Incorrect virtualization software configuration
How to Recover Corrupted VMDK File?
Irrespective of the reasons, you can recover a lost or corrupted VMDK file with the help of the following methods:
#1 Mount VMDK File
If the VMDK file is partially damaged/corrupt or has some minor issues, it can be fixed by mounting it to the virtual machine as an extra disk. To do so,
Create a virtual machine using virtualization software.
Attach the corrupt VMDK file as a secondary disk in the setup.
Boot your virtual machine and then access and recover data from the mounted VMDK file.
#2 Use Backup Solutions
VMware, Hypervisor, and other virtualization software have built-in backup features, such as incremental, snapshot-based, etc., allowing you to create Virtual Machine level backups. If you've backed up your Virtual Machine files with such backup utilities, you can quickly recover VMDK files using them.
However, there is a slight risk with backup features. If a backup program runs into issues while backing up your data, VMDK file recovery might become difficult.
#3 Use VMDK File Recovery Software
Your best bet to recover corrupted VMDK files is a dedicated Virtual Machine recovery tool like Stellar Toolkit for Data Recovery. It is a versatile solution that supports recovery from Virtual Drives (VMDK, VDI, VHD & VHDX). You can run the software on Windows, Mac, and even Linux. Whether your VM file was corrupted due to hypervisor errors or unexpected system shutdown, the software can mount a VMDK file or other desired VM files and recover data. To do so, follow the given steps:
Download, install, and run your system's Stellar Toolkit for Data Recovery.
On the 'Select What to Recover' screen, click All Data > Next.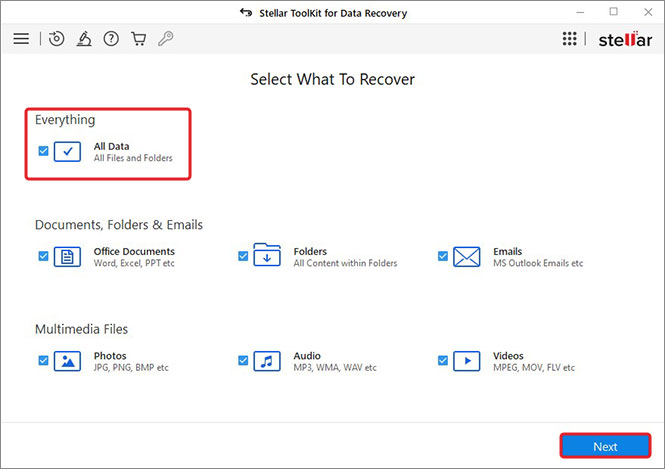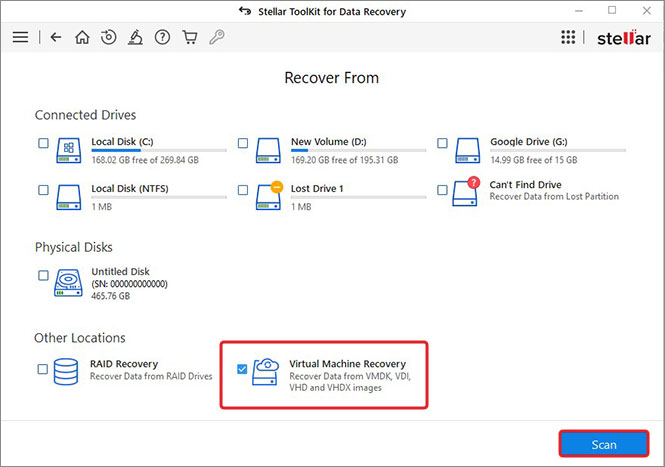 Click Add Image to add the corrupted VMDK file, then click Mount.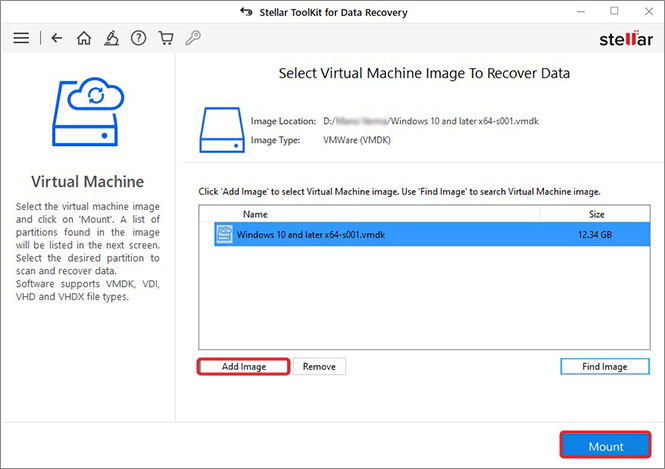 Select the Virtual Machine volume and click Scan.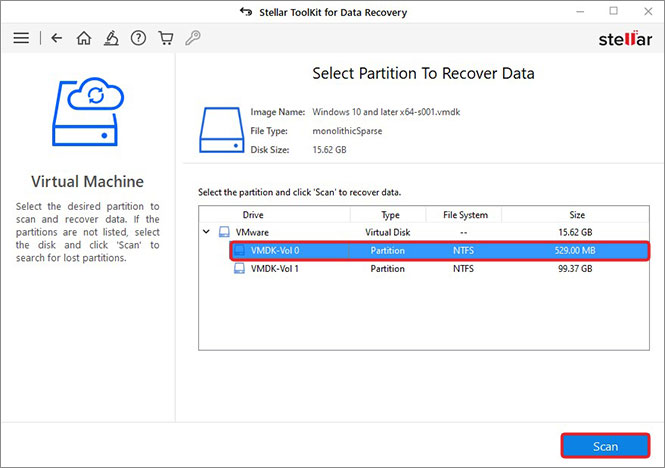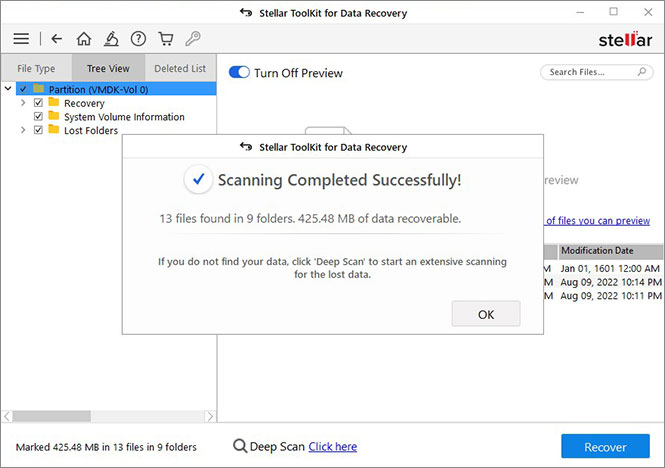 Select the folders or files you wish to retrieve and click Recover.
Next, click Browse to choose the location where you want to save the file, and then click Start Saving.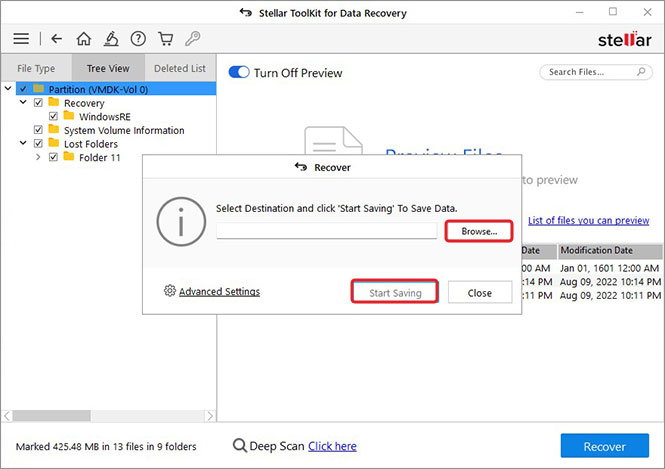 Your recovered VMDK file data will be saved at the chosen location.
VMDK recovery is possible with the methods discussed in this blog. However, to reduce the risk of VMDK file corruption, take regular backups of critical VMDK and other virtual machine file formats you use. Keep your virtualization software and associated components updated so that they remain error-free and there is less chance of corruption and other issues.
Frequently Asked Questions
1. What is VMDK File?
A VMDK (Virtual Machine Disk) file is a popular VMware file format used for the virtual hard disk of a virtual machine, containing all the data and file systems. VMDK allows the physical hard disk's cloning for virtualization and offsite backup of VMs. It consists of the VM configuration and user data. This file format supports multiple features, such as provisioning, snapshots, etc.
2. How do I recover a corrupted VMDK file?
You can mount a VMDK file as a secondary disk in the setup, use backup solutions or opt for advanced virtual machine recovery software to restore corrupted VMDK files.
3. Are there any built-in tools or methods to repair VMDK files?
Yes, built-in tools, such as vSphere Storage APIs, vmfs-tools package, VMware-disk manager, etc., are available to repair VMDK files.
4. Should I take any precautions before attempting VMDK file recovery?
Before you start with VMDK file recovery, backup your data (if possible) and use copies for performing recovery.
5. Which VMDK recovery software to choose?
There are multiple VMDK recovery software available. However, you can opt for the one recommended and reviewed by many tech publications and customers. Stellar Toolkit for Data Recovery is an excellent DIY (Do-it-yourself) software that supports recovery from virtual drives, RAID drives, NAS devices, and other storage media drives.