Videos on your Mac show black screen error, play jerky, flicker, have distorted visuals, out-of-sync, or don't open at all — these signs indicate your video files are corrupted.
A video can get corrupted when its file header or data is damaged due to some reason. It may be an improper file transfer, sudden Mac shut down while you were accessing the video, a wrong file compression, or a malware attack that has damaged your file. Nonetheless, you can repair corrupt videos on Mac and play them again seamlessly.
How to repair corrupt videos on Mac
A digital video repair tool is the best approach to fix corrupt or damaged video files. Although there are several video repair software available, not every tool is capable to repair videos problems on Mac. Here, we will share the efficient video repair software that can fix different videos problems and are also secure to download on Mac.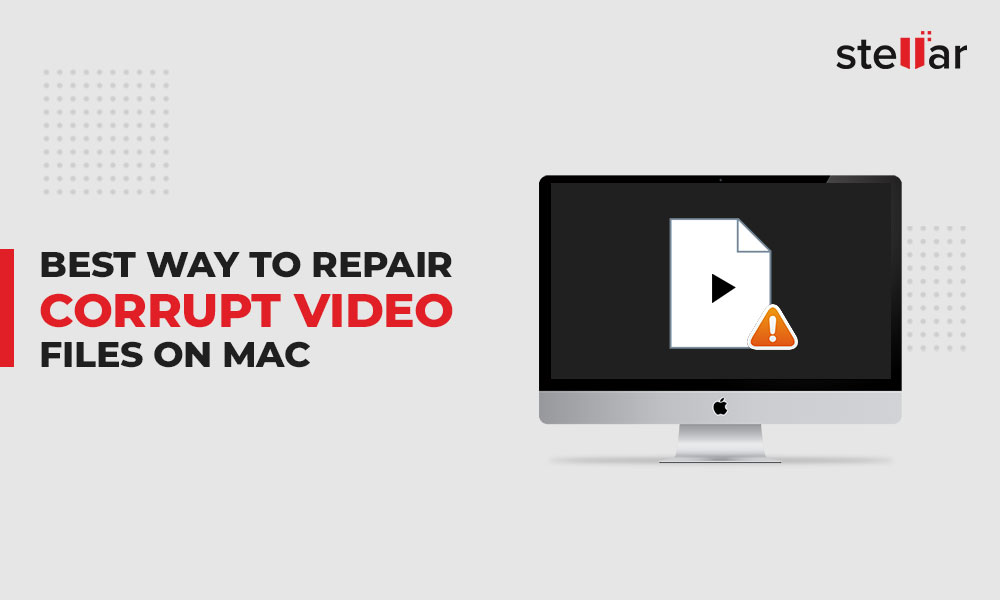 1. Repair corrupt videos on Mac with VLC Media Player
VLC Media Player is an open-source, free multimedia player that has a macOS version. The player has a video repair feature that can fix damaged videos that are not playing due to index corruption. Although the feature is for AVI file format, you can rename the other video file types to AVI and repair them using VLC Media Player on Mac system.
Tip: Always use a copy of the original video for repair.
Steps to repair corrupt videos using VLC Media Player:
If the video file type is other than AVI format, rename it by changing the file extension to .AVI.
Open the AVI file in VLC Media Player.
From top menu, navigate to Tools > Select Preference > Input & Codecs.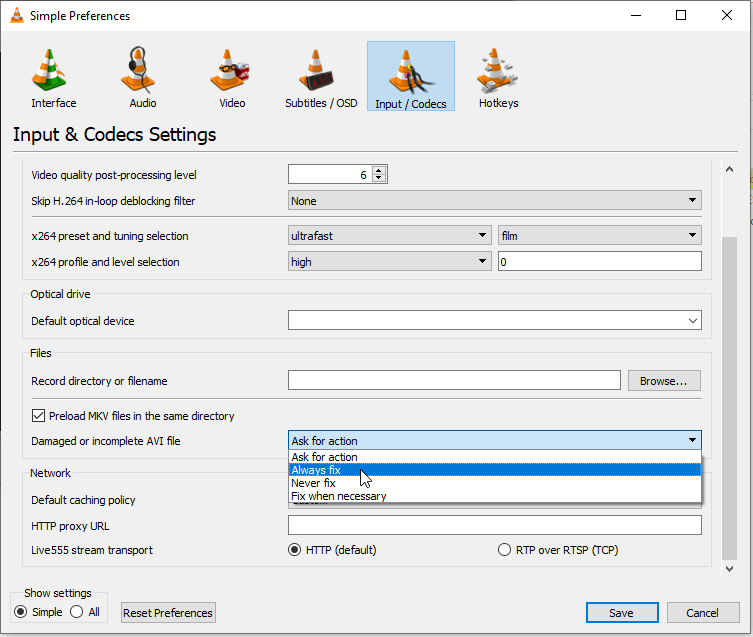 Select 'Always Fix' from the drop-down next to 'Damaged or Incomplete AVI file.'
Select Save.
Now check at the saved location if the video is playing without any error or issue.
2. Fix corrupt videos by using a Mac video repair software
Use a professional Mac video repair tool that is capable to fix all kinds of file corruption issues. An advanced tool can repair damaged videos making them playable again as original.
The popularly used Stellar Repair for Video repairs corruption in video file header, frames, movements, sound section, etc. The software can quickly fix common video playback issues on Mac, such as
Video flickering, showing colored lines/strips, jerky, or truncated
Video opens but shows black screen
Videos freezing at a certain point
Video shows error message
Audio lag or no sound
Portions of video not playing properly
Videos takes a long time to play
Videos not opening at all
Other video problems
Further, Stellar Repair for Video is compatible with all popular video file types including those supported by the Apple devices. You can repair corrupt QuickTime MOV, HEVC, MP4, G2, 3GP, F4V, AVI, FLV, MTS, MKV, and other file types.
The ability to repair multiple videos of any format simultaneously saves your time. You can repair unlimited corrupted videos on Mac shot with any DSLR, camcorder, iPhone, drone, etc.
The software can run across macOS Big Sur, Catalina, Mojave, High Sierra, and older versions. Its free trial is available.
Steps to fix corrupt video on Mac using a repair software:
Download and run Stellar Repair for Video on Mac.
Click on Add File to insert corrupt video/s.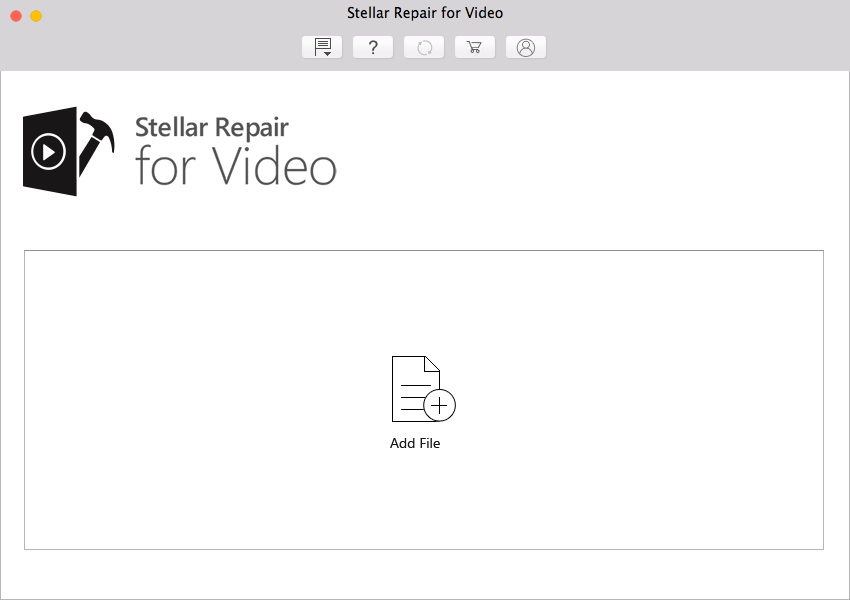 Click Repair to start the repair process.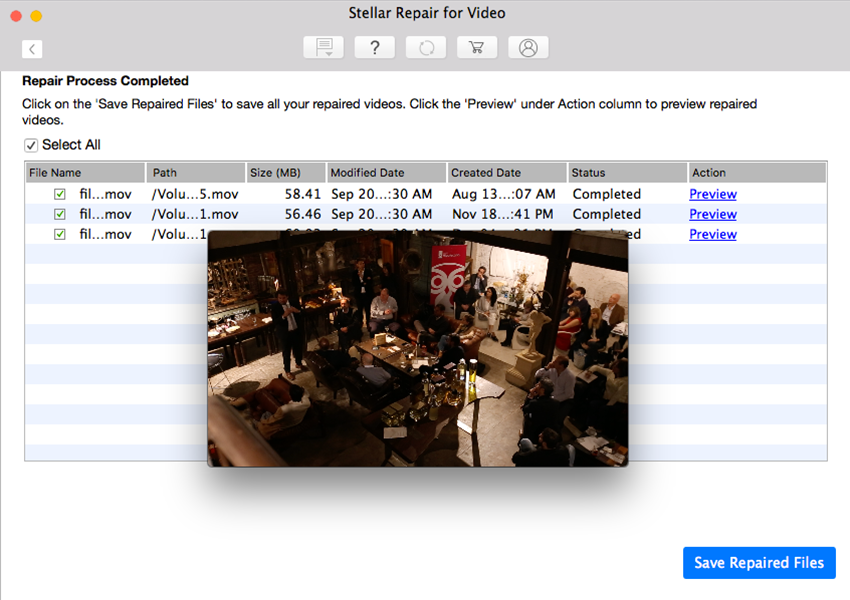 Preview the repaired videos and Save them at your desired location on Mac. Note: If your videos are severely corrupt, the software will direct you to 'Advance Repair'. Simply add the sample video shot with the same device and of same format as your corrupt video. The software will utilize this information to repair your severely corrupt video.
QuickTime Player can't open video file! What you can do...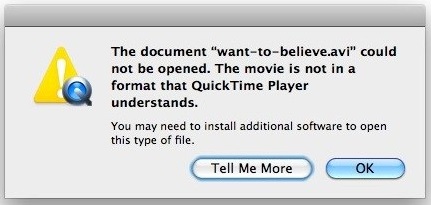 Not every media player supports all video file types. Same is the case with QuickTime. When a video file format is not supported by QuickTime, Final Cut Pro, iMovie or other Mac software, the video won't open and give error.
For example, MKV or MTS files won't open in QuickTime as it doesn't support these formats. While iMovie can only open 3GP, AVI, M4V, MOV, and MP4 videos.
Hence, if the Mac videos are giving unsupported codec or file type errors or just don't open with your media player, try the below workarounds:
Play Mac video in a different player. Try VLC Player or other player that supports your file type.
Convert video file format. Preferably change the video format to a widely supported file type, such as MOV and MP4. Use any online video converter, Stellar Converter for Audio Video, or VLC Media Player.
Download the supporting codecs on Mac. You can try codec packs like Perian or K-Lite available for macOS.
If these workarounds don't work, the video file might have corrupted. Repair it using a Mac video repair software shared in this post.
Conclusion
A free video repair tool such as VLC Media Player macOS version can fix file index corruption. However, a dedicated Mac video repair software, such as Stellar Repair for Video, ensures all kinds of damage in the video file is fixed.
It's important to choose a 100% safe software for your sophisticated Mac system. Make sure it is capable of fixing your specific video problem. Not every video repair tool can fix severely damaged videos with sound issues or distorted visuals. So it's advisable to use the free trial first. It will help to verify if the software can successfully repair your corrupt video on Mac.
You may like to read: Fix GoPro Hero 4K Videos not playing on Mac