The SYNTHETIC_WATCHDOG_TIMEOUT is a bug on Windows 10/11, rendering your PC inaccessible by forcing it to restart repeatedly. The error results in a Blue Screen of Death (BSoD) and can cause immense damage to your system if not dealt with immediately. A BSOD due to a watchdog timer error on Windows 10/11 typically results in data loss. Any unsaved data will be gone, and other data stored on your PC might also get affected. However, you need not worry as this article will traverse through the most suitable solution to this error, and you will be able to resolve the problem. Moreover, we will further help you recover any data lost due to BSOD in three simple steps.
What causes the SYNTHETIC_WATCHDOG_TIMEOUT error?
If you face the synthetic watchdog timeout error with error code 0x000001CA, it is because the OS is not processing the timer ticks. The issue arises when the system-wide watchdog expires. A watchdog timer, also known as the computer operating properly or COP timer, is an electronic or logical component with the primary function to check on your system's malfunctions and recover from them if need be.
Software on your device needs to signal the timer to restart its count regularly, and this process is fondly known as petting the Dog. This way, the Windows system always restores to a normal state if it's malfunctioning due to any reason. However, if the petting stops for any reason, the watchdog becomes unable to restore the Windows to a normal state, and thus you face the synthetic watchdog timer error.
Fix the SYNTHETIC_WATCHDOG_TIMEOUT error on Windows 10/11
The watchdog timer error generally occurs while playing games or using a virtual machine on your Windows PC. A faulty or outdated driver or a bug in the Windows update initiates this problem causing BSOD on the Windows 10/11 OS. Let's resolve this bug issue with the most suited solutions.
Fix 1: Update your Windows
With the reports of any major bug, Windows hastens to a Windows update release. If you haven't updated your Windows for long, you should update it. The watchdog timer error might be persisting due to an outdated Windows OS version. Here's how to do it.
Step 1: Click Start > Settings > Update and Security.
Step 2: Click Check for Updates.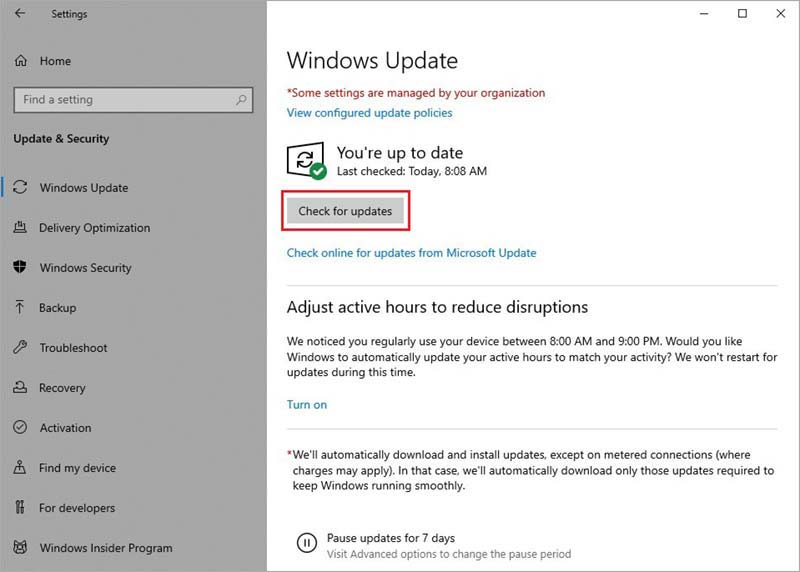 Step 3: If there are pending updates shown, click Install Now and wait for the process to complete.
Fix 2: Update Drivers on Windows 10/11
Drivers are another reason behind the appearance of the BSOD error on your PC. An outdated or faulty driver interferes with the communication of different components with OS, apart from other issues. You can update the drivers as explained below.
Step 1: Search for Device Manager in the search bar on your desktop.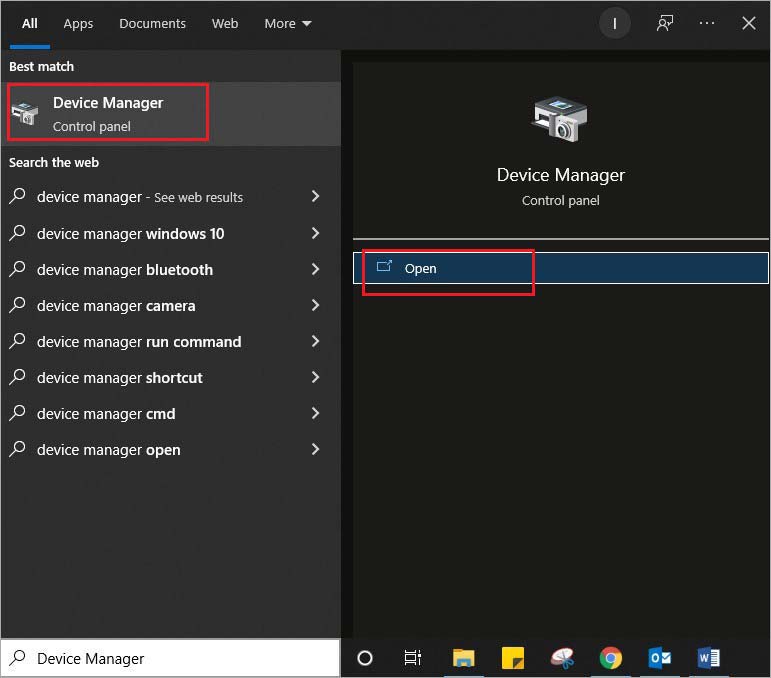 Step 2: Locate the device you want to update and expand it by clicking the arrow in front of it.
Step 3: Right-click the items in the expanded list and choose Update Driver.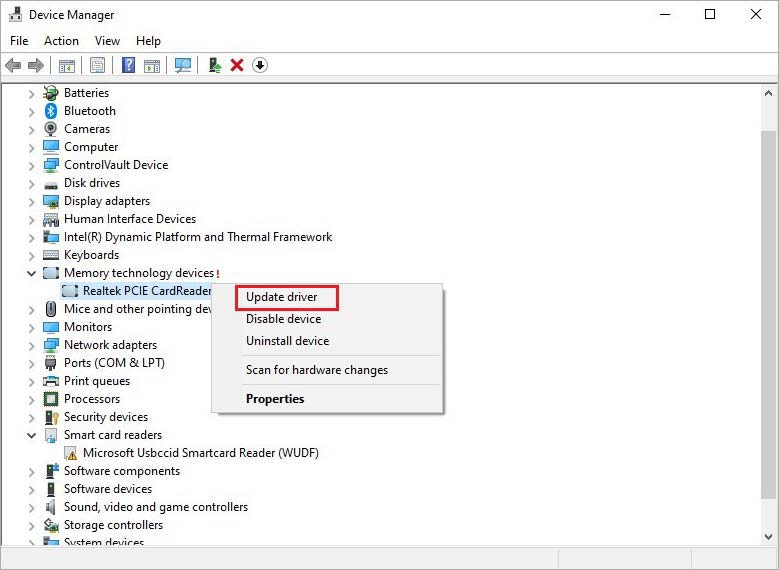 Repeat the process for each driver you want to update.
Fix 3: Run Windows Memory Diagnostics
If there is a memory mismatch between your Windows PC and any programs or the OS itself, the BSOD error appears. You can check the status of your system's memory with the help of the in-built Windows Memory Diagnostics app.
Step 1: Type memory in the search box and select Run as Administrator under the Windows Memory Diagnostics.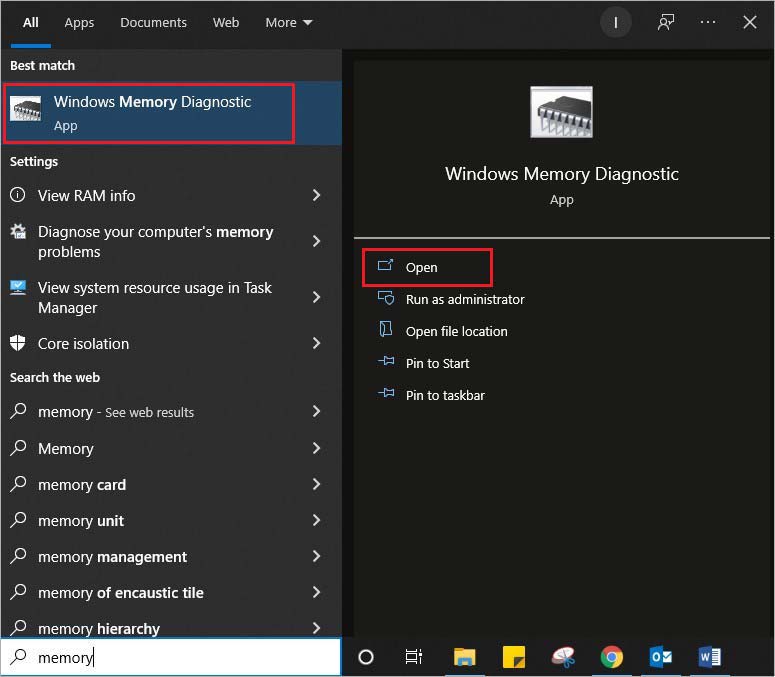 Caution: Before implementing Step 2, save any unsaved files on your PC.
Step 2: In the new pop-up window, choose the first option out of the two: Restart now and check for problems (Recommended).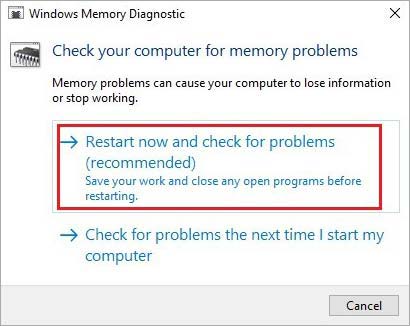 Step 3: Your will restart, and any existing issue with the memory will be identified and resolved.
Fix 4: Disconnect any external hardware from your PC
Sometimes the BSOD is caused not due to error or malfunction of internal components of your PC, but due to external or peripheral devices. The peripheral devices develop a fault and cause an interruption in the critical functions of Windows OS and related processing elements. To rule out the possibility, perform the following steps on your PC.
Step 1: Disconnect all the connected devices like mouse, keyboard, etc.
Step 2: Press Ctrl +Alt + Delete and use the up-down arrow keys to select the Shutdown button. Press Enter.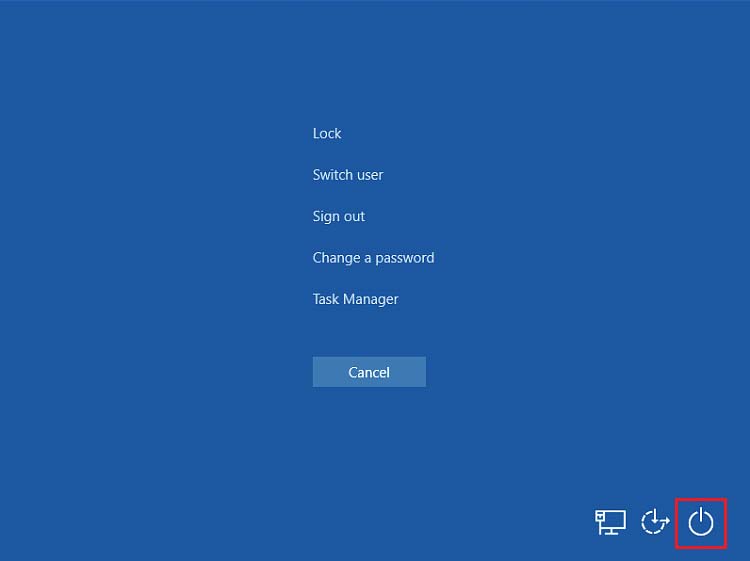 Step 3: Again, use the arrow keys to select Restart from the options and hit Enter.
Let the restart complete and see if BSOD appears.
Fix 5: Run the chkdsk command to repair drive issues.
The storage drive develops issues like bad sectors, file system errors, etc., over a prolonged usage span. Running the chkdsk command on your Windows 10/ 11 will identify and repair all the errors related to your system drive.
Step1: Open Command Prompt on your Windows PC.  
Note: For Command Prompt on Windows 10, search cmd in the search box. You might find Windows Terminal on Windows 11 instead of Command Prompt. To initiate Command Prompt, click Windows Terminal > Open Settings and change Default Profile to Command Prompt.
Step 2: Insert command Chkdsk C: /f /r /x and hit Enter.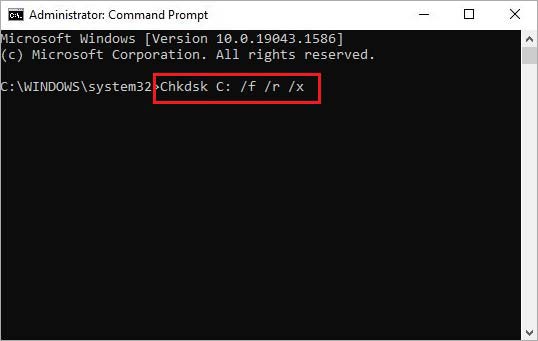 Step 3: The search and repair of drive issues will commence. Do not interrupt the process.
Fix 6: Update BIOS
Updating BIOS is a critical operation, and you should opt for it with utmost caution. Any wrong step would render your Windows PC unbootable. Although, if you do it correctly, the BSOD error caused due to the SYNTHETIC_WATCHDOG_TIMER bug issue would be resolved.
Check your BIOS version
Step 1: Press Windows + R and type msinfo32 in the Run tab. Hit Enter.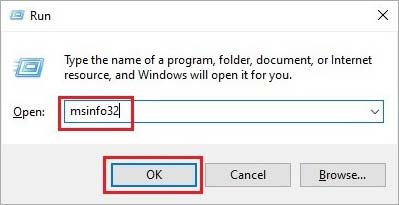 Step 2: Locate BIOS Version/Date and note down the BIOS version.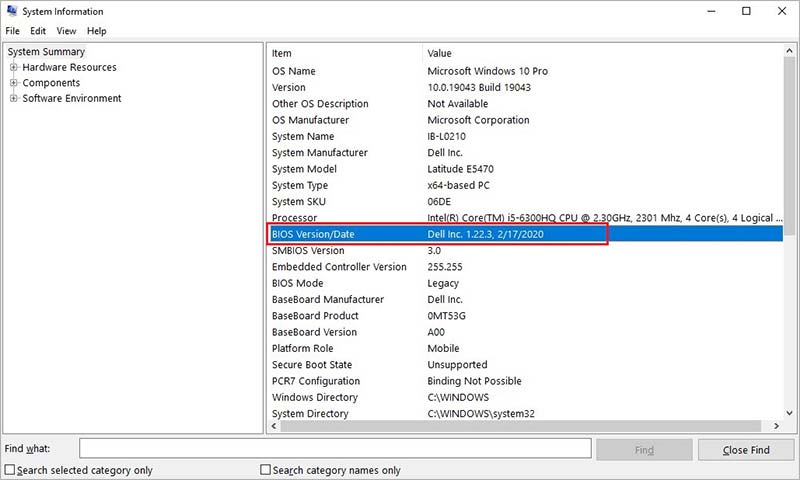 Step 3: Locate the Baseboard Manufacturer and check the manufacturer.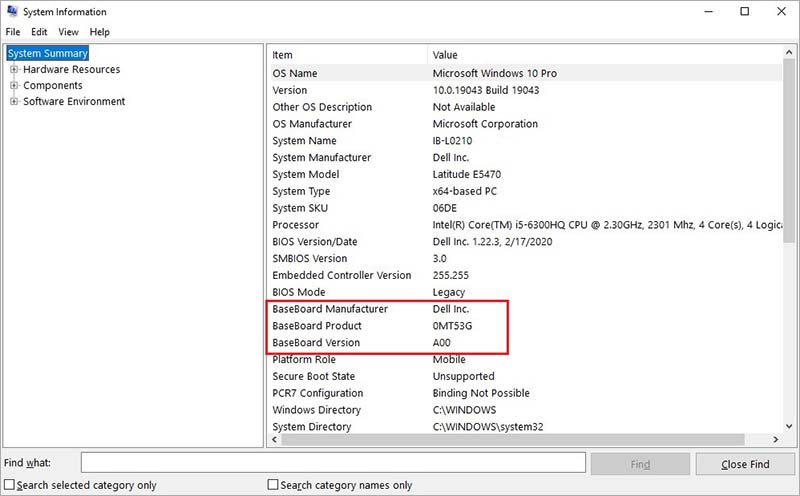 Update BIOS
Step 1: Go to the support page of the motherboard manufacturer's website.
Step 2: Find the Downloads for your motherboard model and download the latest BIOS version.
Step 3: Extract the BIOS update file downloaded on your Windows PC and locate the readme file.
Step 4: Read the instructions given in the readme file and copy the file to a blank USB thumb drive.
Step 5: Restart your PC and press the key mentioned at the bottom of the boot screen to enter the BIOS setup. (Generally, you need to press either of the F10, F2, F12, F1 or DEL keys, depending on your system manufacturer)
Step 6: Open the BIOS/UEFI firmware update (or BIOS flashing tool) and select the update file on the thumb drive to update the BIOS on your PC.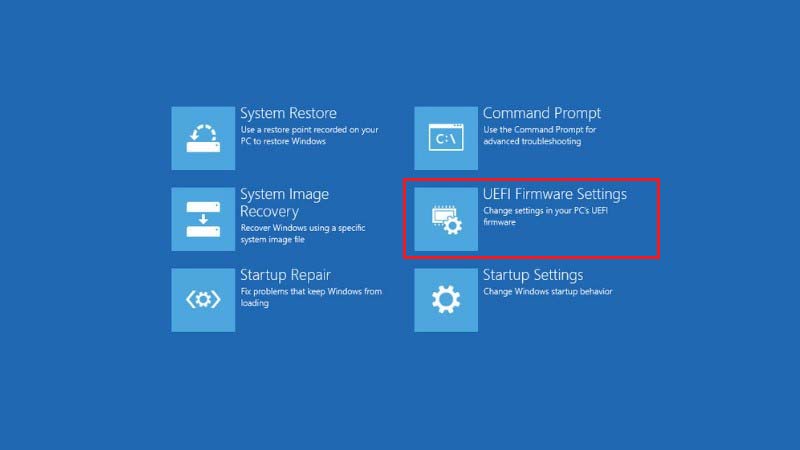 How to recover data lost due to BSOD on Windows 10/11?
BSOD being a critical system error is potentially harmful to your system and its data. Moreover, if the error occurred while you had some unsaved data on your PC, it won't be saved. As a result, you will lose all the unsaved data, and your existing data might also bear the wrath of BSOD. However, we understand your trouble. Therefore, we will give you a globally trusted data recovery solution. You can use Stellar Data Recovery Professional for Windows to regain any lost data in its original form and full integrity. It is an easy-to-use DIY software with a simple UI. The effective algorithms of this data recovery tool can retrieve data even from a crashed or non-booting Windows PC. Moreover, it securely recovers the lost or deleted data without affecting the data stored on your PC. It is loaded with multiple useful features to help you in any data loss situation.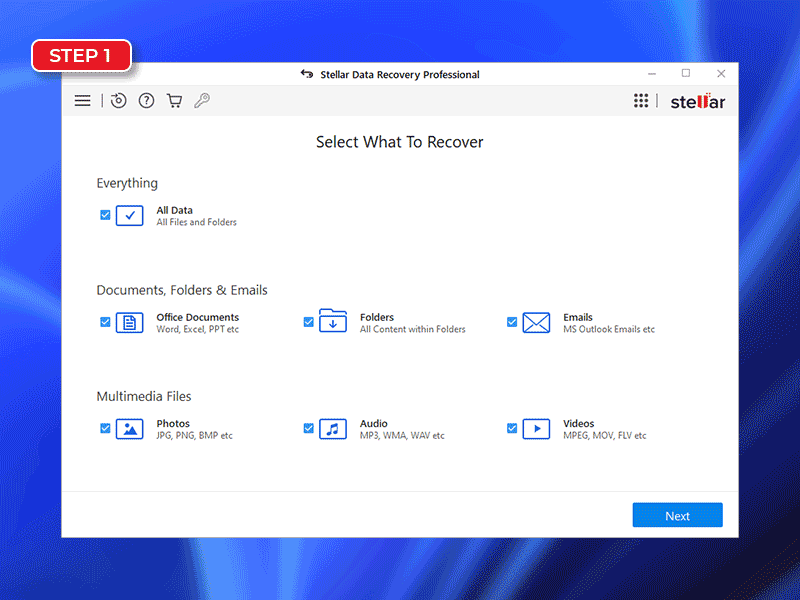 Conclusion
The watchdog timer is a least noticed yet most important part of a computer system. It safeguards your data by continuously working in the background to help your system cope with minor and major glitches happening throughout the work period. The SYNTHETIC_WATCHDOG_TIMEOUT error results in a malfunction in the timer putting the entire computer system and data stored on it at high risk. The methods discussed above are fully capable of resolving this error and bringing back your computer within the ambit of secure operation. We hope you have resolved the BSOD error caused by the Synthetic watchdog timeout issue and are able to recover the permanently deleted files due to the problem of BSOD.
FAQ
1. What is stop code CLOCK_WATCHDOG_TIMEOUT?
If you face the CLOCK_WATCHDOG_TIMEOUT error on your Windows PC, it will cause a BSOD error. Your system cannot handle the issue behind this error and will go for a repeated restart. The BSOD and repeated restart may cause other system errors apart from severe data loss. If you are facing the issue, immediately take these preliminary steps:
Unplug all peripheral devices
Update the drivers
Install the latest Windows update
Scan your Windows PC using a good antivirus tool
Finally, recover your lost data using good data recovery software
2. What is a Windows stop code error?
Whenever your OS encounters an issue beyond its repairing capabilities, it simply crashes. In most cases, you will experience a repeated restart and the appearance of a Blue Screen of Death displaying an error message. Each error has a unique code that starts with 0x and is followed by eight digits. So, for example, if you face the SYNTHETIC_WATCHDOG_TIMEOUT error, you'll see the error code 0x000001CA. The stop code errors can be avoided by updating the system and drivers regularly and taking precautions while attaching any external device to your Windows PC.
3. Can I upgrade my Windows 10 PC to Windows 11 free?
The Windows 11 update is free for all existing Windows 10 users. However, you can upgrade to Windows 11 only if you have the latest updated version of Windows 10 and meet the System Requirements.