The Synology NAS server is one of the most affordable and secure ways to store sensitive data. Not only organizations, but even home users can also leverage the benefits of its deployment. A NAS device or server, in particular, is a computer optimized for use as a shared storage device. Earlier, people practiced using a traditional hard drive to set up a NAS storage and made it accessible to all the connected devices for centralized backups and data sharing. However, with technology advancements, RAID is preferably used in NAS setup. This setup offers plenty of benefits over a normal hard drive, such as higher performance, data reliability, and data redundancy.
However, like any other storage device, Synology NAS Server is also prone to failure and breakdown. There could be many reasons behind NAS failure that eventually makes you lose access to your crucial data. But, worry not! Here, we've listed some authentic ways to recover data from Synology NAS. Moreover, understanding the NAS concept and underlying causes behind NAS failure first will help you take the right approach to get back your data.
What exactly is a NAS server?
NAS or Network Attached Storage is a file-dedicated server, also known as a file server. It is hardware connected to a network, making data continuously available to authorized employees. The Synology NAS server is specialized and dedicated to handling scattered files, folders, and other data.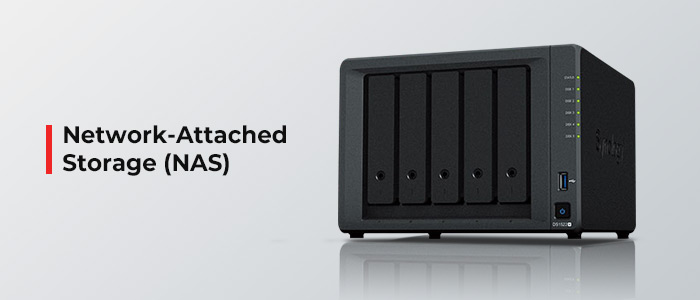 It offers secure, fast, and reliable storage services to private networks. Both homes and businesses may use Synology NAS servers for accessing and sharing important documents, PPTs, and more. It also offers backup, remote access, and web server apps.
Top Synology NAS Models
There are multiple Synology NAS models available. However, only a few are popular, including DiskStation DS220+, and DiskStation DS1621+. Synology DS1621+ is a compact yet powerful 6-bay NAS solution that supports RAID 0, 1, 5, 6, 10, SHR, and Basic RAID. On the other hand, DiskStation DS220+ is the 2-bay base NAS model that runs on DSM (DiskStation Manager) OS, a browser-based operating system. This model supports RAID 0, 1, and SHR.
Synology NAS Data Loss/Failure 
Synology NAS uses RAID drives to store data. Therefore, they're subject to failures as RAID levels do and eventual data loss. Having said that, there are some common reasons for data loss from Synology NAS Server. Some of them are listed below:
Incorrect RAID setup
Multiple RAID drive failure
Server Registry Configuration error
Controller malfunction
Accidental data deletion
Corrupt firmware
Damaged PCB (Printed Circuit Board)
Improper shutdown
Abrupt power outage
System Reset
Corrupt database and more
How to recover data from Synology NAS Server?
Irrespective of the reasons behind data loss from the Synology NAS drives, you can still get back your data with the methods shared below.
Restore Data using Backup
Synology offers an integrated backup solution that facilitates you to store your Synology NAS drives data (files, folders, documents, system configurations, etc.) You can set up a schedule for creating a backup or do it manually. Hyper Backup also allows you to back up your Synology NAS device data on a local shared folder, remote servers, file servers, and external storage devices attached to the NAS and public cloud services. So, if you have taken the backup of the Synology NAS server with Hyper Backup, follow the given steps and restore data:
Restore Data/LUN* backup
Go to Hyper Backup and click Restore in the upper-left corner.
Thereafter, choose Data or LUN* and click on the backup task from which you want to retrieve your files.
You will see different options – System Configurations, Different Versions of Backup Data, and more. These options depend on the backup task selected.
If your backup is encrypted, you'd need to enter the password or decryption key to successfully retrieve data.
Follow the wizard instructions and restore the backup restoration.
You can refer to the Hyper Backup Guide to learn more.
Hot-Swap the Failed Drive
This method will work if the NAS is built with RAID 1, 5, 6, 10, or SHR. You can hot-swap the defective drive with a new one and the controller will rebuild the array. However, it may decrease the RAID performance, but your data will remain intact. You can follow the given steps to hot-swap the failed drive in the Synology NAS device:
Open the RAID controller and note down the failed drive from the RAID configuration used in the Synology NAS server.
Shut down your Synology NAS server with the DSM web interface or by using the power button.
Replace the failed drive in the array with a new or spare drive in the array.
Turn on your NAS device, and check the status of your RAID array, whether it's 'Degraded' or 'Rebuilding'.
Initiate the RAID rebuilding process. Once it's successfully rebuilt, you can use backup media to restore data on the newly added drive in the array.
Use RAID Recovery Data Software
In case you're not able to retrieve data from Synology NAS RAID with the above methods, you can opt for the advanced RAID data recovery software, such as Stellar Data Recovery Technician. This DIY (Do-it-yourself) data recovery software can efficiently scan and retrieve files/folders from inaccessible, failed, or broken RAID 0, 5, 6, and hybrid RAID levels, such as RAID 10, 50, and 60 used in NAS servers. The software rebuilds the RAID array virtually and allows Synology NAS recovery. You can follow the given steps:
Download and run Stellar Data Recovery Technician on your system.
Connect the RAID array used in your Synology NAS to your system. (Software supports recovery from the above-discussed RAID levels).
Select All Data on the Select What to Recover screen and then click Next.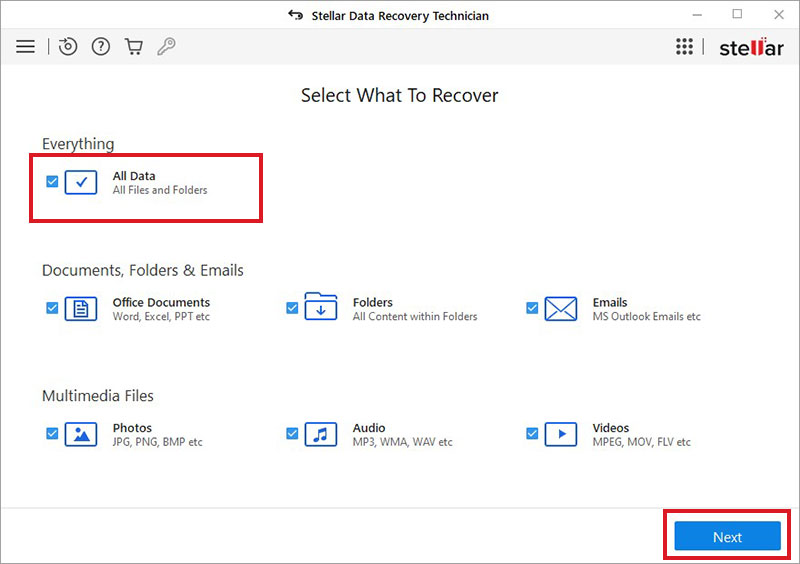 Next, on the 'Recover From' screen, select RAID Recovery and click Scan.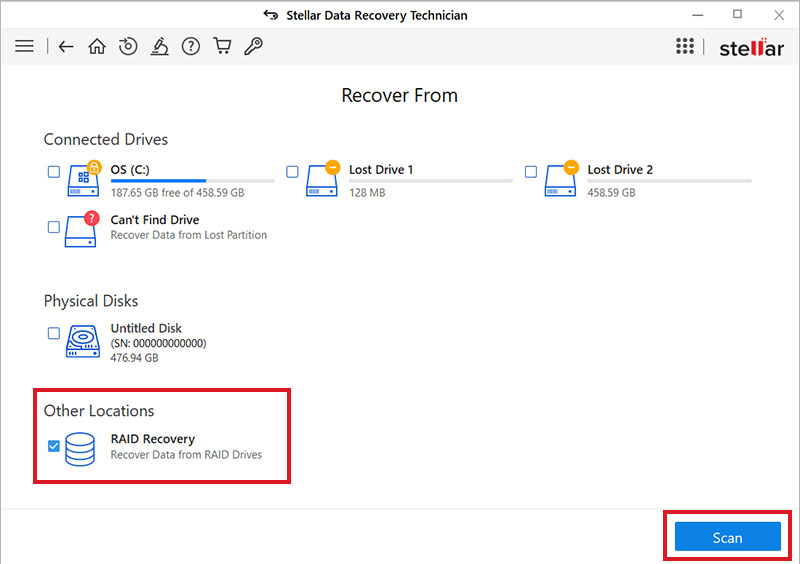 Select the RAID level from the left-top corner and use the arrow buttons on the screen to shift the RAID array members to the 'Move hard drives up/down for disk order' list.
Arrange the disks using up-down arrow buttons in the sequence as they were set in the arrays.
Enter RAID parameters, Parity order or repetition, and other details and click Build RAID. If you're not familiar with the drive parameters, click the 'Don't know the start sector of the drives…' option. Entering the probable details, click Build RAID.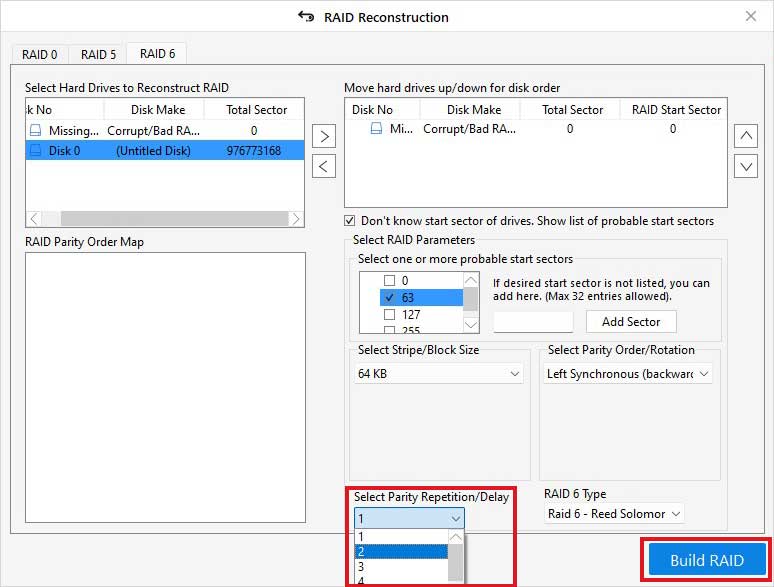 The software will initiate the process of rebuilding RAID virtually. Even if the details are not correctly entered, the software will detect them and reconstruct a probable virtual RAID setup.
Select the rebuilt RAID and click Show Volume List.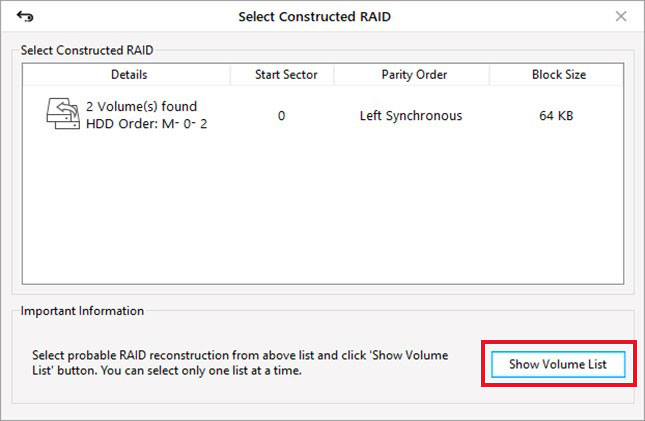 Next, choose the RAID volumes and then click Scan to proceed.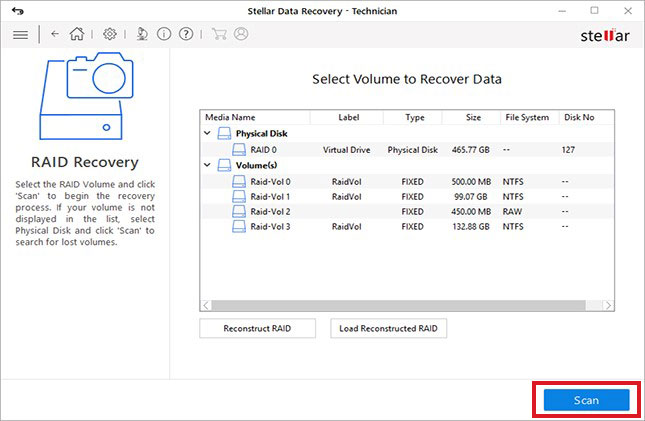 After scanning, preview the files from the scan results and click Recover.
Now, click Browse to choose the desired location. (Always choose the external drive or a different volume as the desired location.)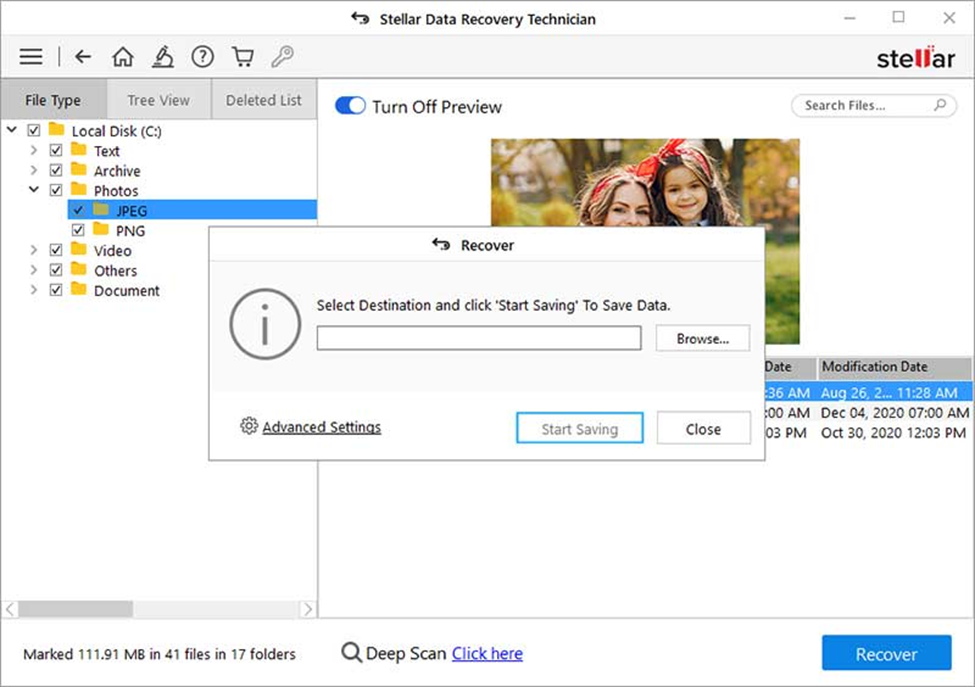 Click Start-Saving to save the recovered files.  The process of saving files to the chosen location will be completed.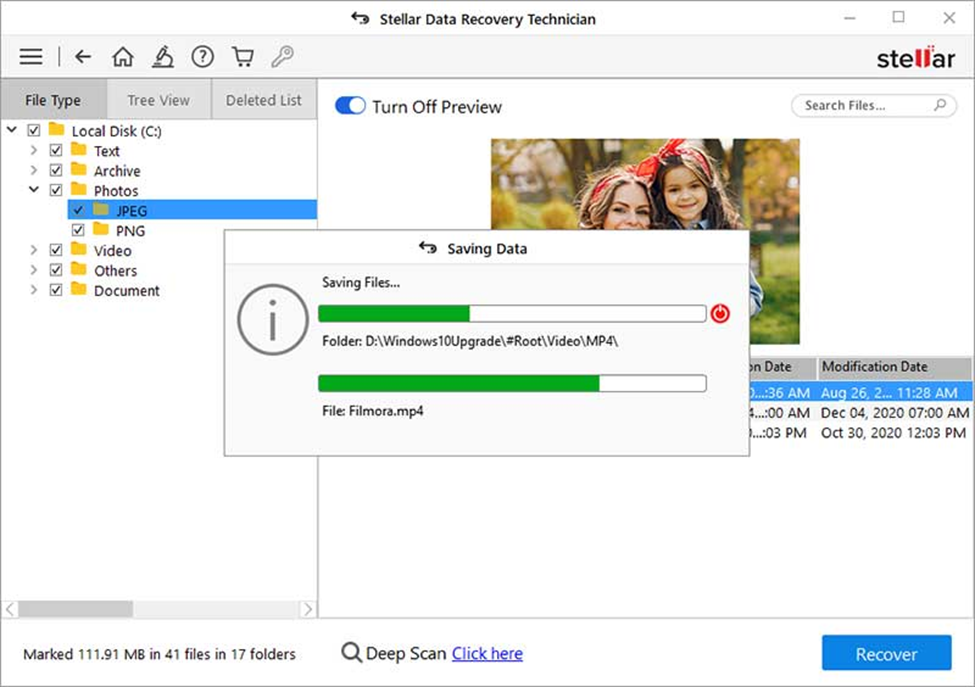 FAQ
1. How long does it take to recover data from a Synology NAS server?
Usually, it may take a few hours to recover data from a Synology NAS server. However, if there will be any interruption or some issues while performing Synology data recovery, it may take up to 1-4 days.
2. Are there any backup solutions recommended for Synology NAS servers?
Synology offers a Hyper Backup option that allows you to back up data that you can easily browse, download, or restore. The copies of your NAS server data along with system configurations and applications are stored at a previous point in time. However, there are other backup solutions available, such as iDrive for Synology, Amazon S3, Wasabi Cloud NAS, etc.
3. What is a 3-2-1 backup with Synology?
When talking about the 3-2-1 backup strategy, it simply means having at least three copies of the same data on-site and off-site using different mediums like cloud platforms, external devices, and more.