Summary: Sometimes, Mac users experience "the macOS installation couldn't be completed" error while installing updates, resulting in the macOS installation not finishing as intended. There are several reasons that may result in this error. In this blog, we'll discuss the reasons behind this error and the possible solutions to fix this error.
"I have been trying to update my macOS to the latest version, but I think I'm stuck in an endless booting loop. As soon as I boot up the Mac, an error pops up saying, "the macOS installation couldn't be completed". This keeps on happening even after booting the Mac again. Is there any way I can get out of this loop and finish the update?"
Updating the Mac operating system is generally a basic and error-free procedure. However, many Mac users have complained about not being able to update their macOS because of various issues. In addition to being an irritating and stressful experience, a failed OS update can mean you missing out on most up-to-date security patches and bug fixes.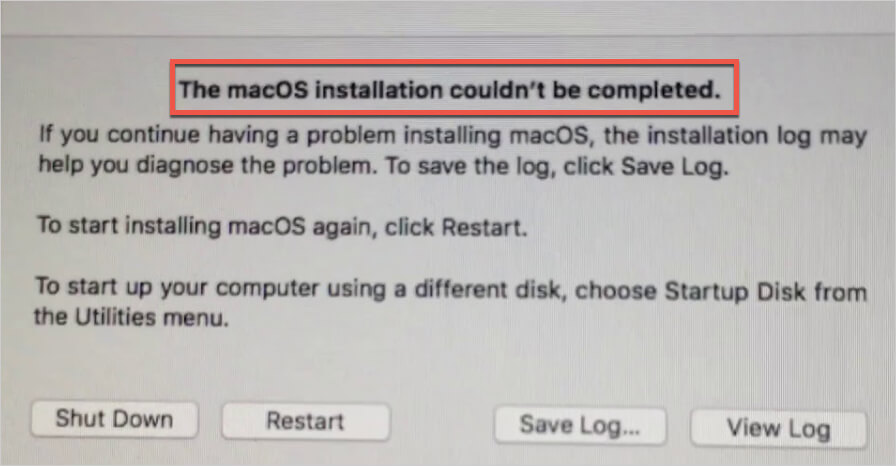 When updating your Mac, if you're receiving an error that says "the macOS installation could not be finished", know that you're not alone. After receiving several user queries and analyzing this error thoroughly, we have come up with a list of solutions that will help you to fix this error. But let's first understand the reasons behind this error.
Why does this Error Occur?
A macOS installation might go wrong for a variety of reasons. Following are the most likely causes of a failed macOS installation:
Regardless of what's causing the macOS installation error, it's pretty simple to fix it on your own. But before we get started with the solutions, analyze the issue in detail by following the steps given below:
Step 1: Switch to Safe Mode on your Mac
Safe Mode prevents certain applications, including the macOS installer, from starting up when the computer is turned on. It allows you to get out of startup loops and prevents harmful programs from operating in the background. To start your Mac in safe mode, follow the below instructions:
Start your Mac and hold down the Shift key during boot up.
Release the key as soon as you see the Apple logo or hear a sound.
As soon as the login screen opens, you should see the Safe Boot icon in the top menu bar.
Learn More: Multiple Ways to Boot your Mac System
Step 2: Create a new Backup with Time Machine
Before installing a macOS update, create a Mac Time Machine backup. OS updates tend to alter your essential system files and directories. If something goes wrong, you can restore your Mac data from the Time Machine backup. Hence, before proceeding, connect an external drive to your Mac and use Time Machine to back up your files.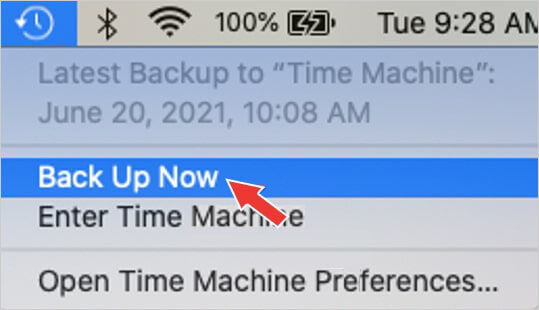 If you forget to take a backup and suffer data loss because of the update, you can use a free Mac data recovery software.
Step 3: Check Mac's Compatibility with the macOS Version
Take a moment to double-check if the latest version of macOS is compatible with your system before proceeding with the troubleshooting solutions. To do this, search for the macOS version you wish to install in the App Store on your Mac (for example, "macOS Catalina"). For accessing the information of the macOS, click on it and scroll down to the Information section. Under this section, find Compatibility. This will indicate whether the software will work on your Mac or not. If it's not compatible, you won't be able to install that macOS version upgrade on your Mac.
What to do if you can't finish your macOS installation?
Use the troubleshooting techniques mentioned below to fix the installation error.
Note: Before proceeding, ensure that you've backed up your Mac data and your system is compatible with the macOS update.
1. Restart your Mac and attempt to install macOS again
Sometimes all you need is to restart your Mac to fix macOS errors.
Go to the Apple menu in the upper left corner of your screen and click on Restart from the dropdown menu. If your Mac is sluggish, press and hold the Power button to perform a forceful shutdown. However, do not do this while the installation is in progress, as it may corrupt operating system files.
Laptop users can press Control and Power button together to bring the below options.

2. Make sure your Mac is set to the correct Time and Date
It might be possible that your Mac's date and time are set wrong. The incorrect time and date may cause problems while trying to connect with Apple's recovery server, which is responsible for providing updates. Hence, this could be a reason for incomplete update installations.
Here's how to correct the date and time:
Go to the System Preferences and then navigate to Date & Time.
Click the Padlock. When prompted, enter your administrator password.
After this, choose the Set date and time automatically option to correct the date and time.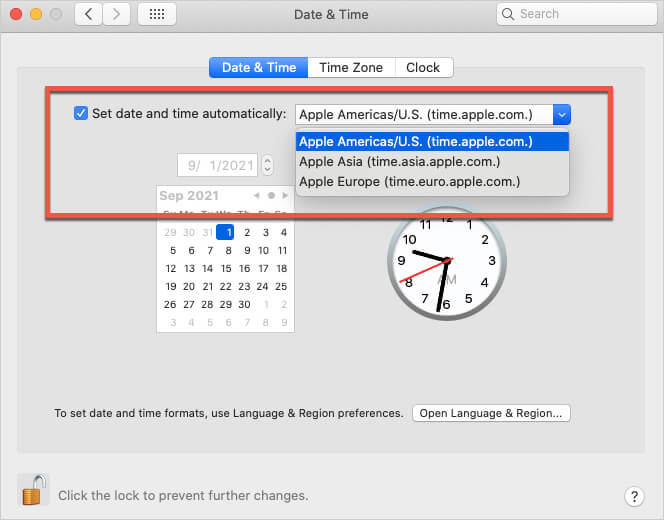 3. Make sure there's enough Space on your Startup Drive
On a standard Mac, a macOS installer takes up about 4 to 5 GB of space. However, your machine will require roughly 20 GB of free storage to perform a macOS installation. This is due to the fact that the macOS installer requires additional space to unpack files and directories. The installer won't be able to finish the installation on your Mac without the additional free space.
To see how much free space your Mac has, go to the Apple menu and select About This Mac -> Storage.

Also Read: Best Mac disk cleaner software online
4. Get a new copy of the macOS Installer
If you're facing the error repeatedly, your macOS installer may have become corrupted. It's a good idea to put that installer in the trash and replace it with a new one. We recommend that you download it from Apple's support page. This will ensure that you get the full combination of the installer instead of getting a smaller version through System Preferences or the App Store.
5. Reset the PRAM and NVRAM settings
PRAM and NVRAM both refer to non-volatile RAM, which are basically memory or storage that cannot be altered. They store a variety of information and preferences, including display settings, sound volume, screen resolution, etc. There could be errors in your PRAM or NVRAM that are hindering the macOS installation. Nevertheless, resetting these settings without destroying your personal data is very simple, as shown in the following steps.
Restart your Mac and hold the Option + Command + P + R keys simultaneously.
Continue to hold all of these keys until you see a second Apple logo or hear a second starting sound. By this time, the reset would be complete.
6. Perform First-aid procedure on your startup disk
You may also get "the macOS installation can't be completed" error message due to disk permission or fragmentation errors in your startup disk.
The Disk Utility tool, which comes pre-installed on macOS, can easily rectify most of these issues. Here's how you can access and utilize the First Aid tool:
To launch Disk Utility, go to Applications -> Utilities -> Disk Utility.
Once it starts, from the sidebar select your Mac's startup drive (labeled as "Macintosh HD") and then click on First Aid on the top menu.
After you run First Aid, Disk Utility will check your disk for any faults and find suitable repair options. Thereafter, it will repair the majority of these issues.
Watch Video
7. Reinstall macOS in Recovery Mode
If the update is still failing to install, you may need to reinstall the entire OS. You may do this on your Mac by entering into the Recovery Mode.
Follow these steps:
Restart Mac and press and hold the Option + Command + R keys simultaneously.
Release the keys as soon as you see an Apple logo or hear the startup sound.
After this, install the most recent version of macOS by clicking on the Reinstall macOS option.
8. Erase your macOS startup drive
The final step for fixing any software issue is to format the startup disk and reinstall macOS from the beginning. You can then retrieve all your data from Time Machine backup after installing a new version of macOS on your machine.
Here's how to erase the startup drive on a Mac:
Go to the Applications folder, look for the Disk Utility software and launch it.
Select the startup drive and then choose Erase from the top menu.
When prompted, click the Erase option to continue.
Now you can install the updated version of macOS for a fresh start.
If you have lost any significant data after following any of the above steps, you can leverage Stellar Data Recovery software to perform a hassle-free data recovery on Mac. The tool can help you recover images, docs, videos, mails, and other items from your Mac in a few simple steps.
Conclusion
There are various factors that may lead to the macOS installation couldn't be completed error. You can follow the solutions mentioned above to resolve the issue. If nothing works, you'll have to erase and reinstall macOS on the startup drive. You can use the Time Machine backup to recover your data later. However, if you don't have a backup and your data gets erased, you can use a trusted data recovery tool, such as Stellar Data Recovery for Mac to restore lost files.