Summary: This blog shares the solutions to 13 most common video complaints including 'videos not playing after recovery on Windows', 'videos not playing on Android, YouTube or Facebook', 'missing sound' and 'black screen'. Also, learn how Stellar Repair for Video can fix all kinds of video corruption and other related issues.
Q. "I was able to recover my videos from a USB flash drive using a recovery software but now some of my recovered video files are not playing. The error – "Windows Media Player encountered a problem while playing the file" appears when I try to open them. Please help."
Answer. Even though you have successfully recovered deleted videos using a data recovery software, your videos are not playing probably due to some damage done during the recovery process. You have two choices, either try a manual hack such as opening in another media player, or else if not successful, opt for a professional video repair tool.
Why are your videos not playing after recovery?
Generally, incomplete data recovery due to loss of internet connection or sudden power outage during the recovery process can lead to video corruption. There is also a possibility that your video was already corrupt in the media storage before recovery. Usually, data recovery tools do not repair videos. They recover lost or deleted videos in the same form as they are present in the storage media.
Last but not the least, if you have not used a trusted and 100% safe data recovery software, it can harm all recoverable files. You can try retrieving your videos using a different but secure application, such as Stellar Photo Recovery to avoid any video corruption, this time. Video corruption can damage header, sound, or frames of video files due to which some of your videos don't play even after recovery.
'Recovered video files not playing' is a common problem discussed in most of the forums. There are other video issues as well that are quite frequent such as 'videos not playing on Windows PC or Mac', 'videos won't play on Android phone, YouTube or Facebook', etc..
Here we are going to address 13 other such video complaints that are shared by our readers time and again.
Solved: 13 Common Video problems
Solutions to common 'video not playing' problems
Q1. How to fix iOS video not playing on Windows?
Answer. Often, after being transferred from iPhone or iPad to a Windows PC, the videos don't play. It is mainly due to absence of supporting codecs. Sometimes it could be because of file corruption or improper iOS video file transfer to PC. You can do the following to play iPhone videos on Windows:
Update Windows Media Player.
Play iPhone video on another media player like VLC Player.
Convert iPhone video file format to MP4, MOV, AVI, etc.
If these don't help, your file is corrupt. Get a video repair software that can repair iPhone videos.
Q 2: Video files in SD card with.MOV extension do not open in either Windows Media player or QuickTime player.
Answer: If the file size looks correct (or unchanged), your video is still intact. Try to repair your MOV video files using VLC. VLC Media Player is capable of repairing corrupt MOV/MP4 videos. If your VLC Player asks to repair corrupt video, click 'Yes' and follow the below steps:
Go to Media.
Select Convert/Save.
Click Add and select the video to be repaired.
Click Convert/Save.
Under Settingsin Convert window, select the preferred codec.
Click Edit Selected Profile to edit a specified profile.
Click Start.
If VLC Player video repair doesn't work, go for a professional video repair software.
Q 3: Videos don't play on Windows 10 computer. How to fix this?
Answer: Try the below methods to fix videos not playing on Windows problem:
Check if your system is well-equipped to play videos, for instance, higher resolution H.265 videos require stronger processor and graphics card.
Check if your driver is updated; if not, install the latest video and sound drivers.
Try playing your videos on another media player.
Decrease the video size and resolution.
Q 4: Videos either stop playing in between or turn into a black screen.
Answer: Switch to another media player or install a codec pack on your system. Codec packs contain codecs for different types of video formats enabling your system to play all file formats on any media player whether Winamp, VLC, Windows Media Player, or other program. If the problem doesn't resolve with this method as well, go for a video repair tool, as the file is probably corrupt.
Q 5: Why sound in video drops after playing for some time?
Answer: This is due to video file corruption. There is no manual way to resolve sound issues in your recovered video. You can use a video repair tool specially designed to repair various video corruptions like damage in the sound section of video files. Stellar Repair for Video is one such software that fixes out-of-sync or missing sound in videos.
Q 6. I can't play recovered MP4 files on Windows 10. What to do?
When recovered video files won't play on Windows 10, there is high probability the file is corrupt. Download Stellar Repair for Video to fix corruption in the file header, video movement, sound, etc. Before attempting MP4 video file repair, try by playing the video in different media players, it can also be a format or codec compatibility issue also.
Q 7. Embedded videos not playing in Google Chrome.
Answer. Video do not play in Chrome due to many reasons. But you can easily fix Chrome videos not playing issue. Use a high speed internet connection and the latest Chrome browser version. Sometimes cached data, cookies and temp files of your browsing history may affect smooth video playback in Chrome. So clear them via Settings on your Chrome. Disable plugins, if any. If you have installed AdBlock, remove it as well. AdBlock, although prevents online ads, but often doesn't let the web videos load properly.
Q 8. Why videos are not playing in mobile?
Answer. Fix video not playing on Android phone by clearing the cache or temp files on your device. Try reboot and update of Android device. If you have installed any app recently after which the video playback issue came up, then check by uninstalling the app. However, if the video file is corrupt, none of the methods will work. You would need a video repair software to fix video file corruptions.
Q 9. How to fix HTML5 video error appearing in YouTube, Facebook or other web video content?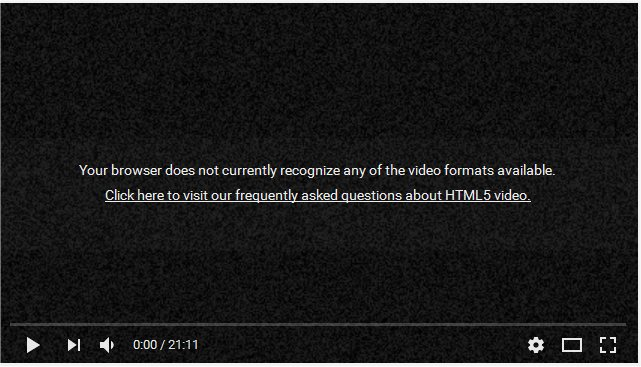 The error 'HTML5 video not found' can occur while playing web videos, when your browser doesn't support HTML5 coding. HTML5 is the advanced version of HTML coding used by web developers. To fix HTML5 video not playing in Chrome or any other browser, update your browser, remove cookies and cache files, or toggle hardware acceleration in your browser. To know more read: How to solve the HTML5 Video 'File Not Found' error.
Q 10: Videos are severely corrupt and cannot play at all.
Answer: There are no manual methods available for severely corrupt or damaged videos. Only a trusted third-party tool such as Stellar Repair for Video can fix this problem by safely repairing your damaged videos.
Q 11. Facebook videos won't play on computer. How to fix this?
Answer. When you have trouble in playing Facebook videos or have buffering issue do the following:
Restart both your browser and computer.
Update your Chrome, Mozilla or whichever browse you are using to access Facebook.
Check if your internet speed is fast enough. Reconnect to your Wi-Fi or use a different Internet connection.
If Facebook videos are not playing on Android app, try by uninstalling and then reinstalling the app.
If you still have Facebook video playing problem, then report it to Facebook.
Q 12. How to fix YouTube videos not playing on Android?
Answer. Android users often report that YouTube videos buffer endlessly, won't load or throw errors like 'There was a problem while playing' etc. To fix YouTube not playing on phone, do these things listed below:
Update your Android phone.
Ensure that your Wi-Fi or mobile data has fast & uninterrupted Internet speed.
Clear cache and data of the YouTube app through settings.
Check and set Date and Time of your Android phone correctly.
Factory reset your phone.
Q 13. How can a video repair tool help in playing videos smoothly?
Answer. A video repair tool, which is secure and safe such as Stellar Repair for Video can repair all types of damaged and corrupt videos recovered from any data recovery software or corrupted because of improper file transfer, virus infection, corrupt storage drive, etc. The repair software has advanced algorithms that can fix video header, frames, sound section, movement of videos, and video slider.
Conclusion
Most of the time video playback issues are related to incompatible format, codecs, and not updated browser or device. Manual hacks are not available to most of the corrupt or damaged video problems. Stellar Repair for Video is an amazing tool to repair corrupt videos not playing on Mac, PC or phone.
Try the free Demo version of Stellar Repair for Video to evaluate the performance of the software.