Quick Method to Successfully Migrate GroupWise Mailboxes to MS Outlook
There are several reasons to prefer Microsoft Outlook over Novell GroupWise. However, migrating mailboxes from GroupWise to Outlook is not very straightforward, and thus, users need specially designed tools to perform the export. Stellar Converter for GroupWise is ideal for performing such an export.
Novell GroupWise is a highly reliable, efficient, secure and easy to administer email client. While most organizations prefer Microsoft Outlook for their sending and receiving email operations, there are quite a few of those who rely on Novell GroupWise. Organizations that are already using Novell GroupWise also fear the cost of migration to Microsoft Outlook. And if you get almost the same features from both applications, why wouldn't they prefer sticking to the one that they are already familiar with. While that is true, there are a few organizations that are readily accepting the change and changing the face of their email client from Novell GroupWise to Microsoft Outlook. What is prompting these organizations to accomplish this change?
Reasons behind GroupWise migration to Outlook
Costs involved: The installation and maintenance costs of GroupWise are way higher as compared to Outlook. It is one of the most expensive applications to maintain. Outlook, on the other hand, comes in the Microsoft Office Suite bundle; meaning that at the cost of Microsoft Office, you get applications like Word, Excel, and even Outlook without having to pay any extra money.
Ease of Accessibility: GroupWise is tightly coupled to its environment and that makes it difficult to access it from different devices. This is in stark contrast to Microsoft Outlook which can operate as a standalone application. It can be accessed from any device, including your laptop, tablet, or Smartphone. As long as you have an Outlook account and an internet connection, you are good to go.
User-friendliness: To say that GroupWise has a learning curve attached to it would be an understatement. Getting the hang of the application can be quite difficult for any technical newbie. This is not the case with Microsoft Outlook. It's intuitiveness and easy interface make you feel at home in a couple of minutes of using it. The labels are self-explanatory and every action can be performed with ease.
If you're among the organizations who agree with the above-mentioned benefits of using Outlook, you've probably already planned for the migration and involved challenges. Well, we've got good news for you. Now you can achieve GroupWise migration to Outlook in an extremely easy and affordable way. Read on to find out how.
Export GroupWise to Outlook the Easy Way
The easiest and most efficient way to convert GroupWise to Outlook is through Stellar Converter for GroupWise. This professional tool enables you to export all emails, attachments, address book contacts, documents, calendars, and other folders in GroupWise mailboxes to Outlook Personal Folders (PST) files. The resultant PST files can then be directly imported into Outlook to access all GroupWise data in Outlook.
Here's a quick look at the software's impressive features:
Allows saving converted mailboxes as PST, MSG, EML, RTF, PDF & HTML files
Converts GroupWise address Book, messages, contacts, attachments, discussion notes, document references, etc.
Enables users to preview GroupWise mailbox items before conversion
Works with GroupWise 2018, 2014, 2012, 8.0, 7.0, 6.5, and 6.0
Allows Multi-Mode File Conversion (Online/Remote/ Cache/ Archive)
Technician version facilitates saving converted files to other formats such as Office 365, Existing PST and Outlook Profile.
Technician Version also coverts multiple mailboxes simultaneously through batch process.
Gives users the option to view and save log report of the conversion process
Equipped with an interactive GUI which makes working with it very simple
As if the above-mentioned features weren't enough, the free demo version of the software allows you to save the converted mailbox as a PST file and even offers limited preview functionality. Although to preview the entire converted mailbox, you need to register the product, if you don't need the detailed preview, you can use this product for free.
Download the demo version from:

Install it and then launch the software. Thereafter, follow the below-mentioned steps to perform the conversion:
The home screen of the software provides the option to convert single or multiple GroupWise mailboxes to MS Outlook PST File. You must fill 'GroupWise Server Information' credentials.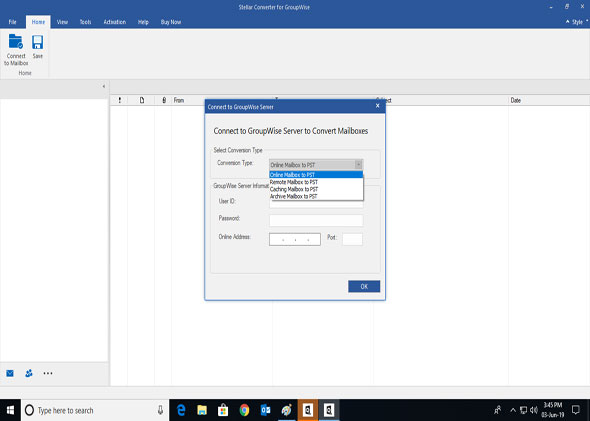 The next screen shows scan progress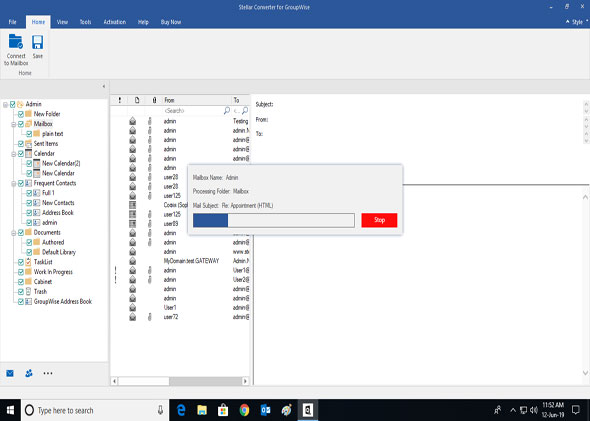 Once scan is completed, you can preview mailbox components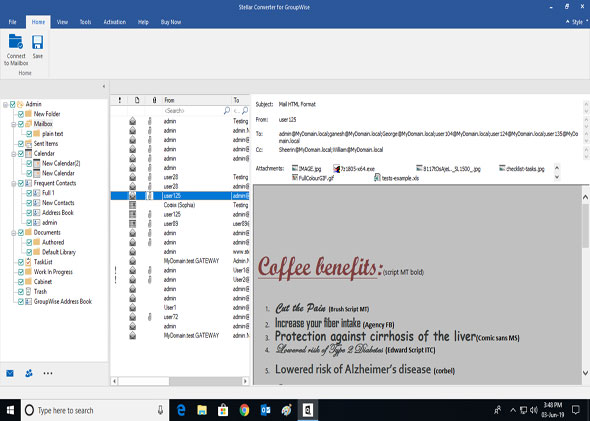 Finally, you have the option to save the GroupWise Mailbox as a PST, MSG or EML file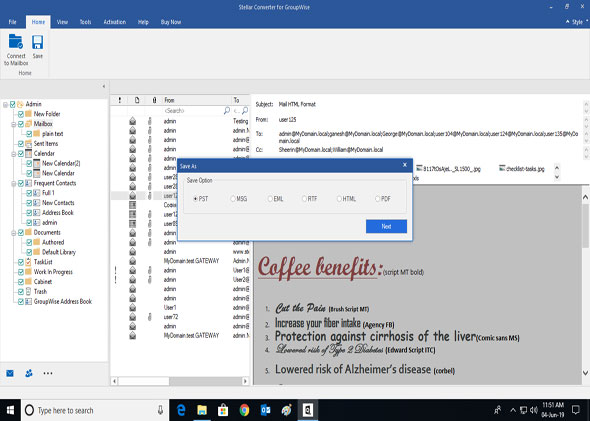 Final Words
Exactly why your organization wishes to switch from GroupWise to Outlook depends upon requirement, but if you do, using the reliable Stellar Converter for GroupWise would be your best bet.