Summary: This post shares the 10 best free video editing software that you can count on if you are a beginner, YouTuber, video marketing professional, or just a video enthusiast. It includes the best video editing software such as Stellar Converter for Audio Video that can edit videos in any format.
You don't need a pro editing tool for every video to make it great. Amazing videos can be created even with the help of free video editing software.
But with the myriad choices available, it can be a tough pick. Remember, the best video editing tool is the one that meets your requirements. And most importantly, it should be simple and easy-to-use.
In this article, we have shared the best 10 free video editing software with their overview. And, how these software can meet your individual needs — brand video marketing, social media videos, YouTube videos, vlogs, college projects, and more.
Best Free Video Editing Software – Top 10
Stellar Converter for Audio Video
iMovie
Lightworks
Lumen5
VideoStudio Ultimate
OpenShot
Blender
HitFilm Express
VSDC
ShotCut
1. Stellar Converter for Audio Video
Support: Windows and Mac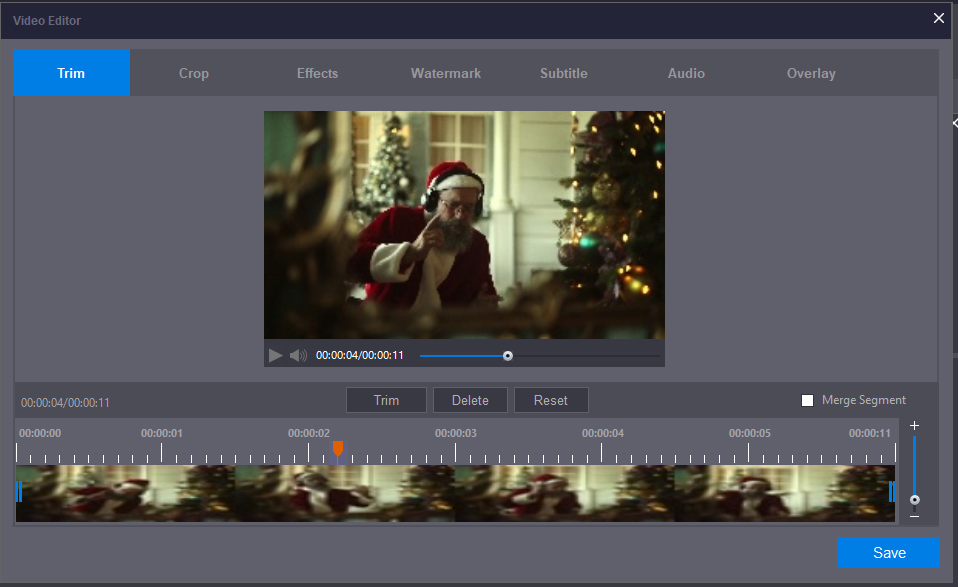 Apart from being an excellent Audio Video converter, Stellar Converter for Audio Video also features editing tools at par with a professional video editor. Packed with useful editing features, it can trim, crop, merge, add multiple effects, rotate, add watermark, and do a lot more with a video.
It has options to change resolution, frame rate, color settings, brightness, sound settings, effects, etc., to enhance videos.
The software lets you delete unwanted parts in the visual and focus on the desired view. You can also add new or replace existing audio tracks in the videos.
Stellar Video Editor is an excellent pick for those who want to edit videos to share on YouTube, Facebook, Instagram, Tumblr, Reddit, etc. It lets you add overlay text or images on videos, English language subtitles, and watermarks to give a personal touch to your video.
The software can edit videos from almost all cameras and lets you convert video and audio files to different file formats as per your device, be it Smart TV, Android phone, iPhone, and others.
Pros
Supports 4K HD and 360° videos
Works with popular video formats
Adds new or replace audio in videos
Provides overlay option for Video or GIFs
Adds subtitles
Offers Free trial
Cons
Social media presets absent
No voice over recording option
2. iMovie
Support: Mac and iOS devices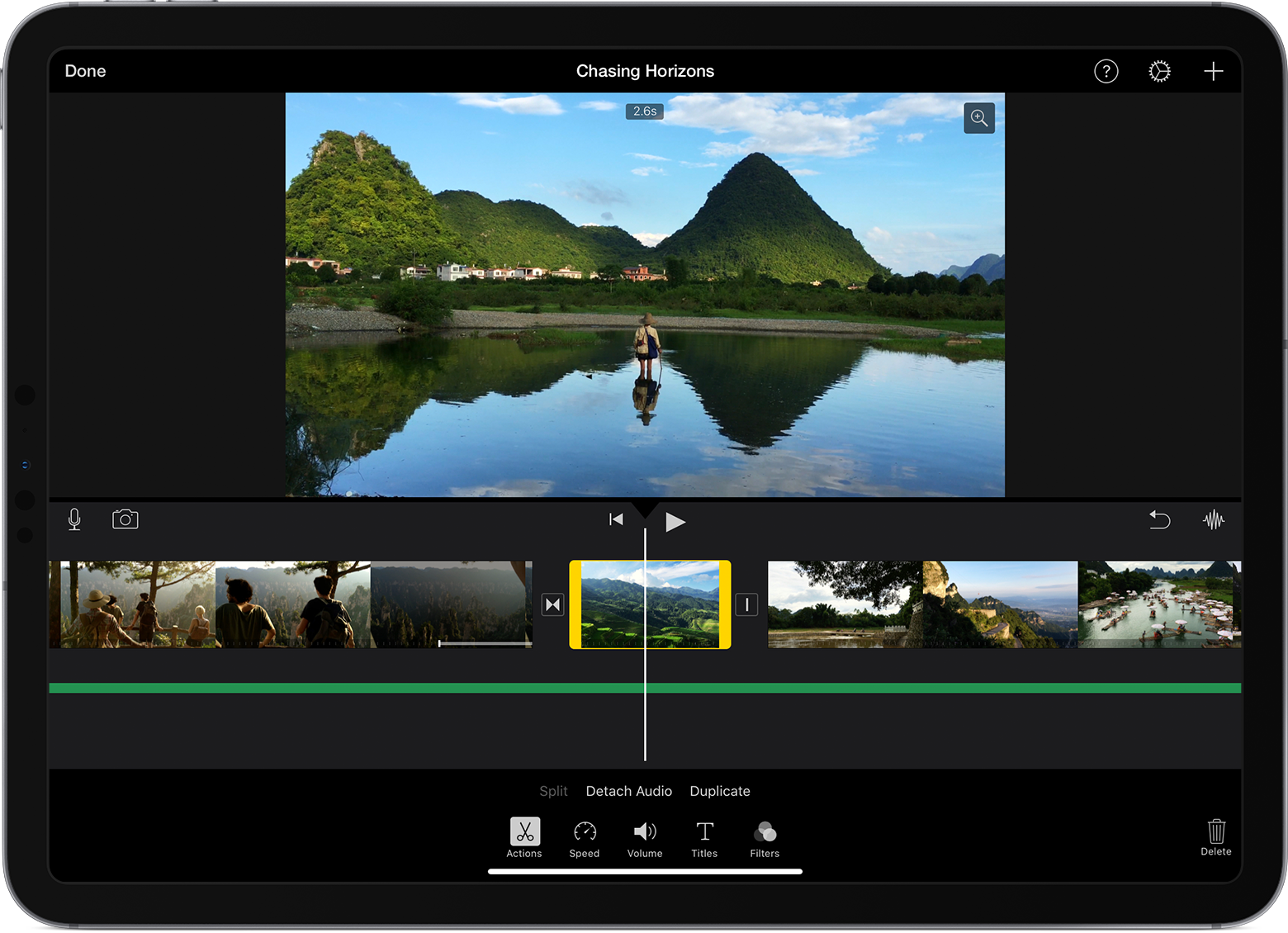 When it comes to free video editing software, iMovie is an impressive tool designed only for Mac, iPad, and iPhone users. It supports HEVC, 4K, 1080p HD videos at 60 fps.
You can edit, trim, and merge videos and add transitions, filters, titles, effects, audio, or music to them. You can also fast-forward a video or play it in slow-motion effects. It offers 48 different video and audio effects and 29 trailer templates.
It allows you to use AirDrop to transfer your video project from iPhone or iPad to Mac.
Not ideal for professionals, but beginners and enthusiasts can do a lot more with this easy-to-use video editing software.
Pros
Supports 4K, 1080p, and HEVC videos
Provides a green-screen or chroma-key tool
Includes Several filters, animations, effects, and trailer templates
Easy-to-use
Option to add voice over
Cons
Multi-cam capability absent
Doesn't support 360-degree video
Windows support absent
3. Lightworks
Support: Windows, Mac, and Linux.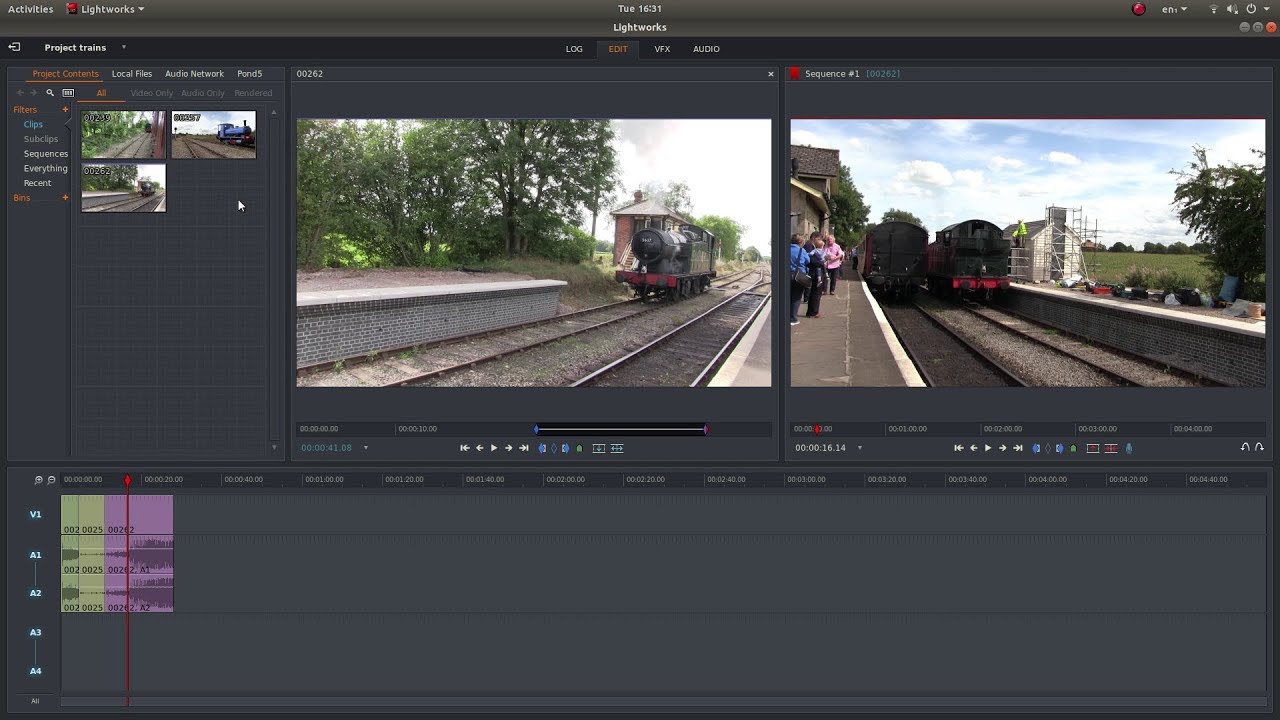 Lightworks is another free video editor that offers timeline editing, trimming, merging, real-time effects, and color correction features. The software supports MPEG4 H.264 video format.
Lightworks is a non-linear editing application that lets you edit any random video clip of your project instead of following a set order.
The editor has preset profiles to export a video project in the right format automatically for the specified social media site. You can also directly upload your edited videos set at 720p resolution to YouTube or Vimeo.
The developer offers several video tutorials for a quick start. The free version has limited features and excludes 4K support, 3D, timeline rendering, and project sharing.
User-interface is intimidating. It may take some time for beginners to get used to it. Video editing features like split, overlay, etc. are not available in the free version.
Pros
Non-linear editing
Supports a wide range of import formats
Exports video directly to YouTube or Vimeo
Cons
GUI is not user-friendly
4K support absent in free version
4. Lumen5
Support: Online video editing software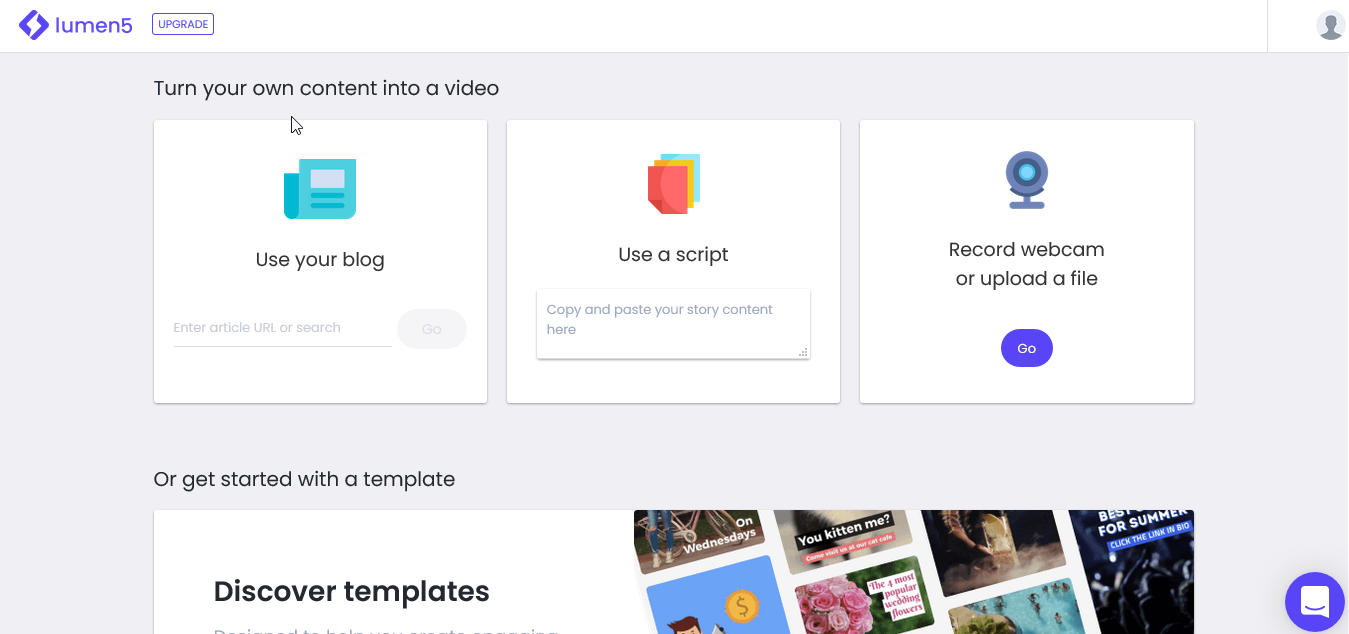 Lumen5 is a smart AI-powered online video editing program. It's best for those who want to create engaging videos for social media platforms.
You can trim, crop, add audio, and text overlay to your videos. The free video editing tool has presets for Facebook, YouTube, Twitter, Pinterest, etc. that automatically sets the resolution as per the platform.
Not only can you edit the videos but also create fresh videos by just entering the text or URL of your blog. The advanced algorithms of the program interpret the text and convert it to a video using the most related images from its library. Further, you can add a logo, music, or other audio to it.
Brands find Lumen5 handy to quickly design marketing videos due to its vast media library of themes, colors, fonts, photos, and audios.
However, this intelligent online tool doesn't have audio editing features, and most of the customization options are available in the paid version.
Pros
Trim and crop videos
Text overlay
Can export in 720p resolution
Social media sharing presets
Cons
No advance video editing options
Limited features in the free version
Edits 5 videos per month in free version
5. VideoStudio Ultimate
Support: Windows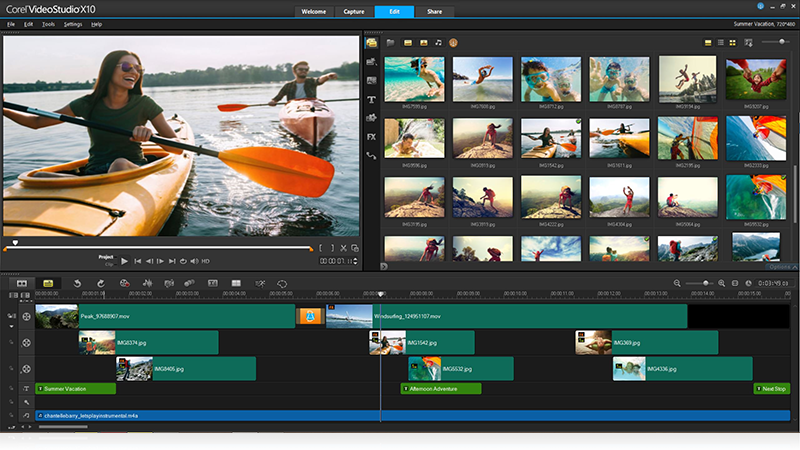 VideoStudio Ultimate software by Corel is apt for beginners and video buffs.
You can crop, trim, rotate, split, merge, rotate, zoom, add text overlay, and apply color grading controls, customizable filters, Chroma key (green screen), and effects.
It removes fisheye distortion and fixes shaky videos using a video stabilization feature.
The time remapping feature helps in creating slow-motion videos, high-speed effects, freeze frames, and reverse/ replay scenes. You can directly upload the edited videos to Facebook, YouTube, Flickr, and Vimeo.
VideoStudio Ultimate offers support for 4K, HD, and 360° video editing.
Free trial with limited features is available for 30 days.
Pros
Multiple video editing features
Social media sharing presets
Exports video to social media
Supports 360° videos
Cons
GUI not intuitive
Limited features in the free trial
Mac support absent
6. OpenShot
Support: Windows, Mac, and Linux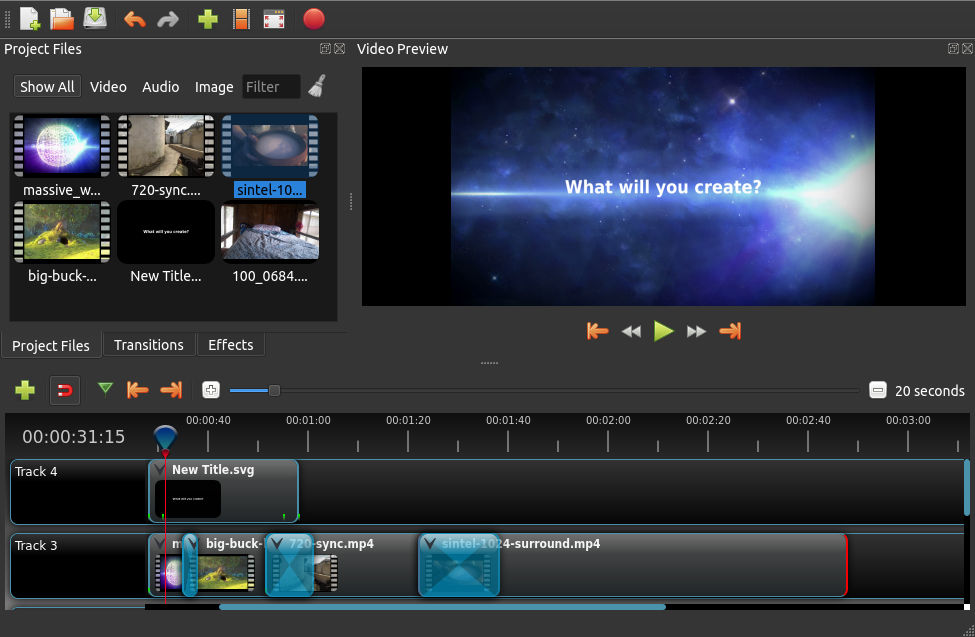 OpenShot is an open-source video editing software for beginners and is suitable for basic video editing. This free video editor has an intuitive user interface. You can easily drag and drop the videos, images, and audio files into OpenShot and trim, snap, rotate, resize, scale, add audio, or even animate your videos.
What makes OpenShot convenient is the multiple options to apply video effects, transition, and animated title cards.
Audio editing and time mapping for creating slow motion or fast forward effects are other attractive features of OpenShot.
However, you may face slow export or rendering while processing large size videos.
Pros
Completely free video editor
4K video support present
Multiple presets for effects, transitions, titles, and animations
Allows adding unlimited layers to videos.
Cons
Slow video rendering
Video export to social media absent
7. Blender
Support: Windows, Mac, and Linux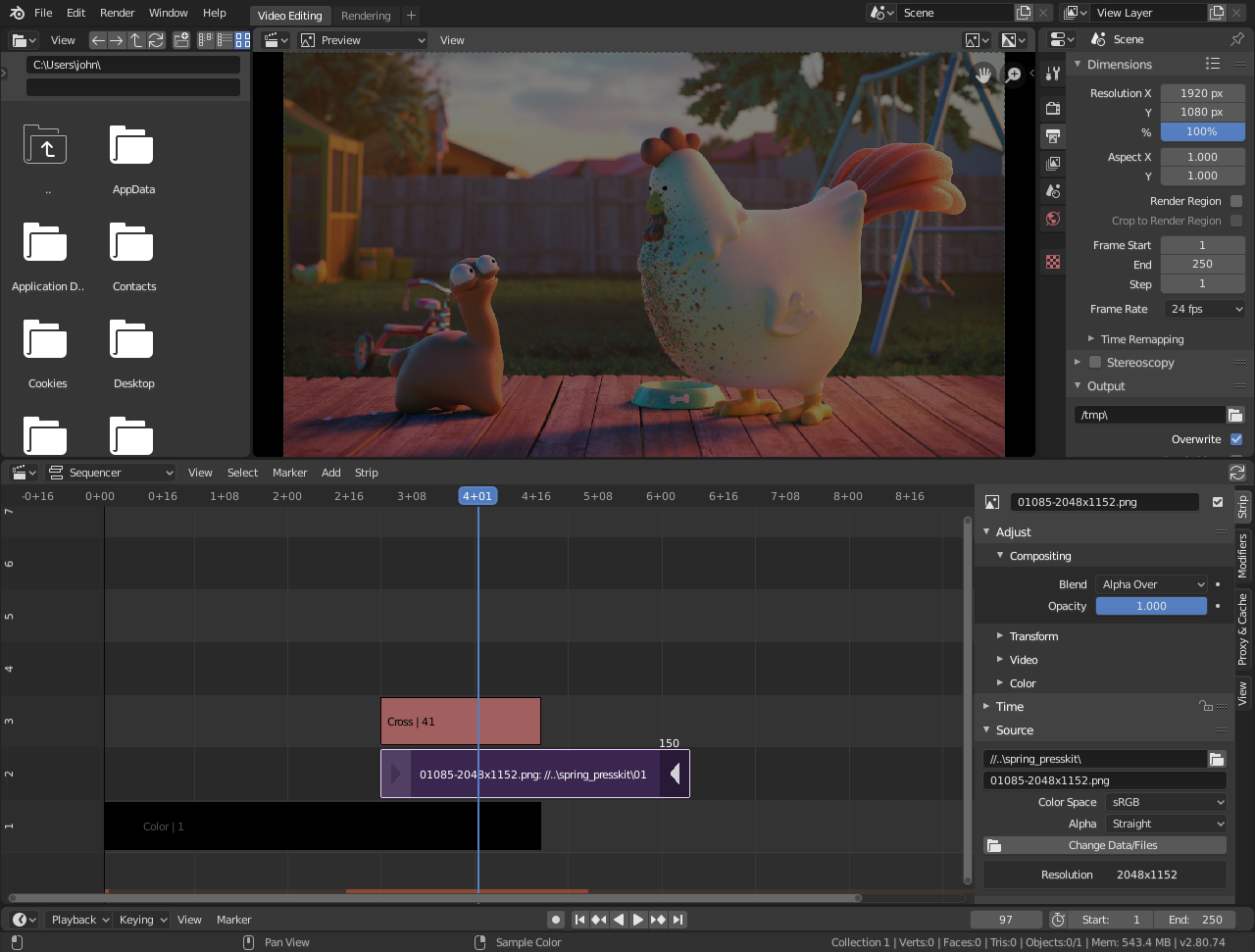 Blender is an open-source software, best known for creating 3D videos of games and movies. But it can also perform basic video editing. Like other video editors, you can cut, color grade, add effects, filters, text overlay, delete/ paste strips, snap, and do a lot more with Blender.
It lets you edit audio. You can add/ remove audio from video, or change the audio speed. The tool includes video slow down or speed up feature as well.
Plus, Blender is the best free video editor to create 3D videos. Professionals can use its 3D creation suite that offers 3D pipeline modeling, sculpting, compositing, simulation, rigging, motion tracking, 2D animation, and more.
Unlike many free video editing software, Blender can render high-resolution videos without slowing down the program.
Pros
Creates 3D-animated projects
Audio mixing and edit
Cons
GUI is not user-friendly
Social media export options absent
8. HitFilm Express
Support: Windows and Mac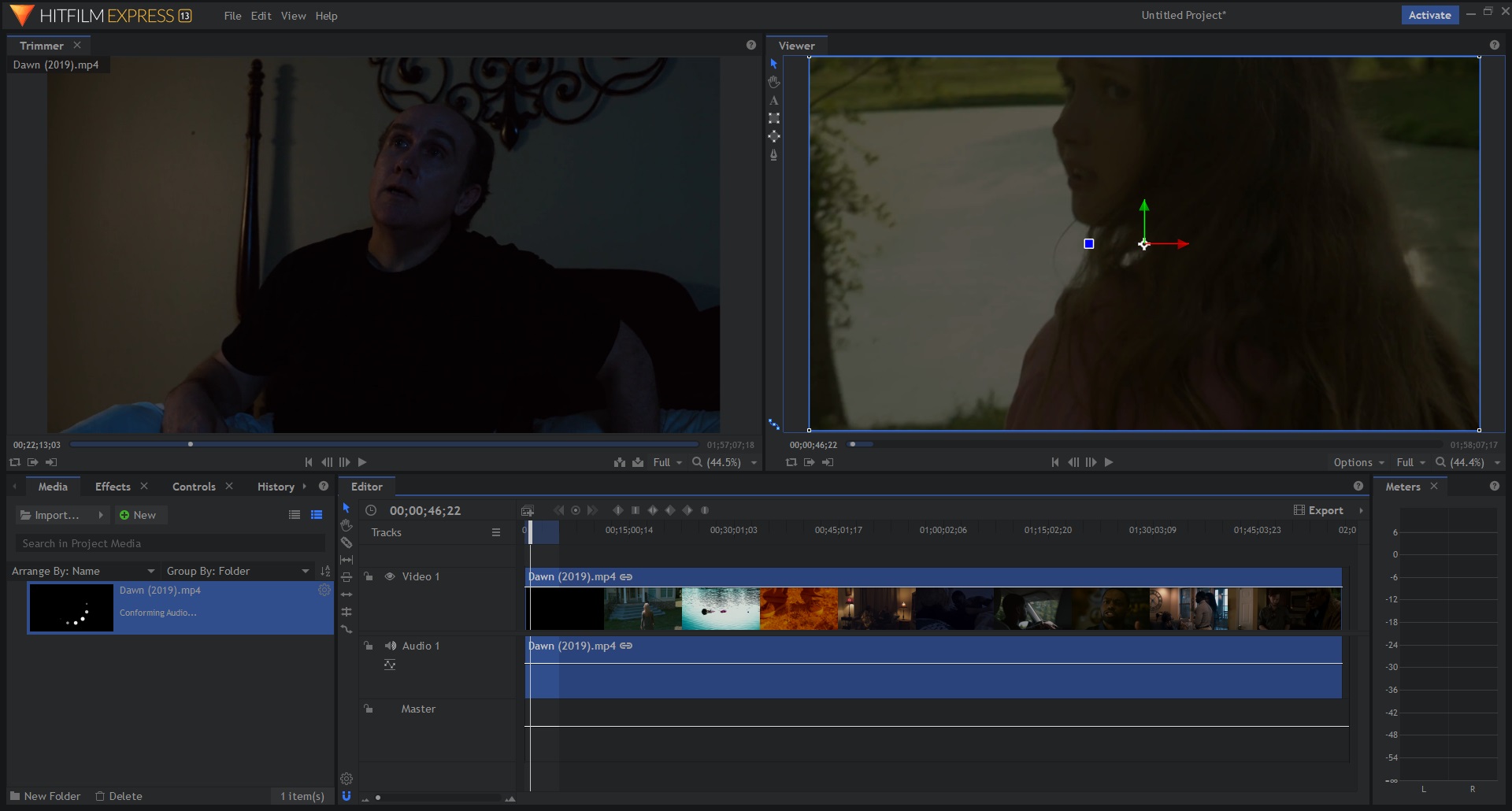 HitFilm Express has all the necessary editing features like trim, cut, and merge, etc., along with 2D and 3D compositing, masking, over 400 effects, and unlimited tracks and transition options.
Beginners, film making students, gamers, and YouTubers may like it more for the VFX tools that can create awesome videos for free. You can add animated text, effects, or other layers to videos.
HitFilm Express can also fine-tune the audio in your videos. It lets you set keyframe volume, add sound effects, and modify tracks using Audio Mixer.
The free video editor offers slow motion, titles transitions, and a quick export to Facebook or YouTube.
Pros
4K and 360° videos support
VFX tools
Audio mixer
Free version doesn't watermark videos
Cons
Interface too bright
Allows limited transitions
9. VSDC
Support: Windows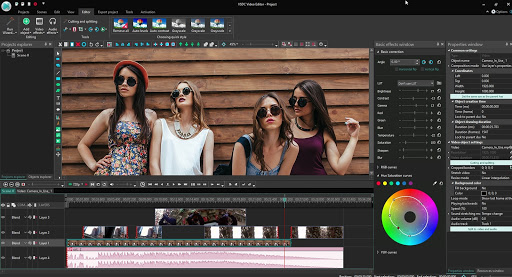 Like Lightworks, VSDC follows a non-linear video editing method. You can edit and add layers to any segment of the project anytime.
The latest VSDC version processes video files in the storyboard mode. The free edition has basic features like trim, merge, audio and visual effects, filters, and add audio to videos.  
VSDC offers multiple video effects, color correction, object transformation, and video filters. You can combine the built-in effects and filters to create your own effects. Mask tool and Chroma key (green screen video effect) in the free version give a professional touch to your videos.
You can also apply audio effects and filters such as equalizer, sound normalization, volume correction, echo, reverberation, etc.
Unlike many other free video editing tools, VSDC doesn't export videos with watermark. It makes video export to Facebook, YouTube, Instagram, Vimeo, and Twitter easy with preset export profiles.
Pros
4K and HD support
Free version has no trial period
Exports videos without watermark
Social media export present
Creates 3D diagrams and charts
Cons
Multicolor Chroma Key absent
Video stabilization absent
Mac support absent
10. Shotcut
Support: Windows, Mac, and Linux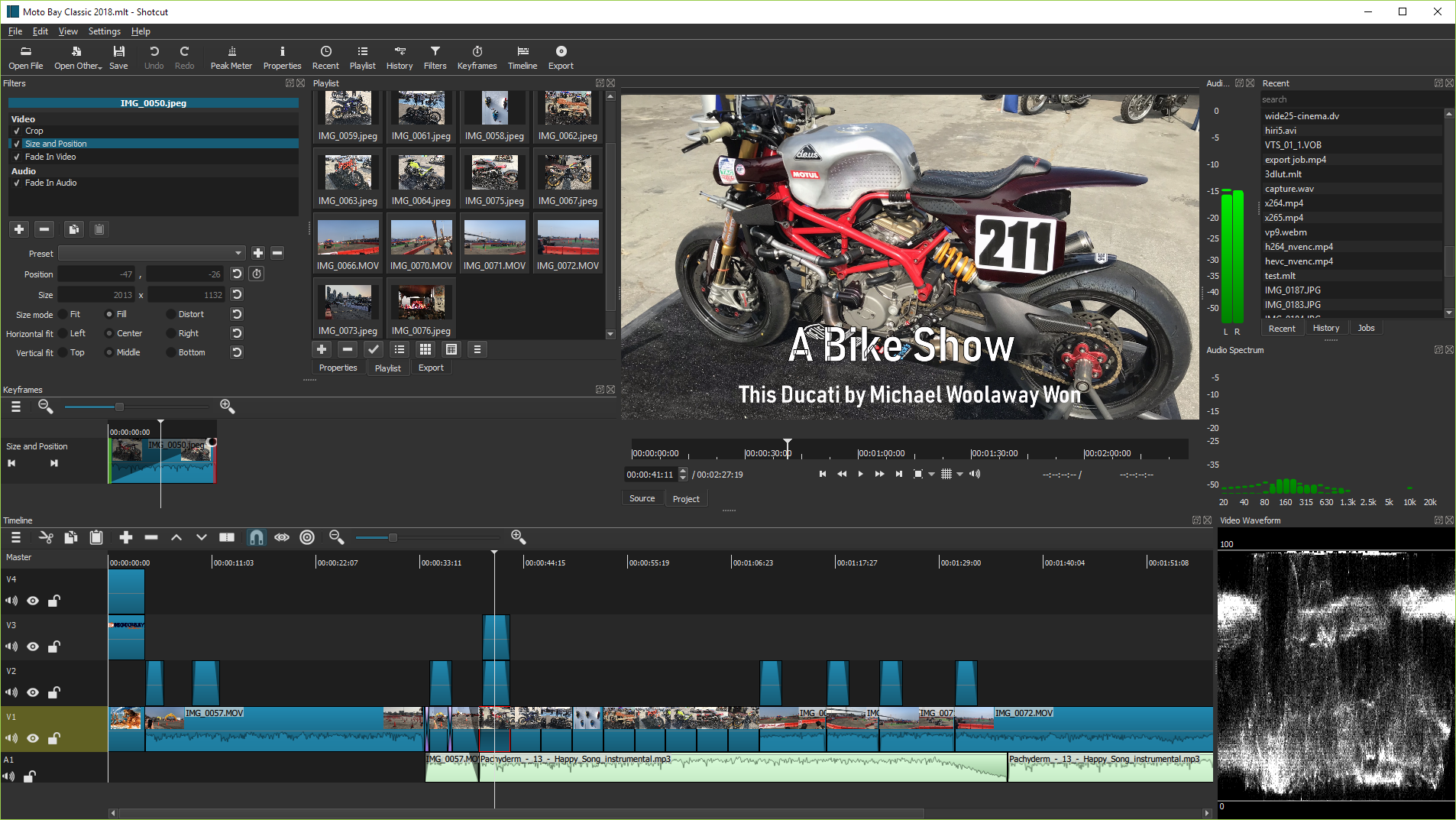 Shotcut is a free video editing software for 4K resolution videos. You can drag and drop files into the software from your drive.
It has a host of useful video editing features, such as effects, filters, adding transitions, keyframe on the timeline, cutting/ splicing, and titles. Shotcut provides multiple options for static and animated text. Audio mixing and audio fade in/ fade-out present.
However, the GUI is not intuitive, and a novice in video editing may find it intimidating. Also, advanced features such as motion tracking, Virtual Reality (VR) editing, and multi-cam editing are absent.
Pros
Completely free
4K HD support
Presets for filters
Text overlay
Cons
GUI is not user-friendly
Export output video to social media absent
Advanced video editing features absent
Conclusion
Every free video editing software hosts some or other basic video editing features. However, what sets them apart, are some professional features incorporated in the free editions such as 360° video support, subtitles, add/ replace audio, Chroma key, color correction, VFX, 3D editing, video stabilization, audio editing, etc.
Pick one or try multiple as per your need. Whether you are a film making student, YouTuber, Instagrammer, or a marketing professional who wants to create brand videos, there's something for all in the free video editing software listed here.
So give them a shot and happy video editing!