If you're fond of your favorite movie's sound effects, music, or dialogues, which is an M4V file and want to use them for audio mixing, WAV is the preferred audio format. You can play WAV audio file, use it to mix, edit, or add the sound to a new video.
Developed by Apple, M4V is a MPEG-4 video container format compatible with iPhone, Mac, iPad, etc. Apple uses M4V to distribute videos, music, movies, or TV shows in iTunes Store. WAV format is a high-quality lossless audio format developed by IBM for Windows systems. This format is ideal for audio editing and is thus commonly used for recording and mastering. However, WAV files occupy more space compared with compressed MP3 files.
Also read: Repair corrupt or damaged M4V videos.
Ways to convert M4V to WAV file
If you want to extract audio from M4V videos, we present the best software – Stellar Converter for Audio Video, to convert M4V to WAV file. This tool is safe and can extract audio from M4V videos while maintaining original sound quality.
Just in case you are interested in a free M4V converter for Windows or Mac, try the alternatives, such as online M4V converter, VLC Media Player, or FFmpeg.
However, be aware of the limitations of the free M4V to WAV converter programs before using them. These can be slow, have file size restrictions, and may not be easy-to-use.
VLC Media Player to convert M4V to WAV
Follow the below steps in VLC Media Player to convert M4V files to WAV audio format:
1. Launch VLC Media Player on your computer.

2. In the menu bar, click Media > Convert/Save.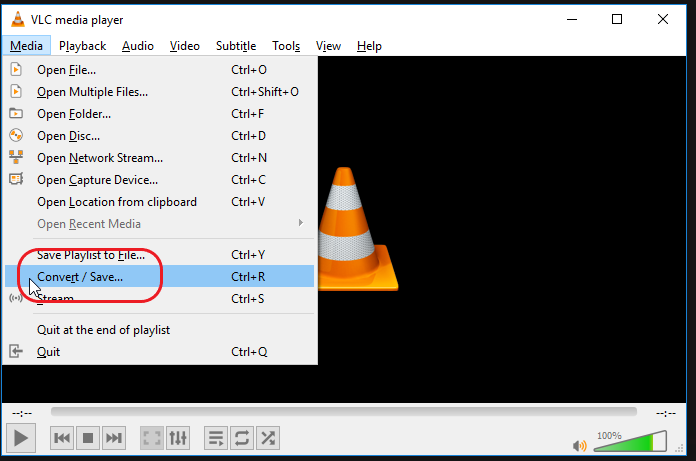 Figure: Media options in VLC Player
3. In the Open Media dialog box, click Add to upload M4V files.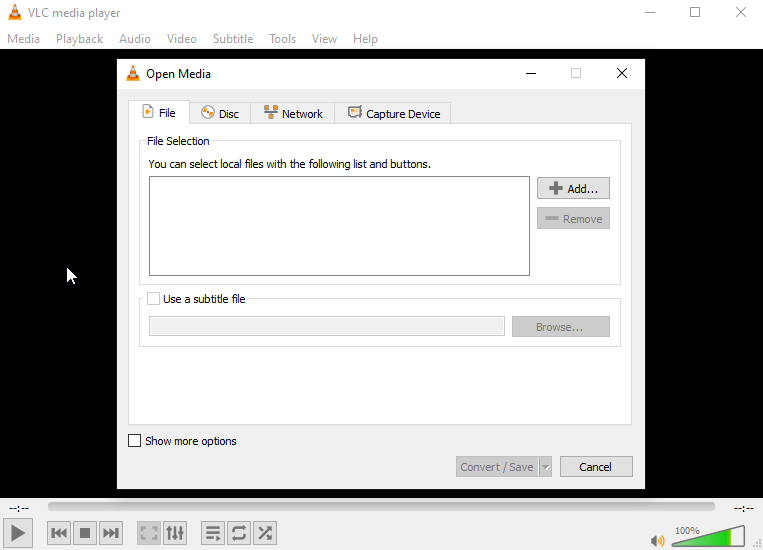 Figure: Add M4V file in VLC Player
4. Click Convert/Save.

5. In the Convert box, browse to choose a location to save the WAV file and name the WAV file.
6. Under Profile, scroll down to select WAV audio format.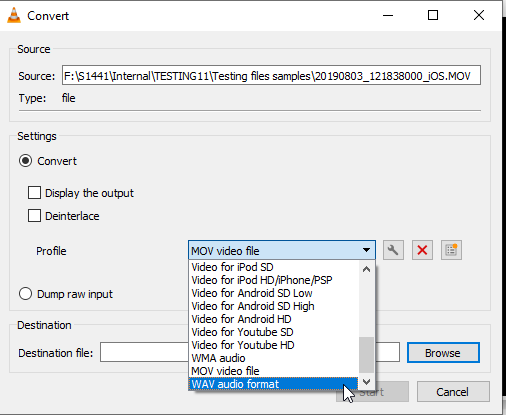 Figure: WAV Profile in VLC Player
7. Click Start to convert.

Use FFmpeg to convert M4V to WAV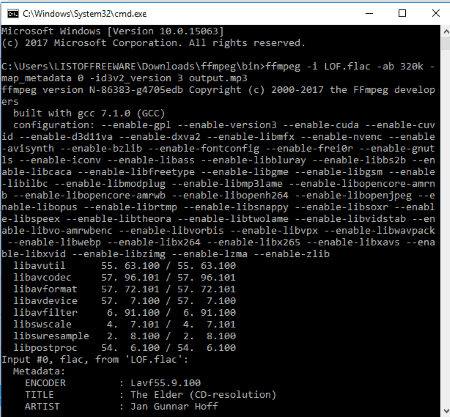 Figure: FFmpeg commands lines to convert video to audio
FFmpeg is a free and open-source program for Windows, Mac, and Linux. You can extract audio in WAV format from M4V files using command lines. The program uses the CMD platform of your computer to convert video files to audio.
It's suggested to go through the command lines guide to efficiently use FFmpeg to convert M4V to WAV.
You can download FFmpeg from here.
Read: Step-by-step guide to install FFmpeg on Windows
Online free M4V to WAV converter
If you are looking for a free but quick M4V to WAV converter to change some M4V videos to audio, opt for online file conversion. You can try CloudConvert, Zamzar, or others. It requires good speed Internet without any interruption.
But if your M4V video files are large, online conversion is not a practical method. Long or large-sized M4V videos may take time to convert or can get stuck during online file conversion. Further, some online M4V converters have file size limit.
Here, we bring steps to convert M4V to WAV in Zamzar online conversion program:

1. Click on Add file to select and add M4V video file. You can also drag & drop videos to the interface. The video file size limit is up to 50 MB.
2. Select WAV format to convert
3. Click Convert Now. You can check 'Email when done' box to receive WAV audio file on email.
Best M4V to WAV converter software for long and unlimited files conversion
When you have movies, music albums, or other long videos to convert, prefer the smart Stellar Converter for Audio Video. The software can convert as many M4V files to WAV audio format in one go.
It is a simple video converter software with many useful features. You can alter the audio channel, bit rate, metadata, or codec of the WAV file. Further, remove or replace audio from a video, convert video/audio files to different video/audio formats like MP4, MP3, AVI, MOV, and more.
Additionally, you can edit videos, merge two or more videos, add subtitles, create GIFs, change metadata, and more.
Take the free trial version of the software on your Windows or Mac system.
Follow the steps below to convert unlimited M4V videos to WAV audio files quickly:
1. Launch Stellar Converter for Audio Video on PC or Mac.
2. Click Add File to add M4V video files.
3. Click on Output Format button on top-right.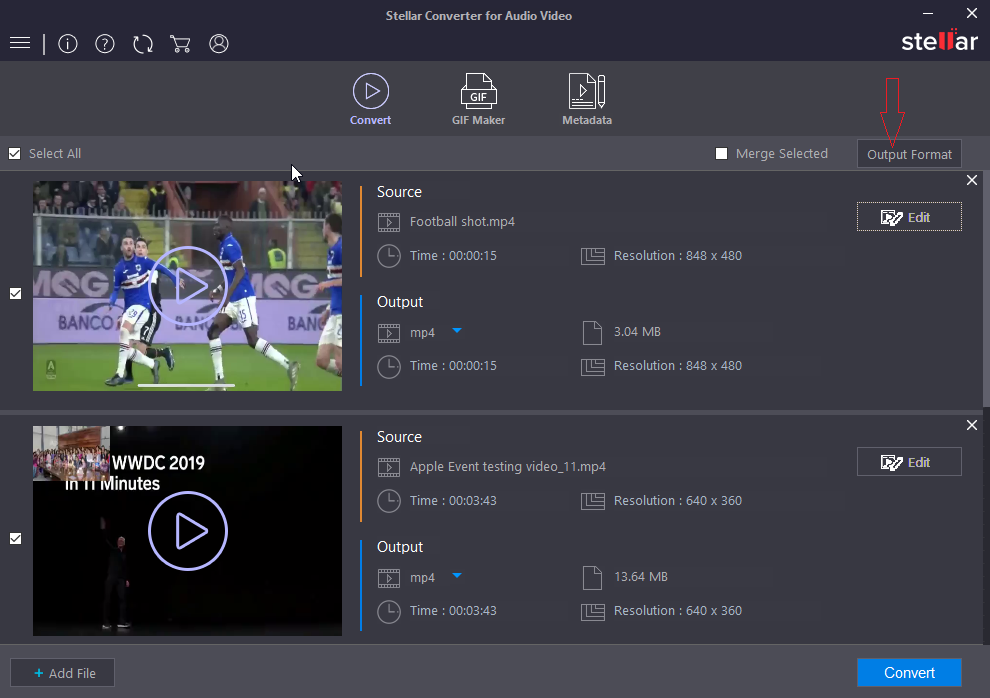 4.Click on
Default Presets
tab. Check
Audio
.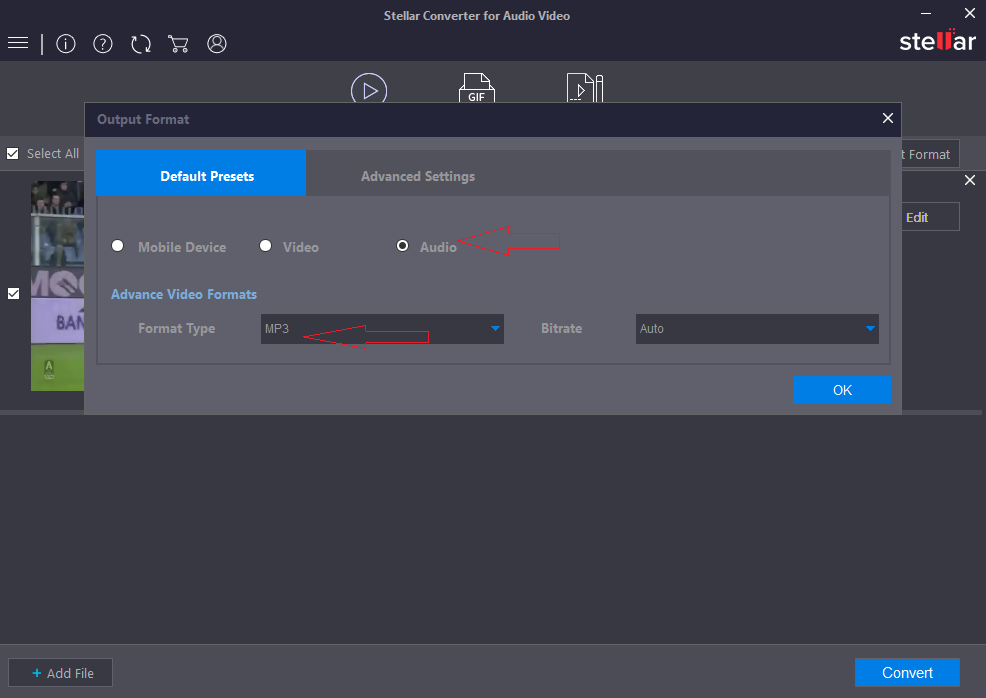 5.Select WAV in Format Type and click OK.
6.Click Convert to start the video to audio conversion process.
Conclusion
VLC Media Payer and FFmpeg are open source programs for M4V to WAV conversion. But they are not easy-to-use and can take longer to convert multiple videos. Online M4V to WAV converter programs are fast but have file size and number of file conversion limit. You cannot batch convert videos to audio format.
However, bypassing these limitations and complexity like in FFmpeg, Stellar Converter for Audio Video ensures quick conversion of M4V files to WAV. You don't need any technical expertise to use this easy DIY software. There's no file size or conversion limit either. Besides, the software supports several other video and audio file formats for conversion.