Summary: This post shares how to create animated GIFs by using photos. Whether you are using Windows, Mac, Android, or iPhone, know the best JPG to GIF converter tool for your device. It also recommends an easy and smart Stellar GIF maker tool, which you can free download here.
GIFs are fun to share and surprisingly easy-to-create. You can make amazing animations by converting photos to GIF file format. There are so many GIF-making apps for desktops and mobile devices. But spoilt by choice, you often end up using sloppy applications and creating low-quality GIFs. So, here we share the best methods and applications to change photos to GIFs. Although you can create GIF files using videos and screen recordings, this post focuses on how to convert JPG to GIF files.
Methods to convert JPG to GIF
Convert JPG to GIF on Windows and Mac 
Stellar Converter for Audio Video
GIF Brewery 3
ImgPlay - GIF Maker
GifLab Free Gif Maker
Convert JPG to GIF on Windows and Mac
Method 1: Stellar Converter for Audio Video
The easiest and quickest method to change JPG images to GIF is with the help of a professional Stellar Converter for Audio Video. The software has a feature to convert images and videos to interesting animated GIF files.
You can select multiple images for creating GIFs, choose the frame rate and resolution of each image. You can also add metadata information to the created GIF.
Additionally, you can use the software to convert videos or audio files to a different format and edit videos.
Stellar Converter for Audio Video is available for both Windows and Mac.
Steps to convert JPEG to GIF on Windows and Mac
Download and launch the software on your Windows PC or Mac
Click on GIF Maker.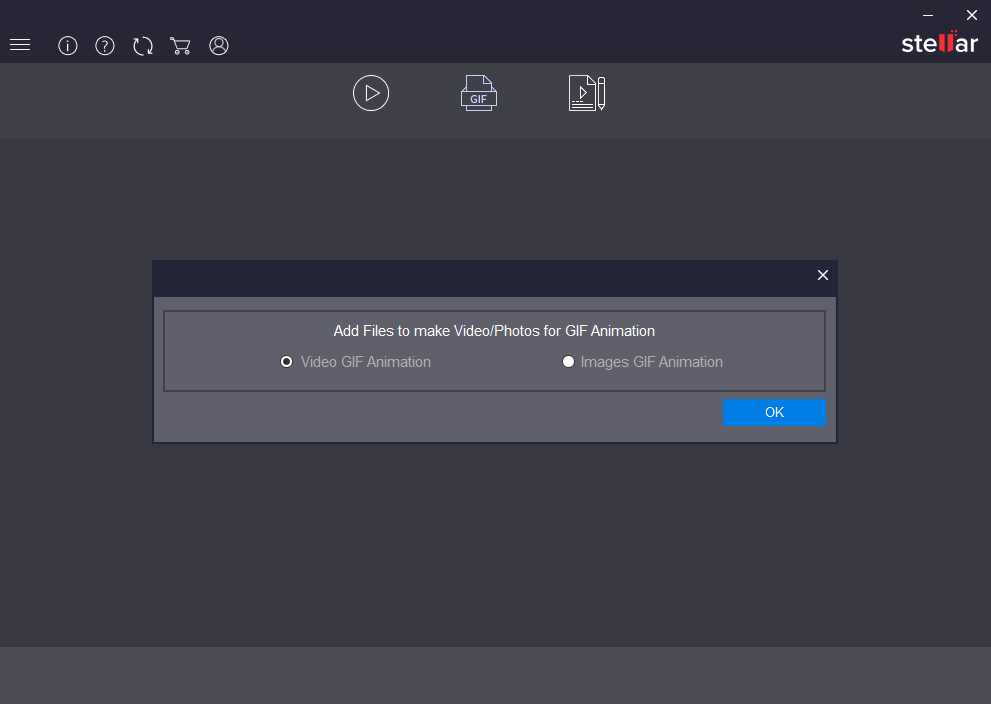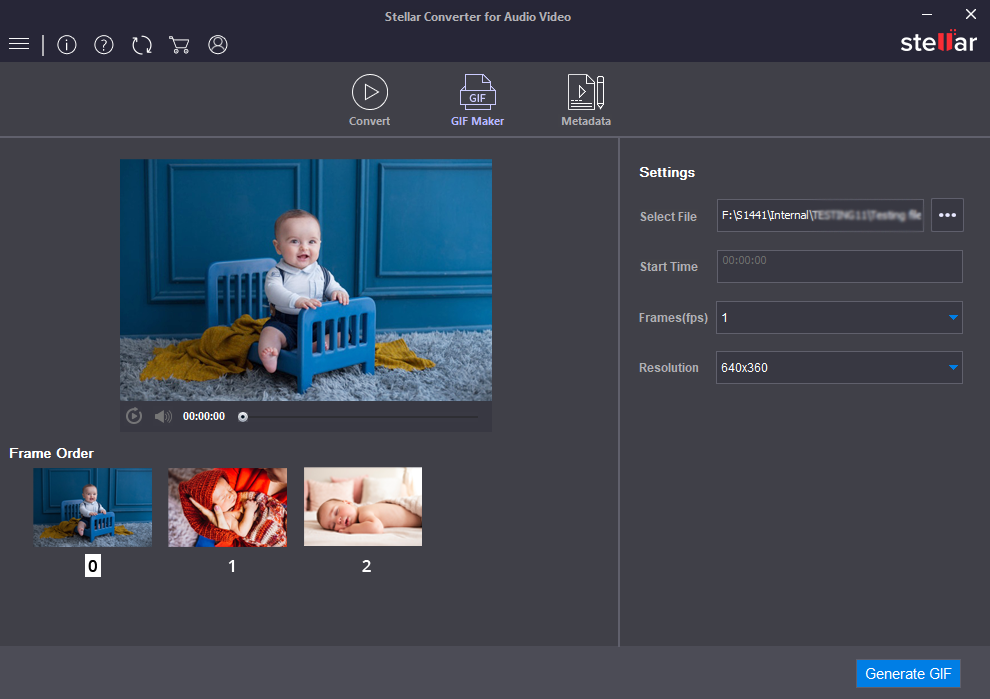 Method 2: GIF Brewery 3
Gif Brewery 3 by Gfycat is an intuitive app for Mac users. It has lots of features that help to create stunning GIFs using photos and videos.
You can stitch together photos, videos, or screen recordings to make animated GIFs.
The app has several options that enhance your GIF files. You can set the beginning and ending of frames, time delay, add overlays, text, stickers, crop, resize, set the canvas size, or change the background color.
Steps to convert JPG to GIFs using Gif Brewery 3:
Open Gif Brewery 3 on your Mac.
Select Stitch Images and Videos.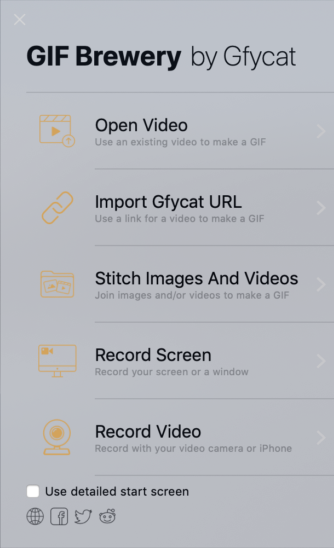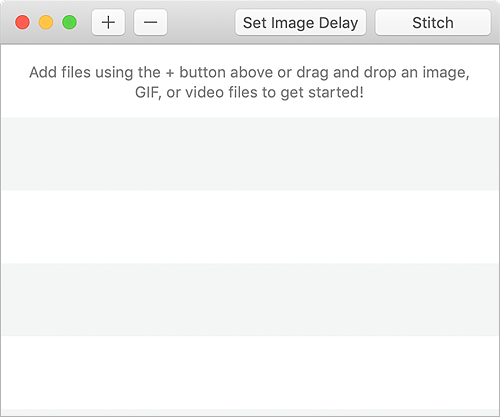 Convert JPG to GIF on Android phones
Method 3: GIF Maker
GIF Maker is a free GIF application that can convert JPEG images to GIF files. You can combine multiple JPG/ JPEG images to make high quality and high-speed GIFs.
The tool allows you to edit the animated GIFs.You can crop, trim, resize, set speed, add emoji, change background, color, brightness, text, filters, sticker, and do a lot more to a GIF file. The software supports up to 400 images and 50 frames per second to create a GIF. It has over 60 beauty filters and frames, including Instagram filters. The smart tool allows you to reduce the GIF file size if required for sharing. You can directly share your GIF on WhatsApp, Facebook, Instagram, Twitter, Gmail, and devices nearby.
GIF Maker can also convert PNG, MP4, 3GP, MPEG, FLV, and other common photo and video formats to GIF. The application is easy-to-use and is available on Google Play Store on all Android devices. The Pro version supports up to 600 frames and 720p resolution.
Its key features are:
Converting video clips to GIF and vice versa
Recording videos using Android camera and convert to GIF
Recording screen and convert to GIF (Android 5.0+)
Several GIF editing options
Compress GIF
Share on social media
Steps to convert JPEG to GIF in GIF Maker on Android:
Click on Images to GIF option on the home screen.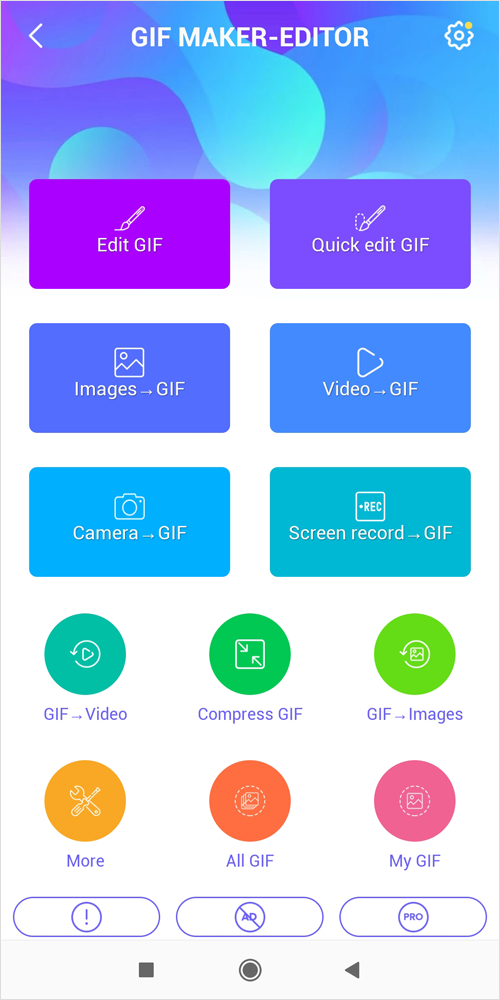 2. Select the JPEG images from the Android Phone Gallery.
3. Enhance the GIF using trim, crop, decoration, speed settings, etc., and apply the changes.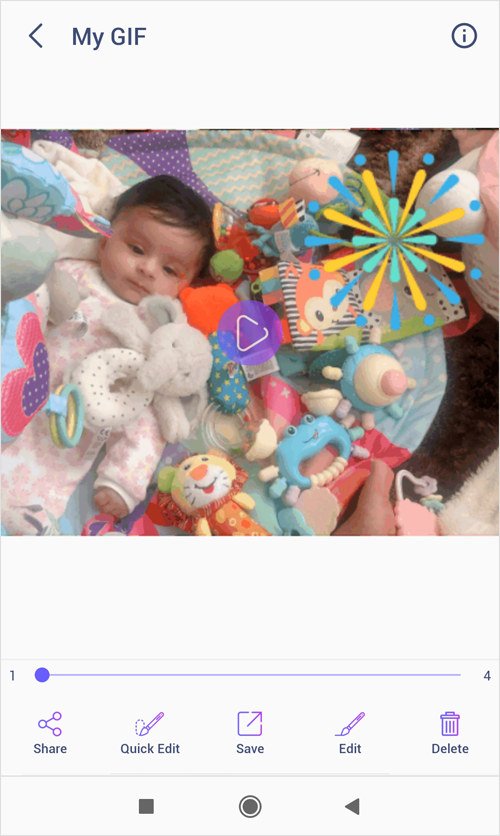 Once the GIF is created, you can Share, Quick Edit, or Save it. Your GIF file gets automatically saved in the Gallery of your Android device.
Method 4: Google Photos
Google Photos may not be as jazzy as other professional GIF creating apps. But it does a decent job by simply converting the JPG files saved in your Google Photos app to animated GIF format for free.
You can combine 2 to 50 photos into a shareable GIF file. Although there's no option to adjust frames, add text, stickers, filters, transitions, etc., to your animation, this simple utility is worth trying.
So if you want to create an eye-catching GIF in Google Photos, give aforethought to the selection and order of photos. Each GIF frame remains for one second. The first image will appear as the first frame in the GIF, then the second, and so on.
Key features
Easy and fast
Supports sharing on social media
Steps to create GIFs using Google Photos on Android:
Open Google Photos on your Android phone.
Select the photos in the order that you want them to appear in the GIF file.
Click on the + icon on top. Select Animation. You can choose up to 50 photos.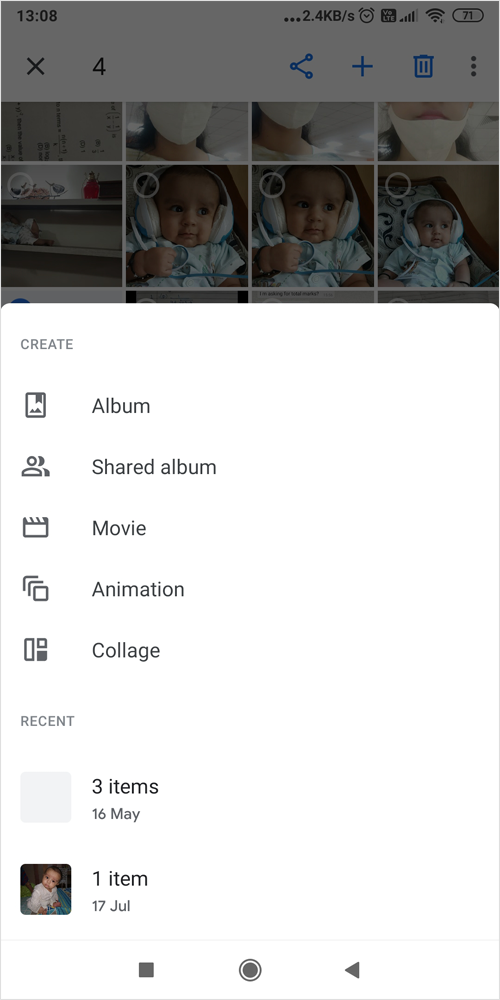 The GIF file is created and gets saved in the Album named Google Photos in your Android Gallery. The result is decent, with minimal file size.
You can share the GIF on WhatsApp, Facebook, email, and even import to another GIF maker app on your device to enhance it.
Convert JPG to GIF on iPhone
Method 5: ImgPlay - GIF Maker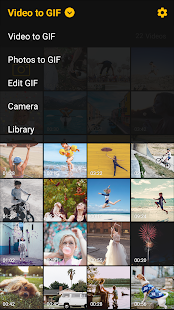 ImgPlay app is the easiest way to create GIFs on your iPhone using photos and videos. You can select multiple images to create a GIF slideshow. The photos to GIF converter app has an advanced GIF editor.
Try its filters, index color palette, adjust frame rate, speed, change the playback, and caption. You can adjust brightness, contrast, saturation, warmth, and also sharpen the GIF images.
The app has provision for sharing the created GIFs instantly on iMessage, Twitter, Tumblr, Instagram, LINE, and WhatsApp.
GIF compression helps to save the file in the desired size. The user interface is easy to navigate.
ImgPlay - GIF Maker also has an Android version.
Key features:
Create GIFs from photos and videos
GIF editor
Fun stickers and image overlay
Change playback direction to forward and backward and vice versa like a Boomerang
Import photos from Google Drive or Dropbox
Method 6: GifLab Free Gif Maker
GifLab Maker is a perfect software for creating a GIF from JPG pictures on the iPhone. The free GIF maker has a smooth and intuitive GUI. You can create GIFs using your iPhone camera, stored videos, and photos. You can share the GIFs on social media platforms and different devices.
The tool has several options to enhance the animated GIFs such as you can add reactions, create a collage, add text and image overlay, effects, make looping GIF, and more.
The pro version of the software can convert GIFs to videos, which you can share on Tumblr, Instagram, and Facebook.
Using the Family Sharing set up, GifLab Maker allows up to six family members to use this app from your device.
The software supports iOS 7.1 or later.
Its key features are:
Add and edit GIF text
Add and animate image overlays
Supports Family Sharing
Convert JPG to GIF on Online
Method 7: GIFMaker.me
GIFMaker.me is an online tool that converts JPG pictures to GIFs for free. With GIFMaker.me, you can create animated images using multiple photos. You can share on Facebook, Twitter, Reddit, and Pinterest.
The program lets you reduce the file size, resize, undo the changes, merge two or more GIFs into one online, or even split a GIF into separate frames.
Commonly used by professionals and amateur, GIFMaker.me is easy-to-use.
Just add JPG photos in the program interface and combine them into funny animations. You can crop, resize, rotate, compress, or make the background transparent in the GIF file. You can add music to the GIF as well.
Steps to convert JPG to GIF in GIFMaker.me:
Open gifmaker.me in your browser
Select Upload Images button. You can select one or more images.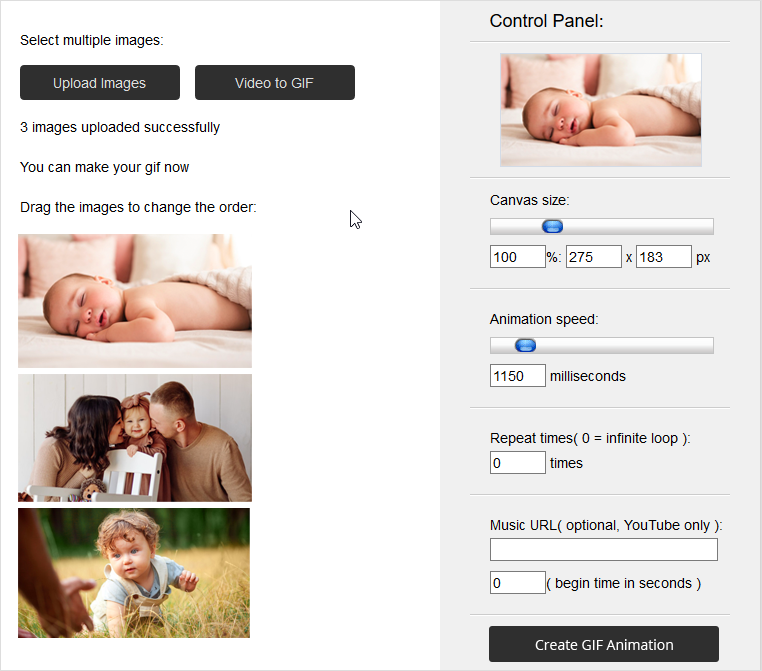 3. In the Control Panel, set the Canvas size and Animation speed.
4. Select Create GIF Animation.
Now, download the GIF file and share it online.
Method 8: Imgflip.com
Another online GIF maker is imgflip.com. The online file converter changes JPG to GIF. You can create an animated GIF by combining more than one image. You also add more photos later while customizing your GIF. Imgflip allows you to customize GIFs as well. It has options to add text, crop, resize, rotate, looping GIF, and change background color. The program also converts videos to GIFs. You can export the GIF file without a watermark in the Pro version of the tool.
Steps to convert JPG to GIF in Imgflip:
Open imgflip.com in your browser.
Select Images to GIF tab.
Click the Upload button. Select multiple images.
Set the order of yourimages. The Auto Arrange option will sort your images alphabetically.
Adjust options – speed, size, crop, rotate, etc.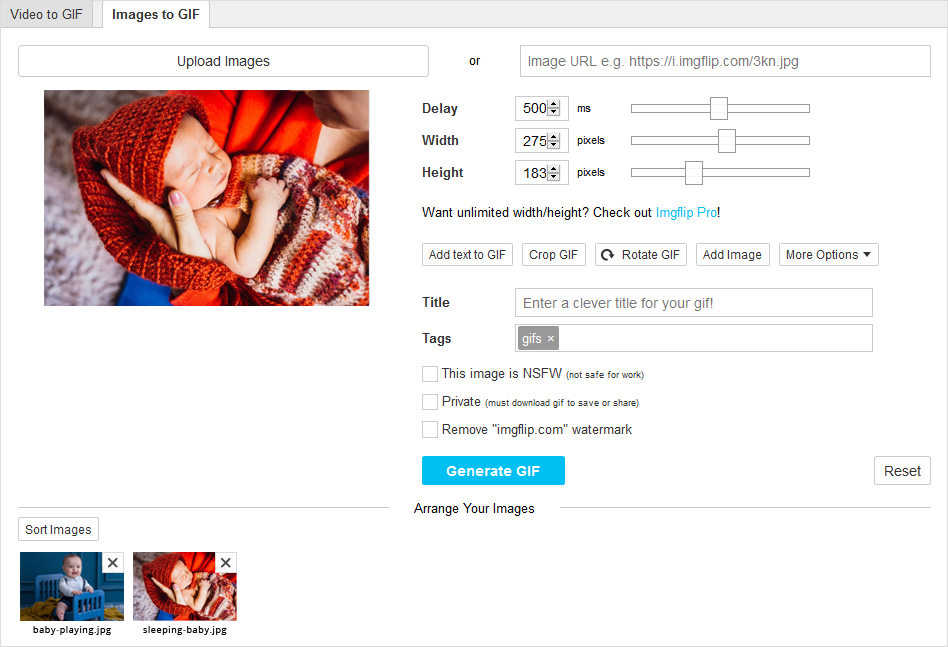 6. Check Private, if you're not going to share it online. Give Title and Tag to your GIF.
7. Click Generate.
Now, download the GIF file and share it online.
Conclusion
There are different apps to convert JPG to GIF on Windows, Mac, online or mobile phones.
You may find a GIF maker app on Android and iPhone convenient. As it can instantly create GIFs using your smartphone camera or existing photos.
Nevertheless, desktop JPG to GIF converter software such as Stellar Converter for Audio Video are integrated with advanced functionalities like video editing, file conversions, etc.
You may try the free version of the Stellar GIF maker tool here.