Matroska Video File or MKV is a multimedia container format that contains video, images, audio, and subtitles track. It is not supported by many devices and media players, and hence, you may need to convert them to another file format, more so often, to MOV, if you are a Mac user.
You might have to convert MKV to MOV files for many reasons. MOV is developed by Apple and is supported by macOS devices, media players and applications. So you would like to convert videos to MOV format to play them in QuickTime Player on Mac or edit/ import the video file in Final Cut Pro or iMovie, which don't support MKV format.
In this post, we have listed various methods to convert MKV to MOV using the free and advanced converter programs.
Methods to convert MKV to MOV file format
Various file conversion programs can convert MKV video files to MOV. However, here we will share the user-friendly, secure, and fast ways to convert multiple MKV video files.
1. Free online MKV to MOV converter
Several online video file converter programs can easily change MKV videos to QuickTime MOV format over the Internet. Unlike desktop or offline video converter tools, the online tools allow conversion of only one or two files at a time.
Zamzar, CloudConvert, and AnyConvert are some commonly used MKV to MOV online free converter tools.
Key benefits:
Free MKV to MOV converter
Converts MKV videos without installing the program on the computer
Drawbacks:
Batch repair absent
Output video customization may not be present
Cannot convert large-sized videos or movies
No additional features
2. VLC Media Player to convert MKV files
The multifunctional VLC Media Player not just plays your videos but can also convert MKV files to MOV format.
Key benefits:
Free and open-source MKV to MOV converter
Converts multiple MKV videos in one go
Drawbacks
Not easy to use
Slow conversion process
Follow the below steps to convert MKV to MOV using VLC Media Player:
1. Open VLC Media Player.
2. Navigate to click Media > Convert/Save.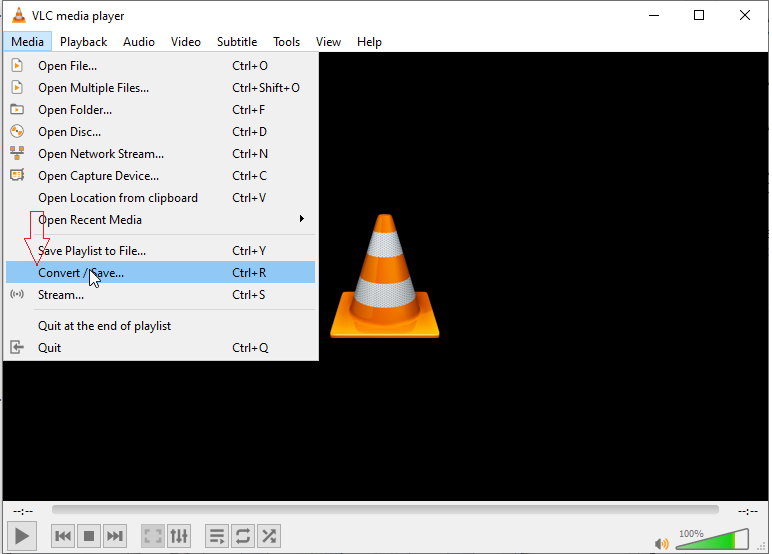 Figure: Media options in VLC
3. In the Open Media window, click Add to insert MKV video(s).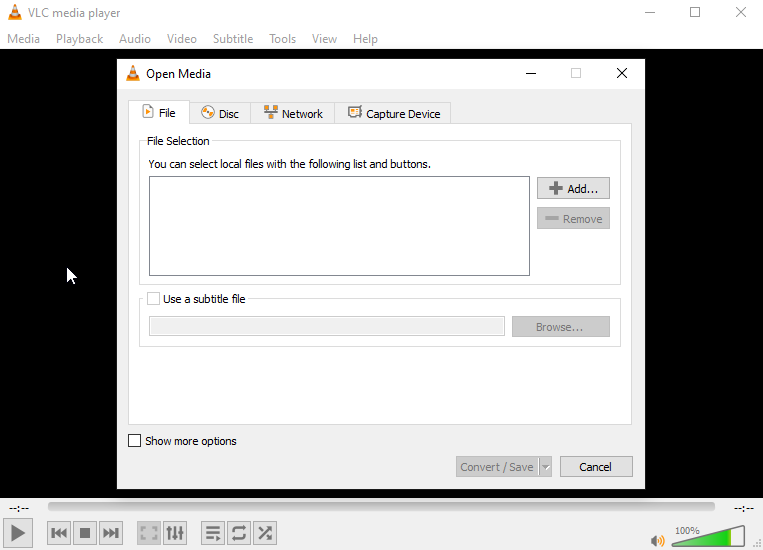 Figure: Open Media window in VLC
4. Click Convert/Save.

5. In Convert dialog box, under Destination, browse to select destination folder for the new video file.
6. Under Profile, select MOV video format. If you don't find MOV format in the drop-down, you can add it by clicking on the 'Create new profile' icon in the Profile drop-down.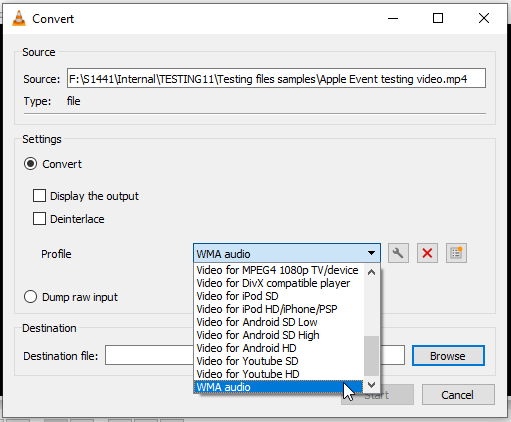 Figure: Select MOV in Profile in VLC
7. Next, click Start to convert MKV to MOV file. Wait till file conversion process finishes.

3. Best MKV to MOV converter —Stellar Converter for Audio Video (Recommended)
Stellar Converter for Audio Video is the best software to convert MKV to MOV file format on Windows and Mac systems. It is fast, easy, and secure video to video, video to audio and audio to audio file converter program. You can convert unlimited MKV videos using Stellar Converter for Audio Video and even modify each video's resolution, frame rate, codecs, metadata, bit rate, etc.
Key benefits:
Fast conversion process
Batch converts unlimited MKV videos to MOV
Allows output video customization
Allows metadata insertion/ change in the output video
Supports multiple video and audio file formats, including MP4, MP3, FLV, WMA, and more
Multifunctional —video to audio conversion, video editing, GIF creation, replacing audio in video files, etc.
You can download the free version of Stellar Converter for Audio Video and assess the software's capabilities.
Drawbacks
The free version can convert only one-third of the MKV video file to MOV.
Steps to convert MKV to MOV using software:
Step 1: Download and run Stellar Converter for Audio Video on PC or Mac.
Step 2: Click Add File to add MKV video file(s).
Step 3: Click on Output Format at the top-right corner.
Step 4: Click Default Presets tab, select MOV Format Type. (Optional) Change the required output video settings under Advanced Settings tab.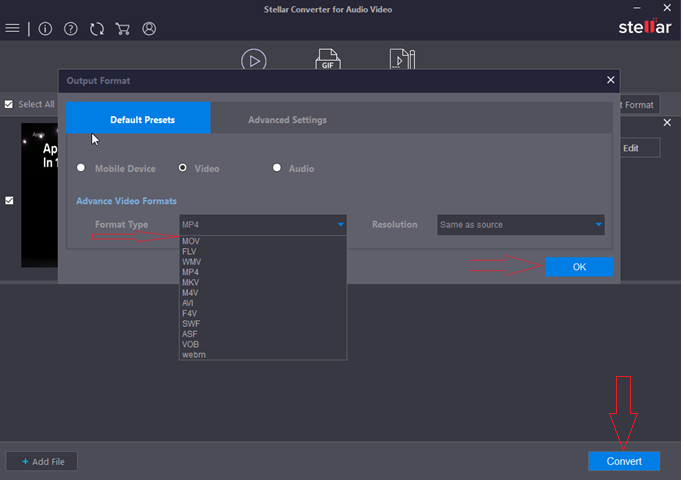 Step 5: Click OK > Convert.

Step 6: Next, choose the location for saving the MOV files and click Save.
Conclusion
Stellar Converter for Audio Videos is an uncomplicated and fast software to convert MKV to MOV video file format. Unlike the free conversion tools, you can quickly convert unlimited MKV files of any size to MOV. Further, the software offers several benefits, such as output video customization, metadata insertion, video editing, and more.