iOS devices are no exception when you have to delete files to manage storage space. As of now iPhone has a designated capacity between 16 GB to 512 GB while iPad sticks at 16 GB to 1TB storage. Of this storage, photos and videos on the device occupy the major chunk.
Thus, you may have a pressing need to delete huge numbers of photos, screenshots, videos etc., to free some space on your iPhone or iPad. Or just want to permanently remove some shots from the iOS device that are of no use like accidental photos, poor selfies, choppy videos etc.
Let's know here how to delete photos from iPhone efficiently and quickly. These methods are also applicable to the latest iOS 16, iPhone 14, and iPad.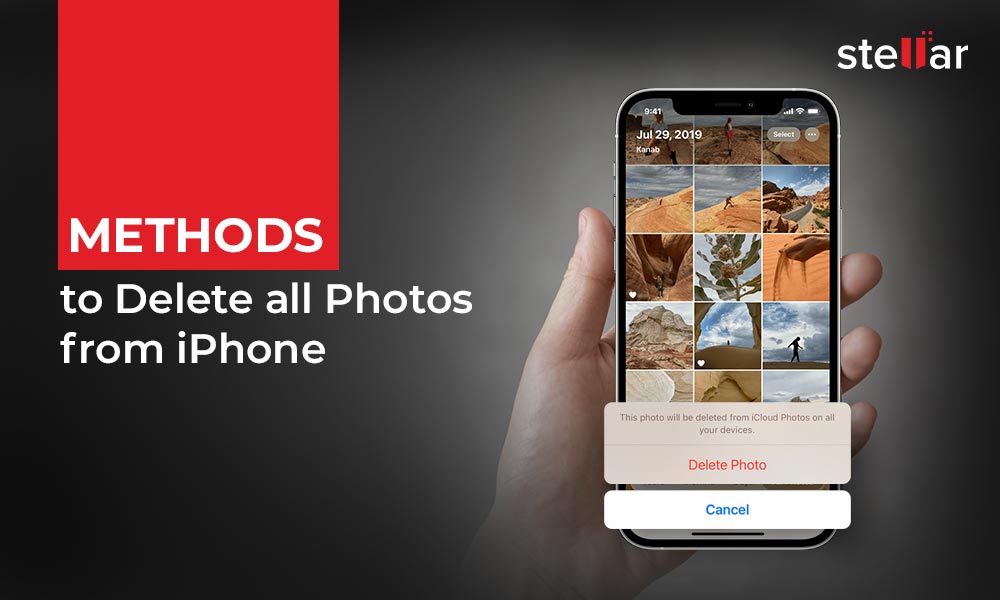 Part 1: Before you delete all photos from iPhone
You are going to delete photos from iPhone in bulk. May be some hundreds and thousands of your pictures. It may happen that in haste you delete those photos too which were precious for you. Therefore, it is advisable to create iPhone photos backup before making the big plunge.
Part 2: How to delete all photos from iPhone [7 Methods]
Although there's a quick option to select and delete the pictures on iPhone from the Photos app, but there is always a doubt whether the photos from iPhone are permanently deleted or not from all your devices and cloud storage.
So here, we bring different methods to clear all photos from iPhone, iPad, and iCloud
1. Delete all photos from Photos app on iPhone
Photos app saves the images shot with iPhone or those received on chats etc. You can easily delete all the photos from iPhone including Camera Roll, Photo Stream via Photos app. Here's how to do it: 
On your iPhone open Photos app.
Click Library followed by All Photos.
Figure: Steps to select photos in Library for deletion on iPhone
Click on Select at the top.
Tap on the photos one by one that you wish to delete. You can also slide your finger across multiple photos to select multiple pictures quickly.
Now click on the Trash icon to delete the selected photos.
2. Delete photos permanently from iPhone via 'Recently Deleted'
The images deleted from the Photos app get settled in the 'Recently Deleted' album of your iPhone for up to 30 days unless you delete them early. Thus, to permanently erase iPhone photos, empty the 'Recently Deleted' folder by following the below steps:
Open Photos app on iPhone.
Click on Albums.
Select Recently Deleted and tap Select.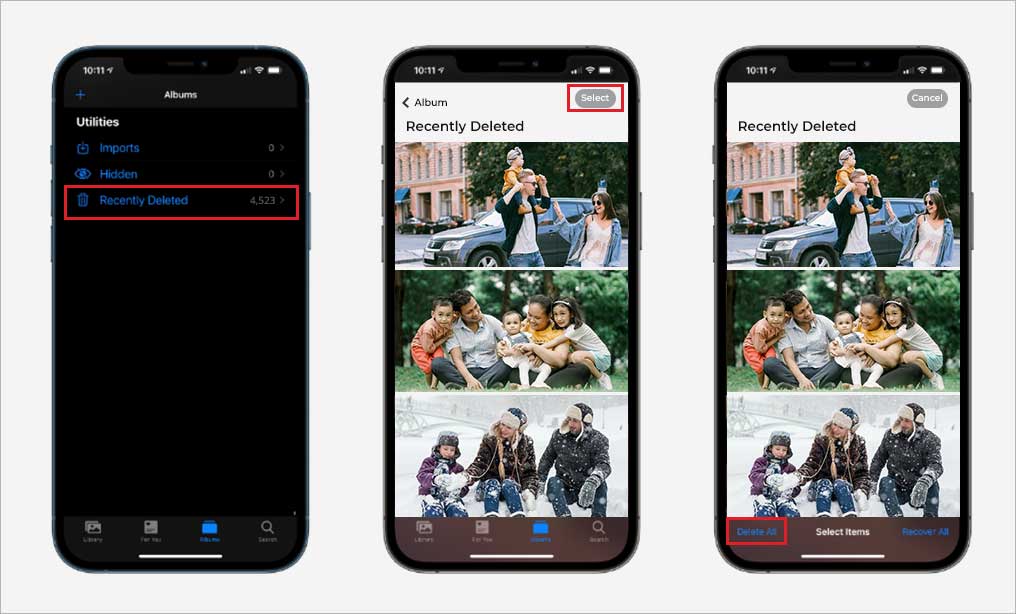 Note: If you are using iCloud Photos, the iPhone photos are also removed from other devices (iPad, iPod touch, Mac, or PC in which you have signed in) after you delete them from iPhone.
 3. Delete iPhone photos from iCloud
When you delete photos from the Photos app on your iPhone, they are also deleted from iCloud. Hence, to remove images from iCloud, simply delete them from iPhone by using the steps shared above.
4. Delete photos from iPhone using Mac
If you are an iCloud user, you can delete iPhone photos using Mac too. Whichever photos you remove in Photo Library on Mac, they will be wiped from your iPhone as well.
Follow the below steps to delete photos from iPhone with Mac:
Open Photos app on Mac.
Open the Library tab.
Select the photos that want to delete and hit Delete key.
Click Delete to confirm.
Now open the Recently Deleted tab.
Select and permanently remove iPhone photos from there. 
5. Delete Photos from iPhone by using iCloud.com
Photos deleted from iCloud.com get removed from iPhone also. You can access iCloud.com on any device be it PC, Mac, iPhone or iPad. Simply sign into your account using Apple ID and delete the iPhone photos.
Follow the below steps to delete photos from iCloud.com:  
Sign in to iCloud.com.
Click on the Photos app.
Select the photos that you want to delete. 
Click on Delete. Again, click on Delete to confirm.
6. Delete all photos with iPhone eraser
tool
An iPhone eraser software ensures all your photos on iPhone are permanently deleted beyond recovery by any method. However, this method will also delete other data from your iPhone. It is recommended to use it when you want to sell or give away old iPhone that contained personal photos, which you don't want anyone to access.
Know here step-by-step how to delete iPhone data permanently with software. You can also download the software from the below button and assess its features free.
7. Permanently delete 'bulk' photos from iCloud to free storage
It could happen that you may not want to keep iCloud photos and delete them forever. However, there may be thousands of photos or videos in your iCloud. So how to delete so many iPhone photos quickly?
No worries, its easy. You can do it from the Settings of your iPhone. Follow the below steps to delete all iPhone photos from iCloud permanently:
Go to Settings on iPhone.
Click on Apple ID, your account name.
Click iCloud.
Click to follow Manage Storage > Photos
Click Disable and Delete.
Your iPhone photos will no more get saved to iCloud storage. And within 40 days, all the photos and videos will get deleted from iCloud.
Part 3: Recover deleted photos from iPhone
What if in the process you accidentally delete an important photo later realizing you need it back! No need to worry. Quickly download an iPhone photo recovery software — Stellar Data Recovery for iPhone that gets back lost or deleted photos from iPhone and iPad. With the help of the software, you can scan your iPhone for the deleted pictures and restore only those that you want.
Know step-by-step how to recover deleted photos from iPhone and iPad.
Wrapping Up & FAQ
As now you know all the methods to get rid of unwanted photos on your iPhone, iPad, or iCloud, you can free up some more space on your iOS device and iCloud storage.
However, every user has a unique requirement related to deletion of photos from iPhone. Here are some frequently asked questions whose answers may benefit you also.
FAQ
1. How to delete photos from iPhone but not from iCloud?
To delete photos only from iPhone and not iCloud, first disable iPhone and iCloud sync from the Settings of your device. Go to Settings > Apple ID > iCloud > Photos > Toggle off iCloud Photos. Choose to Optimize iPhone Storage also.
2. How do I delete 10,000 photos from my iPhone?
To bulk delete photos on iPhone, go to Photos > Library> All Photos> Select. Now to select thousands of photos in one go, swipe your finger downwards across the screen. All photos will be selected. Tap the trash icon to delete all photos on iPhone at once.
3. How to delete all iPhone photos of a particular person or location?
To delete iPhone photos of specific person or type, in the Photos app click on the Search tab. Apple AI will display headshots of photographed people, places, event etc. You can also check the People & Places section in Albums. Select the category shots of person or location etc., whose pictures you want to delete from iPhone. Click on 'See All', select, and delete.
4. How to delete all photos from iPhone Camera Roll at once?
First note that iOS 13 onwards, the Camera Roll folder is under Photos app renamed as 'Recent'. While in earlier iOS 12 Camera Roll was located in the Albums. Thus, if you want to delete Camera Roll photos, go to Photos > Recent > Select and click on trash icon to remove the selected photos.