With growing instances of data leak and misuse, there's a fear of digital data on iPhone landing in wrong hands. Personal photos, messages, videos, contacts, or sensitive information such as bank details, shopping apps ID etc., are at risk when selling, trading off, recycling or donating your iOS device.
So what can you do to keep your old iPhone data away from strangers' eyes and make it 100% unrecoverable?
One solution is the commonly used Apple's recommendation — erase iPhone data by choosing 'erase all content and settings' on your device. However, with professional hackers and sophisticated software available, erasing data by this method doesn't guarantee data privacy.
Experts suggest using trusted iPhone erasure software that is 100 % safe. The software can make iPhone data unrecoverable beyond the reach of any tool.
Let's understand in detail how to permanently erase data on iPhone by these techniques.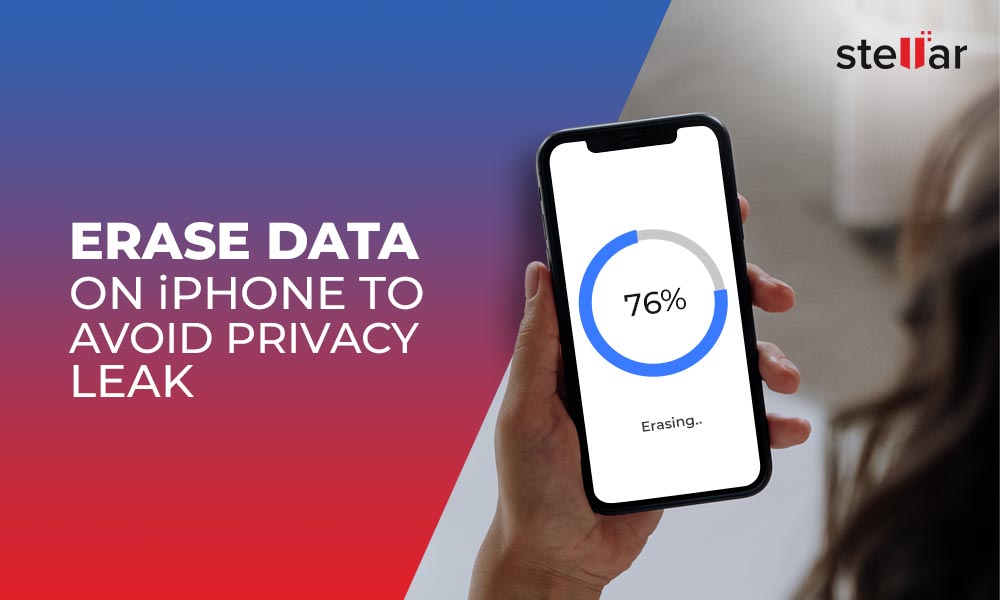 Clean iPhone by using 'Erase All Content and Settings'
To clear all data from iPhone use the'Erase All Content and Settings' option in the settings of your iOS device. It is like factory resetting your iPhone.
All the app data, settings, passwords, photos, videos, contacts, documents, messages, Calendar, chats, music, audio files etc., gets deleted after factory reset from iPhone.
However, don't forget to first take the backup of your iPhone data in iCloud or iTunes.
Steps to erase iPhone via Settings:
Go to Settings.
Navigate to General > Reset> Erase All Content and Settings.
Click Erase Now in the dialog box. Enter Passcode and Apple ID password, when prompted.
This will erase iPhone data turning the device off. When you power on the iPhone, you will see all its data is deleted including, photos videos, apps, contacts etc.
Permanently wipe iPhone to 0% recovery – Secure & tested method 
Although deleting data via 'Erase All Content and Settings' on iPhone will make your device as clean as new, but it is not enough. Your iPhone data after factory reset is still recoverable by hackers. Thus, to protect privacy and prevent data leak by any means, it is essential to erase iPhone with the help of a professional iOS eraser software.
You can find several iOS cleaner software online but here we recommend Stellar Toolkit for iPhone. The efficient software is the best way to wipe iOS device before you sell, recycle, or donate.
It removes your personal videos, pictures, contacts, notes, calendar, browsing history, call log, chats, messages, Instagram, WhatsApp, and other sensitive information saved on your iPhone. The secure DIY software supports the latest iOS 15 and below versions. You can erase all variants including iPhone 6, iPhone 7, iPhone 8, iPhone X, iPhone SE, iPhone 11, and above.
You can take the free trail and gage the software features and user-friendliness.
Step-by-step guide to erase iPhone data permanently:
Step 1: Download and launch Stellar Toolkit for iPhone on computer.
Step 2: Click on Erase Data module.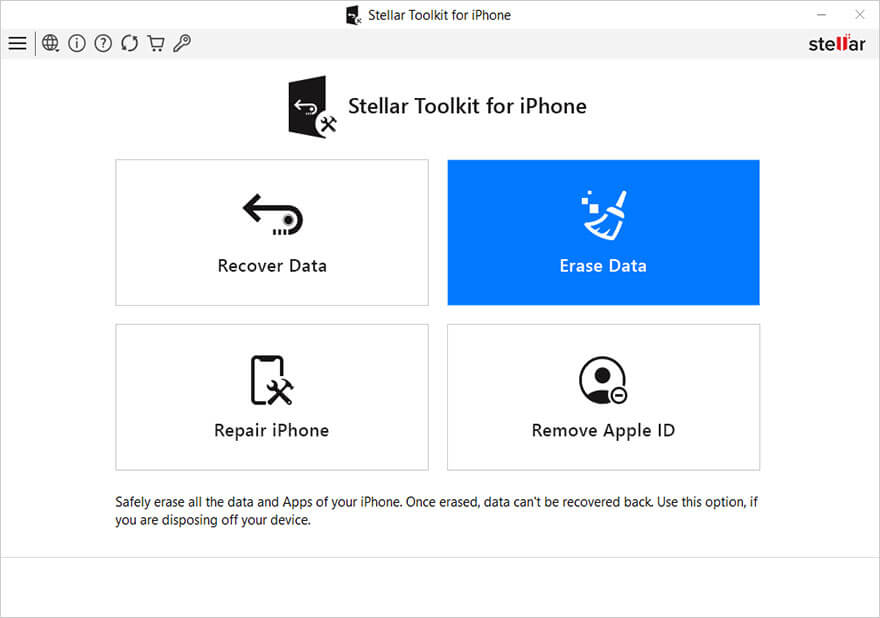 Step 3: On Erase iPhone Data screen, click Next.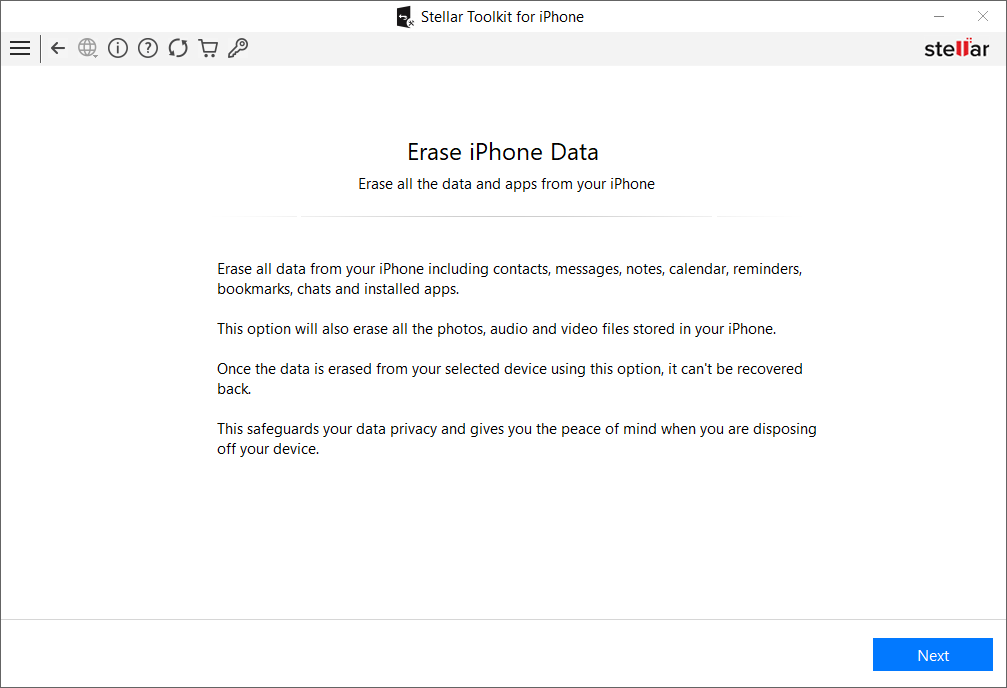 Step 4: As you see the Click Device to Select screen appears, connect your iPhone to computer.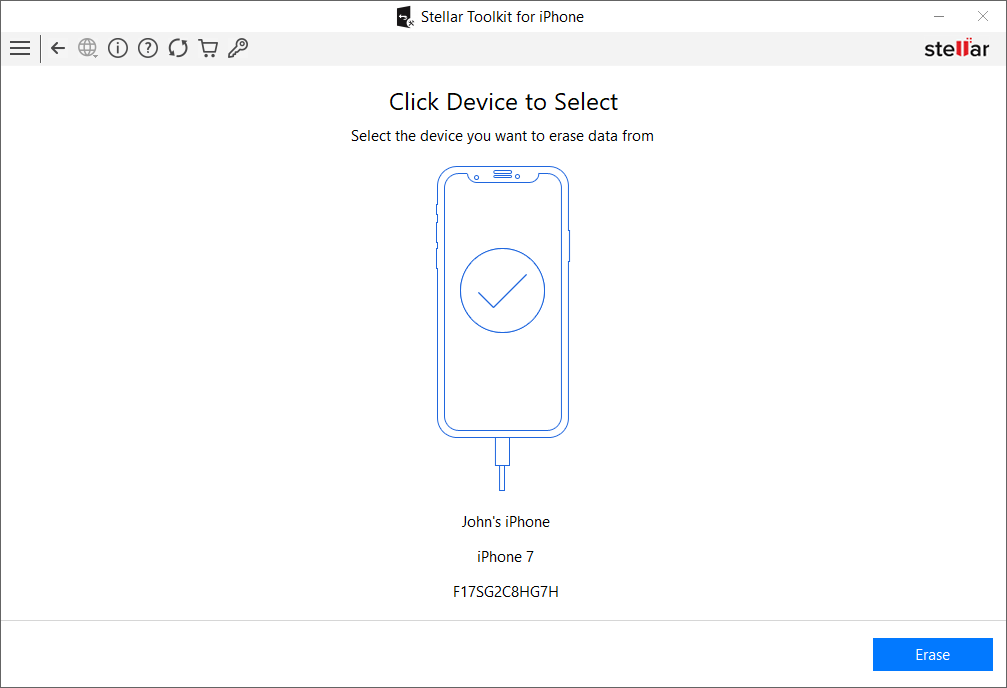 Step 5: Select Erase.
Step 6: In the Erase Process box, select Yes.
Step 7: Data Erase Complete message box appears that asks for confirmation before erasing the data. Click OK.
Wrapping Up & FAQ
After erasing complete iPhone data by using the secure iPhone eraser software by Stellar, there's no need to worry about personal data leak. The software algorithms ensure that even the most advanced iOS data recovery tool cannot retrieve your information.
FAQ
1. How do you permanently erase data so that it cannot be recovered from iPhone?
Use the best iPhone data eraser tool to permanently wipe iPhone data. This is a assure way to prevent data leak and protect privacy.
2. Is it possible for someone to retrieve sensitive data from an iPhone after erase all contents & settings?
Yes, there are tools that can retrieve sensitive data from iPhone even after using erasing all content and settings on the device.
3. How to erase data on iPhone without passcode?
If you have forgotten Apple ID and passcode, erase iPhone data without passcode by using Stellar Toolkit for iPhone. Learn in detail how to reset iPhone without passcode.
4. How to delete my stolen iPhone data?
You can delete stolen iPhone by using Find My iPhone on iCloud.com. Go to icloud.com/find and sign in to 'Find My iPhone'. Learn more.