Exchange Server migration, especially Exchange to Office 365, is a complex process that might give you headaches and lead to frustration as it can take somewhere from a few days to several weeks. However, when it comes to migrating Exchange Server 2003 to Office 365, you have a few options.

However, before choosing a migration option, you should consider the two most important questions.
How much data do you need to migrate from Exchange 2003 to Office 365?
How much time is it going to take to complete the migration?
Once you have answered these questions, you can go ahead and choose the best migration method for your organization.
Methods to Migrate Exchange 2003 to Office 365
To migrate Exchange Server 2003 to Office 365, you have three migration methods:


1. Cutover Migration
Also known as Express Migration, the Cutover Migration helps you migrate user mailboxes from Exchange 2003, 2007, or 2013 on-premises server at once to Office 365. Although you can migrate up to 2000 mailboxes from Exchange on-premises to Microsoft Office 365, the method is recommended for migrating 150 mailboxes. This method requires some level of expertise and may take a few days to complete, leading to downtime. To know more about Cutover Migration, refer to our guide on Cutover Migration.


2. Staged Migration
In Staged Migration, the mailboxes and user data are migrated in batches (two or more stages). In the first stage, either new or old data based on specific date is migrated to Office 365 followed by domain transfer and MX records update. In the second and later stages, the remaining data is transferred from the source (Exchange on-premises) to the target server (Office 365). This allows users to access their email accounts and work while other data is being migrated over time. Staged Migration is recommended when you have to migrate more than 2,000 mailboxes from Exchange 2003 or 2007 on-premises version to Office 365. To know more, refer to our guide on Staged Migration.


3. Exchange 2003 to Office 365 Migration Tool
An EDB to PST converter tool, such as Stellar Converter for EDB, automates the Exchange 2003 to Office 365 mailbox migration process. It extracts the mailboxes from Exchange 2003 database (EDB) files and provides an option to export the mailboxes directly to Office 365.
It also auto maps the source (Exchange 2003) and destination (Office 365) mailboxes and uses parallel processing technique to migrate multiple mailboxes from Exchange 2003 Server to Office 365 at up to 4x speed. Users can also prioritize mailbox migration to export critical mailboxes first.
The tool can migrate unlimited mailboxes from Exchange 2003 or later versions to Office 365 in a few clicks. You can also use filters to avoid exporting older, deleted, junk, or unnecessary mail items or mailboxes, which can help conserve cloud storage space on Office 365.
The tool can save time, effort, and help accomplish the migration in a few hours or days (based on the number of mailboxes). You can download the free demo version of the software to evaluate its functionality.

Below, we have discussed the steps to quickly migrate mailboxes and mail items from Exchange 2003 to Office 365 using Exchange 2003 to Office 365 migration tool, i.e., Stellar Converter for EDB.
Step 1: Open Outlook and configure your Office 365 administrator profile (you need to choose this profile in Step 7).
Step 2: Download, install, and launch Stellar Converter for EDB software. Choose Offline EDB to export the mailboxes from Exchange 2003 database directly to Office 365.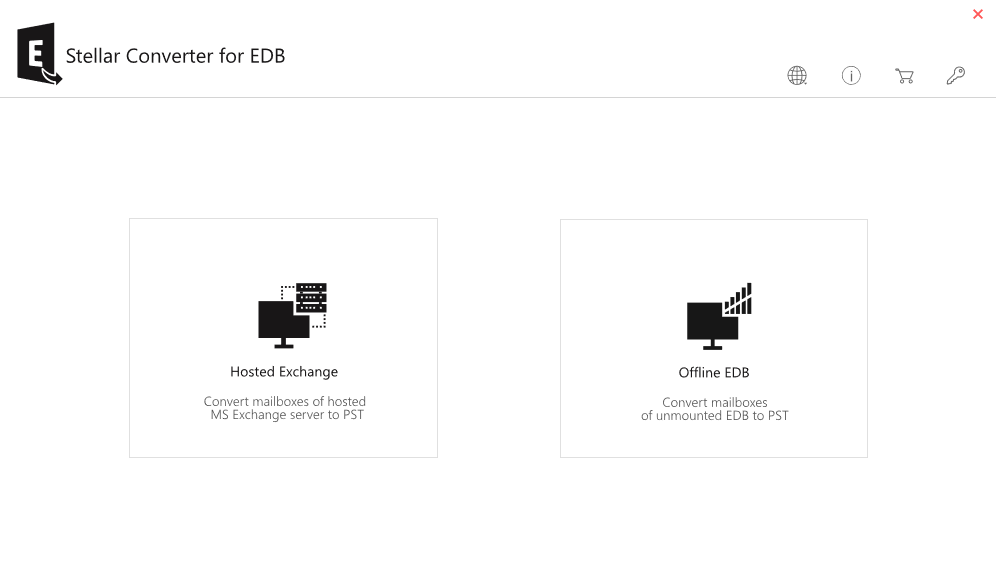 Note: You can copy the database (EDB) file to a different drive and then use the Offline EDB option to scan and export mailboxes directly to Office 365. This will help avoid downtime and migrate mailboxes without disrupting the Exchange services or server performance.

Step 3: Click 'Browse' to choose the EDB file and select the 'Temp Path' location (with free space 2x database size). Click 'Next.'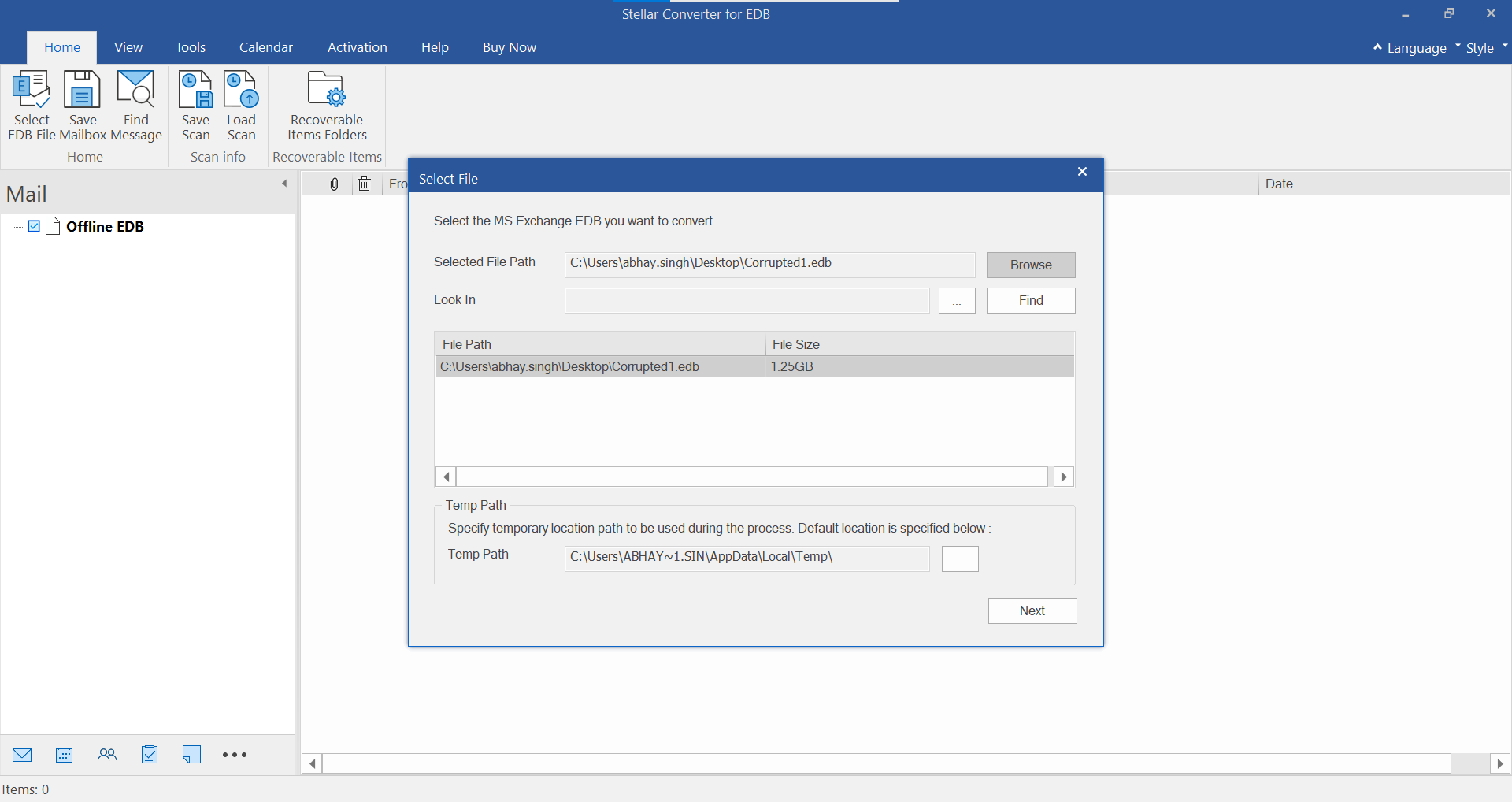 Step 4: After the scan, the mailboxes and mail items are displayed in a three-pane view. You can click on the mailboxes, expand them to preview the mail items, such as emails. In addition, you can search and filter mailboxes to find and preview desired mailboxes and mail items.

Step 5: Select the mailboxes you want to migrate from Exchange 2003 to Office 365 and click the 'Save' button under the 'Home' tab.
Step 6: Choose 'Export to Office 365' and click 'Next.'
Step 7: In the 'Enter login Credentials' dialog box, choose the Office 365 administrator profile and enter the password. Click 'OK.'
Step 8: A Map Mailboxes window appears. The software automatically maps the source and destination mailboxes and provides an 'Apply Filter' option to filter specific mailbox, mail items, and deleted or junk mail items. You can also change the mailbox export priority by changing the value in the 'Priority' column.
Step 9: Click 'Export.' The software starts exporting the selected mailboxes from Exchange 2003 database to Office 365. It exports and processes up to 4 mailboxes simultaneously. The progress is displayed in the 'Save' window.

Note: You can remove mailboxes or stop the export process at any time. However, the software prompts you to export the removed mailboxes once the process completes. This helps you avoid rescanning or re-exporting the mailboxes that may have been removed accidentally.
Once the mailboxes are exported successfully and migration is completed, you can check the preview of mailboxes after logging into Office 365 account.
Also, decommission the Exchange 2003 Server after verifying that the emails are successfully routed to Office 365.
To Wrap Up
Although Exchange administrators can use the Cutover or Staged Migration to migrate mailboxes from Exchange 2003 to Office 365, these methods are time-consuming and can take a few days or weeks, even with adequate planning and preparation. Also, these methods are performed on the server that impacts the server performance as more server resources are utilized in transferring the mailboxes. A more reliable, faster, and convenient way to migrate mailboxes from any Exchange Server, including Exchange 2003, is to use an Exchange to Office 365 migration tool, such as Stellar Converter for EDB. The software expedites the migration process and helps you finish migration without causing downtime or impacting the server performance.