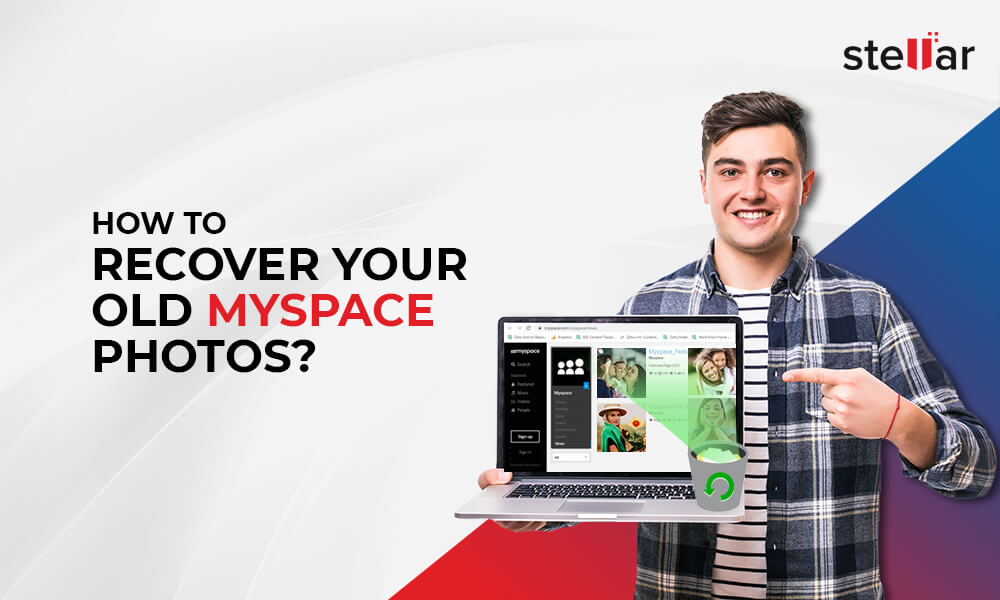 Years might have passed, since you last signed in to your old MySpace account. You may not remember the password or log in details. But here's an old friend or a memory that compels you to access and recover old MySpace photos and relive the moments, fun, and the quirky young version of you in the early 2000s'. So how to recover old MySpace photos? Moreover, can you get them back as MySpace is rebuilt and has a completely new avatar now?
Let's answer this and more along with the workable solutions to recover old photos from MySpace.
Can I get my old MySpace pictures back?
A simple answer is 'Yes'. You can get your old MySpace photos back. But only if your profile is synced to the new MySpace account.

Where are my old photos on MySpace and how to recover?
While redesigning MySpace, the developers transferred most of the old accounts to the new application. Your photo albums and friends connections were also moved to the new MySpace platform. Try the below methods in order to recover old MySpace account pictures:
1. Recover old MySpace photos from Mixes in MySpace account
Although MySpace was rebuild couple of times, most of the old MySpace accounts were retained along with photos and friends connections. You can search and recover the photos of classic or old MySpace accounts in the 'Mixes' of your profile. Here are the steps to follow: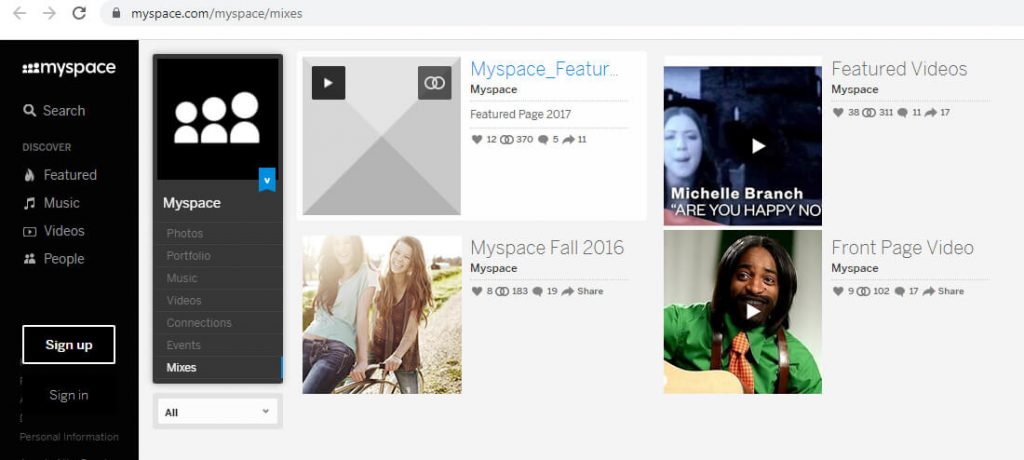 On the Mixes screen, tap on Classic — My Photos. From here, you can restore the old memories.
Besides, you should look beyond the 'My Photos' album in 'Mixes' to recover old photos. Some old profile pictures may be hidden in other folders as well names as 'ProfileMix' or 'CoverMix'.
If you cannot find old MySpace pictures, sadly it means the old account was not synced to the new one. Hence, all the old photos are erased.
2. Recover MySpace photos from your old profile without password
Your old MySpace profile may be still running on web and is the simplest way to recover photos. Even if you don't remember the password, this method can recover old MySpace photos, provided the account was set to 'public'. In fact anyone can search for your name and scan through your old personal photos on MySpace, if the settings are made 'public'.
Here's how to recover old photos without password from MySpace:
Head to myspace.com from your browser.
Next, on the left, in the search bar, type your name and hit Enter key. It may take a while to scan for your profile.
Your old MySpace profile may show up in the results. Simply open and look for your old photos and recover them. You can also access your MySpace videos, connections, music, etc., too.
In case the search results don't show your old profile, try with the variations or display names, you might have used ever on MySpace. If still no success, then chances are your old MySpace account is deleted for permanent.

3. Recover old MySpace photos with a photo recovery software
Your photos on classic MySpace may be missing or deleted from the new MySpace account. However, you may have any time downloaded or saved the photos on some device. Check your computer drives or external media for the old MySpace photos. Try the best photo recovery software, such as Stellar Photo Recovery, which is effective in retrieving permanently deleted photos from all kind of storage drives, be it SD card, USB, or memory card. With the help of a software, you can even recover photos deleted many years back from the drive too.
Here's how to recover old MySpace photos on computer:
Download Stellar Photo Recovery on your computer from the below buttons.
Select the drive or location to scan for the photos.
As the scanning finishes, preview the found photos. Select the MySpace images that were lost.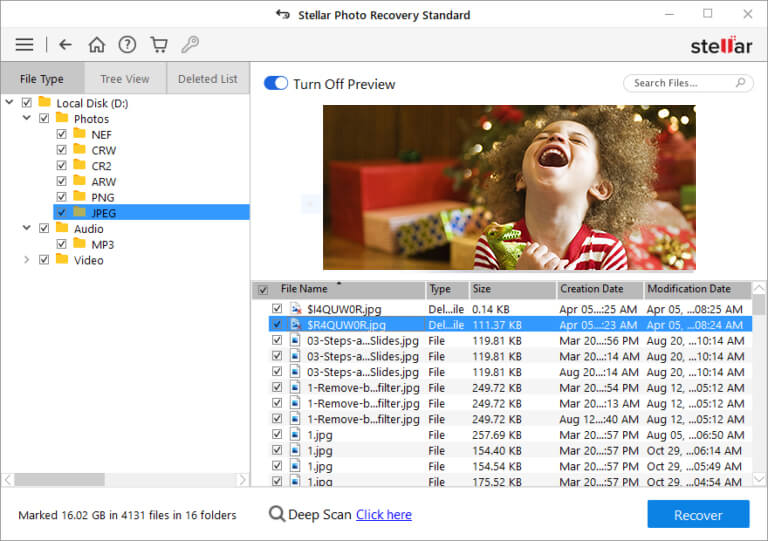 Next click 'Recover' to save the photos.
Wrapping Up
The new MySpace largely caters to musicians and bands, yet you can recover old MySpace photos uploaded in your original account. As the old MySpace profiles were migrated to the current MySpace, you can simply log in to your MySpace account and filter through the Mixes folders to restore the old pictures.
Unfortunately, if you don't find the old photos in 'Mixes', your photos are deleted forever from MySpace server. However, you still have a last option. Try a photo recovery software — just in case, anytime you saved your old pictures on some PC, external drive, camera memory card, pen drive, etc. The software can thoroughly scan and retrieve old deleted pictures from computers and other storage devices.
Finally, hope this post helps you to recover old MySpace photos. Relive the memories and enjoy seeing how whacky & fun you were back in those days.
FAQ
1. Is my old MySpace gone?
No, your old MySpace account may not be gone yet. Try searching the old account with your old email address or name. If you find your old account, but forgot the log in details, contact MySpace for help by filling this form.
2. What to do if Mixes' photo album in MySpace shows empty box or blank sections?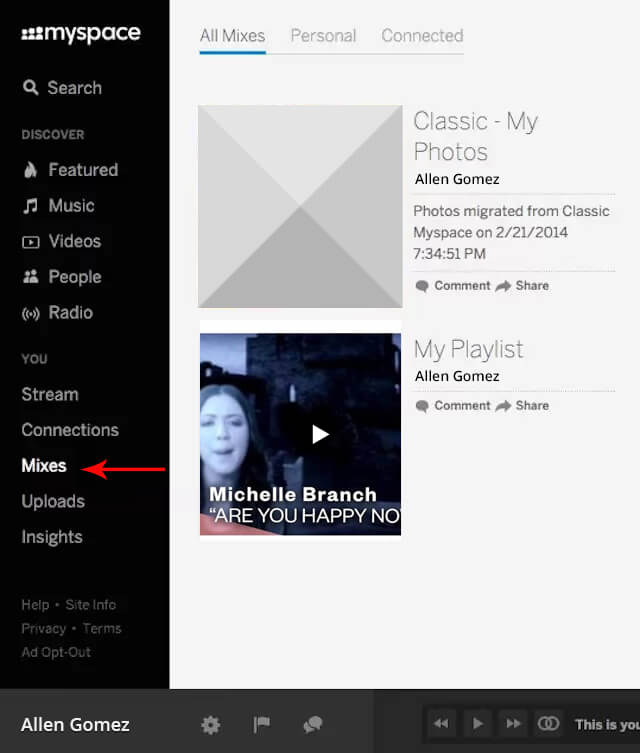 If the 'Mixes' album in MySpace shows empty box, blank, or don't load photos, it means the old MySpace pictures are no more present on MySpace server. Unfortunately, you cannot recover your MySpace photos in such a case. You may try the other method shared in this post.
3. How to log in to old MySpace account, if forgot password and email?
In case you forgot password or email, as the account was last accessed years back, click on Forgot Password option on the sign in page. This will take you to the 'Forgot Password' screen, from where you can reset password using your email address or username, which ever you remember.

Click here for further MySpace assistance in logging and activating your old profile.
4. Why can't I see all my photos on MySpace?
You won't see old photos on MySpace, if your old account was not synced to the new Myspace. This means the photo from the old account are not transferred to the new MySpace account.
5. How to recover my old embarrassing MySpace photos and delete them from internet?
You can recover old MySpace photos from the Mixes albums in your MySpace account. To delete the embarrassing pictures from your profile follow the below steps:
Go to your MySpace profile >Photos.
Hover over the circle in the upper-right corner and select Delete from the drop-down.
Click on Yes, to confirm deletion.
---