Microsoft Outlook is a widely used email client for managing emails, contacts, calendars, and tasks. Sometimes, Outlook users encounter errors when using the application that can cause hindrance to their work and communication process. One such error is "0x80040610: The message being sent exceeds the message size established for this user."
As the message indicates, the error arises when the message size limit exceeds the set limit for the user. Apart from this, there can be several reasons for this error, such as corruption in the Outlook data file (PST). Addressing the issue promptly is crucial as it can disrupt the incoming and outgoing emails. In this article, we will explore the causes of the Outlook error 0x80040610 and discuss some effective solutions to fix the error.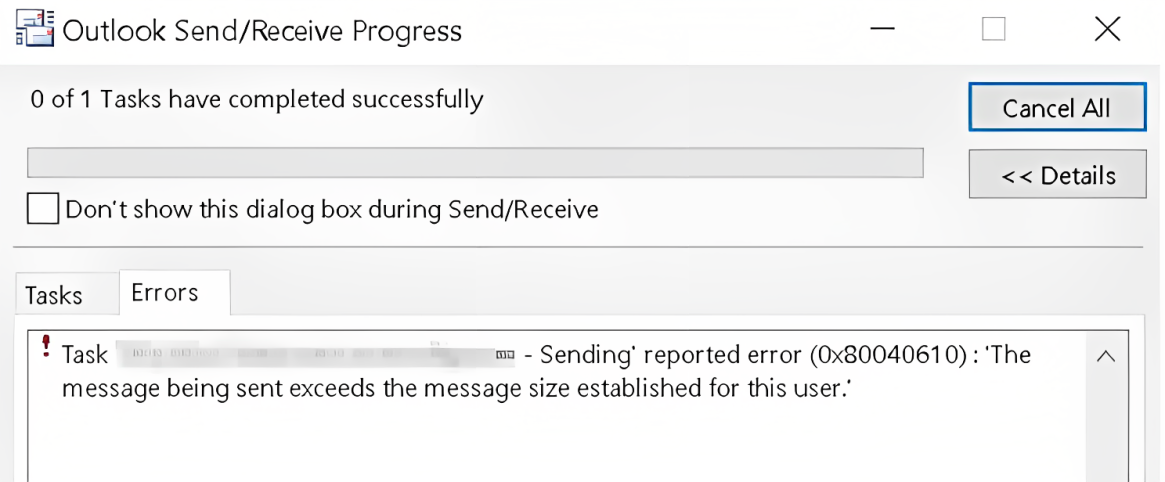 Causes of Outlook Error 0x80040610
Several factors can trigger this error, including:
Poor or Unstable Internet Connection:If your internet connection is poor or unstable, then you can get this error in Outlook.
Corrupt PST File: One of the causes of the error 0x80040610 is corrupt PST file. PST (Personal Storage Table) file can get corrupted due to improper system/application shutdown, sudden power outage, software bugs, or hard drive issues.
Large PST File Size: If your PST file exceeds its recommended size limit, you may not able to send or receive new emails, triggering the error. It can also lead to corruption in the file.
Malware or Virus Attacks: Malicious software or viruses can infect your Outlook data files, leading to corruption and occurrence of the error 0x80040610.
Incorrect Email Account Settings:If your email account settings are not properly configured, you may not able to send and receive emails and encounter this error. 
Faulty/Incompatible Outlook Add-ins: If there are faulty or incompatible add-ins in Outlook, then they may interfere with the functioning of Outlook, resulting in the error.
Methods to Resolve Outlook Error 0x80040610
You can try some basic steps, such as check the message size limit, reduce the size of attachments, and break the messages into smaller ones, to fix this error. If these do not work, then follow the methods provided below to resolve the error.
Check Your Internet Connection
Make sure your internet connection is stable and active. Poor or unstable connection can sometimes disrupt Outlook's functionality, causing the errors, like 0x80040610.
Run Outlook in Safe Mode and Disable Add-ins
Launch Outlook in safe mode to see if any add-ins are causing the Outlook send receive error 0x80040610. To start Outlook in safe mode, open Run window, type Outlook.exe /safe in the box and press Enter. If Outlook works in safe mode without any error, this means some add-ins are causing the issue. So, you can find and disable the faulty add-ins to permanently resolve the issue.
Increase PST Size Limit
You may get the error 0x80040610 if the Outlook data file (PST) is too large and has reached the defined limit. In such a case, you can increase the PST file size limit to resolve the issue. For more information, read How to configure the size limit for both (.pst) and (.ost) files in Outlook.
Run Mailbox Cleanup tool
Mailbox Cleanup is an inbuilt tool in Outlook that may help to reduce the size of your mailbox. To go to the tool, click on the File > Info > Mailbox Settings > Tools > Mailbox Cleanup.
Check Outlook Email Account Settings
Incorrect email account settings can lead to communication errors with the email server. Verify that your Outlook email account settings are correctly configured. Follow these steps: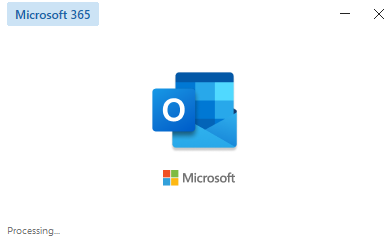 Click on File > Account Settings > Account Settings.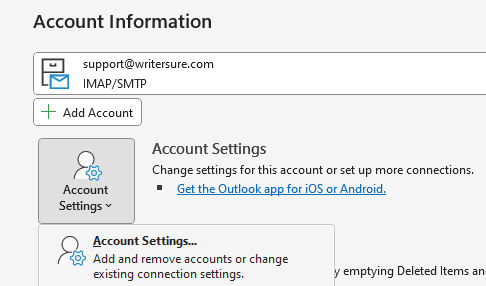 Select your current POP3 account and click Change.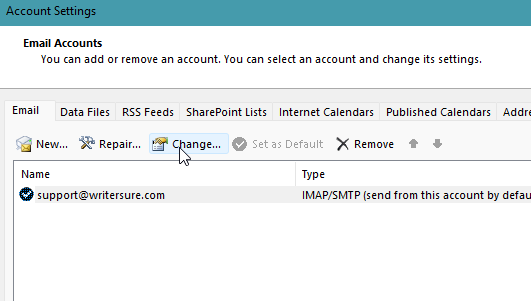 Choose More Settings and click Advanced.
Access the Outgoing Server tab.
Select the option "My outgoing server (SMTP) requires authentication."
Opt for Use same settings as my incoming mail server"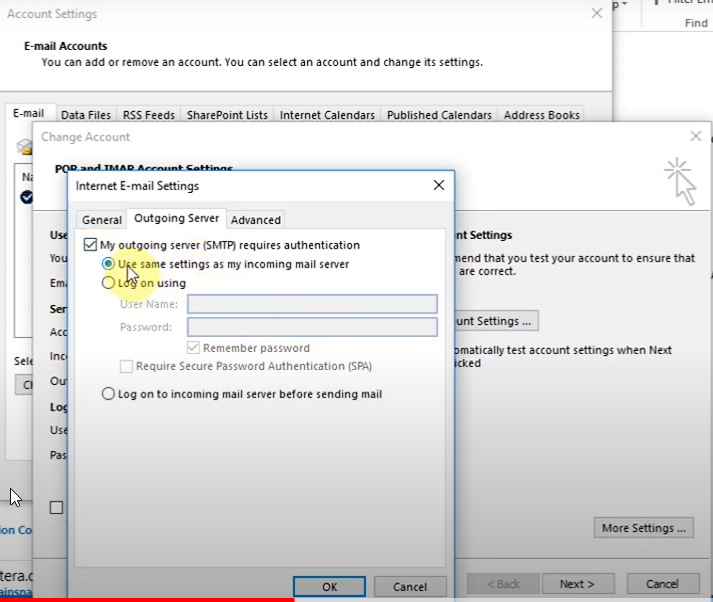 Repair Corrupted PST File
You can use the Inbox Repair Tool (scanpst.exe), provided by Microsoft, to repair any potential corruption in your Outlook Personal Storage Table (PST) file. Locate the tool, run it, and follow the prompts to scan and repair your PST file. Here's how:

Select the PST file you want to scan and repair. PST file is typically located at: C:\Users /username\AppData\Local\Microsoft\Outlook./username
To start the scanning process, click on the "Start" button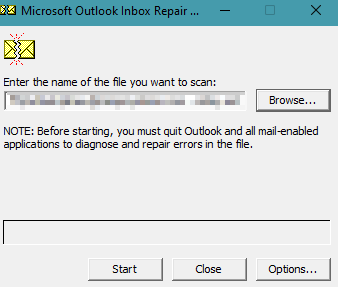 The tool will analyze the PST file and show the errors if any. Click the "Repair" button to address the issues.
Once the repair process is done, open Outlook to see if the error is fixed.
If the above-mentioned tool do not resolve the issue, then use an advanced PST repair tool, like Stellar Repair for Outlook. It is a powerful and reliable tool designed to repair PST files of any size and with any corruption level. It can recover all the items from corrupted file, including emails, contacts, calendar, tasks, and notes, and save them in a new PST file. This helps resolve various corruption-related Outlook errors, including the error 0x80040610.
Preventive Measures to Avoid Errors in Future
Adopting precautionary measures can prevent the recurrence of such errors. Here are some tips and measure you can follow:
Manage PST File Size: Keep your PST file size within recommended limits. If it grows too large, consider archiving or compacting it.
Update Application and OS: Keep your operating system and Outlook up-to-date to fix any bugs and underlying issues.
Delete Large Outgoing and Suspected Emails: Delete any large outgoing emails stuck in your Outbox and any suspicious emails.
Properly Close the Application: Avoid sudden termination and always close Outlook properly to minimize data corruption risk.
Use Reliable Add-ins or Software: Be cautious when installing any third-party add-ins or software. Always install them from a reliable source.
Conclusion
Several factors can cause the error 0x80040610 in Outlook, including unstable internet connection, incorrect server settings, corrupted PST files, and large PST file size. However, by following the solutions mentioned in this article, you can easily resolve the issue. If the PST file is corrupt, it is advisable to use a reliable PST file repair software, such as Stellar Repair for Outlook, to repair the corrupted or damaged file.