MKV files are usually large-sized videos of high quality. Losing MKV videos due to any reason can cause a serious damage, especially when they are of your wedding, precious memories of loved-ones, video tutorials, your favorite movies, etc. So if you have lost or accidentally deleted MKV video files, find easy ways here to recover MKV files safely from any storage device, including HDD, SSD, 4K hard drive, memory card, CD/DVD, etc.
Why you lose MKV video files? Key reasons
Video files saved in any storage drive are always at a risk of loss. Not just deletion, there could be various other reasons that can lead to loss of MKV files from your computer or external drives. Some common reasons are:
Accidental deletion
Formatting of the drive
Interruption during file transfer
Virus infection that leads to bad sectors in the drive
Operating system crash
How to recover MKV video files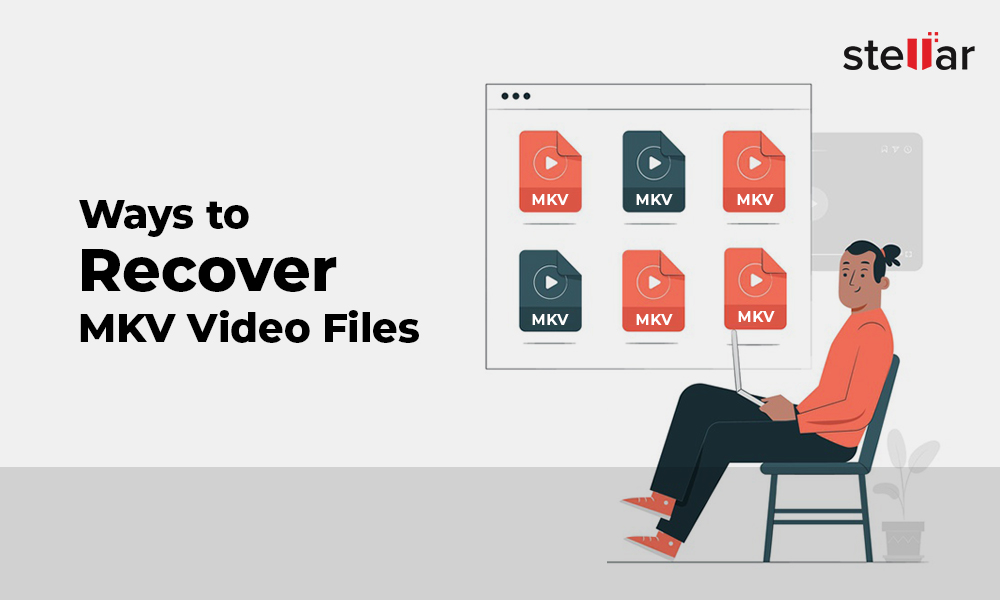 An MKV file recovery software is a reliable method to restore MKV videos from computer or external storage drives in any loss situation.
You can also restore MKV files without software by searching them in your backup folder or Recycle Bin. It's also possible that your video files are hidden due to specific file attributes. You can unhide the files and folders to restore your MKV videos.
Best 5 methods to recover deleted MKV videos:
Best MKV video recovery software (Recommended)
Recover MKV files on Windows PC using ATTRIB command
Unhide hidden MKV files on PC using Control Panel
Recover MKV from Recycle Bin or Trash
Recover MKV videos from backup folder
Method 1: Use the best MKV video recovery software
Here we recommend Stellar Photo Recovery, a reliable software to restore MKV files in any loss scenario. Whether you have accidentally deleted MKV files, lost due to drive formatting, or corruption, the software works in all situations.
The user-friendly software comprehensively scans your storage drive and recovers the deleted MKV video files from Windows PC, Mac drives, memory cards, etc.
Why choose MKV recovery software? Key benefits
Quick and hassle-free MKV recovery
Restores videos, irrespective of the cause of loss – deletion, formatting, virus, drive corruption, etc.
Recovers MKV files without hampering the original video quality
Allows preview of recoverable MKV videos before saving
Supports MKV recovery from SD card, SDXC, SDHC, HDD, 4K hard drives, SSDs, memory cards, CD/ DVD, USB flash drives, etc.
Steps to recover lost or deleted MKV videos
Download and run Stellar Photo Recovery on your PC or Mac. In case you have lost or deleted the MKV files from an SD card or some other external storage media, connect it to your computer.
On the software first screen, select the location to scan. You can click on Advanced Settings icon on top and select MKV video files to reduce scan time and facilitate quick recovery.
Click Scan.                                                                                              

                                     Figure: Stellar Photo Recovery - first screen

After the scanning completes, the software lists the recoverable MKV video files. Preview your videos, select the required ones and click Recover. You can save the recovered videos at any location on your computer's drive or external media.                   

                          Figure: Stellar Photo Recovery - Preview & recover videos
 Watch the video to recover MKV videos using Stellar Photo Recovery
Method 2: Recover MKV files on Windows PC using ATTRIB command
Attrib is a Windows command used to remove the file attributes, such as hidden or read-only. It can display the hidden files from the computer and let you restore them. In case you find your MKV files missing on PC, try the below steps to unhide and recover them:
Press Win + R keys to open command prompt window on PC.
Type cmd and hit Enter.                                                                                                 

                             Figure: Attrib command in Windows

In the command prompt window, type attrib -h -r -s /s /d G:\*.* and hit Enter. Here, G is the drive letter from where you lost MKV files/ folder. Wait until the process finishes and then check for the MKV files or folders in the drive.
Method 3: Unhide hidden MKV files on PC using Control Panel
Another way to unhide MKV files from your system or external drive is through File Explorer Options in your computer's Control Panel.
Follow the below steps to unhide MKV files from Control Panel:
Open Control Panel > File Explorer Options.
In File Explorer Options, click the View tab.
Under Hidden files and folders, check Show hidden files, folders and drives, and click

Apply.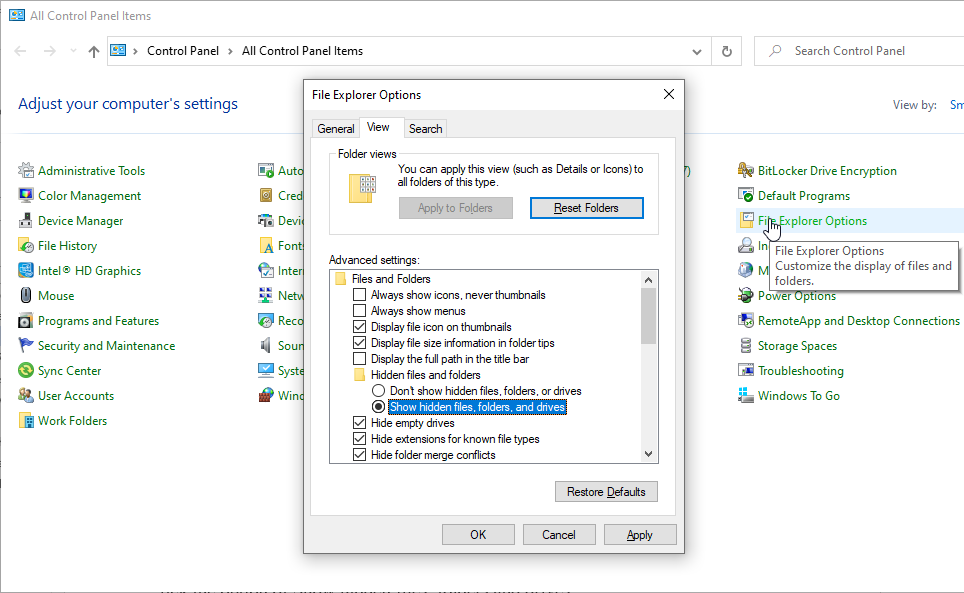 Figure: Unhide files from File Explorer Options
Now open the drive or folder to check if you can view the hidden MKV files again.
Method 4: Recover MKV from Recycle Bin or Trash
In case you have recently deleted MKV files from your drive, they must be present in the PC's Recycle Bin or Trash on Mac. Recycle Bin or Trash keeps the deleted files for at least 30 days before permanently deleting them from your computer. But if you don't find the deleted MKV files here, a video recovery software is your last resort.
Method 5: Recover MKV videos from backup folder
Creating backup is encouraged to overcome such file loss situations. If you have an updated backup folder on your system, external storage drive, or cloud, it's easy to recover deleted or lost MKV files.
FAQ — MKV video files recovery
How can I recover deleted MKV videos from my computer for free?

Stellar Photo Recovery Free edition can recover up to 10 media files (each less than 25 MB). Plus, you can recover MKV files from the computer for free from backup, Recycle Bin, Trash, or by using the Attrib command in PC.
What program opens MKV files?
MKV supporting video players can play MKV file format videos from CDs, DVDs, hard drives, mobile phones, etc. You can open MKV files in VLC Media Player, MX Player, MKPlayer, KMPlayer, etc., on Windows, macOS, Android, and iOS.
Why is my MKV file not playing?
If recovered MKV files are not playing on PC or Mac, there are chances your video is corrupt. Try to play it on another video player like VLC Media Player or KMPlayer. If it still doesn't open or plays properly, use a video repair software. A video repair software repairs any damage or corruption in the MKV video file header, data, movements, frame, or sound section. After repair, MKV videos can open and play on any media player seamlessly. Know more: How to repair corrupt MKV video.
Can Windows Media Player play MKV file?
No, Windows Media Player cannot play MKV format. But you can install a codec pack to play MKV files on any player on your computer. Another way out is to convert MKV to MP4 or another file format to make them playable in Windows Media Player.
Conclusion
Your MKV videos may be important, and losing them due to any reason can be catastrophic. However, this post shares the 5 ways to recover deleted MKV files from various storage devices, be it HDD, SD card, SSD, or Mac drives, etc.
If you quickly want to restore deleted MKV videos, go for Stellar Photo Recovery software. The widely used MKV recovery tool has advanced algorithms that can restore videos lost due to drive formatting, corruption, virus infection, etc.