Until now H.264 codec is a universal standard video compression used by varied platforms and devices. However, with the growth of high-end cameras capable of recording 4K and 8K quality videos, there's a growing challenge of storing, uploading, streaming, and sharing large-sized video files. Plus, as YouTube, Netflix, Hulu, Vimeo, etc. are gaining massive popularity, these platforms are looking for ways to bring a seamless and high-quality video experience for viewers. Here, the need for advanced and efficient video compression plays a vital role, which is ahead of H.264 codec. And thus, comes H.265 video codec, which was developed to beat these challenges.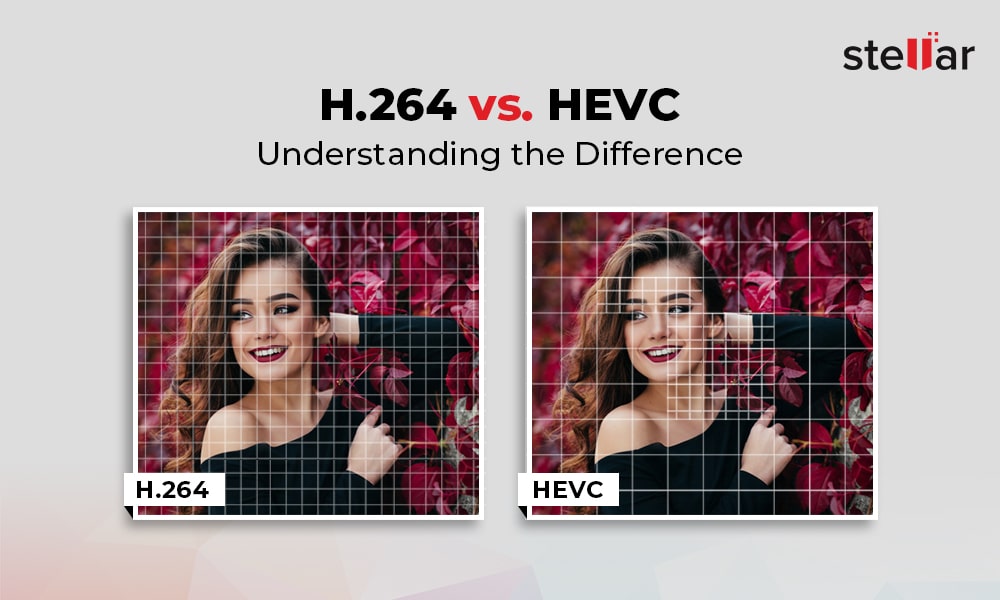 What is H.264?
H.264 is an industry-standard codec for video compression. Also called MPEG-4 Part 10 or Advanced Video Coding (AVC), it is commonly used for recording, compressing, sharing, and streaming video content online. H.264 codec is based on the older MPEG-4 concept. The H.264 codec was developed to improve the video quality at a lower bitrate compared to its predecessor H.263 codec. The video compression supports 4K high-definition video playback. You can play H.264 videos in all video players.
How H.264 codec works
The video compression breaks an image into square pixels called macroblocks of size about 16×16 pixels. The algorithms process the video using the motion competition technique that predicts a frame in video based on previous or future frames. This is followed by encoding of video data for compression.
Related reads: How to Fix a Corrupt H.264 Video File?
What is H.265 codec?
The new H.265 or High-Efficiency Video Coding (HEVC) is a successor of H.264. It provides better video compression and quality compared to H.264. HEVC video compression is developed to display high-resolution UHD 8K videos at lower bitrate.
H.265 is slowly gaining acceptance by video developers for using it on varied devices and platforms.
How H.265 codec works
Unlike H.264, H.265 uses Coding Tree Units (CTU) that comprises larger blocks up to 64×64 pixels, which further process and encode the video. The larger block sizes ensure better encoding quality.
Related reads: How to Fix a Corrupt H.265/ HEVC Video File?
H.264 vs. H.265 - The Difference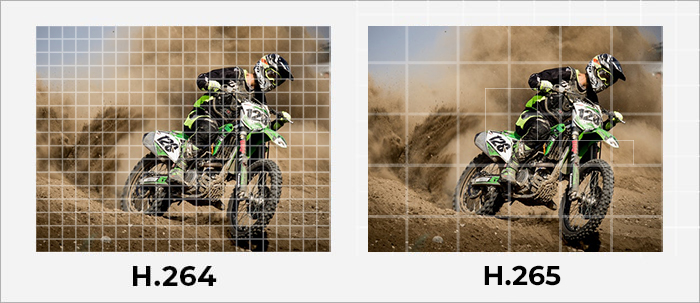 If you see the compression technology used by each, HEVC is the better version of H.264 codec. It is advanced, fast, and has multiple benefits.
Here, let's learn the difference between the HEVC and AVC and how one is superior over the other.
1. H.265 vs H.264 video quality
If you stream videos with H.265 codec at 30% lower bitrate, you can get the same image quality which H.264 file offers at a higher bitrate.
Besides, H.265 can recognize high-quality 8K UHD videos with a resolution up to 8192×4320 pixels. While H.264 standard supports 4K HD videos of resolution only up to 2048x2048 pixels.
Next, to save videos in storage drives without quality loss, H.265 codec can get you higher quality with lower video file size.
You may want to read: Recover deleted videos from storage drives
2. Bandwidth requirement for high-quality streaming
H.265 video compression can lower file size of live streams, which significantly reduces the bandwidth requirement. Hence, H.265 codec is especially beneficial for streaming videos. You can also enjoy more network bandwidth for data usage.
For example, if a streaming H.264 video in 1080p resolution requires 10 Mbps speed, with H.265 codec, it will need only 5 Mbps speed and at the same video quality. Thus, you can also save more data of your Internet plan by using H.265.
3. Internet speed for H.264 and H.265 videos
With H.265, you can enjoy high-quality videos even if the Wi-Fi has slow speed. This means you can increase the stream quality from 420p to 720p at 2Mbps for better visual quality at a location with poor Internet. While H.264 would display poor video playback at higher video quality settings if the internet speed is slow.
4. H.264 vs. H.265 – Devices support
The H.264 encoding is widely accepted by devices and media platforms. You can quickly and efficiently play H.264 videos on almost all media players, websites, Android, iPhones, iPad, etc.
However, HEVC or H.265 is a high compression codec, which is hardware demanding. To smoothly play the HEVC videos on your computer, it's recommended to have Intel 6th Generation Skylake or AMD 6th generation Carizzo CPU. Thus, H.265 encoding is limited to only high-powered computers, smartphones, tablets, etc. Not all media players support H.265 video codec.
Which is better- H.264 vs. H.265
There's no denying H.265 is an advanced and modern standard. But it needs more computational power, and many devices and software don't support HEVC yet.
Nevertheless, in usefulness, both the video compression formats have something to offer in the present scenario. You can use either of them depending upon your need.
For instance, in contrast to H.265 codec, H.264 takes less processing time but leaves you with a bigger video file. If the goal is to archive video files in a HDD or SSD with limited space, then H.265 is a better choice. If you wish to compress videos to watch on your PC or tablet, H.264 may be a quick approach. But if gaming or watching high-resolution 8K video is the purpose, H.265 is the way to go.
So be clear about the purpose of video compression when choosing your video codec.
You may like to read: How to compress video files without losing quality?
H.266 (VVC) — On its way
Demand for high-resolution videos, movies, and gaming on mobile platforms has gone up. Thus, H.266 or Versatile Video Coding (VVC) is the latest codec, which is already on its way. It aims to bring vast improvement in the compression algorithm and efficiency of H.265.
You can expect the visual quality at a significantly reduced bitrate by 50% compared to H.265. The future holds watching 4K, 8K, and above videos on smartphones and tablets using mobile data for which an advanced video compression is the key.
Finally
It's frustrating when videos don't load or have playback issues. You want a flawless experience, whether playing games or watching videos on an OTT platform. Video compression can resolve these problems.
So in a debate of H.264 vs. HEVC, the latter is better, faster, saves more storage space, and offers video compression in the best possible way for its users. Just that H.265 is yet to gain the acceptance of all video platforms and media players like H.264 video compression.