Lotus notes first came into existence in 1989 and it attained a wider reach after IBM bought it in 1995. If you've used Lotus Notes, you might wonder if Lotus Notes is still around.
Broadly speaking, Lotus Notes is an email application, similar to Microsoft Outlook, that can be used for emails, calendars, tasks, and more. In July 2019, HCL Technologies completed the acquisition of Lotus Notes from IBM for $1.8 billion. So, is Lotus Notes still used? Yes, but not in the way that you may have known!
What Happened to Lotus Notes?
Today, Lotus notes is called HCL Notes and is part of a larger software suite called HCL Domino. To clarify, HCL Domino is a cross-platform application runtime environment that supports discussion forums, blogs, instant messaging, user directory, and video and voice conferencing, along with the email and calendars of HCL Notes.
This transition of lotus notes is good and bad news, depending on which side of the fence you are. If you prefer to have an integrated software suite, you might love Lotus Notes. On the other hand, if you loved just Lotus Notes and its speed and simplicity, you might want to look at other choices.
Many users decide to move from Lotus Notes to Microsoft Outlook because of the many features available in the latter. Firstly, you have access to the entire Microsoft ecosystem and its many popular apps like MS Word, Excel, and more. Also, you can search through your emails, schedule meetings, create tasks, use filters, and so much more. This is why Outlook is the most popular email client in the world today.
That said, moving your existing emails to other email clients like Microsoft Outlook is not easy because of the difference in formats and their resulting incompatibility. To give you an idea, Lotus Notes stores its emails in a format called Notes Storage Facility (NSF) while Outlook uses the OST or PST formats. This is why you can't switch between clients easily.
But let that not worry you, as we will show you how to move your emails from the NSF to PST format. Broadly speaking, there are two ways to migrate your content - manually or through an automated tool.
Manual Process
You can manually move the contents of your NSF file to the PST format, but that's not easy as it entails multiple steps. Moreover, you need expert technical knowledge for this transfer, so it may not be everyone.
Also, you can't directly convert the NSF file to a PST one, rather you must convert the NSF file to a CSV format. Such conversions are time-consuming and could result in data loss. Plus, you don't have the flexibility to move just the content you want.
Due to these downsides, consider using a third-party tool like Stellar Converter for NSF.
What's Stellar Converter for NSF?
As the name suggests, Stellar Converter for NSF is a top-notch tool for converting content from the NSF to PST formats. It can export content to other formats as well like MSG, EML, RTF, PDF, and HTML.
Here are some compelling reasons to use this tool.
Simple Interface
The highlight of Stellar Converter for NSF is its simple and intuitive user interface. As soon as you open this tool, you'll see that the options in it are self-explanatory. With just a few clicks, you can upload the NSF file, choose the contents you want to convert, and select the destination folder and format. That's it really! The tool masks the complex conversion process behind this simple interface, so you just see what's relevant for you.
Custom Content
If your NSF file includes multiple mailboxes, you can select the mailbox you want to convert. Even within the mailbox, you can choose only those emails, tasks, and attachments that you need to view. This way, the conversion is quick and you get rid of the unwanted clutter from your Lotus Notes mailbox.
No Data Loss
Another important aspect of Stellar Converter for NSF is there is no data loss during the conversion process, provided your NSF mailbox is not corrupted in any way. Even the file and directory structure remains unchanged.
Orphaned/Mailboxes
You can even retrieve content from orphaned NSF mailboxes, subject to certain conditions. This extraction is almost impossible when you do it manually because you won't be able to open or access the NSF mailbox in the first place.
Due to these reasons, the Stellar Converter for NSF is a great option when you want to convert files from NSF to PST formats.
Here are the software steps with screenshots for your ease.
Step 1: Select the NSF file that you want to convert. You can click the "Browse" option to choose a file from the File dialog box. Alternatively, you can use the "Find" option to search for a specific NSF file in your device.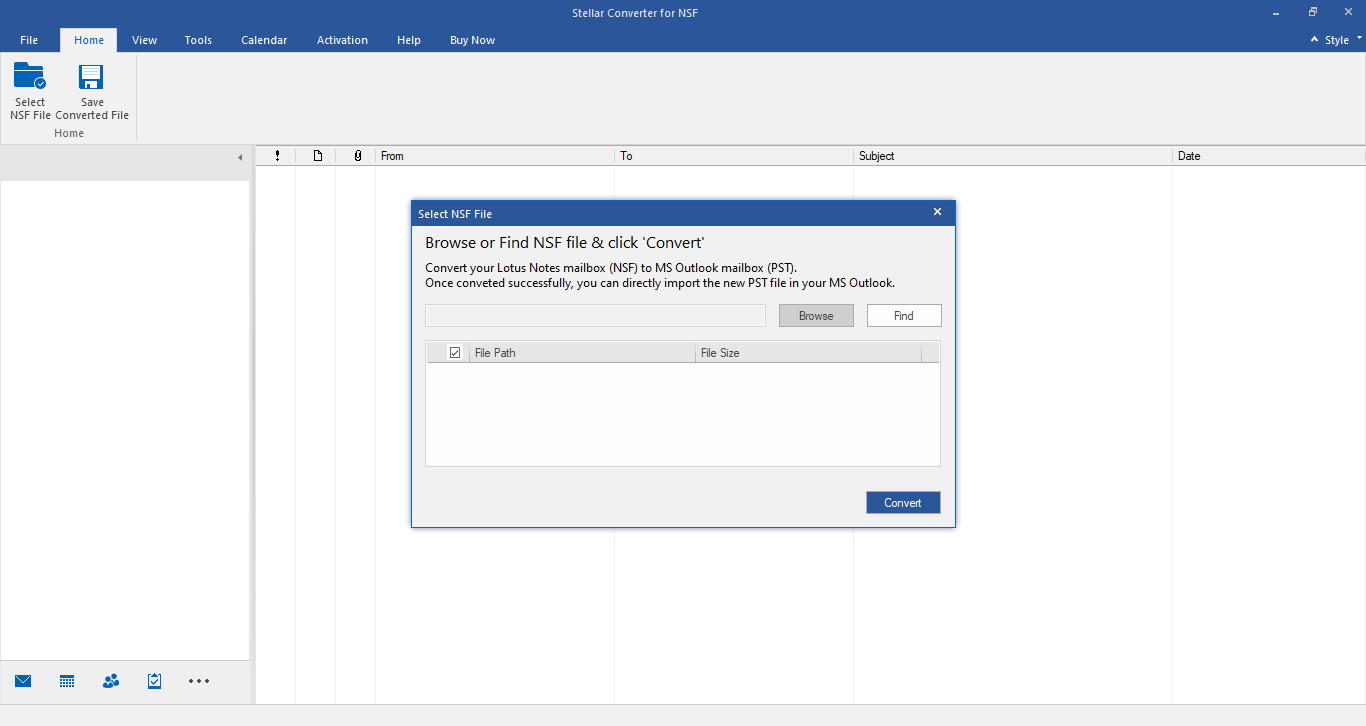 Step 2: The tool automatically extracts contents from your NSF file and displays them for you.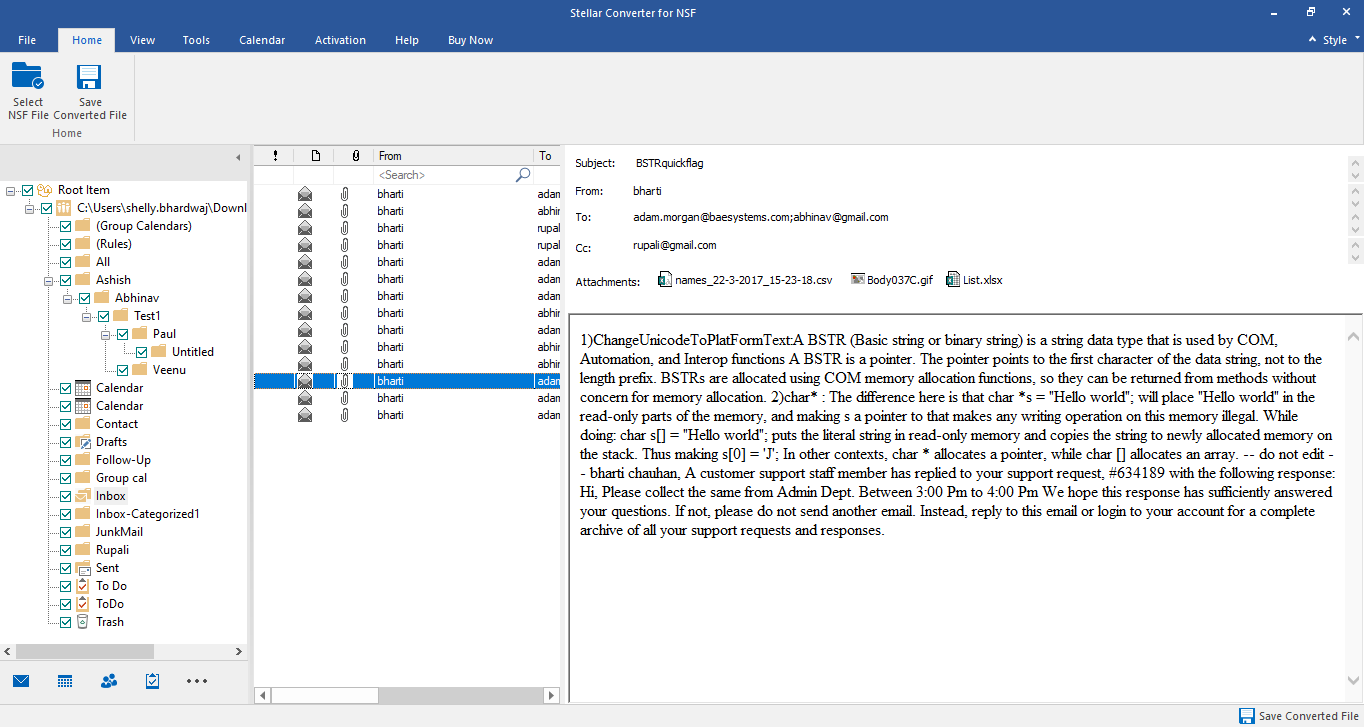 Step 3: Select the content you want to migrate and decide the file format in which you want to save them.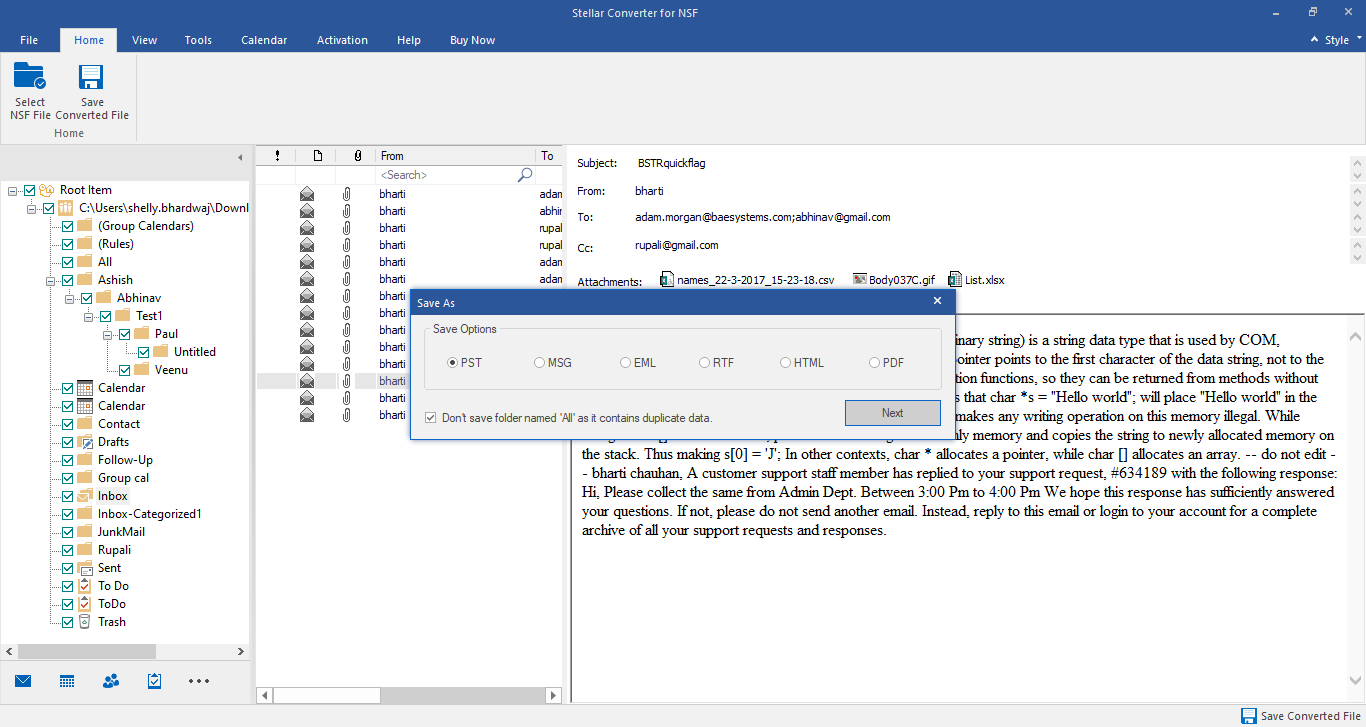 Step 4: Enter the destination folder and its path.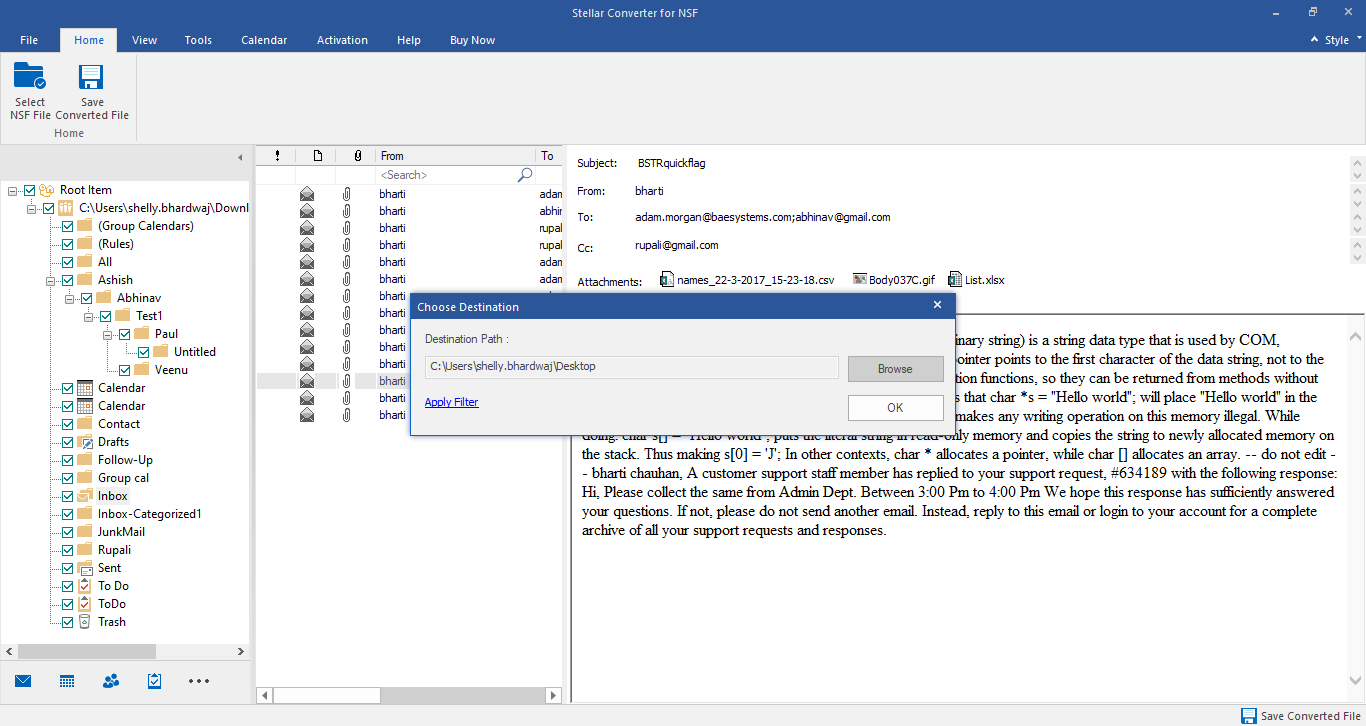 Step 5: Monitor the progress.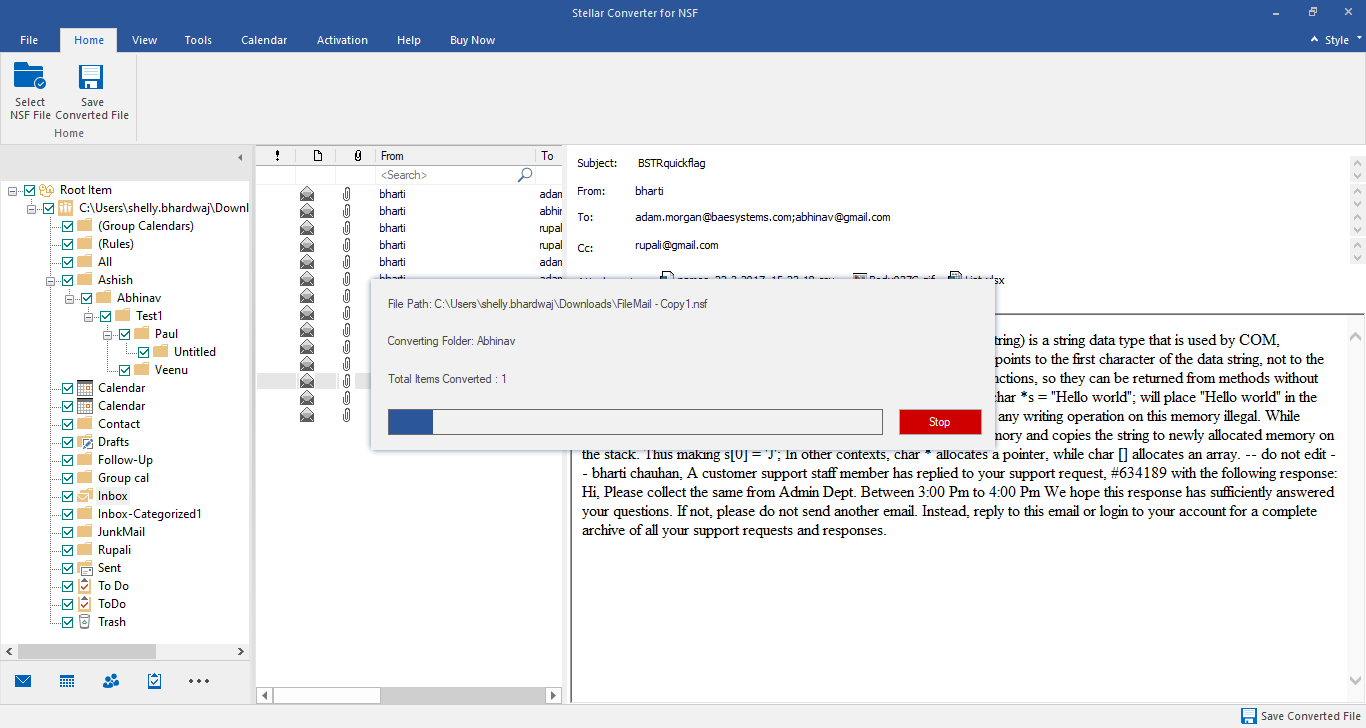 Step 6: Get notified once the migration is done.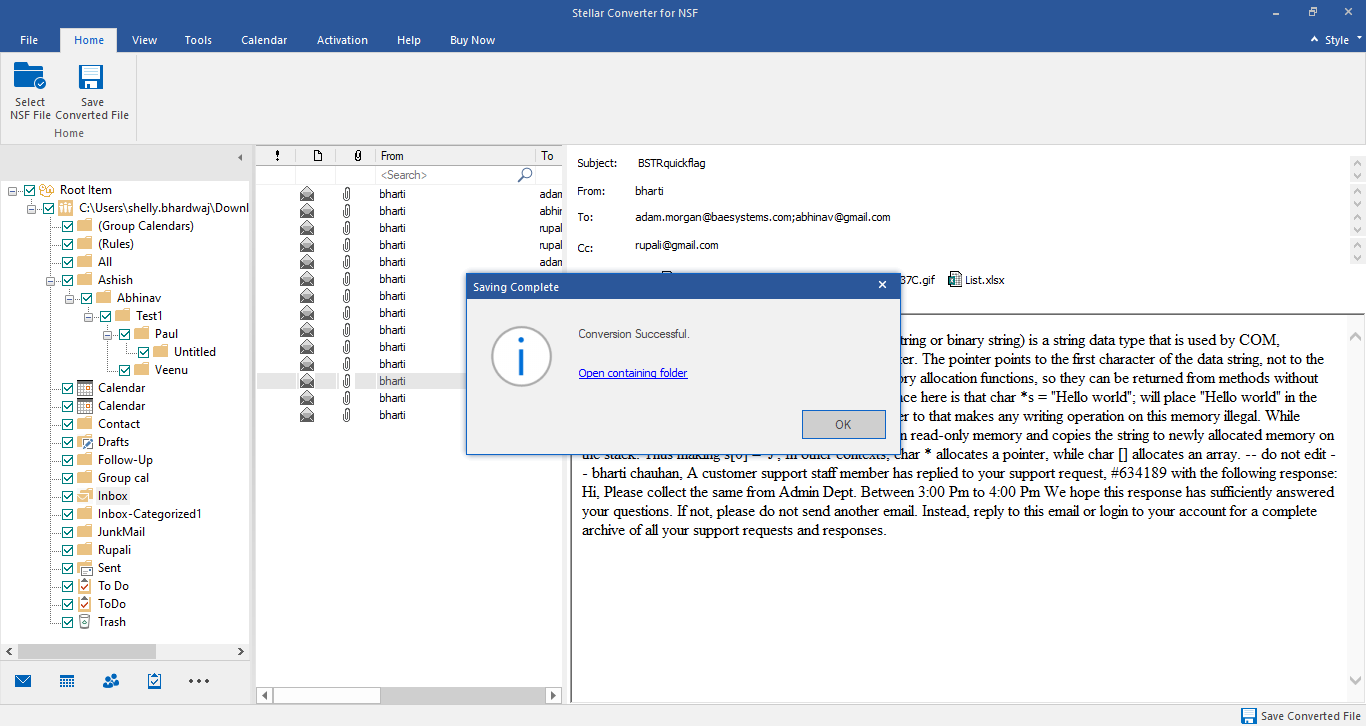 Now you're all set to open your contents in Outlook if you chose to save the contents in the PST file format.
Conclusion
In all, Stellar Converter for NSF is a hassle-free tool for converting your emails from an NSF to a PST format. Its intuitive user-interface coupled with rich features that ensure you don't have any data loss. Moreover, it can extract content from orphaned NSF files and from the deleted items folder as well. All these make Stellar Converter for NSF a must-have tool if you use Outlook extensively.
To learn more, contact Stellar.